Luxury watches are more than just an accessory, they're a symbol of timeless style and sophistication. Breitling stands head and shoulders above the rest when it comes to artisanal watchmaking.
With its dedication to quality, accuracy, and innovative features, you can count on your Breitling timepiece for years to come.
It's no wonder this renowned brand has been immortalized in film and literature as the go-to choice for those who appreciate the finer things in life. Let's explore how Breitling differentiates itself from other luxury watch brands.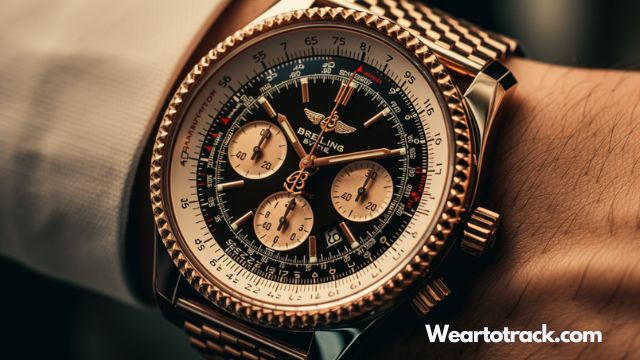 3 Reasons Why Breitling is different from other Luxury Watch Brands
Breitling is a renowned Swiss watch brand and it's known for its luxury watches but it's very different from other Luxury Watch brands worldwide. In this section, we are going to highlight 3 reasons why Breitling is different from other Luxury Watchmakers.
1. Breitling's Timeless Design
Breitling's iconic designs have stood the test of time, making it a timeless symbol of luxury you can rely on. These designs have been crafted with excellence and attention to detail to ensure that they will never go out of style.
Breitling is renowned for its unique styling, which stands out from other luxury watch brands. The craftsmanship is unrivaled, making these watches an invaluable asset for any watch enthusiast. Each piece is carefully crafted to make sure that it exudes elegance and sophistication while still remaining highly functional.
With its superior quality and design, Breitling has become one of the most sought-after luxury watch brands in the world. Its watches are not only stylish but also reliable, offering a lifetime of dependable performance that will never go out of fashion.
2. Quality and Accuracy
You'll appreciate the quality and accuracy of Breitling's timepieces – they're crafted with precision and care. The brand is renowned for its precision engineering, which ensures that each watch is made to exacting standards.
Breitling watches are designed to be reliable and accurate, making them a great choice for those who need a dependable timepiece. The craftsmanship excellence of Breitling watches is also evident in their attention to detail and use of high-quality materials.
Every component of a Breitling watch is carefully inspected before it leaves the factory, ensuring that it meets the highest standards of quality control.
With such rigorous testing procedures in place, you can rest assured that your Breitling watch will keep perfect time for years to come.
3. Innovative Features
From its sophisticated chronographs to its smartwatches, Breitling has something for everyone with its innovative features. Its price point is in line with other luxury watch brands, yet it stands out from the crowd with its Swiss-made quality and precision.
Breitling watches are equipped with intuitive features that make them stand out from the competition:
They feature an advanced chronometer that uses COSC-certified accuracy.
A split-second mechanism allows users to measure two times simultaneously.
The connected app allows users to stay on top of their personal data and receive notifications right on their wrists.
These impressive features make Breitling a leader in modern timekeeping technology, giving it a distinct edge over other luxury watch brands.
Conclusion
You've seen how Breitling stands out from other luxury watch brands. Its timeless design and commitment to quality and accuracy are clear indications of the careful consideration given to every detail. But what truly sets Breitling apart are its innovative features.
These unique features are like a brilliant diamond in the rough, sure to give you the edge in style and sophistication. So don't hesitate – take a chance on Breitling and see where it takes you!
As a professional trainer and a gadget lover, I've spent a lot of money and time buying wearable activity trackers, smartwatches, and gadgets, and checking them out. My site is focused on helping you with your activity tracking and smart technology journey. I try to provide the most helpful updated content on this subject. Hopefully, you will love my blogs and be a regular around here.