The Breitling Superocean is a luxury timepiece that has been around for over 60 years. It's known for its sturdy construction and elegant look, making it the perfect choice for those who want to make a statement with their watch.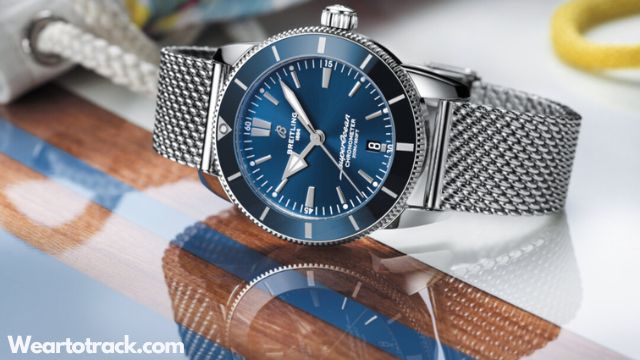 You can dive up to 1,000 feet with this water-resistant watch, so you don't have to worry about taking it off when you hit the beach or pool.
Plus, with its scratch-resistant sapphire crystal face and luminous hands, you'll be able to tell the time even in dark conditions.
Whether you're looking for something stylish or functional, the Breitling Superocean is sure to meet your needs.
History of the Breitling Superocean
You're gonna love learning about the amazing history of the Breitling Superocean!
The Breitling Superocean was first introduced in 1957 as a professional diver's watch. It has since become a popular choice for divers and watch collectors alike.
Through its long history, the iconic design of the Superocean has remained largely unchanged – making it perfect for exploring heritage and collecting editions from throughout its lifetime.
The Breitling Superocean is now available in several different sizes, materials, and colors to suit any aesthetic preference or diving need. Its robust design makes it an ideal choice for those who want reliable performance during their underwater adventures.
Whether you're looking to explore its rich heritage or add a timeless piece to your collection, there's no denying that the Breitling Superocean is an impressive watch with a unique history worth discovering.
Features and Benefits
Adorned with the finest of features, the timepiece is a beacon of sophistication that will light up any outfit. The Breitling Superocean is an iconic diver's watch crafted by Swiss watchmakers and designed to withstand extreme depths while remaining a stylish accessory.
It boasts a range of features designed to enhance performance and reliability including an ergonomic design, improved water-resistance technology, robust construction materials, and luminescent hands for easy reading in low-light conditions.
Exploring alternatives such as sapphire crystal glass increases scratch resistance as well as enhancing visibility underwater. Technology advancements such as internal chronometer movements are precise and reliable enough for professional divers.
The Breitling Superocean also offers a range of benefits that make it stand out from other watches on the market. Its versatility allows it to be worn on casual days or special occasions without compromising its style or durability.
Furthermore, its shock resistant frame makes it ideal for active wearers who need dependable timekeeping no matter what their lifestyle entails.
Finally, its high-quality components guarantee long-lasting performance even when used for extended periods underwater or in challenging environments.
| Features | Benefits |
| --- | --- |
| Ergonomic Design | Versatility |
| Improved Water Resistance Technology | Shock Resistant Frame |
| Robust Construction Materials | Long Lasting Performance |
| Luminescent Hands | High Quality Components |
| Sapphire Crystal Glass | Dependable Timekeeping |
Care and Maintenance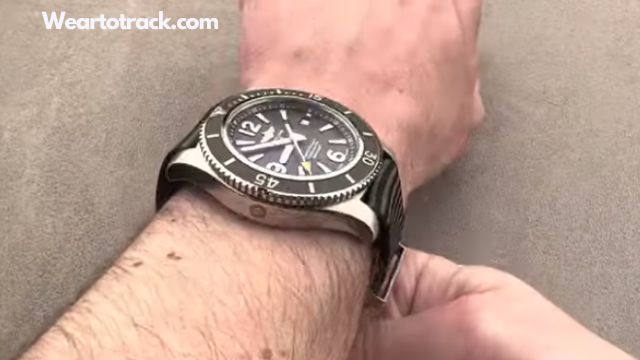 To ensure your watch remains in pristine condition, proper care and maintenance is essential.
Cleaning your Breitling Superocean watch should be done on a regular basis with warm water, soap, and a soft cloth. Wipe away any dirt from the watch case, bracelet, and crystal before drying thoroughly. Avoid using harsh solvents when cleaning the band as it may damage the material.
To maintain its accuracy, have the battery replaced every 3 years by an authorized Breitling service center or qualified retailer.
If you notice condensation inside the crystal of your Breitling Superocean, contact an Authorized Service Center for assistance immediately.
Regularly check for scratches on both sides of the case and bracelet to avoid further damage to your timepiece.
Conclusion
You've just learned about the history, features, and benefits, as well as care and maintenance of the Breitling Superocean.
This watch is a great addition to any wardrobe, as its timeless design will never go out of style. With its water resistance, you can take this watch anywhere without worry that it will be damaged through splashes or spills.
Taking proper care of your Breitling Superocean will ensure that it stands the test of time – literally! So don't hesitate to jump in feet first and make this one-of-a-kind watch part of your life. After all, you only live once, so why not make sure you look good doing it?
As a professional trainer and a gadget lover, I've spent a lot of money and time buying wearable activity trackers, smartwatches, and gadgets, and checking them out. My site is focused on helping you with your activity tracking and smart technology journey. I try to provide the most helpful updated content on this subject. Hopefully, you will love my blogs and be a regular around here.