If you travel around the world for the purpose of traveling or business, a watch that can tell secondary time can be a great help to you!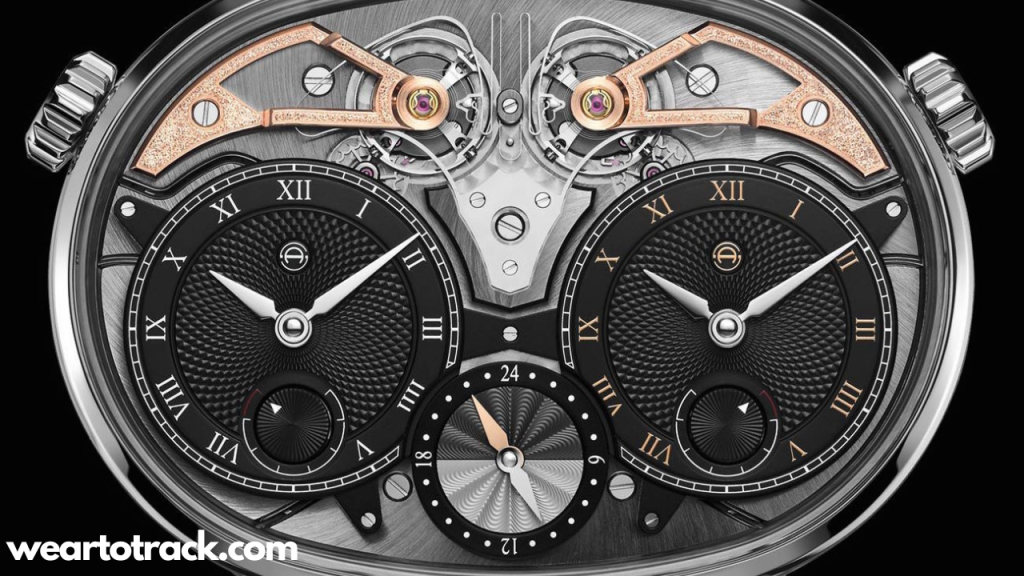 There are two types of watches that can let you know different times, one is GMT and the other is a Dual time watch.
However, there are a lot of options in the market for these watches. That's why we will discuss a few in this article.
Here is a related article that might interest you on the Best 7 Timegraphers For Your Watch | Make your Watch Accurate.
What Is A Dual-Time Watch?
Dual-time watches are built to show two different times simultaneously. With these watches, you can see the time of your current location and another random place at once.
Typically, there is a subdial or a pair of subdials that show the secondary time. Moreover, These watches show time on a 12-hour scale.
What Is GMT Watch?
These watches use the 24-hour scale to display the time. The majority of models will show a second-time zone via a central hand. Moreover, a 24-hour track that can be fixed or movable runs along the dial or bezel. If you don't mind a little math, these GMT watches with a movable bezel add an added degree of usefulness.
When the GMT hand is set to a specific time or time zone, users can move the bezel forward or backward to find out the time in a third zone, provided they are aware of how much ahead or behind the new time zone is.
GMT vs Dual Time
Both GMT and Dual time watches show multiple times simultaneously. However, there are some subtle differences between them. Here's a table with some of the key differences.
| | |
| --- | --- |
| GMT Watches | Dual Time Watches |
| These have a fourth dial hand to indicate secondary time | These have subdials to indicate secondary time |
| These watches have a rotating Bezel on top which you have to use to adjust the time. | These watches don't have a rotating bezel. Rather, these have a secondary 12-hour marking on analogue watches and a different mode on digital watches. |
| They have a 24-hour time format | They have a 12-hour time format. |
Top 25 Dual Time And GMT Watches Reviews
You might not want to wear a really expensive watch while going on a journey. Hence, you would do well to look at this watch from Citizen in that situation.
Having its 200m water resistance and dive-time bezel, this tough watch is a real diver in addition to being a GMT. A solar-powered Eco-Drive GMT movement is used to keep track of a 24-hour inner bezel in the traditional Pepsi color scheme.
The world's military love this durable Swiss-made brand, and this specific watch was created in association with renowned survivalist Bear Grylls.
It has Luminox illumination that illuminates for up to 25 years. This watch also has 200m water resistance, and the bezel is made of Luminox's strong and light CARBONOX material.
On its world-time bezel, it avoids major cities in favor of sites used by Special Forces all across the world.
The Glycine Airman was the first watch to simultaneously track two timezones, defeating the Rolex GMT Master in the race. The Airman isn't a GMT watch, though, because it doesn't have a fourth hand.
Glycine continues to produce an exact replica of the original Airman, but they now provide this GMT version for those who prefer not to read their local time on a 24-hour basis. This features the same basic appearance as the original Airman and all of its history and pedigree.
Only Rolex and a couple of other luxury manufacturers used to supply genuine GMT watches just a few years ago. However, the rest of the market has lately started to catch up, and you can now purchase a true GMT for less than $1000.
This Certina has a movement like that, having 200 meters of water resistance, and a sapphire crystal. In addition to that, it has an astonishing 80 hours of power reserve; a fantastic feature if you intend to travel with more than one watch.
Having been founded in 1832, Longines is one of the oldest Swiss watch companies still in operation, and they have continued to lead the way in their field.
Longines is best renowned for its mechanical watches, but it hasn't given up on quartz, as demonstrated by this outstanding quartz GMT. The V.H.P. GMT is accurate within a mind-boggling five seconds per year.
It has a "smart crown" that can switch between your home and travel times automatically with the push of a button. It also has a "flash setting" feature that makes use of a tiny sensor in the "12" index. Thus you can read the flash from your phone to automatically adjust your local time when you reach a new location.
Farer is a British microbrand that has only been around for a little over five years. Yet during that time, they have already developed a reputation for their daring and distinctive use of color. And their flagship GMT watch is the best example of it.
More people argue online about the hue of the Lander's sea-green sunray dial than "The Dress," but regardless of whether you believe it is blue or green, we can all agree that it is stunning. This stunning timepiece's tremendous attractiveness is further enhanced by an enchanting sapphire crystal, Arabic numeral indices, and vibrant hands.
Hamilton is yet another part of the Swatch Group. Hence, a "true" GMT movement with an 80-hour power reserve powers this watch.
It's not a diver or a typical GMT watch. This watch truly is a pilot's watch, packed with functionality. The slide rule bezel may also be used to swiftly convert currencies, making it a useful travel tool even if you're not a pilot.
In the early 1960s, Zodiac was one of the first watch companies to embrace the GMT trend, turning their Sea Wolf diver into the Aerospace GMT. Today, the Swiss watchmaker is still producing a GMT version of the Sea Wolf, albeit they've regrettably deleted the Aerospace label.
We choose this Pepsi watch with a silver dial and merchant Topper Jewelers to be the most attractive. This limited edition affectionately referred to as the "Crystal Pepsi," is a reproduction of a 1960s Aerospace reference.
This is undoubtedly the best watch produced by American-owned, Swiss-based Monta, one of the most well-known microbrands in the industry. The fully articulating bracelet has a quick-adjust clasp.
The bezel is made of scratch-resistant ceramic, and the water resistance is impressive at 304 meters. However, the hands are diamond-cut and rhodium-plated, and the GMT hand has an interesting and clever bend that allows it to reach the outer edges of the dial while clearing the applied indices.
All of these features are comparable to those of watches that cost twice as much.
This particular model has a fascinating sunburst blue dial that is expertly balanced by orange accents; the combination looks especially striking if you choose the orange rubber strap that is an option.
The watch has a rotating 24-hour ceramic bezel and an inner 24-hour ring, making it simple to track three time zones at once if you're into that sort of thing.
This may be the ideal travel watch because it is the first time Grand Seiko's celebrated 9F High-Accuracy movement has been offered in a GMT version.
The finishing is easily the best you can get for the price, thanks to Grand Seiko's renowned distortion-free polishing. Accuracy is conservatively rated to within 10 seconds per year. And it looks good for days.
The GMT Master II, a forerunner of the first GMT watch, is still the most sought-after GMT in the world. A new stainless steel Pepsi bezel model has a lengthy waiting list, and used ones frequently fetch prices that are higher than the suggested retail price.
But there is a reason why the watch is in such high demand. It has an unmatched classic design that few watches in the world can equal, and it is unbearably beautiful.
There is no one who wouldn't want one of these on their wrist while they travel the world because it is also sturdy, durable, and elegant.
This watch can be a wonderful choice if you don't enjoy arithmetic because its fourth hand runs on a 12-hour scale rather than a 24-hour one and has day/night indicators for "home" and "local" time. So you can keep your AM/PM straight.
The Aquanaut is stronger than other Pateks since it is composed of stainless steel. This one has a UV- and saltwater-resistant polymer strap and can withstand 120 meters of water.
To put it another way, you can actually travel with this watch, which costs close to $40,000.
This one is a luxury watch made by the brand Philip Stein. It has a unique design that comes with a stainless steel band. Moreover, the watch is also water resistant. It is priced at about 682 dollars.
Priced at $233, this is a great dual-time watch. It comes with a stainless tell band along with water resistance. It has a 12-hour time format in both the main dials and subdials.
This watch comes with a retro design which is quite spectacular. The second time is shown on a digital screen. It is indeed a nice touch from Casio.
If you like big watches, this might be a very good option for you. It has an excellent design and comes at an affordable price at around $265. Moreover, this watch will be water resistant for up to 30 meters.
This watch comes with a leather belt. Like all the other dual-time watches, it also shows time in the 12-hour format. Most importantly, the design and build quality of this model is pretty good.
And we think that the pricing is pretty reasonable, considering the quality of this watch.
This is a watch that comes with exceptional technology. To maintain accuracy, Citizen used the atomic clock synchronization technology. It also has quite an eye-catching design as well. Although this watch is packed with features, it comes at a moderate price.
This is one of the most good-looking watches on this list. The only caveat is that it is a limited edition watch with only 300 pieces made. However, due to its looks and specs, we couldn't leave it off this list.
This is a luxury watch that will surely catch the attention of many people. The attention to detail on this watch is exceptional. Moreover, it is extremely accurate in telling the time. If you have money to spare, this is undoubtedly one of the best choices for you.
The Reverso was designed with the reverse side of the watch physically fitted with a case back to make it more durable. The Duoface is a deviation from Reverso's original design objective.
In this version, a second dial that displays the time in a second-time zone is installed on the opposite side of the case. This not only is clever, but it also keeps JLC's traditional aesthetic on the main dial.
The cost of this specific watch is $13,100, which in our opinion is reasonable.
Most of the dual-time watches we have discussed are quartz. But, not this one. It is a self-winding mechanical watch with jewels embedded in it.
This watch is also water resistant for up to 150 feet. However, it comes with a huge price tag.
This Charles-Hubert Paris dual-time dress watch has a straightforward design and is made of stainless steel with a premium leather band and blue hands. Additionally, this watch also has a lifetime warranty from manufacturing flaws, Japanese Quartz movement, 30-meter water resistance, and a luxury paper gift box.
This is a watch from Seiko's Coutura lineup. It has a stainless steel case and bands. The dual time is maintained by Seiko's radio sync chronograph.
This watch comes at the price of $350.
How Do You Set Up A Dual-time Digital Watch?
The process is quite simple. To set dual time:
you will first need to locate the mode button.
After that, press that button until you see the dual time menu on the screen. Then, press and hold the select button for a while.
You will see the hour section blinking.
Change it to the correct time using the start/stop button.
Following that, press the select button once again.
You will see the minute section blinking.
Change it like the previous step.
Then, change the seconds following the above steps.
Lastly, press the mode button once again to set the time.
Verdict
In this article we have discussed the details of 25 GMT and Dual time watches you can buy. All these watches vary in their price range. However, you can choose whichever is in your budget.
We sincerely hope that this article was of help to you!
Also, you have to check out my post on the Best 14 Altimeters And Activity Trackers For Climbers In 2023.
As a professional trainer and a gadget lover, I've spent a lot of money and time buying wearable activity trackers, smartwatches, and gadgets, and checking them out. My site is focused on helping you with your activity tracking and smart technology journey. I try to provide the most helpful updated content on this subject. Hopefully, you will love my blogs and be a regular around here.