It is hard to point out on the best Garmin watch for swimming and it depends on the kind of watch that you prefer, but in my opinion, if you are just an amateur swimmer it is better to buy a multi-sport watch over a watch which is dedicated just for swimming (like the new, fantastic Garmin Swim 2) and I find the Vivo Active 3 and the newer generation, Vivo Active 4 as a better and much cheaper options than the more luxurious Garmins.
If you, like me, love Garmin watches and looking for one that will help you with tracking your amateur swimming sessions, then this article will help you with it.
Update for 2020
As we know, the technology of the smart watches and fitness trackers is advancing rapidly and not long after I have wrriten this review Garmin came up with a newer versin to the popular Vivo Active series, the Vivo Active 4.

Garmin Vivo Active 4 – The new Gen

The new series watches comes in two models that offer different screen sizes, with the Garmin VivoActive 4 offering a 1.3-inch screen (45mm version) and the VivoActive 4s offering a 1.1-inch screen (40mm version), So unlike the previous watch in the series, there is now a separation between a larger and smaller watch instead of just a single model for the Vivo Active 3 which offered a 1.2-inch screen.

As with the VivoActive 3 series, the watches in the new series feature touchscreen and incorporate a built-in GPS component and you will find features such as sleep monitoring, built-in heart rate monitor, abnormal heart rate alerts, breath monitoring, monitoring women's menstrual cycle, along with a variety Predefined exercise profiles and the ability to listen to music directly from the watch without the need for a smartphone connection, through the GARMIN Music application that allows you to store songs and sync to popular music apps, including Spotify and Deezer.

The GARMIN Pay payment tool, first introduced with the VivoActive 3 watch about two years ago, will allow support to make payments directly from the watch, although this can only be done in supporting countries.

The VivoActive 4 offers long battery life, which according to the company will last up to 8 consecutive days in smart watch mode (ie without using GPS or other sporting activities) and up to 6 hours using GPS mode when for the VivoActive 4s Battery of up to 7 days in smart watch mode and up to 5 hours in GPS mode.

The series also offers support for the Body Battery application, a metric that provides a snapshot of the body's real-time energy, weighing a number of essential parameters, including sleep quality, fitness and more, and water resistance under the ATM5 standard.

Should I Buy prefer the Vivo Active 4 Over The Vivo Active 3?

Well, it really depends on your budget.
The main reason thar I have chosen the Vivo Active 3 as the best Garmin for swimming is the great price that it comes with.

The newer version is really a seccesful upgrade, however it also comes with double the price(currently around 340 dollars on Amazon), and in this price tags there are many great and better options in my opinion.
Best Garmin Watch For amateur Swimming – Vivoactive 3 Review 2020.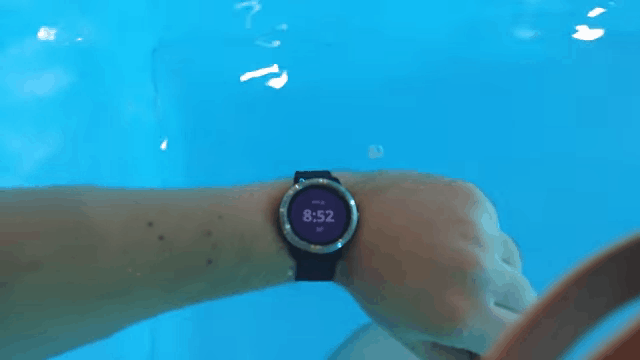 Before approaching to buy a swimming or any activity tracker there are a couple of things that you should take into account.
The type of data that you want to see – Do you want to track just your Pool laps and calories or do you want much more data and states
How do you want to see your Data – do you prefer to see it on your watch's wide big Display or prefer to view it after the session on your phone(there are fitness trackers without a screen for this purpose that will be a much cheaper and recommended option), you can check out my post on best fitness trackers without a screen here.
Do you want extra features – do you want a built-in GPS(a "must" for outdoor swimmers), heart rate monitoring and other stuff that are important for activities other than swimming like an altimeter, barometer, pedometer and more.
Garmin Vivo Active 3
The Vivoactive 3 bridges the two categories of wristband and sport watch: Garmin's precise definition for this product is a GPS Smartwatch, as I mentioned, is cheaper than the "real" sports series Forerunner and Fenix but is more advanced than the company's activity band.
A very good way to check it out and buy it is from this seller on Amazon.
What's surprising is the wide variety of applications available for use with this watch: Watch Faces, connection to other sports applications, and everything in the range between a list app and an application to locate your car in the driveway. The watch also supports the Garmin Pay payment platform.
Still, this is watch was built to monitor activity, and here Garmin does a great job:
The watch comes with a built-in GPS device, a pulse sensor and is suitable for swimming up to a depth of 50 meters.

The watch also offers a measurement of VO2Max.
Besides measuring the pace and pulse accurately, the Vivoactive 3 can show your stress level.

How does he measure it? Very simply, by measuring your heart rate at rest: If your pulse is very high when you are not moving regularly, the watch will tell you that the stress level is higher than desired.
In order for us to begin monitoring the fitness training, all that is required is a single click on the right physical button, selecting the type of activity and that's it.

The GPS device is very fast at finding its own location and within seconds it detects it.
The watch comes with a cool feature, Garmin Move IQ, a mechanism that detects the sporting activity of more than ten minutes.

Unlike Samsung's watch, this activity will not be recorded as part of your regular activities, but it will be possible to check your performance.
Thanks to the built-in GPS, the app will be able to show you the route you've done on a map at the end of your activity.
The app also gives you insight into how much time you sleep compares to other users in your age group (I am sleeping more than 45% of them), how many steps you make relative to others, how many floors you climb, and more.
Another thing I really liked about this app was the calendar, which displays colorful labels every day that provide different data that the watch has collected: special achievements that you got that day (Badges), how much you slept, what was your heart rate at rest and what was the maximum heart rate, level of stress and the number of steps you took.

Visually, the app can make some improvements, but at the functional level, it is excellent.
When I bought my Vivoactive 3, it wouldn't allow you to download and play music, Garmin fixed it and now there is a version with built-in storage for music available which is called "Vivoactive 3 Music".
The watch screen is a 1.2-inch touch screen with a resolution of 240 by 240 pixels, but you can also scroll through the various screens with a touch bar on the left side.
I must admit that I did not connect to the touch bar method. In addition, a button on the right brings you to your activity menu and allows you to activate tracking immediately.
The biggest weakness of the watch for my taste is the design.
Unlike the company's prestigious Fenix ​​series, this watch looks quite cheap and ornate.

You don't notice it at the beginning (As expected, it is very photogenic in PR images), but in a close-up look, you notice that Garmin apparently does not want to threaten its more prestigious series.
The black plastic of the watch body looks a bit cheap, as well as the strap, but at least it can be replaced.
The screen of vívoactive 3 is not as impressive as those offered by other smartwatches but is more functional. The Vivoactive 3 includes a permanently lit chroma display.
It lights up as the watch moves. I did not find a quick way to neutralize the lighting situation, let's say while going to a movie in the cinema, so in situations of this kind I just turned off the watch (which is not the best option for my taste).
It functions much better in daylight, and there is no need for high brightness, As a result of the fact that it is not required to illuminate powerfully to cope with sunlight, it consumes a fraction of the battery consumption of a stylish and impressive AMOLED screen.
If I have to choose between a battery that lasts a few days and a spectacular screen that will destroy the watch's battery in a day, I do not even have a dilemma.
Indeed, vívoactive 3 presents battery life that smartwatches from rival companies such as Huawei, Samsung, LG and others can only envy: theoretically it should last about 7 consecutive days of use during which you will receive alerts from your phone.
Using GPS will significantly shorten this time, which explains the fact that for me personally, it survived at most five days without recharging. Still very respectable.

Like other Garmin's watches, the Vivoactive 3 uses a unique charging cable, which is also different from other Garmin's models.

Vivoactive 3 for swimming
So, How is the Vivoactive performs as a swimming watch?
The reason that I chose it over the Garmin swim is that it offers many more features, can monitor multi-sports activities, have a better display while swimming, it connects much better to your computer(I heard that the Garmin Swim has problems to connect to Mac computers and it cannot connect via Bluetooth) and I don't see a reason to buy a watch that monitors only swimming when you can buy a device that can monitor many activities with a similar price tag.
The reason why I chose it over the Forerunners and Fenix's families is that it will offer pretty much the same when regarding swim monitoring at a much lower price.
The Garmin app is my favorite app for swimming and offers lots of stats and data that other apps don't.

After experimenting both with the Vivoactive 3 and the Forerunner 935, I can tell that the monitoring was pretty much the same, and both watches were quite accurate.

The Vivoactive 3 is doing a good job monitoring your swimming sessions and combined with the Garmin app, it is a great monitoring tool, however, it is not perfect and has its Cons.
Please note that there are a few factors that can cause your swim tracking to be less accurate, check out this video which will cover those up for you.
What I don't like in the Vivoactive 3
The touchscreen will not work in the water
The wrist heart rate monitor will not work in water(it is also the case in many other, more expensive watches, including the Forerunner and Fenix) but you can overcome this problem by using a chest strap. The problem that I have found with the chest strap is that it will not show your heart rate on the watch's display, you will be able to check it in the app only after your swimming session.
Not the best design and quality.
What I like in the Vivoactive 3
Good price for a multi-sports Garmin device with a built-in GPS and a heart rate monitor.
The Garmin app which is my favorite app when it comes to swimming.
Very accurate GPS and heart rate monitor which is not falling from much more expensive watches.
Good battery life.
Good visibility of the Display in sunlight and while swimming.
A durable and strong device.

Conclusion
A Garmin watch as a swimming tracker for amateurs might be a good choice mostly because of Garmin's app.

The Vivoactive 3 can offer you all the stats that you need for your swimming sessions, it will track accurately the distance, laps, strokes, heart rate(using a chest strap while swimming) and more.

In my opinion, it has everything that both indoor and outdoor swimmers need, and it will give you much more than just swim tracking.

In my opinion, the Vivoactive 3 and 4 are the best Garmin watches for amateur swimming for the money in 2020.