Have you ever heard of a luxury timepiece that has been an icon in the watch industry for over a century?
Breitling watches have been around since 1884 and have continued to captivate consumers with their timeless designs and dependability.
If you'd like to learn more about the history of this esteemed brand, then read on!
You'll discover how it all began, its innovative achievements, and why it's become an iconic choice among luxury watch aficionados.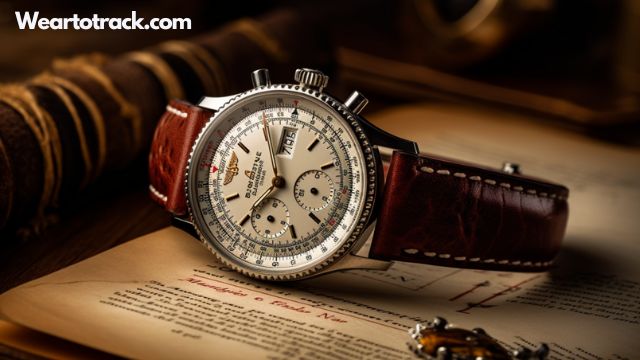 Brief History of Breitling Watches
Founded in 1884, Breitling has been making high-quality watches for over 130 years! Léon Breitling founded the brand, Breitling Watches, in Saint-Imier, Switzerland and quickly became known for its luxury craftsmanship and exploration of traditional watchmaking techniques.
Breitling's commitment to quality and precision has made it a leader in the industry. Many of their watches have become iconic symbols of style and sophistication. Their timepieces are renowned for their accuracy and reliability, as well as their luxurious design elements.
From classic chronographs to modern smartwatches, Breitling continues to push the boundaries of watchmaking while staying true to its roots. With a long history of innovation and excellence, Breitling is sure to remain an icon in the world of luxury watches for years to come.
Innovations and Achievements
You've likely heard of Breitling, but do you know about their incredible innovations and achievements? This Swiss watchmaker has been ahead of its time since 1884. Here are 4 noteworthy achievements and innovations from Breitling:
In 1915, they introduced the first independent chronograph push piece – a feature now commonplace in all chronographs.

In 1923, they created the first wrist chronograph with two pushers for resetting both hands simultaneously.

In 1954, Breitling became the first watchmaker to create a self-winding chronograph movement equipped with a date display window at 6 o'clock on a rotating bezel (the legendary Navi timer).

In 1969, they developed an entirely new type of movement: the integrated automatic chronograph caliber 11 – one of the most important mechanical horological innovations ever produced by any watchmaker in modern times (and still used today).
From their groundbreaking technological advancements to their classic yet timeless aesthetic designs, it's no wonder why Breitling watches have become so popular over more than 130 years!
Status as an Iconic Luxury Timepiece
You may be familiar with the Breitling brand today, but it wasn't always a luxury timepiece. Pilots and professionals have long recognized its quality and accuracy, and collectors continue to enjoy its style.
The iconic Breitling watch has come a long way since its early days, becoming one of the most sought-after watches in the world.
Recognition by Pilots and Professionals
Celebrated by pilots and professionals alike, Breitling watches have become renowned for their reliability and precision. Professionals in the fields of aviation, medicine, and law enforcement are among those who have come to rely on the accuracy of a Breitling timepiece.
It's no surprise, then, that many of these professions have turned to Breitling for endorsements. Pilots such as John Travolta, Harrison Ford, and Chuck Yeager have all endorsed the brand. Professional athlete Lindsey Vonn has also been seen wearing a Breitling watch throughout her career.
The Navy SEALs even chose a special edition Navitimer watch to commemorate their 60th anniversary. Additionally, US astronaut Scott Kelly wore a specially engraved Chronomat 44 during his year-long mission aboard the International Space Station in 2015-2016.
The fact that so many pilots and professionals trust in the quality of a Breitling watch speaks volumes about its reputation – one that will continue to stand strong through rigorous tests of time.
Popularity among Watch Collectors
Not only are pilots and professionals fans of Breitling watches but watch collectors around the world have also taken notice. The brand's intricate watch designs, featuring classic aviation and military-inspired details, have made them highly desirable for collectors looking to add a luxury timepiece to their collection.
This collector demand has increased the popularity of Breitling watches and brought them into the mainstream world of luxury watches. As more people take an interest in these unique timepieces, Breitling continues to rise in popularity among watch enthusiasts all over the globe.
The Breitling Brand Today
Today, Breitling is beloved for its combination of unique designs and quality craftsmanship, making it one of the most sought-after luxury watch brands.
In recent years, the company has been exploring partnerships with other well-known fashion houses to promote their brand further. This includes collaborations with Diesel and Louis Vuitton for special edition watches.
Additionally, they've launched new marketing strategies via social media and other channels to reach out to a larger audience. By using these strategies, Breitling has successfully attracted younger generations of watch collectors who appreciate classic style with modern touches.
As a result, the brand's popularity continues to grow as more people are drawn to the enduring legacy that Breitling watches.
Conclusion
Breitling Watches makes some of the most popular luxury watches, and in this guide, I've told you about the brief history of the brand. If you are looking for a luxury watch that is both functional and stylish, then a Breitling watch is a great option.
So, if you are interested, go ahead and make an investment in one today – you won't regret it! With timeless beauty and utmost precision, Breitling watches will always be around to remind you just how precious your time is.
As a professional trainer and a gadget lover, I've spent a lot of money and time buying wearable activity trackers, smartwatches, and gadgets, and checking them out. My site is focused on helping you with your activity tracking and smart technology journey. I try to provide the most helpful updated content on this subject. Hopefully, you will love my blogs and be a regular around here.