Many of my blog's readers are using MyFitnessPal and frequently ask how does it work and can you sync it with fitness trackers?
Let's talk a bit on this popular app and how can we benefit it the most. I also have on this website an article on the best fitness trackers that sync with Myfitnesspal that you might want to read.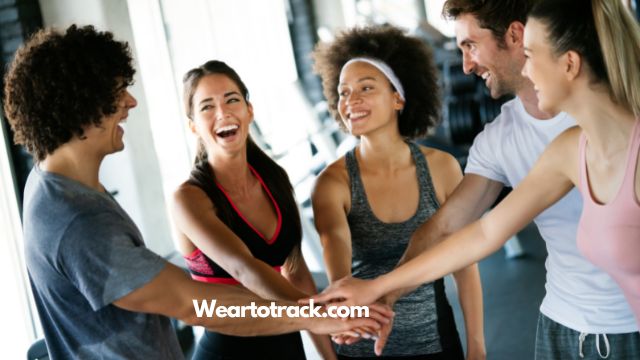 If you are tired of those extra inches on your body and are desperate to get rid of them, it's time to use technology to help yourself.
Yes, we are talking about the mobile phone and how an amazing application, MyFitnessPal can help you achieve your body goals. With this application, you can keep track of diet and shake your body (we mean exercise) and optimize the calorie intake.
The app has a database of over 5 million foods, and if by any chance, your food isn't in the database, you can inculcate it in the app and count the calories.
Users have the liability to integrate it with other applications for synchronizing the health data. This app is not only interesting but fun as well as you can satisfy your curious side by digging deep into the food nutrients.
You can even customize the meals as per your body needs so; it's an apt fit! Now, let's walk you through the app tendency in details;
How Does MyFitnessPal Work? Lose Weight With MyFitnessPal
If you struggle finding clothes every time you have to go out even if you have the diverse clothing options, your self-esteem drops and you think you don't look good in anything you wear.
If you don't feel comfortable in your skin, your self-confidence drops drastically. If you have accumulated the extra fats over time, there are times when you don't recognize yourself in the mirror.
For such issues, you need to make a lasting change by getting the MyFitnessPal app. You will need to roll up the sleeves and keep track of calories and nutrients to get that ideal figure back!
Keeping The Track:
The main idea beyond the MyFitnessPal app is to track your calories intake by providing it data on the meals that you are eating.
You can add a meal by choosing it from the built-in huge list of different foods or by scanning the barcode straight into the app.
The app will automatically translate and calculate the foods recorded into nutritional values ​​and will give you an indication of where you stand relative to your daily recommended caloric intake and Macros.
After downloading the app, set the goals and current body weight to start keeping the track. You will need to log the snacks and reach your daily calorie count.
People often forget to log the snacks, but the push notification keeps reminding you. With this app, there is no such issue of crash dieting, and you will start noticing the difference within a month.
If you need the extra pill of motivation, the app sends the positive and motivational messages to keep you going once you achieve the milestone.
If you stay on the track, you will lose pounds over a period of a few months, and you can start enjoying your old dresses again!
Here is an article on my website that you must read, its about the 15 Best Fitness Trackers Compatible with MyFitnessPal(MFP) In 2023.
How To Use Myfitnesspal Effectively? Getting Effective Results Through Myfitnesspal
Starting the dieting is an uphill battle as it requires drastic changes in the eating routine and the exercising habits. If you are going to use MyFitnessPal to achieve the fitness goals, we have accumulated different tactics to gain most out of the app. Have a look!
Keep Tracking – You need to write down everything you eat as soon as you take a bite. This is essential to keep track of everything
Set The Goals – You cannot keep on cutting on food without knowing how long you want to do dieting for. You need to set the small goals as they work as a medium for motivation. But make sure you don't overwhelm yourself with huge leaps
Stay Honest – Obviously, there will be no one to keep a check on you, and you will need to be honest to log everything whenever you eat something
Communicate – If you are using the MyFitnessPal app for losing weight, get in touch with people on the platforms and you guys can stay motivated together and be together in the uphill battle of dieting
Visit Forums – This app comes with private forums where you can find delicious recipes while minimizing the calorie intake. You can even ask questions if you have the queries to get valuable information
Charts & Graphs – You should read the charts and graphs on a regular basis to check your progress over the week. You can check the food intake and keep a track
Barcode Scanner – If you don't know the calorie portion of the food, scan the barcode of the food product to track the exact portions
Reminders – You can set the alarms to make sure you are tracking everything you eat
Stay Motivated – If you want to lose weight, you will need to cut on your cravings and saying no to cravings is the hardest thing to do if you are a foodie. So, you will need to stay motivated and patient with the efforts
Pat Your Back – You are investing so many efforts and saying no to food, whenever you lose an inch, give yourself a pat on the back because, in the end, you deserve it!
How Does MyFitnessPal Calculate Calories Burned? Counting The Burnt Calories With MyFitnessPal
When you first sign up on the app, you will need to set the age, weight, height, and gender to optimize the fitness goals. You will also need to incorporate information about daily exercise that you can pull off.
No matter what your weight loss or weight gain metrics are, we will make sure the calorie calculation isn't disturbed. To count the calories, the following formula is used;
Calories Consumed (Food) – Calories Burned (Exercise) = Net Calories
If you want to eat more, you will need to exercise more. This means that if you are exercising freak, you may get the cheat meals.
The ideal calorie count for women and men is 1200 and 1500, respectively. If the consumed calories are below this limit, you might face negative health effects so, don't starve yourself!
However, once you start losing or gaining the weight (whichever is your preference), the weight goals will change, and the calorie count will vary spontaneously.
Comparing MyFitnessPal With Other Apps
It is needless to say that MyFitnessPal is the pertinent app for losing weight or to keep track of food intake with friendly user-interface, but if there are many other similar options. So, let's compare them a little for enhanced exposure.
Jefit – This app allows the users to share the fitness goals and eating routines, but its confusing user-interface is a turnoff
Fitocracy – This app keeps the users motivated with its gamification feature by providing quests and challenges for each level. However, there are no customized planning options
Endomondo – This app allows the users to compete with other users as a source for motivation, but it doesn't allow the users to delete the history in bulk. Plus, there are enormous useful features, but you will need to buy the paid subscription
Strava – This application is fully automated as you don't have to implement manual processes to track the progress. But this app isn't apt for gym sessions
Lifesum – This app has been equipped with captivating design and delicious recipes for the people on a diet. However, the upselling in the app is aggressive, and the web version isn't available anymore
So, are you now ready to lose those extra inches and get healthy? We will be looking forward to seeing you flaunt those amazing dresses!
I hope that this article helped you to understand a bit more about how does MyFitnessPal work and how to use it effectively.
Here is a related article that might interest you on How Accurate Is MyFitnessPal? Can I Trust It?
As a professional trainer and a gadget lover, I've spent a lot of money and time buying wearable activity trackers, smartwatches, and gadgets, and checking them out. My site is focused on helping you with your activity tracking and smart technology journey. I try to provide the most helpful updated content on this subject. Hopefully, you will love my blogs and be a regular around here.