Timekeeping is essential at the time of racing. In the past, racing drivers did not have any chance to measure their lap time in an electronic way. They depended on the tachymeters and chronographs that they tied on their wrists.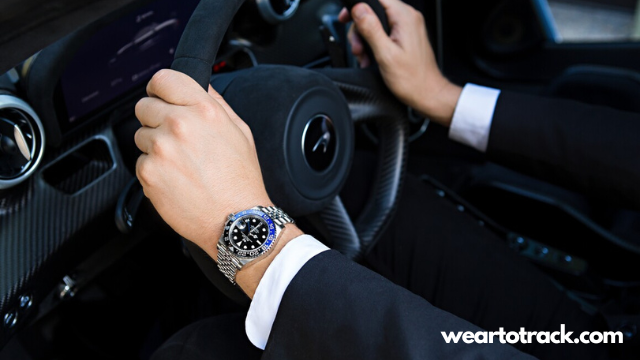 But what do you think about small machines, the racing watch that measures the passage of time?Interestingly, the racing watch was invented for calculating the racing time accurately without any trouble.
And for your convenience, we are going to share here top 20 racing watches that will surely amaze you!
Here is a related article that might interest you on Top 10 Retro Casio Watches That Are Making A Comeback.
#Overview
IMAGE
PRODUCTS
FEATURES
PRICE

Case diameter: 40mm
Water resistant to 330 feet
PRICE RANGE: Under $3,970

200 Meters Water Resistant
5 Year Limited Warranty
PRICE RANGE: Under $420

Water resistant to 100 m (330 Ft.)
Japanese quartz movement with 6-month power reserve
PRICE RANGE: Under $270

Case Size: 43.00 millimeters, Case Thickness: 12.25 millimeters
Water-resistant up to a pressure of 10 bar (100 m / 330 Feet):
PRICE RANGE: Under $450

Silver-Tone Stainless Steel
Sapphire Crystal
50M Water Resistant and 3 Year Limited Warranty
PRICE RANGE: Under $490
What Are Race Watches?
The racing watch is a stylish timepiece designed to record the exact time of car racing. Racing watches are commonly used for motorsport, motorcycle racing, yacht racing, and horse racing.
Today's luxury racing watches are popular not only for their technical power but also for their stunning appearance and attractive physique.
At first, the racing watch has a 'high contrast dial' that can read at high speed easily. Additionally, it has also a particular stopwatch called 'chronograph'.
Moreover, the watch has a scale for calculating the speed known as a 'tachymeter bezel'. As well as, the watch also carries a 'pulsometer bezel' that estimates heart rate.
Less common today, race watch cases are slightly 'angled' for making the driver easier to read at difficult angles during a race.
Furthermore, many racing watches have 'bracelets', but in the past, it has 'rally-style straps' that allow airflow from the lower part of the watch while the driver wears racing gear.
How Do Racing Watches Work?
So far, racing watches work according to their different components.
High contrast dial isn't always only a fashion or layout choice, however, it is supposed to assist the users to study all of the exceptional dials and bezels greater efficiently.
To find the chronograph, see two pushers on each side of the watch's crown. Chronographs have two dials, one for minutes and the other for hours.
For starting the chronograph, simply press the top button above your watch crown until this clicks. For stopping the chronograph, press the top key again. And for resetting the chronograph, press the bottom button.
For using the tachymeter first, you have to reset the chronograph to 0 or 12 o'clock. Then push the start key. Press the stopwatch button again when your measuring task is complete.
Now see the measurement in seconds. This is the number of times that you took to complete your task.
The only difference between a tachymeter and a pulsometer bezel is that a pulsometer measures heartbeat per minute. Place the index and middle fingers on your wrist to see the heartbeat.
Thereafter, start the stopwatch and begin to count the beats until you go to 30 and stop the stopwatch. The number where the second-hand stops on your pulsometer are your heart rate per minute.
List Of 20 Best Racing Watches Reviews In 2023
This watch case is polished and brushed with the material of stainless steel. However, the color of the watch is attractive black. But, its dial color is gray with yellow accents.
Apart from its attractive look, it can do automatic movement. Surprisingly, it can reserve power for almost 52 hours. The diameter of its case is 40 mm. In addition, it can resist water to 330 feet.
The main attraction of this watch is its multifunctional work. It seems like designed for modern men with a unique red color.
This watch combines modern innovations with age-old, expert watchmaking methods to create the greatest timepiece you have ever owned. Moreover, it can resist water 100m.
The brand of this watch is Black PU. It covers both times calculating and important features like alarm, countdown time, military time, hourly chime, etc.
The most important thing about this watch is that one can complete his swimming adventure perfectly by wearing this watch.
This watch is specially featured for Gulf Racing. Most importantly, this is particularly featured with a tachymeter scale, small seconds, a chronograph, an End of Life indicator (EOL), a permanent bezel, and a screw-down crown. As well as, it carries gulf stripes with a glamorous blue dial.
Like many racing watches, the case of this watch is made with shiny stainless steel. The battery operation is Quartz movement. In addition, the watch can resist water for 200 meters.
This is one stylish watch with a polyurethane orange strap and black dial. The watch is specially featured for Yacht Racing.
However, the device is full of modern features like 'Eco-Drive' technology. It has the power to give 30 cities time worldwide.
The watch consists of two alarms, one 99-minute countdown timer, and a one-touch analog or digital time changer. Along with that, you will find a backlight digital display, a coordinated Universal Time Display (UTC), and a daylight saving time index with this watch.
It can resist water for 200 meters. Besides, its most glamorous part is its silver-tone stainless steel case.
Like the previous watch, the most gorgeous part of this watch is its silver-tone strap and silver-tone case.
Yet, adorable black color is used for making its dial. It is specially designed with Sapphire Crystal that can prevent scratches on the watch. Furthermore, the watch can move automatically. As well as, it can resist water for 100 meters.
The watch comes with a dynamic new design for its users. It is made with stainless steel. Moreover, its case diameter is standard 46mm. However, this watch can resist 165 feet of water.
In addition, long-lasting mineral crystal saves the watch from scratches. An energetic chronograph engine is introduced by a silicone strap. It is featured with the Japanese quartz movement.
The watch is like a honeycomb texture with a layered structure that creates excitement for the users.
Interestingly, an exclusive skeleton dial with a Roman number is the specialty of this racing watch. Its case thickness is 13 mm and its case size is 44 mm blue satin.
The band of this watch is made of luggage leather. Correspondingly, the belt width is 22mm. The watch can resist at least 5 ATM water. Equally, it can move automatically.
The material of this watch is stainless steel with a 42.5mm case and dial window. And it is made with a black Ion finish.
Naturally, it is a two-tone watch that features a 60 minutes chronograph, luminous markers and hands, and also a date calendar.
Surprisingly, the watch provides dual-time capacity, an analog display, a 12-hour alarm, and Japanese quartz movement along with a 6-month power reservation.
On the other hand, it can be resistant to 100m of water.
The Tissot T-Race is featured by the inspiration of the motorcycle. And, it is made with the material stainless steel.
Also, it consists of a silicone bracelet. It can take the pressure up to 100m of water. However, the watch is suitable for a short time of recreational swimming and bathing, but no snorkeling or diving.
Apart from this, quartz movement, a black PVD-coated stainless steel case, and an indicator dial type exist on the T-Race watch.
The Invicta S1 racing watch is a qualifying champ, fully automated and uniquely styled. The watch is made with synthetic leather. And, the leather band is black in color.
However, it is suitable for pleasure surfing, sailing, swimming, water sport, and snorkeling.
Even so, it is not perfect for diving. It has a stainless steel case, a lovely silver dial, quartz movement, and so on.
This watch is a leather synthetic watch. It consists of a calendar chronograph of six hands, a silver-tone finish back case, sapphire glass, a black dial, high performance-based UHF quartz movement.
However, the best in this watch is the frequency of 262 kHz with exceptional accuracy.
As well, it can prevent water to 50m. The reason of less water resistant, it cannot be suitable for bathing or swimming.
First of all, Invicta Men's S1 Rally is a stainless steel-made watch. Additionally, the dial of the watch is a beautiful white color. The leather band is a light brown color that attracts men.
Also, the watch can resist water 100m. Hence, though the watch is not appropriate for diving, it is suitable for water sports, snorkeling, swimming, sailing, and recreational surfing.
This is one of the most attractive watches for men along with a black leather strap. Also, its case is made of stainless steel.
Its resistant mineral crystals and resistant glass protect the watch from scratch.
Apart from this, the watch can resist water up to 50m. The battery of the watch is powered by a quartz movement.
This watch is glamorous in titanium gray color with the Garmin brand. Its band is titanium made.
Most importantly, it is specially featured with Bluetooth and can connect with Wi fi. Also, the watch has sunlight visibility!
Mainly, this watch improves sail racing. The screen size of this watch is 1.3 inches. Moreover, it can preload apps for boating tide.
It is one of the unique watches from all-racing watches because of its two dials that can be set to separate times.
Its color is also attractive PVD black and rose gold. And the strap of the watch is black in color.
As well as being 50m waterproof, this watch can be used in daily life like doing housework, water splashing, washing hands, and rain to create a fashionable look. But the watch is not suitable for diving and swimming.
This exclusive men's watch is made with the material resin. It is an analog watch with three hands second, minute and hour.
Additionally, this watch can prevent 200m of water. So, it can be considered a diver-inspired watch.
Apart from this, it has a stainless steel case with a black resin strap. Also, the glass of the watch is made of a mineral. One of its different functions is a rotating bezel.
The brown or black color Timex men's watch is made with brass material. You know this watch gives a military-inspired charm when a person wears it.
However, it has a brown adjustable genuine leather band. By the way, the dial of the watch is black in color. This watch's chronograph measures 30 minutes. Hence, the brass case of the watch is black in color with glass crystals of mineral.
Moreover, it can resist 100m of water. So, it is suitable for both swimming and snorkeling, not diving.
The most amazing factor of this watch is its green dial and green calfskin leather strap. But the case of the watch is silver toned.
It has sapphire crystals that resist scratch. The material of the case is stainless steel and the size is 42mm. It has a 100m water-resistant capacity.
Above all, this watch can also move automatically.
It is one of the newly designed timepieces. This watch is made with calfskin. But, the case of the watch is made with silver-tone stainless steel with a black bold leather band and black dial.
As well, the chronograph of this watch can measure up to 60 minutes. It can resist 100m of water. Most importantly, it features eco-drive technology.
This is a dynamic watch that belongs to a 44mm case made of stainless steel with a black leather band and black dial. Also, it has long-lasting mineral crystal glass that saves the watch from scratch.
Above this, its quartz movement allows accurate timekeeping and minimum maintenance for dependable and also worry-free timepieces.
How To Choose The Best Racing Watch?
For selecting the appropriate racing watch, first, you have to be specific. First, select your budget for buying any racing watch. Then think about your fashion direction, interests, likes, etc.
Most importantly, for choosing any racing watch, you have to consider the watch's material, features, and working capability.
Thereafter see the working capability of the chronograph and tachymeter. You need to find the water-resistant capacity of the watch.
After that, try to find the pulsometer bezel capacity for measuring heartbeat. Above all these, you need to choose a stainless steel band or leather band with color according to your choice.
For choosing any watch, you can consider the climate where you live. Even so, you must consider your racing type when you will buy a racing watch.
What Watches Do Race Car Drivers Wear?
Timekeeping has been continually performing a vital function in the global of car racing. Watches are now assistants and also fashion for the racer.
Different racing car drivers wear different types of watches while racing. A racing car driver mainly focuses on chronograph and tachymeter scale while wearing a racing watch.
Mostly they wear watches from the brand Alpine with Bell & Ross, Aston Martin with Girard-Perregaux, AlphaTauri with Casio, Ferrari, etc.
The defending world champion and also his teammate wore IWC big pilot watches. The red bull drivers were seen wearing Tag Heuer. There are also many like this.
Verdict
A racing watch is a famous design for swimmers, doctors, runners, rowers, car racers, and also even manufacturers.
However, racing watches are perfect for outdoor adventure. It makes a man the most stylish in any place. You can find which watch matches your style through this article.
As a professional trainer and a gadget lover, I've spent a lot of money and time buying wearable activity trackers, smartwatches, and gadgets, and checking them out. My site is focused on helping you with your activity tracking and smart technology journey. I try to provide the most helpful updated content on this subject. Hopefully, you will love my blogs and be a regular around here.