Have you ever wondered what it takes for a watch manufacturer to obtain a COSC certification?
COSC stands for Contrôle Officiel Suisse des Chronomètres, and it is the official Swiss chronometer testing institute.
In this article, we'll explore what it takes for any watch manufacturer to obtain COSC certification.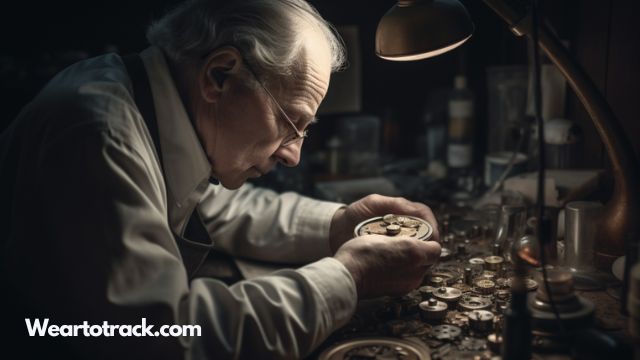 Check out this post: What Is The Difference Between COSC Certification And Other Watch Certifications?
Overview of COSC Certification
You may be wondering what sets certain timepieces apart from others – the answer is COSC certification!
The Contrôle Officiel Suisse des Chronomètres (COSC) is an independent Swiss organization that certifies the accuracy and precision of watches. It's a rigorous watchmaking process that tests each movement for 15 days, in five different positions, and at three different temperatures. This ensures that all watches meet the highest accuracy standards set by COSC.
The COSC certification process involves testing the rate of a watch's movement over several days to ensure it meets its strict criteria. Watches must have an average daily rate between -4/+6 seconds per day to receive certification. They must also pass tests for water resistance, power reserve, shock resistance, and other factors before being approved by COSC.
To sum up, obtaining COSC certification requires a watch to go through a rigorous testing process to ensure it meets the highest accuracy standards set by this independent Swiss organization. To learn more about what requirements are needed for obtaining this certification read on!
Requirements for Obtaining COSC Certification
Getting this certification isn't easy; it requires meeting stringent criteria and lots of paperwork. Time investment is key, with the testing process taking up to 18 days depending on the type of watch manufacturer.
Every watch must meet all 15 characteristics established by COSC in order to be certified. Five tests are performed over a 10-day period that measures the timekeeping accuracy of the watch's movement and its power reserve as well as other aspects such as shock resistance and water resistance. The final three days are spent making sure that all 15 criteria have been met before issuing certifications.
For many watch manufacturers, obtaining COSC certification is an important part of their business strategy since it helps them stand out from other competitors by providing customers with a guarantee of quality and precision for their products. This certification also ensures that their watches will be able to keep proper time over long periods without having to be re-calibrated, a major selling point for luxury watches.
It may take some effort up front but it can pay off in terms of customer satisfaction in the long run.
The process for obtaining COSC certification takes time but it's worth it for many watchmakers who want their products to stand out from the competition and provide consumers with an assurance of quality and accuracy when they purchase one of these luxury watches.
With so much value at stake, it's no surprise that many manufacturers make every effort to get this prestigious stamp of approval on their products.
Check out this related post: Best COSC Certified Watches Under $500, $1000, and $2000 For 2023.
Who Can Obtain COSC Certification?
With its promise of quality and precision, COSC certification is something you'll want to consider for your luxury watch.
As an independent organization, the Contrôle Officiel Suisse des Chronomètres (COSC) evaluates watches for accuracy and rate them according to international standards.
Any certified watch must pass a series of tests conducted by COSC's inspectors in order to receive their certification.
As such, the certification process is not open to just any watch manufacturer – only those who abide by the strict standards set by COSC may obtain the certification.
The requirements for obtaining this coveted certification are quite stringent; approved applicants must meet certain criteria in both design and performance before being allowed entry into the program.
To qualify, a watch must be able to run at least 15 seconds faster or slower than the average standard time, as well as have superior craftsmanship and aesthetics.
In addition, each component of the watch movement must be tested individually in order to ensure that it meets all necessary specifications.
Therefore, only those manufacturers with high-end watches can hope to receive this prestigious recognition from COSC.
It should be noted that although it is possible for any manufacturer to obtain this certification if they meet all requirements, many companies choose not to go through the lengthy application process due to cost or other factors.
Those that do pursue this qualification demonstrate their commitment to providing top-notch quality products and services – a worthy investment indeed!
Conclusion
You can certainly obtain COSC certification if you're a watch manufacturer. To do so, you'll need to meet the requirements set out by the Contrôle Officiel Suisse des Chronomètres (COSC).
The criteria are strict and rigorous, but it's worth it to make sure that your watches are accurate and reliable – no one wants an hourglass on their wrist!
As long as your product meets the standards of excellence established by COSC, you can get certified and be part of history.
As a professional trainer and a gadget lover, I've spent a lot of money and time buying wearable activity trackers, smartwatches, and gadgets, and checking them out. My site is focused on helping you with your activity tracking and smart technology journey. I try to provide the most helpful updated content on this subject. Hopefully, you will love my blogs and be a regular around here.