Patek Philippe is a renowned Swiss watchmaker that has been around for over 170 years. The company is known for its attention to detail and superior craftsmanship, making it one of the most recognizable names in luxury watches.
Two of the most popular collections from Patek Philippe are the Nautilus and Aquanaut models. Both have their own unique design and features that make them distinct from each other.
This article will explore the differences between these two iconic models, such as their design, features, and price range.
3 Main Differences Between A Patek Philippe Nautilus And A Patek Philippe Aquanaut
Philippe Nautilus and Philippe Aquanaut are two of the most popular watches from legendary watchmaker Patek Phillippe and they are loved by watch enthusiasts. However, what are the differences between them? In this section, I'm going to highlight 3 main differences between Philippe Nautilus and Philippe Aquanaut.
1. Design and Style
Patek Philippe Nautilus and Aquanaut watches differ in terms of design and style, featuring distinct features that set them apart.
The Nautilus is renowned for its luxury appeal, with a bold octagonal bezel and integrated bracelet crafted from stainless steel. Its dial is also unique, featuring horizontal embossed lines that give it an unmistakable look.
On the other hand, the Aquanaut has a more modern feel to it, with a rounded case and rubber strap. It also has a textured dial with raised hour markers for added visibility.
Both watches are made with the same craftsmanship quality that Patek Philippe is known for, ensuring they will last for many years to come.
2. Features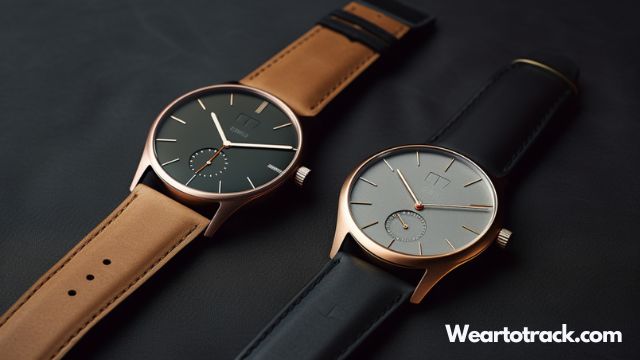 While the Nautilus and Aquanaut share a design philosophy, they differ in their features.
The Patek Philippe Nautilus is powered by automatic movement with a power reserve of up to 45 hours. It also has complications such as a date display, moon phase indicator, and chronograph.
On the other hand, the Patek Philippe Aquanaut is powered by automatic movement with a power reserve of up to 48 hours. It also has complications such as a date display, dual time zone indicator, and annual calendar.
Both watches are equipped with a sapphire crystal glass for scratch resistance and water resistance up to 120 meters.
3. Price Range
The price range of the two watches varies significantly, with the Nautilus typically being more expensive. The Patek Philippe Nautilus is considered a luxury watch and its prices can range from $15,000 to over $40,000 depending on the model and features.
It has a water resistance of up to 120 meters due to its screw-down crown and cashback. Additionally, it houses an automatic caliber movement type that contributes to its superior timekeeping capabilities.
On the other hand, the Patek Philippe Aquanaut offers more affordable options ranging between $12,000 and $30,000.
The water resistance for this model is slightly lower at 60 meters due to its snap-on caseback but it also contains an automatic movement type which ensures reliable accuracy.
Both watches provide exceptional quality in terms of their design and craftsmanship as well as their performance capabilities.
Conclusion
The Patek Philippe Nautilus and Aquanaut both represent the pinnacle of luxury watchmaking. While they share similar designs, their features are distinct.
The Nautilus is characterized by a classic octagonal-shaped bezel with rounded corners, while the Aquanaut provides a more modern feel with its square shape and angular lines. Additionally, the Nautilus offers more intricate details such as horizontal lines on its dial, while the Aquanaut has a smooth finish.
In terms of pricing, the two models also differ significantly; the Nautilus typically has a higher price point due to its superior craftsmanship and materials used in its construction. Ultimately, each model offers unique characteristics that make them ideal for different occasions and lifestyles.
As a professional trainer and a gadget lover, I've spent a lot of money and time buying wearable activity trackers, smartwatches, and gadgets, and checking them out. My site is focused on helping you with your activity tracking and smart technology journey. I try to provide the most helpful updated content on this subject. Hopefully, you will love my blogs and be a regular around here.