As a professional trainer, having the ability to measure vo2max is very useful, thus, I have decided to write on the best fitness tracker with Vo2 Max.
Today the world is being ruled by technology. The daily invention of new gadgets is mesmerizing. So much that it has taken over the health and fitness industry too.
Many modern health apps and gadgets are assisting us to maintain health records.
Today we can measure our blood sugar, blood pressure, heart rate, pulse, body temperature all using electronic gadgets.
Here is an article on my website that you must read, its about Best Fitness Trackers with a Chest Strap And Why Do You Need It?
For many years these measurements have been considered to be important or as they are called "vital signs" of a healthy body.
However, nowadays there is an emerging trend of recording your VO2 Max. Wondering what is VO2max and how can you record it? Let's get to know about it below.
What Is VO2 Max?
VO2max is a measure of cardiorespiratory rate. Also known as aerobic respiration rate, it is a measure of the rate of oxygen taken in by the lungs and delivered to the bloodstream during exercise. Its normal value is 35 to 40 mL/kg/min.
The main idea beyond a VO2 Max test is to check how fit you are. The declining capacity for oxygen transport is alarming. Thus, it can not only tell the current health status but also predict future risks.
As I myself experienced, in labs measuring VO2max is a difficult process. The patient has to go through some cumbersome tasks like an exhausting 12 minutes of treadmill or other heavy exercises using an oxygen mask. I would prefer wearing a gadget and doing my routine exercise while it measures all the needed information. Let's have a look at some amazing gadgets that will do this job for you.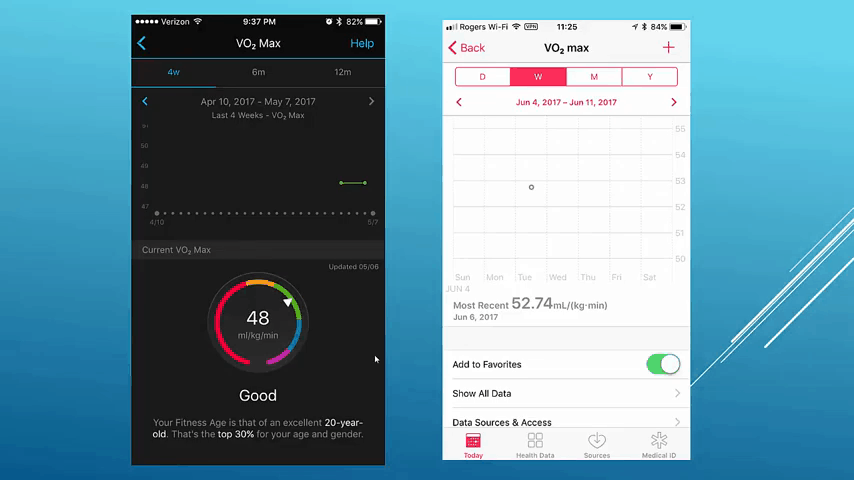 How Do Fitness Trackers Track VO2 Max?
The modern wearable fitness trackers are tracking Vo2 Max by using an algorithm that uses a formula that includes data such as your resting heart rate, age, sex, weight, and other personal information.
The Vo2 Max test done by the trackers is different for each brand however, in general, it will require a 10 to 20 minutes run or walk outdoors while using a built-in or connected GPS.
All the fitness trackers are giving an estimation of your Vo2 Max level based on the data that you provide and that is being collected.
You can read more on VO2 Max Estimate here at the Garmin support center.
How Accurate Is The Vo2 Max Tracking Done By The Fitness Trackers Is And Which Brand Is The Most Accurate?
First of all, using a chest strap will always give more accurate HR data than a wrist-based HR monitor – better HR tracking means better and more accurate VO2 Max reading.
As for the Vo2 Max accuracy of the modern fitness trackers. I have read some research and comparisons done by different groups and my main conclusion is that all the fitness trackers will not give 100 percent accuracy. And it varies from one individual to another.
In fact, you should expect a deviation of 5 points up or down. Some researches showed Garmin as the most accurate, others Apple and some Fitbit and it will be hard to determine which brand is more accurate. My personal preference brand when it comes to a sports watch that measures Vo2 Max would be Garmin.
10 Best Smartwatches & Fitness Trackers With VO2 Max Reviews
Products Information:
| | |
| --- | --- |
| Brand | Apple |
| Compatible Devices | Smartphone |
| Screen Size | 45 Millimeters |
| Operating System | WatchOS |
| Style | GPS |
| Shape | Square |
Leading a healthy, fit, happy life becomes easier with the Apple Series 7 smartwatch. The model features multiple updates to cope with your activities. The built-in sensors are sure to give precise body readings.
Of course, it includes a functional VO2 Max to measure your blood oxygen. You can easily estimate the overall workout from the values. And the smartphone app uses the data to track your fitness workouts.
Don't forget to track your ECG, sleep, fall detection, SOS call. Pairing with your Apple iPhone keeps you connected all the time. And the large always-on display comes with durable & protective encasing.
Products Information:
| | |
| --- | --- |
| Brand | Garmin |
| Screen Size | 1.2 Inches |
| Style | Watch Only |
| Connectivity Technology | Bluetooth, GPS |
| Band Material Type | Silicone |
| Scanner Resolution | 218 x 218 pixels |
| Supported Application | GPS, Heart Rate Monitor |
The premium wearable with multisport GPS can support your fitness, adventure, style. Fenix 5 features a rugged design with a steel bezel, buttons, casing. You can check all the essential stats right from the wrist using some clicks or touches.
You can always keep an eye on the heart with usable elevate-wrist HR technology. And the associated VO2 max should help you know the maximal oxygen consumption. Pairing with your smartphone allows you to analyze the data for evaluation.
Its no-scratch sapphire lens can withstand damaging outdoor elements well enough. There are outdoor sensors and GLONASS satellite reception for adventures. And the battery can run for 2 weeks (normal) up to 24 hours (GPS mode).
Products Information:
| | |
| --- | --- |
| Brand | Amazfit |
| Compatible Devices | Smartphone |
| Screen Size | 1.34 Inches |
| Operating System | Amazfit OS |
| Style | Stratos 3 |
| Connectivity Technology | Bluetooth |
| Shape | Round |
Integration of the featureful FirstBeat Analytics allows you to push the workout limits. Its trans-reflective professional MIP display perfectly suits outdoor uses. And the four buttons will get you its full control.
You can easily check the in-depth analytical data through the 1.34" display. A built-in VO2 Max tracks your oxygen consumption during every sport and workout. Evaluate your score from the dashboard to assess your session to crush the fitness goals.
There are additional measurements to let you catch a full health evaluation. Meantime, its functional GPS helps with 80+ included sports modes. And the dual-chip system enables normal or pro modes.
Products Information:
| | |
| --- | --- |
| Brand | Garmin |
| Are Batteries Included | Yes |
| Screen Size | 1.2 Inches |
| Human Interface Input | Buttons |
| Display Type | LCD |
| Connectivity Technology | Wi-Fi |
| Battery Life | 15 days |
Forerunner 935 is a wearable smartwatch by Garmin which measures heart rate and VO2max. It is my most loved fitness assistant.
It takes care of my fitness goals and helps me achieve them on a daily basis. Moreover, it keeps a record of my fitness level by measuring heart rate. With an amazing battery life of two weeks, it is always there for me.
Pros
Comfortable and lightweight (49grams)
Uses a training status tool to measure training history and recovery and show if you are overreaching.
Anaerobic training effect lets you know if you are pushing the limits
The training load feature measures your average exercise load.
It also measures your vertical ratio and verticle oscillation to determine your training technique
It provides options to switch between activities like swimming, racing or cycling.
Offers smart connect features with which you can share your fitness routine with friends or even in groups.
Sets daily fitness goals
The unbelievable battery life of two weeks in smartwatch mode.
Cons
Activity and fitness tracking might vary a bit from the original.
Products Information:
| | |
| --- | --- |
| Brand | Garmin |
| Compatible Devices | IPhone, Android |
| Screen Size | 1.04 Inches |
| Connectivity Technology | GPS |
| Shape | Round |
| Case Material | Resin |
You better have the perfect tool to measure your pace and distance while running. And the Forerunner 45 includes all the everyday running-related features. You can check the essential values using the sleek, lightweight, stylish design.
An integrated VO2 Max measures the consumed oxygen while doing the workout. You can incorporate the value with other health features within the wearable. And it eventually establishes a picture of overall running efficiency.
Safety tracking and adaptive coaching is available with its operational functionality. Also, the GPS and wireless connectivity cover necessary smartphone tasks. The powerful battery can last 7 days (normal) and 14 hours (GPS mode).
Products Information:
| | |
| --- | --- |
| Brand | Jabra |
| Color | Titanium Black |
| Connectivity Technology | Wireless |
| Model Name | Elite 75t |
| Form Factor | In Ear |
Who doesn't have a workout playlist? But what about those tangling wires of your earphones coming in your way? Not a problem now when you have Jabra Sport Elite Smart earbuds. While listening to your favorite tunes you can tone your muscles well.
Who doesn't have a workout playlist? But what about those tangling wires of your earphones coming in your way? Not a problem now when you have Jabra Sport Elite Smart earbuds. While listening to your favorite tunes you can tone your muscles well.
Its sound cancellation feature frees you of your surroundings. It's stylish, trendy as well as smart. What's more? it uses Jabra Sport Life App to record your heart rate and VO2 max. Also, it provides online coaching.
Pros
4.5 hours of battery life with a portable charger
Comfortable fitting options for all-day use.
Provides both options either cancel surrounding sounds or be more aware with hear through the feature.
Measures heart rate and VO2max
Audio coaching
Waterproof
3-year warranty
Available in 2 colors
Cons
Cost depends on the features it provides other than regular earphones
I have recently mentioned those in my article on the best wireless earbuds with a heart rate monitor.
Products Information:
| | |
| --- | --- |
| Brand | Garmin |
| Screen Size | 1.2 Inches |
| Style | 7S Sapphire Solar |
| Connectivity Technology | Bluetooth, USB |
| Human Interface Input | Touchscreen, Buttons |
| Water Resistance Level | Water Resistant |
| GPS | GPS Enabled |
It's time for you to take the training to a whole new level with Fenix 7. The multisport wearable runs on solar power for enough days. So, feel free to get the watch on your wrist for outdoor adventures.
It offers 24/7 health and fitness monitoring features to estimate essential metrics. And the built-in VO2 Max can measure your consumed oxygen level almost instantly. You can justify your activity workouts using the approximated value.
It even includes maps, modes, and buttons to complete control. You can even utilize the GNSS support for outdoor navigation. And the Sapphire lens to cover the 1.3" always-on display keeps it powered.
Products Information:
| | |
| --- | --- |
| Brand | ViATOM |
| Package Dimensions | 9 x 6.5 x 3 inches |
| Are Batteries Included | Yes |
| Item Weight | 1.4 Pounds |
Another device that was brought to my attention recently is this new VO2 max monitor by Viatom. This device in opposite to the others of this list will fit on your finger like a ring and by the reviews that it gets, it looks like an accurate monitor.
Another advantage of this device is the free adapted app – The Vihealth APP, which is very easy to use and will give you data on your HR, Vo2, and motion in graphic reports and trends.
Products Information:
| | |
| --- | --- |
| Brand | Withings |
| Color | Black |
| Compatible Devices | Health Mate App |
| Screen Size | 40 Millimeters |
| Style | Black |
| Connectivity Technology | GPS |
| Supported Application | Sleep Monitor |
Withings lets you track everyday fitness workouts with superior style. And you can track 30+ sports to monitor your performance. Keep mapping your every session with elevation, distance, pace using GPS.
Meantime, the watch can assess your fitness level through the built-in VO2 Max. its estimated maximal oxygen consumption concerns running and walking-based activities. The higher the value in VO2 max, the better is your workout efficiency.
Sync your HR values on the health app on your smartphone as well. Smart notifications will let you have every call and text. And the rechargeable battery can last for 25 days (normal) and 45 days (reserve).
Products Information:
| | |
| --- | --- |
| Brand | Garmin |
| Item Dimensions LxWxH | 57 x 1.5 x 0.5 inches |
| Item Weight | 0.16 Pounds |
| Battery Life | 12960 Hours |
| Sensor Type | Wearable |
Pairing your Garmin device with Garmin Chest Strap HRM will make it a very accurate and serious tracking device.
Another point that I had noticed and it is worth to talk about is the fact that Vo2 Max tracking becomes more accurate after a few months. It seems that the watch is learning you for the first 2-3 months and after you ran a few runs with it, using the GPS, it becomes more accurate.
My main conclusion is that, yes, none of the fitness trackers will give you 100 percent accuracy Vo2 Max, however, it will serve great as a tool that shows improvement.

Using the same watch for a period of time will give you a good comparison of your Vo2 Max measured in previous months from which you will be able to get your fitness progression.
Here Are Some Tips From Garmin For Measuring VO2 Max
Frequently Asked Questions [ FAQs ]
Will Losing Weight Increase VO2 Max?
Answer: Not exactly; it's the opposite. More body fat actually results in a higher VO2 Max value.
Does Fitbit Show VO2 Max?
Answer: Of course. Simply check the cardio fitness score, aka VO2 Max, from the Fitbit app.
Is VO2 Max Accurate On Garmin?
Answer: Garmin watches provide good VO2 Max accuracy. You can expect a maximum of ±5% error.
What Is A Good VO2 Max For My Age?
Answer: Good VO2 Max value depends on many factors. Check VO2 Max charts for confirmation.
Conclusion
All these gadgets serve as an excellent fitness partner. They not only measure VO2 Max or heart rate but also track other fitness metrics. Besides, some of them provide live coaching too.
Indeed, they are a must-have in your collection. But be careful that they cannot replace medical professionals. In case of any health issue do not rely on them completely and get regular checkups.
I hope that I helped you with finding the best fitness tracker with vo2 max. If you have any comments, please share it with us in the comments section below.
As a professional trainer and a gadget lover, I've spent a lot of money and time buying wearable activity trackers, smartwatches, and gadgets, and checking them out. My site is focused on helping you with your activity tracking and smart technology journey. I try to provide the most helpful updated content on this subject. Hopefully, you will love my blogs and be a regular around here.