Wondering What's the most accurate way to measure your footsteps? In this article, I will give you all the available options.
It's a fact that 10,000 steps per day can help you shed one pound of fat per week. If you are one of those people who wants to shed some extra pounds or someone who wants to maintain your current weight or you want to improve your overall fitness then walking will be a good place to start and a good step counting device can help you with the tracking.
When it comes to measuring your footsteps, you get the different options that you can use. In this comprehensive guide, we will share some of the most accurate ways to measure your footsteps. Let's get started.
Ways To Measure Your Footsteps
In the market, there are three types of foot-counting solutions available.
Simple Pedometers
Fitness Trackers
Fitness Apps
Simple Pedometer
Simple Pedometer is one of the oldest footstep tracking solutions which dates back to 1780. The pedometers can be divided into two further categories
Mechanical Pedometers
Electronic Pedometers
Mechanical Pedometer is the one that uses the mechanical components for its working. It uses the three main components for its working
Pendulum clocks – which moves back and forth
Escapement – it is a see-saw lever which moves up and down
Gear – it is the wheel inside the clock that count seconds
The mechanical pedometers use the above-mentioned components in combination to accurately measure the steps.
Electronic Pedometers are more advanced pedometers that work very similarly to the mechanical pedometers but these also include the electronic components.
When it comes to the accuracy of pedometers, it varies from pedometer to pedometer. A good pedometer only has an error margin of 10% which means that it can deviate from the original step counts by 10%. However, some latest pedometers also claim that they only have an error margin of only 5%.
When it comes to the pedometers, there are tons of very accurate pedometers available in the Market. The following are some of the most popular pedometers out there.
SC 3D Digital Pedometer – SC 3D Digital Pedometer is a clip-on and lanyard cord pedometer that comes with tons of great features. It can store the activity time for up to 30 days and its battery can work for up to 12 months which is remarkable.
3D TriSport Walking 3D Clip-on Pedometer – It is another very popular pedometer which can provide some accurate foot counts. It also comes with the calorie counter which can help you keep track of your calories.
You can get complete information about the above-mentioned and other pedometers by reading our "Best Clip-on Fitness Trackers and Pedometers".
Fitness Trackers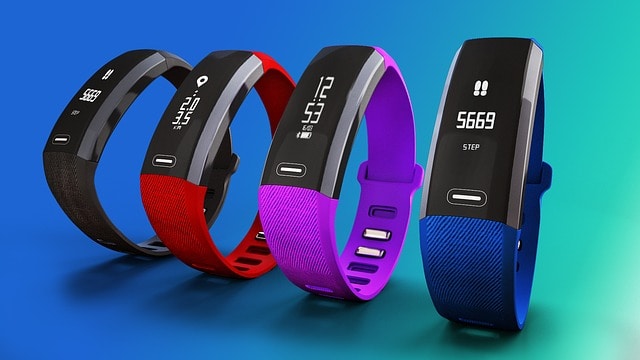 Fitness Trackers are the ones that you put on your wrist and the majority of them come with the accelerometer which allows the tracker to track the movement in any direction. Accelerometers are the more advanced form of Pedometers and they are also more accurate.
Read this article if you want to know how to use your accelerometer more accurately.
Fitness Trackers usually come with additional features such as calorie counter, step counter, running counter, sleep trackers and many more. These features allow anyone to lead an active lifestyle and keep track of different activities.
Smartwatches are a more advanced form of fitness trackers and they come with large displays and more advanced features that can enhance your overall experience.
Fitness Trackers provide more functionalities as compared to simple pedometers but they are also more expensive. These are some of the best fitness trackers available in the market.
Fitbit Charge 3 – It is one of the best fitness trackers in the market which ensures that you get the best experience. It comes with an advanced algorithm that uses all available data to eliminate the false step counts. Moreover, Charge 3 also comes with the touchscreen display and swim-proof design which allow you to use it while swimming. You can get it for $124.
Fitbit Inspire HR – It is a more affordable option by Fitbit. It comes with the same accuracy but you will have to live with the small display. Inspire HR also comes with a battery life of 3 days which is remarkable in this price segment. It also uses GPS technology to accurately track the outdoor activities. You can get it for only $79.
Garmin Forerunner 245 – Garmin is one of the best smartwatch company and it is known for making the best fitness devices. Garmin forerunner 245 is one of the best running watches in the market. It comes with an accurate GPS and heart-rate monitor which ensures that you get the accurate data. Also, it comes with the swim-proof design and overall better usability which makes it an ideal choice for the runners. You can get it for $249 on Amazon.
Pedometer Apps
If your smartphone has the accelerometer then you can go for the pedometer apps which will use your smartphone's accelerometer and GPS technology to measure your footsteps.
Pedometer apps are a great way to save some money but you will also have to compromise on accuracy as Pedometer apps are not accurate enough. These are some of the best Pedometer apps available out there.
Google Fit – It is the free app by Google and it is also very user-friendly. It works well with all major smartwatches and fitness bands out there. You can use it to set your goals and then monitor them. You can also use it to track the workout from the smartphone as well.
Step Counter – It is another very useful pedometer app that uses the built-in sensors of your smartphone to track your step counts. The app also provides some other functionalities such as water intake, reports and many more. You can get the app for free but the free version comes with ads and you can remove it with the pro version.
Bottom Line
These are some of the most accurate ways to measure your footsteps. If you want the best tracker and budget isn't an issue for you then you can go for the fitness tracker or the smartwatch. If you want the decent tracking then you go for the simple pedometers.
If you don't want to spend some money and you are just starting then simple pedometer apps will be a good option for you.
If you have any questions, please let us know in the comment section below. Also, visit our website for more useful guides.
As a professional trainer and a gadget lover, I've spent a lot of money and time buying wearable activity trackers, smartwatches, and gadgets, and checking them out. My site is focused on helping you with your activity tracking and smart technology journey. I try to provide the most helpful updated content on this subject. Hopefully, you will love my blogs and be a regular around here.