Wondering what is a TV bed and whether you need one? In this article, we'll try to help you to make a decision.
Its 21st century and we are seeing an evolution in many things. The analog watches are being replaced by the Smartwatches, simple mattresses are being replaced by the smart mattresses and Beds are being replaced by the TV Beds.
Here is an article on my website that you must read, its about the Best Smart Speakers For Bed Room, Bathroom, Kitchen, Living Room & Office.
TV Beds have been around for a long time and the reason behind their popularity is also justified.
People love to have a TV Bed in their Bedroom because it provides entertainment without leaving your bed.
In this comprehensive guide, you will learn everything you need to know about TV Beds in 2023. Let's get into it.
What Is A TV Bed?
A TV bed as the name suggests is a Bed that comes with the TV. TV Beds are not very different from the conventional beds in terms of shape but the TV Beds comes with the fully functional TV in the footer of it which you can use to watch your favorite shows or simply play your favorite games.
Some of these beds come with built-in surround sound systems and the ability to control it with a dedicated button.
How Do TV Beds Work?
The major difference between a conventional bed and a TV bed is that TV Bed comes with a TV Unit. TV Beds comes with the motorized unit built, on the foot side of the bed, to host the TV.
When you press the button, the motorized unit reveals the TV in front of you and then you can use it to entertain yourself.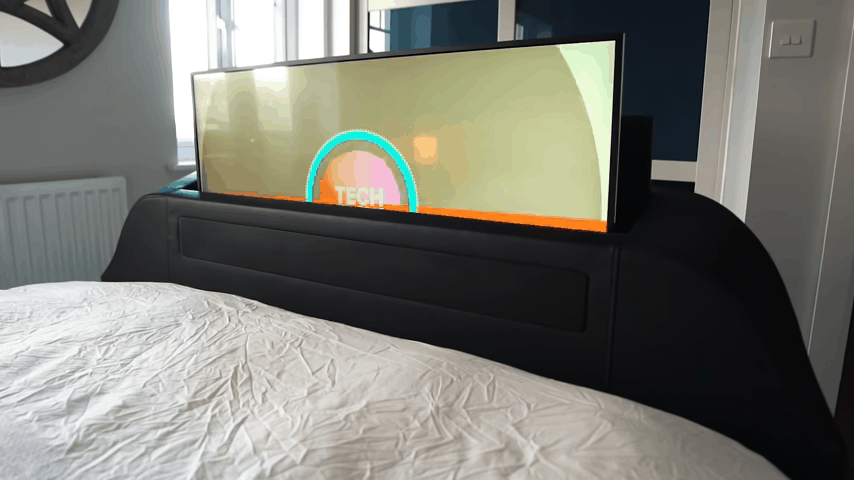 When it is time to sleep, simply press the button, the motorized unit hides the TV on the foot side of the bed and your bed turns into a normal bed.
This solution is not only very effective in space management but it also works well for those who want the minimalist look of their bedroom.
TV Beds VS Smart Bed/Mattress
Don't confuse between a TV bed which is basically a bed with a built-in TV space and a smart bed.
A real smart bed must have a smart mattress, here is a related article that I wrote on smart mattresses.
How Much Does A TV Bed Cost?
A TV bed can cost between 700 to 3000 Dollars and it is affected by the size, features, and quality.
What Are The Benefits Of A TV Bed?
TV Bed is a great investment and it offers tons of great benefits. The following are some of the benefits of having a TV Bed in your bedroom.
A Great Way To Spend Your Lazy Weekends
A Vast majority of us usually want to spend our weekends in our beds and watch our favorite TV Shows and play games. Beds are arguably one of the comfiest places in our homes and TV Beds allow us to enjoy our favorite TV Shows and games on our Bed.
Minimalistic Look
Getting a Minimalistic look can be pretty challenging these days because of the fact that every electronic product comes with tons of wires.
However, it is not the case with TV Beds. TV Beds comes with a dedicated compartment which you can use for wire management and to store your gaming console and other gaming peripherals. Effective cable management allows you to get the clean look in your room which is priceless.
Another best thing about TV Beds is that they hide on the foot side of the bed and when you are not using them, they are not visible which gives a minimalistic look to your room.
No Need of Additional TV Stand in Your Bedroom
TV Beds comes with the motorized, built-in stand which holds the TV. With TV Bed, you won't need an additional TV Stand because your TV will fit very nearly into your bed.
Having a TV Bed in your bedroom eliminates the need for an extra stand and you can use that space to put the other necessary thing in your bedroom. It could be your favorite painting, your wardrobe or anything.
Storage For Extra Items
TV Beds comes with the dedicated storage compartments where you can save your items such as extra pillows, your snacks or anything you want to store in it.
Having extra space for storage allows you to organize the items and move the unnecessary items away from sight to give cleaner look to your room.
You can also use these compartments to store your Gaming console and other tech gadgets in a more secure manner.
Watch Movies & Play Games In A Secure Environment
Cinemas, these days are very crowded and they also don't run according to you. With TV Bed & Netflix, you can watch the latest movies on your bed with full control you won't have to pay the hefty price for the tickets and the compromise your privacy.
You can enjoy the movie with your loved one in a private environment where you can also take breaks to prepare your snacks.
TV Beds also allow you to use any TV of your choice, you can always attach your Smart TV with your TV Bed and get smart features.
TV Beds Gives A Unique Look To Your Room
Last but not the least, a TV Bed can give a unique and stylish look to your bedroom. Having a TV in your bedroom is always great but it always comes with a lot of wires and messiness.
With TV Bed, you can eliminate all these issues and still have a TV in your bedroom without compromising its look. TV Beds also comes in various shapes and sizes so you can always go for the one which suits your needs.
Which Things You Should Consider When Buying The TV Bed?
There are various types of TV Beds available out there and in this section, we will share some things which you should consider when buying the TV Bed.

Pick The Model Which Can Support You TV
TV Beds come in various sizes and some TV Beds only support up to a certain size of the TV. Some Beds can support up to 43 inch TVs while some TV Beds are only designed to support the small TVs. We would recommend you consider your future needs as well.
For example, if you have plans to buy the TV with a large display in the future then you should get the TV Bed which could accommodate the large TV in the future.
Also, make sure that the TV Bed you are buying should have enough depth to support the large TV.
Storage In TV Beds
Having extra storage space is always a good thing so make sure that you get the TV Bed which comes with the extra compartments for storage.
However, if you don't want to have extra storage space then you can always go for a basic version that doesn't come with extra storage compartments.
If you are planning on using the gaming consoles and other gaming peripherals with your TV Bed then we would recommend you get a TV Bed with an extra storage compartment to store your gaming gear.
Multimedia Accessories
The basic versions of the TV Beds don't come with any multimedia accessories such as built-in speakers, headphone socket, Bluetooth capabilities, and other accessories.
However, you can always add these add-ons to your TV Bed to make it a Multimedia powerhouse. If you are planning on using your TV Bed for gaming then make sure to add the extra USB ports to attach your gaming peripherals.
Does TV Bed Come With Its Own TV?
Most of the TV Beds don't come with their own TV Sets and you can always add your own TV set to the TV Bed.
However, make sure that the TV Bed, you are buying, can support your current TV. You can always check the description or ask the customer support to find whether your selected model can support your TV or not.
Does TV Bed Come In Different Sizes?
Yes, TV Beds come in various sizes just like conventional Beds. TV Beds come in the following sizes.
Double
King Size
Super King Size
Some companies also offer a single TV Bed which can work well for your kids as well. However, the majority of the companies only offer the three TV Bed sizes which we have mentioned above.
Pros & Cons
Every product has its pros & cons and TV Beds are no exception. In this section, we will discuss the Pros and cons of having a TV Bed in your bedroom.
Pros
You can catch up with the News without leaving your bedroom.
You can enjoy your favorite TV Shows and Movies on your bed with your loved one.
If you are having stress, you can always watch funny TV shows to relive the stress.
Cons
Having a TV Bed can certainly mess up your sleep timing so make sure to follow the tight schedule to stay healthy. The same thing also goes for your smartphone and handheld consoles, if you don't use them carefully, they can mess up your routine.

Bottom Line
That's all folks. We hope that you will find our guide useful. TV Bed is surely a great investment but make sure to consider the above-mentioned factors when buying the TV Bed.
Also, make sure that the TV Bed, you are buying, supports your current TV Modell or TV Model which you want to use with your TV Bed.
If you have any questions, please let us know in the comment section below. Also, visit our website for more useful guides.
As a professional trainer and a gadget lover, I've spent a lot of money and time buying wearable activity trackers, smartwatches, and gadgets, and checking them out. My site is focused on helping you with your activity tracking and smart technology journey. I try to provide the most helpful updated content on this subject. Hopefully, you will love my blogs and be a regular around here.