In this article, I will help you with finding the best smartwatches and activity trackers for small wrists & women available on the market for any budget.
Everyone wants to keep track of the progress they are making towards achieving their dream body or maintaining a healthy lifestyle.
What better way to do that than by getting yourself an activity tracker that can do just that for you? An activity tracker will make sure that you are making progress towards a healthy lifestyle by motivating you to workout and setting goals for you.

Best Smartwatches and Activity Tracker for Small Wrists – Top 8
One problem faced by people with small wrists is that not a lot of activity trackers have adjustable straps and they don't fit them.
A loose activity tracker in your hand is not only inconvenient but it is also annoying and uncomfortable.
A good solution for people with small wrists is to get a fitness tracker without a screen.
These trackers are small, light and cheap and are able to track your activity during the day and show your stats on your mobile app or computer.
Check out my article on the best fitness trackers without a screen.
In addition to that, I have selected the best 7 activity trackers that are perfect for people who have small wrists because these won't be loose, will fit perfectly and I didn't compromise on the quality of the trackers.
1. Apple Watch Series 4 (40mm version)
The first device on this list doesn't need an introduction.
If you don't have a problem with a budget you can go on the newer versions – versions 5 and 6 which also come in 40mm versions.

Check out my post on how much does Apple watches weigh in all of its versions.

The Apple watch series 4 in its 40mm version would fit great on your small wrist.
Check out the 40mm version's current price on Amazon.
In fact, this is the watch that I bought for my wife and she absolutely loves it, I took these pictures to show you how it looks on her wrist and on my 4 years old daughter one's(obviously it is too big for a 4 years old girl but it can give you an idea of how it looks on a tiny wrist).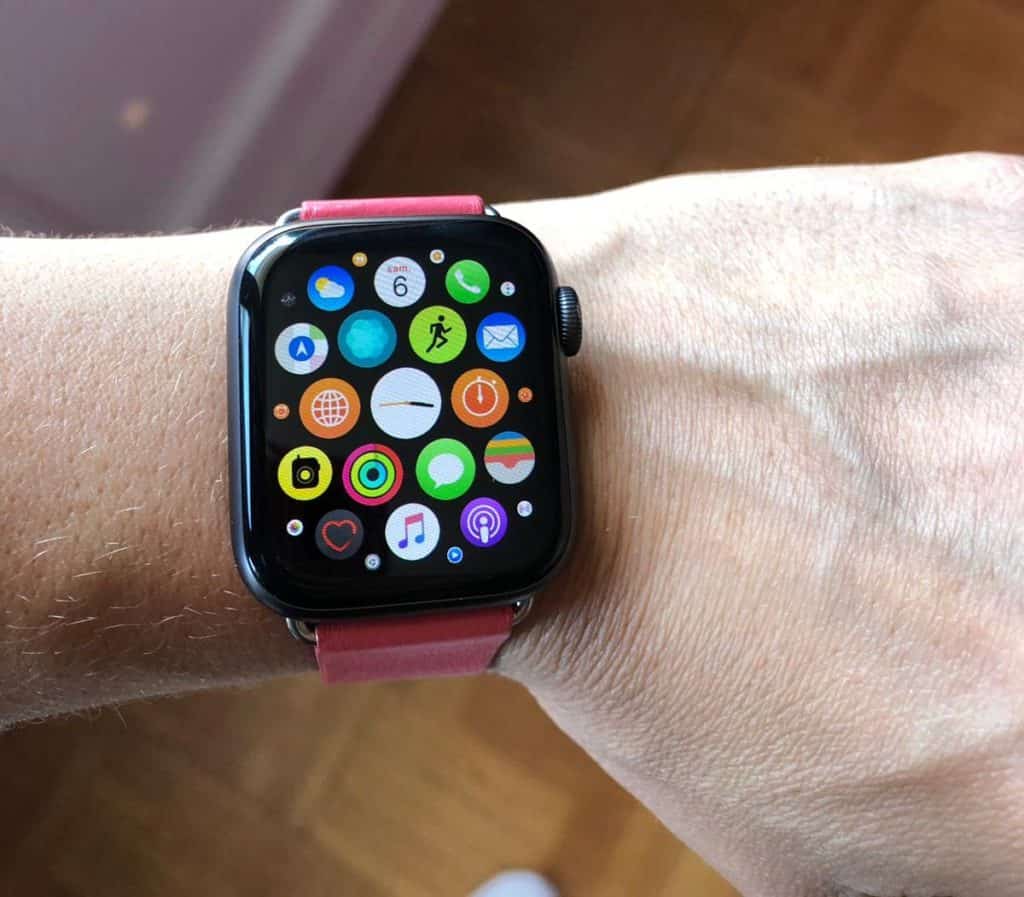 The Sport band and the Velcro straps are very comfortable on a small wrist and you can always buy addition straps from the big variety of straps available on Amazon
2. Withings Move Hybrid Smartwatch – Activity and Sleep Tracker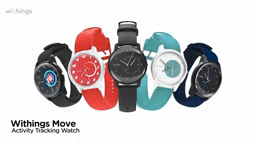 Withings Move Hybrid Smartwatch is a simple and elegant activity tracker by Nokia that is perfect for people with small wrists because it can fit them very easily.
It is a basic and cheap hybrid smartwatch/activity tracker device with serious and accurate tracking abilities that can be easily transferred to your phone.
The best place to get it is from this seller on Amazon.
There are three main things that this tracker keeps an eye on which are steps are taken, distance covered and calories burnt during the workout.
The Withings Move can automatically detect more than 10 sports activities and it will track your stats to each different activity.
The tracker is also perfect if you want to keep an eye on your sleep cycles and make sure that you are getting the recommended amount of sleep every day.
The tracker has the ability to accurately calculate when you are in the light sleep cycle, deep sleep cycle and awake cycles as well.
The tracker asses this information and tells you whether you are resting properly or not.
The Withings Move is also waterproof which makes it a perfect tracker for people with small wrists who love to swim.
By taking advantage of waterproofing of the tracker you can easily track the progress you are making during your swimming exercises and what you can do to enhance that.
Featuring a long battery life of up to 18 months you don't have to recharge it regularly or replace batteries after a few days of use.
This tracker looks great and fashionable, very easy to use and comfortable to wear.
The product comes with a Health Mate App and all your data is stored in that application.
After assessing the data, the application tells you the different steps that you can take to increase the effectiveness of your workout.
The app provides personalized coaching to keep you moving, motivated and healthy.
The device is connected to your smartphone and can pair with its GPS via a low battery consuming Bluetooth connection so it doesn't affect your mobile's battery life and it is compatible with both iOS and Android.
What I like in the Withings Go
Great value for the price
Water-resistant up to 50M
Long battery lifetime(up to 18 months).
Simple and basic display
Looks great and fashionable
What I don't like in the Withings Go
3. Fitbit Charge 3/4:
Fitbit charge 3 is a high-end and sophisticated fitness tracker and heart rate monitor that can easily fit people with small wrists thanks to its adjustable straps.
If you want a built-in GPS than you should go on the newer version the Charge 4.
Packed with amazing features and a very handsome design this is the number one seller from the Fitbit brand and for all the right reasons.
You can check out its current price and reviews on Amazon.
The device features a wrist-based heartbeat monitor so you don't have to wear an uncomfortable chest band to monitor your heartbeats.
By keeping an eye on your cardiovascular activity, the tracker gives you better measurements regarding different things such as calories burnt throughout the day.
The device is equipped with an altimeter so not only will it tell you the number of steps that you have taken and the distance that you have covered but it will also tell you the number of stairs that you have climbed and the floor that you are on.
The device has an amazing 5-day battery life and it keeps you updated regarding your active minutes as well as your hourly activity.
The device keeps a track of your sleep and calculates the time that you spend in deep sleep or REM sleep and then sets up a silent alarm automatically to wake you up peacefully with vibrations.
By connecting your phone with the device and turning on the GPS you can get real-time stats while you are doing any particular workout routine.
The Fitbit Charge 3 has the ability to automatically and wirelessly transfer all of your stats to your mobile device and it is compatible with over 200 leading smartphone devices.
What I like in the Fitbit Charge3
Great variety of bands available for a small wrist
Very good price for a Fitbit device with so many features
What I don't like in the Fitbit Charge3
No water resistance
Low-quality screen compared to other trackers in this price range
4. Fitbit Inspire
Another fitness tracker that can fit great on a small wrist is the newest low-cost fitness band by Fitbit – Fitbit Inspire.
It is quite similar to the abilities of Charge 3 but comes with a different design which is even more suitable for a small wrist.
Notice that the Inspire is available in an HR(Heart Rate) version and without it.
That link that I have added here is for the HR version which means that it is able to track your heart rate from your wrist for 24/7.
Check out the Fitbit Inspire HR version on Amazon.
The HR version is also a bit bulkier and more expensive than the basic version without the Wrist HR.

5. Garmin Forerunner 25, Small
If you are a fan of Garmin's tracking watches but afraid that it will look too bulky and clumsy on your small wrist, then here is your solution.
The Forerunner is a very basic fitness watch compared to other fancy Garmin watches, it can track steps, calories, and distance which is basically what most average runners need.
As a low-cost smartwatch, this device comes with a very basic black and white screen(not touchscreen), and it will not track your sleep.
Check out the small version on this best seller's page on Amazon.

Other than those Weaknesses, the forerunner 25 is an awesome tracking device, with a very successful and easy to use GPS, and very long battery life that will work up to 8 hours with the GPS on or 8 weeks in watch/activity tracking mode.
The Smartwatch is water resistant but will not track swimming sessions.
Now for the wrist size, the Forerunner 25 is available in 4 colors, 2 of the colors, the white/pink and black purple versions come in a slightly smaller size which is perfect for those with small wrists.
What I like in the Forerunner 25
Very basic and easy to use GPS device
A long battery life
Great price
What I don't like in the Forerunner 25
Poor quality display
No heart rate monitor(You can buy an adapted chest strap)
6. Garmin Fenix 5s Plus, Smaller-Sized Multisport GPS Smartwatch
If you are looking for A serious Multisport watch with a built-in GPS and tons of features for advanced athletes than this device is without a doubt the best on the market today.
The Fenix 5 is a premium series of sports watches by Garmin and the S on this model represents the word small.
Check Out the Fenix 5S Plus On Amazon.
Special Features:
Garmin Fenix is a multisport watch that can also double as a smartwatch and activity monitor. Everything that you ever wanted in a watch; this comes with it.
The activity monitor screen has options like Bike, brick, swim, bike indoor strength etcetera. A lot of it can be customized to your main screen or hidden away, if not in use.
Small measured multisport GPS smartwatch that evaluates your pulse, indicating your heart rate on the sapphire screen at the wrist and incorporates shading TOPO maps including Trendline notoriety which will direct you upon getting the best paths.
This best smartwatch effectively stores and play up to 500 songs on your wrist, and associate with Bluetooth earphones (sold independently) for phone-free tuning in.
so, download music to go for a run hands-free with no gadgets on your chest no wires hanging out of your ear and falling love with all the feature that makes it the best. It pairs very easily to wireless earbuds, with other functionalities, it also improves your sleep cycle.
Having a tremendous library of identifiable exercises is incredible, yet shockingly better are the various measurements that the Fenix 5S Plus can follow.
The Fenix line can screen about anything you'd need—from the essentials like calories, sleep order, pace, and rhythm, to further developed measurements like pulse zones, walk length, vertical wavering, recuperation time, and then some.
A portion of those measurements require extra sensors like foot units, yet in any event, the Fenix 5S Plus can interface with basically anything.
Garmin-made sensors are supported; however, the gadget is equipped for interfacing with most Bluetooth or ANT+ adornments.
This smartwatch is the new sexy of the modern watch world. The best for a small wrist, this watch has stolen many hearts.
7. Garmin Forerunner 45s 39MM Easy-to-Use GPS Running Watch
The new Forerunner 45 is an affordable and great multisport watch with many features and a built-in GPS,
Check out the Forerunner 45s on Amazon.
It seems that Garmin understood that there is a demand for multi-sports watches for small wrists and now with the advanced technology they are able to pack tones of features in such a tiny device.
Like the premium sport watch, Fenix 5s, the S in the Forerunner 45 represents the word small.
With tiny size of 39mm, tones of features and such an affordable price tag it is an amazing option for people who are looking for a sports watch that will fit a small wrist.
8. Garmin vívoactive 4s
The new watch of the popular Vivoactive series comes in 2 sizes of 40 and 45 mm.

You can read more about the Vivoactive in this related article that I have written not long ago.
I hope that I helped you with finding the best activity tracker for small wrists