In case you are a heavy person and want to enjoy the great benefits of a compatible walking pad also known as under-the-table treadmill than the options are limited.
In this article, I will discuss the differences between a folding treadmill and a walking pad and I will give you the best available options.
Adopting a good lifestyle is important to ensure that you remain healthy and live a long, prosperous life. If you are struggling with your weight and want to start actively working towards bringing it down to a more manageable level, you may find it difficult to figure out where to start from.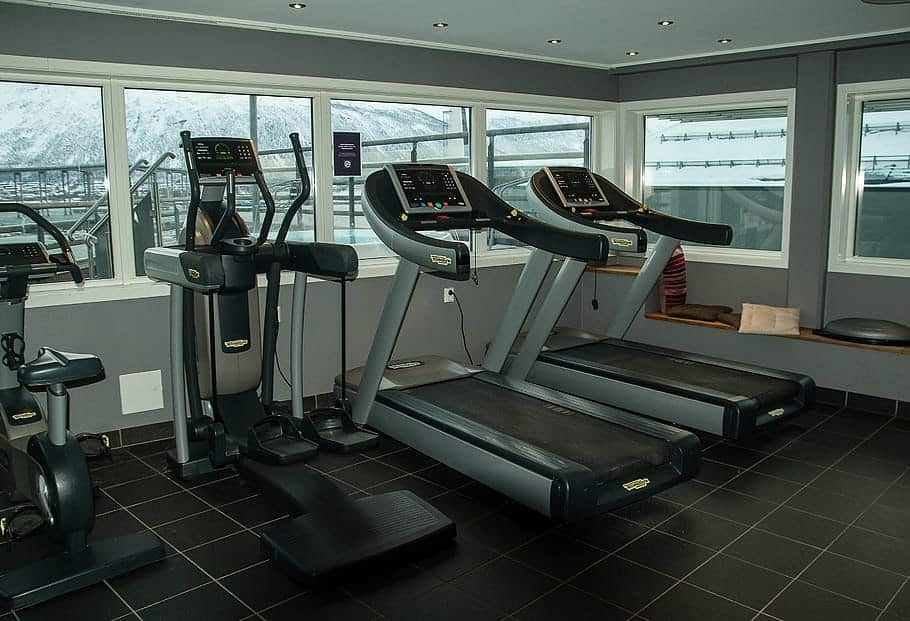 But we are here to tell you that you are taking a step in the right direction and with just a little effort and guidance, you can truly start to see significant results in not just your body measurements but also the quality of your life.
A healthy lifestyle would warrant for you to partake in physical activity as well as take a second look at your nutrition. Eating healthy foods in moderation and exercising for a while everyday is a simple change in your routine that will have you experiencing positive results soon enough.
Also, make sure to check out my post on How Accurate Is Apple Watch On A Treadmill? We Checked It.
When it comes to physical activity, a good place to start would be walking. You can start off with a few minutes of walking so the change does not feel too drastic and demotivating, and then build up to a brisk pace or even running once you have developed the stamina and drive to exercise regularly.
Working Out At Home
While some people turn to gyms and professional training centers to get their fill of fitness for the day, many people turn away from physical activity because of either not having access to such facilities or because they feel uncomfortable working out in a public place.
Whatever the reason may be, you will be glad to hear that you can still start your new fitness regime from the comfort of your own home. A great way to start walking or even running at home is to invest in either a walking pad or a foldable treadmill.
Folding Treadmill Vs Walking Pad
What Is A Folding Treadmill?
When you read the word treadmill, what is the first image that comes to your mind? You most likely think of a large, chunky machine that is heavy, takes up a good amount of space in the room, and takes great effort to get working.
This would have been an accurate description of all treadmills if we were talking about a few years in the past but things have changed rapidly in the modern sphere.
With almost everything evolving to become more and more convenient and portable, it should come off as no surprise that the advent of foldable treadmills has already been done and popularized.
You heard it right- you can get a treadmill that you can fold up and stow away, only to take out whenever you have to work out. Also referred to as folding treadmills, fold ups, and fold aways, a foldable treadmill is primarily meant to save you a tonne of room space.
The running deck of the machine can be pivoted upwards and locked onto the body so that it can be moved and stored when it is not in use. Not only is this a space saving solution, it also makes it portable and movable. You can set it up and move it in any part of your house as required.
What Is A Walking Pad?
While the walking pad has been a thing since several years, it has only become a popular work out accessory in the past couple all around the world.
Unlike a treadmill, foldable, or non-foldable, a walking pad does not have that central stand or console in the middle that centers the entire machine. Instead, a walking pad is simply exactly what its name suggests it is: a smooth pad that you can use for walking purposes.
Walking pads can usually be folded and stowed away as well which makes them just as convenient to use as foldable treadmills. The one benefit of using a walking pad also referred to as under the desk treadmills, is that they do not come with that bulky center which can be space consuming and difficult to move.
They are smaller in size, more compact, and sufficient for your relatively lighter activity needs.
Unfortunately, since walking pads are smaller and tend to be more delicate, they can only accommodate so much weight and stress which is why they may not be suitable for individuals on the heavier side. Before purchasing a walking pad, make sure that you know what the upper limit of the weight is for the given apparatus.
Can You Run On A Walking Pad?
Walking pads are typically designed for light, indoor exercise which is why it is not recommended that you use it for running purposes.
Although there are certain brands of walking pads that can support light running such as the Xiaomi Walking Pad R1 which allows you to run at a slow pace (around 10km/h) and the Bluefin Fitness KICK 2.0 (around 8 km/h). You can find more details on these walking pads below.
The Best Walking Pads You Can Get Even If You Are A Bit Heavy
We have done the market research and compiled a list of some of the best walking pads you can purchase:
WalkingPad R2 is one of the best Walking pads for heavy people in 2023. It's a premium Walking pad that can easily handle up to 220 lbs or 110 Kg weight.
One of the main highlights of the R2 is its design which is very compact. It takes a lot less space than a traditional treadmill and it can save a lot of space which you can dedicate to other things. Also, the build quality of WalkingPad R2 is very good and its aluminum alloy frame can withstand regular wear and tear pretty well.
On top of that, the R2 also comes with EVA cushioning which provides support to your feet when they land on the belt and softens the impact. Also, the belt has an anti-slipping surface which provides max support and stops you from falling off while running.
Overall, if you are looking for a premium Walking Pad that can handle heavy persons, WalkingPad R2 is a solid option for you.
Pros
Compact design
Premium build quality
Portable
Powerful motor
Can support up to 220 lbs or 110 Kg weight
Cons
It has a steep learning curve
The surface area isn't as big as a traditional treadmill
The Bluefin Fitness KICK 2.0 is another under the desk treadmill or walking pad which can be used in two modes: with or without the foldable arm rest. The machine also has a variety of exercising modes, allowing you to configure your workout routine based on your preference.
You can use this walking pad to exercise as you work, saving you time, and still getting in the physical activity for the day. The weight limit for the Bluefin is 110 kg as well and you can use it for brisk walking at a pace under 8 km/hr.
Pros
Compact and foldable design
Powerful motor
Can support up to 220 lbs or 110 Kg weight.
Comes with a digital display
Offers a variety of exercise modes
Cons
Plastic body
Steep learning curve
Designed to accommodate individuals with weights up to 110 kg, the WalkingPad C1 is another great investment to make for a space saving yet incredibly smart and modern exercising apparatus.
For only $339 you get access to foldable walking equipment which can be used in a multitude of modes, Speed Range: 0.5-6km/h / 0.5-4mph. It folds in on itself for neat storage and comes with a digital display remote control to help keep track of your progress.
Pros
Compact and foldable design
Easy to assemble
Portable design
Powerful motor
Can support up to 220 lbs or 110 Kg weight.
Intelligent Speed control
Sturdy build quality
Cons
Steep learning curve
Doesn't have incline settings
The surface area isn't as big as a traditional treadmill
Ceartry Walking Pad is another very popular Walking Pad that is ideal for heavy people. This walking pad comes with a max weight limit of 300 lbs which translates to approx 136 Kg.
It's also very easy to set up and once it is set up you can start using it for jogging or running right away. The motor on Ceartry Walking Pad is also very powerful and it will offer great performance.
When it comes to features, Ceartry Walking Pad comes with 12 programs that you can use for your jogging or running based on your requirements. It also comes with a remote control which you can use to switch programs and an emergency stop button which you can use to quickly stop the Walking Pad.
If you are looking for a compact Walking Pad with a weight limit of 300 lbs, you can consider Ceartry Walking Pad.
Pros
Compact design
Powerful motor
Comes with a weight limit of 300 lbs or 136 Kg
Comes with 12 programs
Cons
The Best Folding Treadmills For Heavy Persons
Following are some of the best foldable treadmills currently available in the market best suited for heavy individuals:
This NordicTrack series comprises heavy duty yet fold away treadmills which are able to support individuals with over 300 lbs of weight. The advanced design of the treadmill enables you to access all of your activity with a single touch on the console which measures your distance, speed, and heart rate.
The console is also equipped with speakers and a headphone port for entertainment purposes. The treadmill supports speeds of up to 10mph and allows you to configure the incline of the running pad.
Pros
Compact & Foldable
Easy to move around
Packed with great features
Can support up to 300 Pounds or 136 Kg
Cons
The motor isn't as powerful as its competitors
Durability can be an issue in the long run
Sole has established itself as a reputable name in the world of fitness equipment, particularly treadmills. The F80 edition is a foldable running track that is easy to assemble and packed with unique features that make it well worth the investment.
The machine can be connected to a dedicated mobile application, transferring your activity and fitness data to your smartphone via a Bluetooth connection.
The Sole F80 fold away is also designed to accommodate heavier individuals, equipped with a stronger motor that will support your daily home workout regimen with ease and endurance. The 9 inch LCD display screen keeps you updated on your stats and also offers entertainment, including music and a holder to place your tablet in.
Pros
Powerful and quiet motor
Foldable & Compact
Spacious deck
Durable design
Packed with good features
Easy to assemble
Can support up to 370 Pounds or 170 Kg
Cons
OMA 1017EB Treadmill is another very popular folding treadmill that can be a great option for heavy people. It's a heavy-duty foldable treadmill that comes with a max weight limit of 300 lbs or 136 KG.
The design of the OMA 1017EB Treadmill is very modern and it's also foldable which makes it easier to store and move it around. Also, the build quality of the OMA treadmill is pretty good and you won't experience any quality issues.
Another nifty feature of the OMA Treadmill is that it comes with a big display that you can use to easily track your steps, time, speed, calories, and other metrics.
So, If you are looking for a high-quality foldable treadmill for heaving persons, OMA 1017EB Treadmill is a solid option for you.
Pros
Foldable and compact design
Comes with a big Display
Spacious deck
Can support up to 300 lbs or 136 kg
Cons
Customer support isn't very responsive
Goplus 2 in 1 Folding Treadmill is another very promising Folding Treadmill that is ideal for Heavy people. This folding treadmill can easily handle up to 265 lbs or 120 Kg weight.
As the name suggests, this treadmill comes with two modes. When the riser is folded, you can use it as a jogging machine and get up to 2.5 Mph Speed and once you raise the handrail, you can use it as a running machine and get a speed of up to 7.5 Mph.
The deck of the treadmill is also very spacious and you can run freely. It also comes with a Bluetooth connectivity option and you can use it to control music and get access to your exercise records using its Smart App.
Overall, if you are looking for a foldable treadmill with 2 in 1 functionality for heavy people, Goplus 2 in 1 Folding Treadmill is definitely a solid option for you.
Pros
Foldable and compact design
Comes with 2 in 1 functionality
Can support up to 120 Kg or 265 lbs
Comes with a Bluetooth speaker which can be connected to your smartphone
Have a smart app where you can check all your exercise data
Cons
Frequently Asked Questions (FAQs)
What Is The Best Foldable Treadmill With High Weight Capacity?
Sole F80 Treadmill is arguably one of the best foldable treadmills for heavy people in 2023. It comes with a maximum weight limit of 370 Pounds or 170 Kg which is one of the highest in any foldable treadmill out there.
Walking Pad Vs Treadmill: Which One Is Better For Heavy Persons?
Honestly, both types of machines are considered good for heavy people and you can't go wrong with any of them. It all comes down to personal preference and in my opinion, Treadmill is a better option because it has more deck area which makes it easier for heavy people to walk freely. Also, it comes with more speed and often more exercise modes which you can use to get better value out of it and lose your weight.
How Much Weight Can A Walking Pad Hold?
The capacity of Walking Pads can vary depending on the model and variant. For example, Ceartry Walking Pad can handle up to 136 Kg or 300 lbs. Similarly, WalkingPad R2 can handle up to 110 Kgs or 220 lbs weight.
What Is The Weight Capacity Of A Folding Treadmill?
The weight capacity of Folding Treadmills can vary depending on the model and variant but some folding treadmills such as Sole F80 treadmills can handle weight up to 370 pounds or 170 Kg.
Does A Walking Pad Help With Weight Loss?
Contrary to popular belief, a walking pad can help you lose weight but you will need to walk for at least 1 hour to get better results. If you walk around 10,000 steps every day and control your food intake, you can easily lose a few inches every month even if you use a walking pad.
Can I Use A Treadmill If I'm Over The Weight Capacity?
No, you shouldn't use a treadmill if your weight is over the weight capacity because when you will be using it, you will exert too much pressure on the motor which can lead to its failure and it will render the motor useless. So, If you weigh more than the capacity of the treadmill, you will eventually need to sell your current treadmill and buy a new one with a higher weight limit.
Conclusion
If you are overweight, then you must lose weight, and machines such as Treadmills or Walking Pads can help you with it. In this guide, I've shared the Walking pads and folding treadmills which are ideal for heavy people and you can use them to lose weight and improve your overall health.
I hope that you found this guide useful and that it helped you choose your next walking pad or folding treadmill. If you have any questions, please feel free to ask me in the comments.
Also, if you want to track how many calories you burn every day, your heart rate, or your daily steps, you can invest in a good smartwatch or fitness tracker. If you are interested, check this guide where I've shared the best smartwatches and fitness trackers of 2023.
As a professional trainer and a gadget lover, I've spent a lot of money and time buying wearable activity trackers, smartwatches, and gadgets, and checking them out. My site is focused on helping you with your activity tracking and smart technology journey. I try to provide the most helpful updated content on this subject. Hopefully, you will love my blogs and be a regular around here.