For those of us who have a job that requires us to travel in a car a lot, using a portable printer can really make the difference and turn our car into an office on wheels.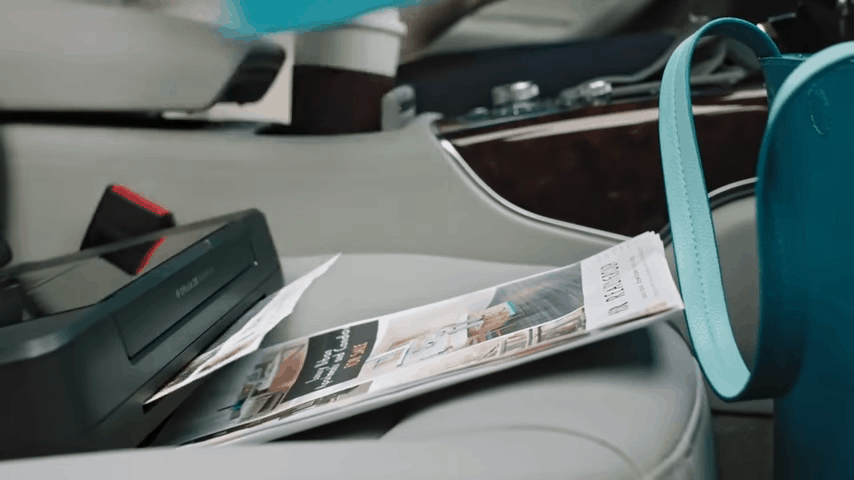 If you're someone that needs to print a document or file in the car or away from home if you face this situation frequently then you might want to invest in a portable printer. Haven't heard of a portable printer before?
Here is an article on my website that you must read, its about the Best Places To Put A GPS Tracking Device On Car.
Well, this article solves your problem and mentions a detailed description of the best portable printer available in the market. Portable printers are suitable for people with jobs that require a lot of fieldwork, where they need to print invoices, estimates or other documents.
They can be easily carried around in your bag pack or briefcase providing on the go solution to your printing problem.
List Of 5 Best Portable Printer For Car Reviews
There are many different options available in the market. Portable printers are more powerful and affordable these days. You can get a compact portable battery-powered option for the same price as a full-sized desk version.
The HP OfficeJet 250 Portable printer is a top of the line option when it comes to portable printers.
The printer delivers sharp speedy prints and packs an array of features for a printer of this size. Scan and print on the go: this printer has the capability to scan plus print documents anywhere. This particular characteristic can only be found in a few other options.
Features:
The printer features a 10-page document feeder making it easy for you to process a stack of papers at a time in your car while traveling.
It is battery powered so you can charge it in your car easily while commuting to the workplace or visiting a client. The battery when fully charged can print about 500 pages which means that you can carry the printer on a 2-3 day work trip as well.
It is priced at $280 which includes a year warranty with HP service and support, one-year technical phone support and black and multi-color ink cartridges.
Inputs include Wi-Fi, USB port, Bluetooth or HP ePrint app. Whenever you need to print something you have the option of using the USB port, the Wi-Fi option or by using the ePrint app directly on your mobile phone.
The printer weighs about 6.52 pounds without the battery and about 7 pounds with it.
The printer has a resolution of 4800 x 1200 dpi, which is ideal for printing documents for office work or school work. Although it is not that good for photographs.
The printer has a 2.65″ color touchscreen through which you can easily print, scan or delete documents.
Easy setup lets you print right out of the box.
It has a long-lasting battery with HP fast charge that charges within 90 minutes when offline. Charging can be done anywhere from a power outlet at home or your AC Power bank in your car.
In addition, the printer supports a number of paper sizes including Letter, Statement, Legal, Executive and envelopes (No. 10, Monarch, 6 3/4 in), cards (3×5 in, 4×6 in, 5×8 in), photo (8×10 in, 5×7 in, 4×6 in, 3.5×5 in)
The printer is fast as it can print eight pages per minute which is pretty impressive for this pint-sized printer.
For optimal results, it is suggested to use Original HP 62 ink & HP 62XL cartridges as they print up to 2x pages compared to regular refills. The printer holds two cartridges one for the black ink and the other for cyan, magenta and yellow.
Whether you are a field service or sales representatives, suppliers or any other profession -whether you need an ultra-compact, lightweight, smart, and high-quality printer – the EPSON WF-100W printer is especially suited for you.
High print speed and print quality, convenience On-going operation, wireless printing that saves you all cables and a variety of sources, support for Wi-Fi / Wi-Fi Direct® connectivity, Apple AirPrint, Google Cloud Print, Epson iPrint.
Portable Printing: Anyone who has experimented with portable or relatively large-weight printers knows the problem … With the Epson WorkForce WF-100W printer, turning on the printer becomes a pleasant and fast experience thanks to its lightweight (1.6 kg!) And its compact dimensions – simply put in the bag and go out to the customer.
This black color wireless mobile printer is compatible with AirPrint and cloud print, so you can use it in your car. Yet you will get high-quality results each and every time.
The printer's compact and portable design allows you to save space. You can effortlessly print everything you need from your favorite Android device with Mopria Print Service.
Yet, you have to simplify your workflow by storing up to 5 custom templates and printing directly from your printer's display without the need for cables or devices.
With the optional removable battery, you can print up to 330 pages on a full charge. Plus, you can easily keep your PIXMA TR150 fully charged by connecting it to your computer or a compatible USB power source.
This is another amazing printer with HP instant ink that is suitable for cars. Also, it can work with Alexa. The blue accent of this printer has made it more unique.
Key features of this HP DeskJet 3755 (3700 series) compact printer are a copy, scan, wireless print, cloud print, AirPrint, and Instant Ink, so you'll never run out of ink.
However, the HP Smart app definitely makes it easy to set up your printer, order toner, scan from your smartphone, and print from the cloud like Dropbox, Google Drive, and iCloud.
This printer is designed to fit your space and your life. Get vibrant blue and performance in the world's smallest all-in-one for your home.
This is compatible with both Android and iOS phones by Bluetooth. The portable HPRT travel printer is small enough to fit in your briefcase or backpack, and in your car especially if you travel for business.
Additionally, it is compatible with MAC and Windows, Linux computers, and laptops and also works with iPads except for Chromebook (Bluetooth is currently not supported on MAC. USB connection is recommended).
Portable printers use thermal transfer technology that does not use liquid ink, so using high-quality paper with a glossy finish will result in sharper print quality. It has come with a thermal ribbon attached to the printer. You know one thermal ribbon can print 45 sheets.
Best Portable Printer For Car – Buying Guide
Today, there are many portable printers with different features and specifications to meet every need. Before you click through to buy, there are a few things to keep in mind to ensure you find one that works for you in your car.
Primary Purpose
If you're looking for a portable printer, you'll need to narrow your search to see if it can print what you need. It doesn't make sense to buy a high-tech printer if you only need basic printing, or a standard printer if you just want to print photos.
For many projects, you can also find a great multifunction portable printer for your car to meet your needs.
Weight and Size
The weight and size of a portable printer are important factors in determining how and where you need it most. The small, lightweight printer is perfect for on-the-go use. Hence, be careful if you frequently work in different workspaces but still need the ability to print.
Conversely, if you have a large car where you need a printer and you travel infrequently, you may not be so picky about weight and size.
Connection Type
Some prefer printers that connect easily via Wi-Fi or Bluetooth, while others prefer good old USB connectivity. There are pros and cons, but I recommend finding a printer with a connection type that works for you in the car.
Printing Speed and Quality
When it comes to printers, print speed is usually a trade-off for portability, but with many portable options, you can get the job done in a reasonable amount of time.
The "ppm" or "ipm"- both give a general idea of ​​job completion speed.
In terms of quality, "dpi" is the most common way to measure print resolution.
Power Source
If you use your printer where power isn't an issue, you might not be too picky about power. However, rechargeable printers give you much more flexibility in where and how you print, which can be very useful if you use them in your car frequently for work.
Frequently Asked Questions [FAQs]
For your further inquiry, you may check out this section of the article. Here, we are going to answer some of the most commonly asked questions regarding Portable Printer For Car.
Is There Really A Thing Like A Portable Printer?
Yes, there is such a thing as a portable printer. It is also named a mobile printer that can print all document formats including pdf and Microsoft office suite. With Wi-Fi connectivity and often optional batteries, mobile printers give you the freedom to print without a power outlet. They often come with a battery and car charger for use on the road.
Do Bluetooth Printers Exist?
Bluetooth printers exist and it is a great invention in the sector of portable printers. Bluetooth printers can print quickly and efficiently without interference. It can be used to perform standard wireless print jobs.
Is It Necessary To Use A USB Cable To Connect A Wireless Printer?
A wireless printer allows anyone on your network to print without a USB connection. You can buy wireless printers from major manufacturers like HP and Epson, or use Google Cloud Print to turn your traditional wired printer into a wireless one.
How Far Can A Bluetooth Printer Reach?
For Bluetooth-enabled printers, the printing distance range is approximately 30 feet or 10 meters (depending on hardware configuration). Longer distances require more power and can quickly drain your mobile device's battery.
Can You Print From Your Phone With A Wireless Printer?
Of course, you can print via Bluetooth or WiFi from your phone with a wireless printer. Printing on your Android phone is as easy as tapping the menu of any open document or photo and selecting Print. Make sure your printer and smartphone are connected to the same Wi-Fi network or you can turn on your Bluetooth.
Conclusion
The printer gives you the highest page yield as compared to any other portable printer. Minimize interruptions in your work with these compact printers that delivers quiet performance along with its premium design, which will certainly impress your clients.
You are guaranteed to get high-quality prints time after time with these reliable portable printers. The HP OfficeJet 250 all in one portable printer and the Epson Workforce WF-100 have it all from the scanner to high-resolution printer, it has got the app and it can fit in your briefcase.
I hope that I helped you with finding the best portable printer for car and I hope that it will help to make your life easier. Most importantly – Drive safely!
As a professional trainer and a gadget lover, I've spent a lot of money and time buying wearable activity trackers, smartwatches, and gadgets, and checking them out. My site is focused on helping you with your activity tracking and smart technology journey. I try to provide the most helpful updated content on this subject. Hopefully, you will love my blogs and be a regular around here.