If you are a person who prioritizes precision over everything else, you might consider buying a quartz watch. However, the market for quartz watches is very large.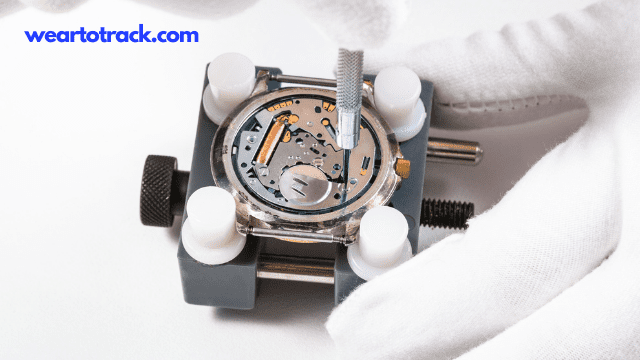 So, it is easy to get confused with the brands releasing new models every year. Hence, you might ask about who makes the most accurate quartz watch.
In 2019, Citizen announced a new model Citizen Caliber 0100. This watch is said to be the most accurate quartz watch now.
We have a related article for you, you can read Top 15 Best Quartz Dive Watches In 2023.
Let us see why this watch is the most accurate smartwatch. That's how you can easily understand why citizens claimed such.
Who Makes the Most Accurate Quartz Watch?
Quartz watches are by default more accurate than mechanical watches. However, the accuracy of quartz watches differs due to the types of crystals used and various mechanisms.
Manufacturers of Quartz Watches
i) Seiko: They are the ones who first started producing quartz watches. They also have a sister concern, Grand Seiko, which produces some of the most luxurious and precise quartz watches on the market.
ii) Citizen: Citizen stepped into the watchmaking industry in 1918. They are one of the leading brands that make quartz watches. They have a huge lineup comprising sleek and accurate quartz watches.
iii) Casio: Casio is probably the most well-known quartz watch producing brand. Their G-shock lineup is one of the cheapest and most used watches in the market.
iv) Omega: Omega has produced luxury watches for a long time. They have beautiful quartz watches. Additionally, these watches are quite precise in telling time.
v) Breitling: Founded in 1884, Breitling has been one of the most prominent watchmaking brands in the world. Their quartz watches are accurate as well as aesthetically pleasing.
vi) Mondaine: The swiss brand Mondaine has been in the watchmaking industry for a long time. Their quartz watches are some of the most precise and beautiful ones on the market.
vii) Longines: Longines provides a wide variety of quartz watches at a lot of different price points. They are not as luxurious as their competitors. But, they make some of the most precise quartz watches present on the market.
Quartz watch Models
Bulova Precisionist: This is the most accurate model provided by Bulova. They also have a sweeping dial, which is uncommon in quartz watches.
Breitling Superquartz: This model by Breitling is quite well known to people for its accuracy. They lose/gain 15 seconds in a year.
Longines VHP: The term VHP means Very High Precision. The Longines VHP models have an outstanding accuracy of 5 seconds in a year.
Omega Spacemaster Z-33: Having a precision of 10 seconds per year, the Omega Spacemaster Z-33 watches are arguably one of the most accurate models on the market. These also have a very unique design which attracts many people.
Grand Seiko 9F Series: This model has an incredible precision of 10 seconds per year. However, this watch is also very well built with superior materials.
Citizen Caliber 0100: This is an outstanding watch only differing by 3 seconds per year. Not a single watch comes even close to it. This is also a very sleek watch. It is the most accurate watch on the market right now.
Which Quartz Watch is the Most Accurate?
Citizen Caliber 0100 is a watch that is five times more precise than its closest competitor Grand Seiko. The main reason for this is the use of top-of-the-line materials and complicated engineering.
Why Does Citizen Have the Most Accurate Quartz Watch?
That's because this watch follows the basic mechanism of quartz watches. However, there are some huge modifications that make it the most accurate watch of all time.
Firstly, this watch is run by sunlight while most quartz watches are powered by a battery. Thanks to Citizen's Eco-drive technology, it can also generate power in areas with dim lighting.
Normal quartz crystals vibrate about 32,768 times per second. On the other hand, the crystal used in this model oscillates around 8.4 million times in a second. This huge difference in frequency allows Citizen Caliber 0100 to give more precise time than others.
Also, these watches have an internal shock-absorbing system. In case the watch falls to the ground or faces any type of impact, the watch will freeze the hands. After 1/1000 second, they release the hands. This ensures that the hands do not get displaced.
Along with that, Citizen have also taken into account the changes due to temperature. Both the circuit and quartz crystal are designed in such a way that they can minimize the effects of temperature change.
Additionally, an anti-backlash system is in place to prevent any types of misalignment of the dials.
Here is a related article that might interest you on Do Quartz Watches Need Winding?
Conclusion
From this article, it already should be evident who makes the most accurate quartz watch. We think we were able to answer the question clearly in this article.
The accuracy of quartz watches does not depend on the quartz crystal only. Citizen has put a lot of research as well as money into making the most precise quartz watch.
If you need the most accurate quartz watch, you now know who makes it. In case you own one, you know why it is the most accurate quartz watch. 
Here is an article on my website that you must read, its about Which is Better Quartz or Mechanical Watch?
As a professional trainer and a gadget lover, I've spent a lot of money and time buying wearable activity trackers, smartwatches, and gadgets, and checking them out. My site is focused on helping you with your activity tracking and smart technology journey. I try to provide the most helpful updated content on this subject. Hopefully, you will love my blogs and be a regular around here.