Pocket watch still resembles luxury, royalty, and style for men. And you'll need the perfect chain to hold and present your classic timepiece.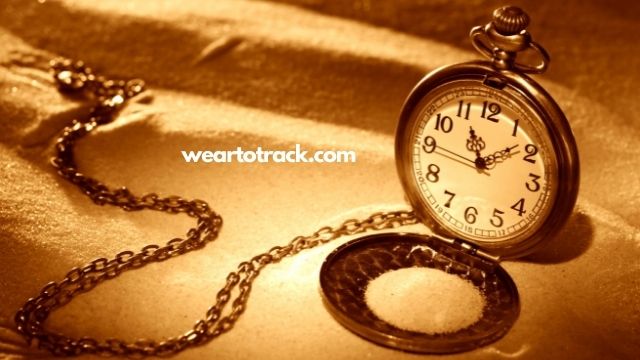 Still, many reputed brands market top-class chains to suit the style. But you won't have to scratch your head with our in-depth review.
Here is a related article that might interest you on How Often Do You Wind A Pocket Watch?
Our experts narrowed the best pocket watch chains with a guide. Keep scrolling to know the essential points needed for the perfect buy.
Different Types of Pocket Watch Chains
T-Bar: It also goes by the name of Albert T-Bar or simply Albert chain. You need to place the T-shaped bar in any of the buttonholes of the vest. The double one with an extra chain features a round medallion or pendant like a coin.
Belt Slide: However, the belt sliding chains are particularly for pant or jeans pockets. A hooking piece on one end slides over the belt from behind. You should look for a sufficient chain length to enable a lovely watch view.
Bolt Ring: It's considerably similar to modern-day wallet chains from the look. A spring-loaded ring lock directly gets attached to the belt loop. Clip the ring on any of your lapel buttonholes to slip the watch inside your lapel pocket.
List Of 7 Best Pocket Watch Chain Reviews
Lots of chains with many variations are available in the market. But only a few can outmatch the others from the overall aspect. Check out the absolute best pocket watch chains for your style right below.
The high-quality chain combines superb aesthetic with vintage luxury. The chain can hold your pant or vest pocket watch perfectly. But its design seems more suitable for vest applications.
The brand-new product features excellent, professional, top-class workmanship. It comes with a perfect round-headed design. Therefore, the odds for the chain ends to cause damage to your clothing is minimal.
The total length measures about 16" on one link, sufficient for male outfits. Its one end integrates a T-bar, two standard-sized hooks, and one short hook. That's where you can attach the pocket watch with ease.
You can even choose other than gold for the same product. ManChDa has silver, bronze, and even black versions of this chain. The classic design should go with your casual, formal outfit at any event.
A professional finish with smooth polish gives it a shiny look at every point. Your purchase should arrive in a black-colored velvet pouch. So, it's easy to wrap the box with giftable paper to deliver as an outgiving.
Pros
Three hooks to attach the watch.
Antique-level chain design.
Simple yet luxurious pattern.
Extended 28.5" chain length.
Cons
Some sliding down the issue.
Impart luxurious support for your stylish pocket watch with WATCHVSHOP. You can use the chain for pant pocket and vest-pocket applications. Its absolute gold tone gives the entire chain a rich aesthetic.
A 100% brand-new design features several classic styles for the chain. It features an attractive design integrated with a fob/charm. Also, the included fob size measures about 20mm to encourage the look.
Meanwhile, the chain itself holds an elegant diamond-cut Cuban or curb link pattern. It should look perfect on any standard pocket watch. The enhanced look even suits formal men's dresses for events.
The short-chain length measures 30cm or 12" against 5cm or 2" sized short length. And its thickness counts approximately 0.6cm only. Not to mention, no measurements are exact or precise with this.
Again, there is included T-bar with a swivel clasp to catch the watch. The T-bar itself measures about 1.25" in length. The featured half penny is just a showpiece medal, not exactly a real or tradable coin.
Pros
Pure (100%) shiny gold tone.
Catchy queen medal coin/fob.
Least thin or rough surfacing.
Diamond-cut Cuban patterns.
Cons
The alternative watch chain looks great on almost all pocket timers. BOSHITA delivers the perfect single buckle chain to match the male outfit. You're to use the vest metal attachment on your chest pocket.
Shiny gold plating gives the entire watch-chain combo a fashionable look. And it should blend perfectly with any casual or formal dress. The smooth gold polish provides luxurious support for your classic watch.
Also, you can choose its polished silver version for a difference. The silver chain features a protective, yet shiny metal look with the coating. It's simply another great alternative to the typical/standard gold chain.
The total chain length measures around 36cm or 14.17" only. Meanwhile, the included T-bar on one end with a swivel clasp is 2.5cm in length. Not to mention, the hook on the other end measures 2.5cm also.
Its purchase will arrive in a nice, attractive, and giftable package. You won't have to worry about a nice packaging to gift one. Valentine, Birthday, Marriage, Anniversary, Christmas – it suits almost all events.
Pros
Enduring metal framework.
Retention of the shiny exterior.
Excellent chaining pattern.
High-quality surface polish.
Cons
Get yourself the right pocket watch with a luxurious chain for your outfit. LYMFHCH seems to integrate research and design for the product. And your empty vest or pant ends up with the perfect wearable.
The entire exterior surface is actually more refined than in the pictures. The removable chain is rather easy to assemble for your wearing. Simple patterns in an exquisite design deliver a vintage appearance.
The chain is considerably long, measuring about 37cm or 14.57" in total. Its stylish end hook holds the entire 67g attachment perfectly. And the other end is almost twisted to enable a tight-clothed holding.
Four intuitive and colorful variations are available for the accessory. You can choose from silver, black, gold, and bronze. Either one is precisely scaled, engraved, specialized, and one fashionable statement.
Even the antique-looking packed case features a metal frame. Its unique look is the perfect gift to your beloved ones on any occasion. Let your loved ones feel special on valentine's, anniversary, and birthday.
Pros
Exquisite chaining pattern.
Simple hook-to-cloth design.
Highly fashionable finishes.
Quick assembly in minutes.
Cons
It's a great choice when you want one end designed rather than hooked only. The chain looks great with casual or formal male outfits. However, its full disclosure of the surrounding should give it a better look.
You can use the chain even without a classic or vintage pocket watch. One end features an enclosed and rounded tree for the attachment. The other end goes into your clothes to ensure a no-damage holding.
The jewelry pendant remains a rounded tree for its silver and gold versions. However, there's another design available for the silver model. You can check the jewelry to impart a somewhat modern aesthetic.
Its T-bar with swivel chip is particularly suitable for vests on formal wear. So, you better avoid getting the chain inside your pant pocket. Also, there are 2 small hooks to clip the watch, keys, and a penknife.
The long-chain length is 37cm or 14.56" against the measured 6cm or 2.36" short length. And the life tree pendant size is 2.3cm x 2.0cm. Everything is perfectly sized to the most suitable dimensions here.
Pros
Top-quality surface finish.
Catchy life tree pendant.
Protective metal coating.
Extra antique accessories.
Cons
Gotham certainly knows how to develop the right chain for men's taste and style. The high-quality chain imparts a premium look to your casual outfit. It's the perfect support for your classic and vintage watches.
Durable steel forms the primary chain to deliver sufficient ruggedness. The 316L stainless steel remains intact without adding weight. A mere 1.6 ounces of mass won't press down the buttonholes or pockets.
Also, the surface features an excellent gold finish to introduce a shiny look. The curb link chain seems to get the absolute best upgrade. And your old timepiece in a refined state receives its matching companion.
Its belt loop clip attachment comes with a heavy gauge spring-loaded lobster. You won't have to worry about any damage to your belt loops. Also, it makes the chain more suitable for pant pocket timepieces.
The total length measures 14" to let you check on the watch comfortably. Even the integrated hook on the end looks sufficient to carry the weight. Get it to your beloved one with the included deluxe gift pouch.
Pros
Simple belt loop clasp.
Giftable deluxe pouch.
Curb link chain pattern.
Bright, shiny, polished.
Cons
Find your ultimate metal chain without looking any further. Tiong comes with an intuitive design with multiple alternatives. There are 13 different versions of this option to make your fashion statement.
You'll get everything under one chain in different patterns, types, and colors. There's gold, black, silver, bronze, and even rose gold. Either one features a catchy finish to leave a remarkable impression.
Also, the retro chain is available with or without belt loops for pant uses. Its alloy metal frame imparts superior durability and strength. You can go for its regular uses, thanks to corrosion-resisting surfaces.
The total length, including the clasp, measures 38cm or 14". So, you shouldn't have any problem looking into the timepiece anytime. However, the included clasp design tends to vary depending on the chain type.
Excellent craftsmanship makes it a fashion accessory for anyone looking for luxury. The fob chain also comes in a presentable and attractive black pouch. So, you can gift the chain to someone comfortably.
Pros
Enduring metal alloy frame.
Optional belt loops for uses.
No corrosion, rust, or damage.
Sufficient length with clasp.
Cons
How To Choose The Best Pocket Watch Chain?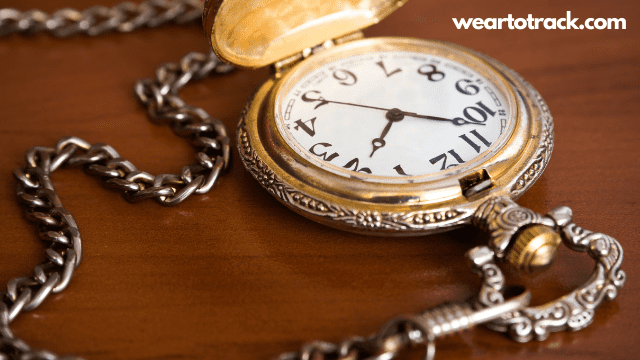 Many think of buying a pocket watch chain as a simple task. But there is more to check than just shiny finish or metal quality. Take a look into the crucial factors while choosing the best pocket watch chain.
Type: Choose the right chain for your intended use. Normal uses don't need that kind of expensive or luxurious one. But putting it for an event or gifting the beloved one requires the matching type.
Color: Some chains are available in one color, preferably gold. But there are others in black, silver, and even bronze. Make sure either one has a professional, good-quality, and protective surface finish.
Length: Chain length should remain sufficient or standard, neither long nor short. It's essential to find the right length to check the watch. Even the T-bar length should justify the aesthetics.
Pendant: Medallions or pendants are good alternatives to pocket watches. However, don't choose anything fancy or out-of-shape. Rounded ones look good with almost any standard male outfit.
Watch: Don't forget the pocket watch design to choosing your chain. The watch color should ideally match the metal chain surface. Also, there are chains available with included vintage watches.
Also, you have to check out my post on How To Wind A Pocket Watch With And Without A Key?
How to Use Pocket Watch Chains?
There are different styles to put on your chosen chain to match the outfit. It's important to make sure your showpiece remains visible in a gentle way. And there are no hard and fast rules for your dressing.
# However, the first thing is to attach the one closing end to your clothing. You can either clip it to your belt loop or waistcoat buttonhole.
# Attach your vintage, classic, or antique watch to the other end. Now slide it down to one of the vest pockets in case of coat buttonhole use.
# Or slide down the watch directly inside the pant or jeans pocket. You can also keep the medallion or pendant open instead of a timepiece.
Frequently Asked Questions (FAQs)
What Is The Chain On A Pocket Watch Called?
Answer: The short ribbon or metal chain attached to a watch is also called a watch fob.
What Are Pocket Watch Chains Made Of?
Answer: Chains are preferably made of steel/titanium metal with a protective coating.
How Long Should A Pocket Watch Chain Be?
Answer: Short choker style requires at least 15," and a looser necklace needs longer.
Wrapping Up
Make a statement on any occasion with the best pocket watch chains. Also, bring smiles to the loved one with a gift at particular events.
Another post that will interest you is about How To Tell If An Elgin Pocket Watch Is Gold?
Encouraging your outfit with the perfect chain can't get any easier. You can even choose your own ones, thanks to the detailed guideline.
As a professional trainer and a gadget lover, I've spent a lot of money and time buying wearable activity trackers, smartwatches, and gadgets, and checking them out. My site is focused on helping you with your activity tracking and smart technology journey. I try to provide the most helpful updated content on this subject. Hopefully, you will love my blogs and be a regular around here.