I'm writing on the best Fitness/Activity trackers compatible with Strava and Samsung health at the same article because of the latest update for Samsung's health app.
Since the 1st of September, Samsung health will no longer integrate with many popular apps as it used to be. These apps include Garmin connect, Fitbit, Google Fit and more.
Luckily, Samsung left Strava as a compatible app and it will continue to work perfectly with Samsung Health.
This update leaves many users of this amazing app disappointed and surely it eliminates the compatibility of fitness trackers from other brands with it.
Exercise matters but what matters is keeping track of your exercising sessions. More often than not, a run is reckoned to be a great and intense workout session while the calories say otherwise.
To completely and effectively stay on track of your workout sessions, Strava is the application to be on!
Support your love for running, cycling and discovering new routes with Strava and add to that experience by wearing a compatible activity tracker. What this combination achieves is maximizing your workout or running experience by adding accuracy into the equation.
Strava makes connecting with friends and sharing your adventure with the community a breeze. All while being the social network for athletes.
Matched with the option to explore new routes and compete with a global community thanks to an activity tracker. What the activity tracker offers is more than just information.
Along with GPS tracking and various matrices to account for, the combination of both works towards providing you a better experience.

Whether you are a professional athlete or looking to become one, the tethering of Strava and the great app of Samsung, Samsung Health, with your activity tracker will give you the best of both worlds.

Moreover, while these apps triumph in popularity, not every activity tracker works with them. Here are a few which do!
Activity/Fitness Tracker Compatible with Samsung Health App
What Fitness Trackers Work With Samsung Health?
So, after the 1st of September update, the best fitness trackers(and the only ones) compatible with Samsung Health is… you guessed it right – Samsung's wearables.
Here is a list of the latest Samsung's Smartwatches, Fitness trackers bands, and watches with perfect Compatability with Samsung Health app:
Activity Tracker Compatible with Strava, Which ones will fit best?
Before I will give you 3 great options for activity trackers that are considered as best in the field and works great with Strava, let's explain a bit on Strava and who needs it.
All you wanted to know about Strava
In recent years, Starva has become a popular app for runners. It does not matter if you are an elite runner or beginners – everyone has a place in Strava and everyone can learn and benefit from using the features and statistics it offers. We've reviewed some of them for you
Like Facebook, Twitter, Instagram, and SnapChat, Strava is also a social network, but unlike others, it is targeted to athletes – most of its users are riders and runners from around the world.
The idea for the social-sports network was established in 2009 when the vast majority of users were riders, and over the years the number of runners grew.
As of today, the app has millions of users – hundreds of thousands of which are Premium users (paid users benefiting from features and other statistics that users of the free version do not have).
So why do you even need it?
Let's start by saying that you do not need Strava just like you do not need Facebook or any other social network. Those who choose to join this social network can enjoy many advantages, statistics and interesting features, some of which are included in this article.
The Strava is based on the sharing of activities, and its first significant advantage is that it is possible to synchronize activities from most of the existing activity and fitness trackers in the market, including Suunto, Garmin, Polar, TOMTOM, FITBIT, TIMEX and more. If two friends who run with trackers from different companies want to "meet" and share information – Strava is the place.
Once you have opened an account at Strava, according to your fitness tracker, you set the computer to sync automatically to each time you upload an activity, and from that moment you are inside.
You can also record your activity directly from the application if you are running with your phone.
The Strava shows you a variety of data, some of which are similar to those you will receive in applications that are compatible with your watch (Garmin Connect, Suunto Movescount, Polar Flow, etc.) such as general time (from the beginning of your activity to end includes watch stops), Activity time (net running time), average pace, average climbing, calories and splits of each kilometer.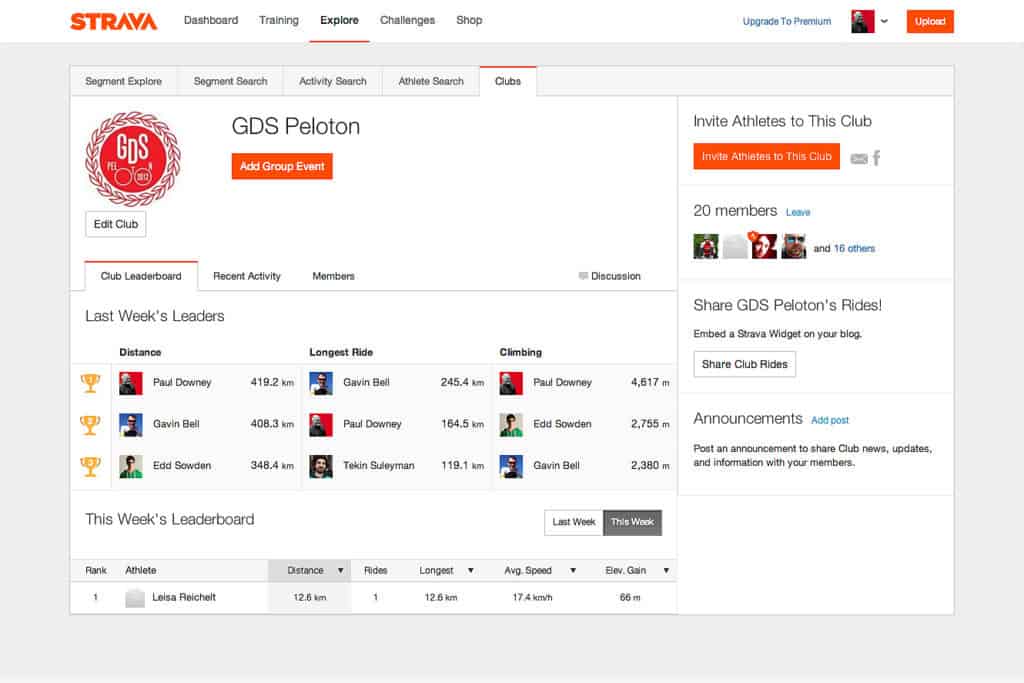 You can define which shoes you run with, and the Strava will calculate how many kilometers you run with your shoes without having to remember or count.
For your activity, you can get "LIKE" from your friends (Kudos) and comments on the activity and of course, upload a running selfie.
So far it's pretty similar to what you know.
Sharing – As stated, the Strava is based on sharing. Of course, if you want, your account can be set to "Private" and your activities will not be visible to anyone, but it's a little missing the point.
One of the nice things about Strava is that you can see activities of other runners, get to know new routes and interact with other people who share the same sport. Senior and famous runners from around the world use Strava and allow a glimpse into their training and races.
Segment – The application draws on the map the tracks each person performs, and each track can be manually divided into sections.
This is usually done according to a certain logic, for example: from start to finish. The data you get on these sections is: Who is the king and queen of the segment (the fastest man and woman on the segment), your time in this section and how it relates to others who ran that section, and your improvement in relation to your other runs on that segment.
Challenges – In order to encourage and motivate runners, the Strava makes every month new challenges that can be joined, for example, a 10 km race, a half marathon, a climbing challenge, etc.
If you meet these challenges you get a badge that adds to your personal profile. Another way to get motivated and make people go out and run.
Over time, your data is collected and displayed to you in charts and tables, so you can track, analyze, and compare with your previous data.
In addition to the free version, there is a paid premium version that gives you additional options such as setting goals and tracking them, downloading running and cycling programs, real-time tracking of your location for safety reasons, tracking real-time performance from the watch to the mobile application, "suffer score" that tells you how hard you are practicing, downloading tracks of others in GPX and more.
1. Apple Watch Series 4 & 5
It comes as a shock to none with the world's most innovative brand offers compatibility with the world's best interface for athletes. The duo work in perfect harmony to maximize your experience! Apple's 4 watch series works great as an activity tracker.
Having all the necessary features built into it for an athlete to compete. Stunning new offerings such as move, exercise and stand help in accurately assessing which time is being spent where and doing what. This information when tethered to Strava provides an accurate picture of just how much one has accomplished!
Along with the standard features of heart rate tracking and reckoning the intensity of running, comes the benefit of having Siri and Strava at your beck and call.
2. Samsung Galaxy Watch 1 & 2
Wherever there is a mention of Apple, there is an equally amazing product offered by Samsung. Such is the case for Samsung Galaxy Watch which is fully compatible with Strava via its Samsung health application.
With features like tracking directions with GPS, discovering routes, one of the enticing offerings of Strava can be easily achieved. Along with having standard features such as heart rate monitor, barometer and speedometer.
The watch works well in keeping tracking of every direction turned, whether on foot or by bike. All the progress you make or hope to make will be recorded and can be transferred to Strava via the Samsung health app. Catering more towards better health, the activity tracker Samsung galaxy watch still manages to get the job done.
3. Fossil Sport
Taking a break from the mainstream comes to the activity tracker such as fossil Sport. An equally great device that gets the job done! Fossil Sport with its Google's new OS pairs effectively with Strava and works towards enhancing your running, cycling or plain workout experience, athlete or otherwise.
What makes this a great match for your on or off the road endeavors is the built-in GPS. Discovering new routes or retracing the old ones becomes a moment worth sharing. Which can be easily done via Strava. Moreover, this activity tracker also offers the standard heart rate monitor.
But the offering doesn't just end there! What makes this activity tracker the best fit for Strava is the sleek, cylinder and most of all run-friendly design. Since the app is designed to cater towards athletes, the necessary features such as tracking distance, pace, lap and split times are obviously expected by the fossil sport activity tracker.
Conclusion
The benefit of social interaction and staying fit and athletic are now easily achievable. With a smart integration of the two domains via tethering of Strava and activity trackers, you can greatly enhance your running experience. With the activity tracker recording the numbers and statistics and the social athlete app itself helping you to discover more and better, get the best of both worlds. Hence when you hit the road with the combination of the two, get ready for a ride worth sharing.
In summary, Strava can be very useful for those who have no problem sharing their activities. The application definitely inserts elements of statistics and features that give motivation and encourage improvement and follow-up over time.
And we'll end with their famous slogan: "If it's not on Strava – it did not happen."
Regarding Samsung Health app – luckily, after the new update, it is still compatible with Strava, however, if you want a fitness tracker or a Smartwatch to work with it than you will have to wear a Samsung device.
I hope that I helped you with finding the best activity tracker compatible with Strava and Samsung Health that will serve you well in your training.
If you want to know which are the best fitness trackers compatible with my fitness pal than here is an article that you should read.
As a professional trainer and a gadget lover, I've spent a lot of money and time buying wearable activity trackers, smartwatches, and gadgets, and checking them out. My site is focused on helping you with your activity tracking and smart technology journey. I try to provide the most helpful updated content on this subject. Hopefully, you will love my blogs and be a regular around here.