Fitness apps seem to be important in analyzing and monitoring data for the athletes and to help them with their workouts. They serve to be their long way companion when they go for a long run and want to track their progress accurately.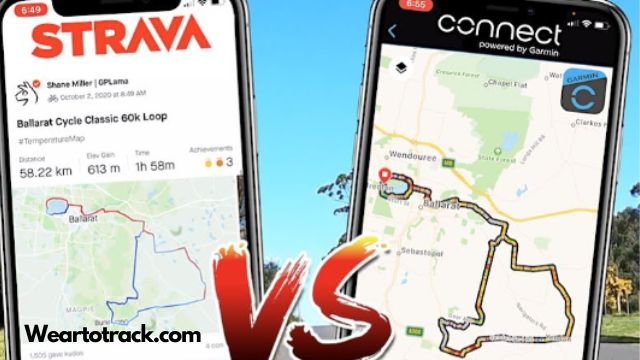 Garmin Connect and Strava are one of those handy apps that sorts out all these problems efficiently and allows the athletes to meet their goals effectively. With the help of these apps, one can enjoy his ride with lots of fun and ease.
This article gives a detailed explanation of the pros and cons of these two apps, therefore, proceed reading further for more clarity!
Here is an article on my website that you must read, its about Activity Tracker Compatible with Strava & Samsung Health.
Which One Is More Accurate? Garmin Connect Or Strava?
Everyone wonders to pick up the topmost app that is much accurate and convenient to use. Both the apps, "Garmin Connect and Strava", offer good features at their place but also have some cons.
Garmin Connect:
Garmin Connect is a fellow app that allows you to keep an eye on your fitness workouts progress. It is applicable for both i0S and Garmin devices. It is stuffed with many applicative features as well as contains some cons.
Pros:
You can view your current day health in detail on your personalized My Day page.
You can observe sync to the app when your run has finished.
It offers a vibrant community of Garmin users to you.
It can show detailed statistics.
It can share a wide range of information with you.
It can create customized workouts and courses.
It supports Bluetooth connectivity and GPS.
You can earn badges for accomplishments via Garmin connect.
A comparison of activities is possible with other Garmin users with the help of its insight features.
Planned workouts can be created with the help of the Garmin coach.
It provides life tracking for your safety.
It converts automatically downloaded data into visual charts and graphs
It can sync with other apps such as Strava and MyFitnessPal.
It can review personal records for distance, pace, and steps.
Cons:
One of its major drawbacks is that it causes the battery to drain quickly by using GPS and Bluetooth.
Strava:
Strava is yet another fitness tracker app and is popular because of its effective features. It provides free digital service that is accessible through both mobile applications and the web.
It is compatible with both android and iOS version. According to the statistics, about 50 million athletes are registered on Strava and over 3 billion activities have been shared until now. Like other apps, Strava also has some pros and cons.
Pros:
It contains segment features.
It is capable of recording runs directly in the app.
It can link to third-party devices.
It offers a wide range of metrics.
It contains training plans with summit membership.
It provides a comparison of time with other runners.
It measures your performance up to the mark.
It provides the sharing of live location with the help of a beacon.
It can also be used with a huge range of fitness tracking devices.
Cons:
Its major drawback is that it consists of a freemium model that doesn't give advanced statistical data and is not preferred by the professionals.
Adjustment of privacy settings is another drawback.
Can Garmin Connect And Strava Be Sync?
Yes, of course, they can be sync, Garmin Connect and Strava announced their partnership in the form of one-way data sharing in 2014.
By means of which all the data from Garmin connect can be automatically synced to Strava as well as other fitness apps such as Endomondo, MapMyFitness, MapMyRun, etc.
According to the research it is found that, in the cycling world, Strava has a larger number of segments as compared to Garmin connect. Therefore, Garmin connect is trying to compete online by introducing different segments with the help of its launched unit, the Edge 1000.
There are some tools also for transferring Garmin Connect data to Strava which include:
How To Transfer Data From Garmin Connect To Strava?
Transferring data from Garmin Connect to Strava is not so difficult. All you need is to follow the following steps appropriately.
Download the Garmin connect mobile app and then create a Garmin Connect account and finally connect it with your existing Strava account.
When authorizing accounts, accept "Upload your activities from Garmin Connect to Strava), to prevent past and future activity sync.
Once you have successfully uploaded your activities to Garmin Connect via Bluetooth, they will appear on Strava after few moments.
After the completion of your first upload, Garmin will sync your past 90 days of activity to Strava.
If you want to upload using your laptop, then you must install the "Garmin Express", then follow the instructions to add your device.
What If Your Garmin Data Is Not Syncing To Strava Properly?
While syncing your data from Garmin Connect to Strava there is the probability of getting various problems. But there is nothing to worry about at all because below are some solutions that will serve as a problem solver tool.
If your Garmin account is connected currently to Strava, then wait for the sync of your first new activity.
By using short test activity, you can perform this task then later it will be deleted.
After the completion of your first successful sync, your past 90 days activity will also be sync to Strava via Garmin.
To check whether Garmin Sync is working or not, check its status page that refers to Strava status.
The Strava status page will display uploads from Garmin connect.
Use the file upload option directly from your device to avoid stand by.
Also, you can export the TCX file from Garmin connect and can upload it manually.
If accessing is taking much time then disconnect the link between Garmin Connect and Strava, then after refreshing reconnect it.
Comparison Table – On Garmin Connect vs. Strava
| | | |
| --- | --- | --- |
| Topic | Garmin Connect | Strava |
| Best Users | Runners and Cyclists | Runners and Cyclists |
| Orientation | Community-based | Community-based |
| Social Media Sharing | Yes | Yes |
| Live Feed | Yes | Yes |
| Free App Version | Yes | Yes |
| Android Compatible | Yes | Yes |
| iOS Compatible | Yes | Yes |
| Tablet Supported | No | No |
| Ad-Free | Yes | Yes |
| Google Play Rating | 4.5 | 4.5 |
| Minimalist Design | No | No |
| External HR Monitoring | Yes | Yes |
| Calories Burnt | Yes | Yes |
| Distance Tracking | Yes | Yes |
| Exercise Diary | Yes | Yes |
| Route Tracker | Yes | Yes |
| Elevation Tracking | Yes | Yes |
| Activity Reports | Yes | Yes |
| Cloud Syncing | Yes | Yes |
| 3D Mapping/Geotagging | No | No |
| Search Option | No | No |
Garmin Connect vs. Strava – Similarities
The two fitness-oriented programs also share a fair number of similarities. Runners and cyclists are the targeted users of both apps. Also, you can share your fitness stats and accomplishments with others through supported social media sites.
The free app version of either app is android and iOS compatible, having 4.5 ratings on Google Play. You can enjoy ad-free use of their apps with minimalist design and fundamental tracking metrics. Moreover, cloud syncing is available for data storage.
External HR monitoring, activity reports, and other advanced features are also present. But you may have to opt for Strava premium to use those features. But more advanced features like 3D mapping and geotagging with search options aren't available.
Garmin Connect vs. Strava: Which One To Choose?
Strava lacks many features a runner/cyclist may need outside the fitness sessions. It's more like a great app to share your goals, achievements, and fitness levels on social media. However, the intuitive go-to network for cyclists often requires a premium upgrade.
Meanwhile, Garmin Connect is nearly free of hassling upgrades to unlock essential features. It can track your diet and geographical location alongside other fitness-based activities. The Wi-Fi + BT connection may drain your battery first, but it's worth the attempts.
That's why fitness enthusiasts go for Garmin Connect instead of Strava. Also, Garmin has many more extra features than Strava. The former lets you enjoy all the magnificent features without charges. But you must spare some extra cash to enjoy the full Strava package.
Conclusion
You can choose Garmin Connect or Strava based on your fitness activity requirements. However, Garmin Connect outshines Strava in terms of available features.
Measuring your activities are always precise, considering all the built-in sensors. And you can find both not sparing the other one when it comes to Garmin Connect vs. Strava.
Another post that will interest you is about the Best 8 Garmin Watches to Use with Strava.
As a professional trainer and a gadget lover, I've spent a lot of money and time buying wearable activity trackers, smartwatches, and gadgets, and checking them out. My site is focused on helping you with your activity tracking and smart technology journey. I try to provide the most helpful updated content on this subject. Hopefully, you will love my blogs and be a regular around here.