Apple is at the forefront of smartwatch innovation with its advanced Apple Watch which comes with many useful health and fitness tracking features.
Like many other premium smartwatches, Apple Watch also comes with a wireless charger that uses an inductive charging method to recharge the smartwatch.
And I have also covered a topic which many Apple users are asking about – Can You Charge Apple Watch From iPhone or Its Charger?
The latest versions of Apple Watches offer up to 18 hours of battery life on a single charge which means that normally you will only need a charger once you back from your office or school.
But, what if you lost your Apple Watch charger? Will your Apple Watch charge without its dedicated charger? Is it even possible to charge your Apple Watch without its dedicated charger in 2022? Well, let's find out!
How To Charge Your Apple Watch With Its Dedicated Magnetic Charger?
Before we get to our main topic, let me quickly tell you about the way you can use to charge your Apple Watch with its dedicated magnetic charger. I'll explain the whole process in simple steps which will be easier for you to follow.
Step #1: Please Remove Apple Watch from your wrist and put it on the concave side of the charger. Ensure that the watch is aligned with the charge and that magnets are connected.
Step #2: Now connect the charging cable with the power brick and plug it into a power outlet.
Step #3: Once you complete steps #1 and #2, your Apple Watch will start charging and you will see a green bolt on the display of your watch.
Now charging time will vary depending on the model of Apple Watch you have. If you have the latest Apple Watch 8, it takes around 1.5 hours to fully charge but if you have an older version, it can take up to 3 hours to fully charge.
If you are traveling, there's a possibility that you might not have access to a charger so I'd recommend that you invest in a power bank with wireless charging capability to recharge your devices including your Apple Watch.
Can You Charge Apple Watch Without Its Dedicated Magnetic Charger?
Apple Watch comes with a dedicated magnetic charger which allows you to quickly recharge your smartwatch and it offers 18 hours of battery life on a single charge. If you have lost the charger, you don't have to worry because you can still use any other magnetic charger to recharge the device.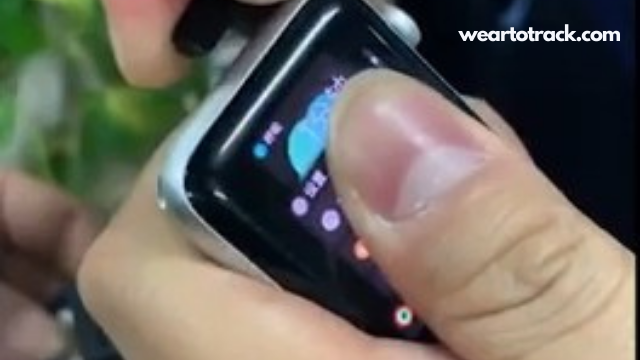 However, it's not possible to charge Apple Watch without a magnetic charger if you have the latest versions of the Apple Watch such as the Apple Watch Series 7, Series 8, or later versions. However, if you have Apple Watch Series 6 or earlier versions, you can use a secret charging port which you can find behind your straps.
In a nutshell, the only way to charge the latest Apple Watch versions (Series 7, Series 8, and the latest versions) is by using a magnetic charger. However, if you have Apple Watch Series 6 or earlier versions you can use the secret port to recharge your Apple Watch.
I have recently discussed a very popular issue that might concern you too – Is it bad Charging Apple Watch All Night or Too Long?
Does Apple Watch Series 8 Have A Hidden Charging Port?
In the early versions of the Apple Watch, the company included a hidden diagnostic port which was included so that Apple technicians could use it to diagnose problems on faulty Apple Watches.
In 2015, some Apple enthusiasts discovered this hidden port and found that it can also be used to charge the Apple Watch.
Later on, some companies such as Reserve and Togvu tried to launch their straps to use this port to charge Apple Watches but both of these projects were failures.
As this port was originally intended for diagnostics and not charging, people who were using this port for charging were exposing the device to the risk of being overheated and electric sparks.
It is the reason why Apple removed this port in Apple Watch Series 7 and the latest versions. Now, it's not found on any of the latest Apple Watches including the Apple Watch Series 8 and Apple Watch Ultra.
How To Charge Apple Watch Using The Hidden Port? Should You Do It?
If you have an Apple Watch 6 or older version of Apple Watch, then you have the option to use the hidden port for charging your device but the main question is: Should you do it?
In my opinion, you shouldn't do it because that hidden port is designed for diagnostics and if you try to use it for charging, it can backfire and your Apple Watch can get damaged.
Apple also doesn't recommend you to charge your Apple Watch using a diagnostic port because it exposes your device to the risk of being overheated and even electrical sparks.
So, now you must be wondering: what other options do I have to charge my Apple Watch? The answer is that you should get yourself a magnetic charger. Apple Watch will work with any supported magnetic charger but I would recommend using an official charger for better performance.
What Are The Alternatives To Apple Watch Dedicated Chargers?
If you are a frequent traveler, you have two viable options to recharge your Apple Watch.
The first option is to get a spare Apple Watch charger and keep it in your backpack all the time. This option might not be viable for many options because you will only be able to use this charger if you find the power port.
The second option which I recommend to most people is to invest in a portable charger. These chargers come with their battery pack which you can use to recharge your Apple Watch and other devices with ease.
These are the best Alternate Portable chargers for Apple Watch.
Apple MagSafe Duo is one of my favorite and most popular Apple Watch portable chargers out there. It's an official product by Apple which means that you can expect it to be durable and reliable. I've personally used this portable charger and it works well for me.
The thing I liked about this portable charger is that it works flawlessly with all the latest Apple devices including iPhones, AirPods, and Apple Watches. On top of that, it's also compatible with Qi-enabled wireless charging devices.
Also, its compact form factor allows you to easily carry it in your backpack. The only downside of this charger is that it's very expensive like other Apple devices so it can be a dealbreaker for some people.
If you don't want to spend a lot of money on a portable charger but still want a decent and reliable Apple Watch portable charger under $50, you can consider JSL JDTC Portable Charger. It's officially approved by Apple's MFi Program so you can expect that it won't damage your Apple Watch.
The charger is pretty compact and you can easily carry it in your backpack. Also, it comes with a metal clip which you can use to hang the charger with your bag or suitcase.
Overall, if you want a compact and reliable Apple Watch portable charger, you can't go wrong with the JSL JDTC Portable charger.
Frequently Asked Questions [ FAQs ]
Can I Recharge My Apple Watch With A Power Bank?
Yes, if your power bank supports Apple Watch you can use it to recharge your smartwatch. However, before you use any third-party charging device, make sure that it's certified by Apple's MFi program which is the certification the company issue to licensed products for Apple devices. If a device is MFi certified, it means that it's safe to use for Apple devices.
Can I Use My Iphone's Charger To Charge My Apple Watch?
You can surely use your iPhone's power adapter to charge your Apple Watch but you shouldn't use your iPhone's wire for charging your watch. It's always recommended that you use your Apple Watch's dedicated charger to recharge your Apple Watch.
Does Apple Watch Comes Charged?
Yes, Apple Watch usually come charged but it's recommended that you always charge your Apple Watch to 100% for the first time before you start using it.
In The End
That's all, guys. The hidden charging port is no longer available on Apple Watches and I've shared the best alternatives which you can use to recharge your Apple Watch.
The products I've shared in this guide are completely safe and you can use them to safely recharge your smartwatch. I hope that you found the guide useful and if you liked it, don't forget to share it with your friends and family.
As a professional trainer and a gadget lover, I've spent a lot of money and time buying wearable activity trackers, smartwatches, and gadgets, and checking them out. My site is focused on helping you with your activity tracking and smart technology journey. I try to provide the most helpful updated content on this subject. Hopefully, you will love my blogs and be a regular around here.