Obviously, you'll have to give the wearables a rest after the entire day-long use. Apple Watch is likely to run about 12 to 18 hours on one full recharge.
This means you may have to charge up the smartwatch battery almost every night. But careless acts of many ignorant users lead to potential damage.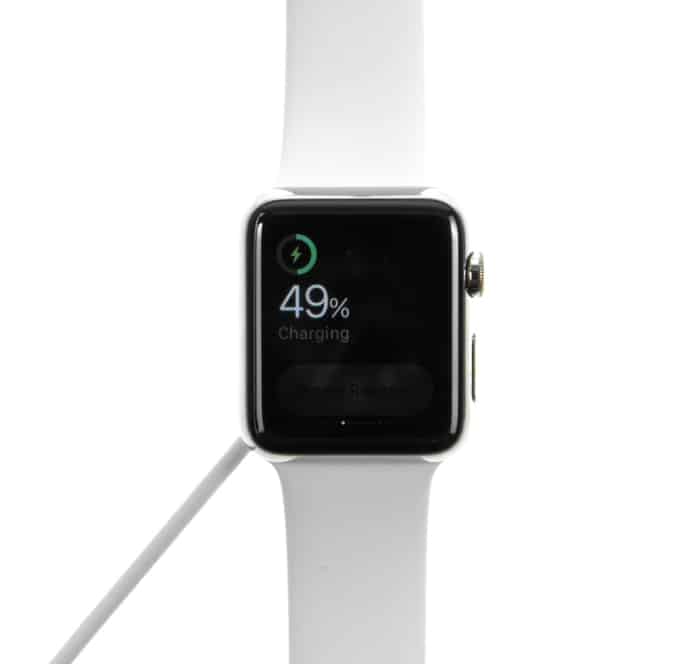 Some even leave charging Apple Watch all night or too long. However, recharging for the entire night or way too long does no good to the battery.
Here is an article on my website that you must read, its about Top 10 Walking Tracker Apps For Apple Watch.
You only need to recharge your Apple smartwatch for a specified time. Therefore, better stick to our in-depth Apple Watch charging facts guideline.
Do you leave your Apple watch charged all night and wondering if it is bad for it? Let me calm you down!
There is no harm in changing your Apple Watch overnight or leaving it connected to the power for too long as it does not harm the battery.
Charging Your Apple Watch
For the best possible experience, you will want to make sure that your Apple Watch has a full charge. Charing an Apple Watch is made super easy thanks to the magnetic charging properties of new Apple products.
You can charge your watch using either the magnetic charging cable that arrives with the device or you can get the magnetic charging dock.
Regardless, all you need to do is find a well ventilated area with a flat surface, connect the back of the Apple Watch to the curved portion of the charger, and let the wearable stock up on some juice.
Once the charger snaps into place with the watch, you will hear a chime signifying that charging has commenced. You will also be able to visualize a green lightning bolt symbol on the face of the watch that turns red when the device is lacking sufficient power.
How Long Does It Take For An Apple Watch To Fully Recharge?
To make sure you are charging your device to full capacity and not running the risk of overcharging it, you need to know how long it takes for your Apple Watch to gain a full recharge.
According to Apple, the charge time for Apple Watches belonging to Series 3 and 4 is one and a half hours to go from 0 to 80 percent and two hours to go from 0 to 100 percent, give or take.
Here is another common question that I have recently answered – Can you charge the Apple watch without its dedicated charger?
Is Leaving Your Apple Watch On Charge Overnight Bad?
Since people prefer to keep wearing their Apple Watch throughout the day so that all of their metrics and activities can be consistently recorded and accounted for, many individuals consider charging their devices overnight.
Considering just how intensive the use for an Apple Watch is, you will probably need to charge the watch every other day anyway and the night seems to be the best time to do it since you do not need the watch to record anything unless you want to keep track of your sleep patterns.
When it comes to charging not just your Apple Watch, but any device overnight, the major concern that most people have is if constantly being connected to the power can cause any sort of damage to the device and its battery.
While it is true that certain devices suffer a decrease in the quality of their performance or battery life if consistently overcharged, you are not putting your Apple Watch at any significant risk by charging it overnight. Apple Watches use a high-quality Lithium-ion battery that can withstand overnight charging safely without impacting the performance of your device or its battery life.
In fact, the watch automatically stops charging as soon as the battery percentage reaches full capacity, ensuring that there is no risk of overcharging and battery damage.
If you happen to use the watch while it is charging and some of the power is used up, charging starts back up until the battery percentage is at a full 100% once again.
You may notice that the adapter, charger, and watch become a bit warm during the charging process but that is completely normal and nothing to be concerned about.
Certain people have a habit of draining their devices down to a certain threshold percentage before they connect it to the charger to get optimum use, but you do not need to adhere to any such practices when it comes to Apple Watches.
You may connect the watch to the power at any battery level and at any time without expecting any deterioration in its performance or battery life.
What is The Optimum Time To Charge Your Apple Watch?
So taking into consideration the fact that Apple reassures users like yourself that there is no harm in keeping your device connected to the power for long periods of time, you can go ahead and let your Apple Watch charge overnight.
You can use your wearable smartwatch for the entire day and then put it on charge for the night while you sleep regardless of what battery percentage it is currently at. It is a safe and incredibly convenient practice that will not disturb your schedule.
Conclusion
It's clear that you can't put the battery on recharge by any random means. And there's no benefit in keeping the charger attached for too long.
Recharging your Apple Watch to a specific percentage within a limited time is the best thing to do.
Modern smartwatch batteries are powerful enough to become recharged soon. So, skip the ignorant act to maintain good battery health for long.
Here is an article that I have written about the Best Apple Watch Faces That Show Steps In Main Faces.
As a professional trainer and a gadget lover, I've spent a lot of money and time buying wearable activity trackers, smartwatches, and gadgets, and checking them out. My site is focused on helping you with your activity tracking and smart technology journey. I try to provide the most helpful updated content on this subject. Hopefully, you will love my blogs and be a regular around here.