In this article, I will help you with finding the best Fitness tracker watches and wristbands for large and extra large wrists. The popular Fitbit Charge 3 does come with a large band for a wrist size between 7.1-8.7 inches in circumference, however, I have found 4 more super popular Fitbit and Garmin trackers that will fit even larger wrists sizes.
I will even help you here to make sure that you are ordering the right size for you.

The fact that you have got a big wrist doesn't mean that you have to compromise and pick a low-quality fitness tracker.
I have picked up for you 4 of the more popular and successful fitness trackers on the market from the giants of the industry – Garmin and Fitbit that are also available in big sizes, so you too can enjoy the benefits of these awesome devices.

Best Fitness Tracker Watches and Wristbands for Large and extra large Wrists
The fitness Tracker is an extremely useful gadget and it has proven to be helpful for a lot of people in achieving their fitness goals.
These devices calculate and display important information regarding a person's physical activity such as a number of steps taken, heart rate, stairs climbed, calories burnt, distance covered etc.
However, one of the problems that people with large wrists face is that no fitness tracker fits them and it is kind of frustrating.

Most of the brands in the market are only producing trackers for people with normal hands making it extremely difficult for people with large wrists to find something that can fit them.
If you want to wear something 24 x 7 or for a major portion of the day, you need to make sure that it is comfortable.
Wearing a tracker that is too tight will not only be very uncomfortable for the wearer but they are likely to just remove it and never bother with it again.
An alternative is to get a clip-on activity tracker but they are not as accurate and there are several vital activity related signs that they cannot calculate.
People often get normal sized trackers and then cut off the straps and try to put in something that can fit them comfortably.
The problem with this is that you won't be able to claim any warranty if you deliberately damage the straps.
Others might try to buy X-large straps that will fit their fitness tracker in order to replace the original. This makes them pay more and many times these bands will have poor quality.
Not all the models comes with large or x-large sizes, luckily for you, I have dug in and found some of the best activity trackers that are for people with large and even extra large wrists that are also being sold on Amazon.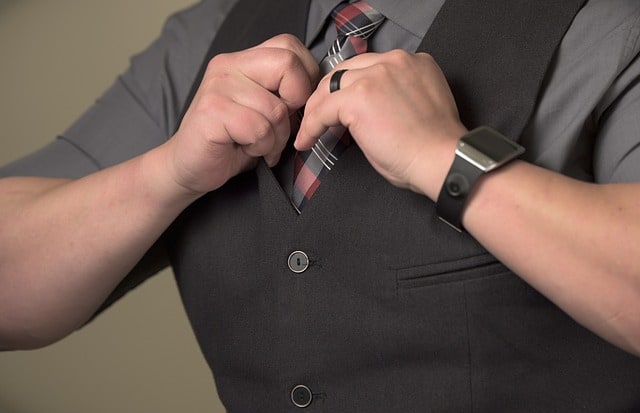 How to measure you fitness tracker before buying it?
You can measure your fitness tracker before buying it quite easily.

Both Fitbit and Garmin have added a very helpfull sizing pdf guide to their products, you can just print the pdf form, cut the sample band and check it on your arm.
I added for you the links to the pdf sizing guides so you will be able to buy your desired fitness tracker without the fear of getting disappointed with its size.
A list of popular fitness trackers that comes with large and X-Large sizes
1.Garmin Vivosmart HR Activity Tracker
Size of the X-Large Band: for a wrist circumference between 7.1–8.8" / 180–221 mm
You can buy the X-Large version here on Amazon.
Check out the Vivosmart HR sizing pdf guide for more information on the size.
This feature-filled activity tracker is the best for people with large wrists because it is available in XL size which is rare in most of the trackers available in the market.
The tracker features a wrist-based heart sensor which constantly monitors your heartbeat while you are running or exercising.
The watch displays all the crucial information that you need to keep a check on the progress you are making.
You also get smart notifications on this watch from all your social media accounts and you can even receive messages and calls on it.
The watch features a move bar and vibrations alert to keep reminding you to be active.
It even has an altimeter to make sure that you know how many stairs you have climbed.
The altimeter also makes it one of the best tracker if you are someone who loves going on hikes.
2.Fitbit Alta Fitness Tracker
Size of the X Large band: 8.1″–9.3″, 206 mm–236 mm
Check out the Extra Large version on Amazon.
Check out the Fitbit Alta sizing pdf guide for more information on the size.
Fitbit is one of the most known activity trackers making companies in the world and they also have a model that is perfect for people who have large and even very large wrists and it is as good as all the other Fitbit models.
Get yourself motivated for a workout every day by wearing this amazing gadget.
Featuring a bright OLED display the tracker shows and calculates all of your most important stats such as calories burned, distance covered, active minutes, steps taken etc.
With up to 5 days of battery timing, you don't have to worry about recharging your device every single day.
The device checks how long you sleep as well as the quality of your sleep and sets up silent alarm according to that.
You can easily connect this device to your smartphone or laptop to get a better insight at all of your stats and plan your routine accordingly.
3.Garmin Vivofit 3 Activity Tracker
Size of the X-Large Band: for a wrist circumference between 6.5–8.9" / 165–225 mm
Check out the X-Large version on Amazon.
Check out the Vivofit 3 Sizing pdf guide.
With an adjustable strap, the Garmin Vivofit 3 activity tracker is an amazing choice for people who have large wrists.
This is a highly advanced gadget and one of the most amazing features of this device is its ability to automatically detect and distinguish different types of activities.
The device features an amazing battery which doesn't need replacement or recharging for one whole year.
Just wear and forget about charging it again and again. This tracker has a very comfortable design which is also sleek and stylish.
The design allows you to easily wear it all the time even when you are sleeping.
The watch is also water resistant and you don't even have to remove while taking a shower or even swimming.
A perfect all-rounder makes customized fitness goals for the users that motivate people to follow their fitness schedules.

4.Garmin vívoactive HR GPS Smart Watch
Size of the X-Large Band: for a wrist circumference between 6.38–8.86" / 161–225 mm
Check out the X-Large version on Amazon.
Check out the Vivoactive HR sizing pdf guide.
In opposite to the first 3 wristbands for a large wrist on this list, this one is a smartwatch, which means that it includes lots of cool features and it also has a built-in GPS, wrist heart rate monitor, and a pretty decent looking touchscreen.
The Vivoactive HR smartwatch is a powerfull fitness smartwatch and is suitable for athletes and those of you who need a serious fitness tracking device.
It is so amazingly features rich and it is capable of tracking tons of sports activities which includes swimming in the pool, sap rowing, skiing, cross-country skiing, and measuring gym activities; Running, cycling, walking and rowing.
For each of these you can get detailed reports on the distance, pace, steps, intensive minutes, your last sports activity, weather reports, a heart condition in action and rest in the last few hours, Alerts and notifications from your smartphone, control of the music player, and a few more other things.
The Vivoactive HR has an impressive batery life of up to 8 days(with basic use of it) and up to 16 hours with GPS turn on.
I hope that I helped you with finding the best fitness tracker watches and wristbands for large and extra large wrists.
Here is a related article that you might find interesting on the best hybrid fitness tracker watches.