I have picked up some of the best Smartwatches With a large display and Notifications for those of you who like to stay updated with your Whatsapp, SMS, emails, make and receive calls, and more without the need to take your phone with you.
These Smartwatches' large display can be seen great also in sunlight and I know how important it is for people who train in daylight.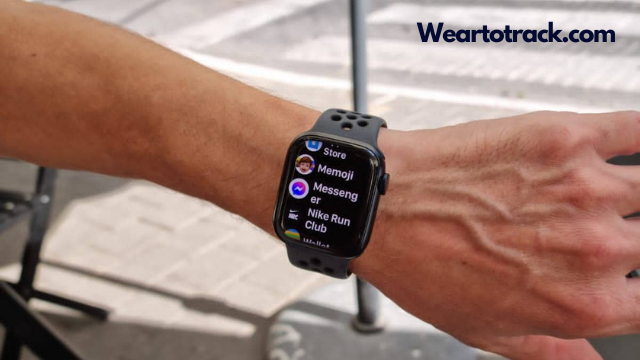 Here is a related article that might interest you on Best Smartwatches With Calculator Feature + Best Calculator Apps For Smartwatch.
The sophistication of these trackers allows the users to keep a record of multiple of their health aspects from heart rate to the number of steps walked. This is a perfect way of keeping track of your health.
For this breakthrough, credit has to be given to the tech companies that have not just provided this facility but also connected it to our recent 'vital organ', the cell phones. Smartwatches are compatible with iOS as well as Android systems. These new high-tech wrist bands are easy to wear and classy.
Top 10 Best Smartwatches For Texting & Calls With Large Display
If you want to adopt a new lifestyle you need to know a bit more about it. Let us make your search easy and spell out some of the dominant features of the most popular smartwatches with a large display and notifications:
The brand of the watch is Google. In fact, it has a text message, display mode, activity tracker, and notification as special features.
The compatible device of the watch is any smartphone. If you want to check everything such as pick up and reject calls, reply to SMS and see notifications from your wrist, then the watch is the best for you.
Moreover, you can make calls through your wrist, no matter where you are. You will always be connected to your phone.
Apple comes with advanced health features and Activity tracker features. You can take care of your health through the watch. It will monitor your heart rate, sleep stage blood oxygen, etc.
You can always wear the watch because the watch is water resistant. Surprisingly, it is able to track your activity when you swim. The watch can be your strong fitness partner.
The watch will work seamlessly with your Apple device. In fact, you can pay money by using the watch.
It is a very lightweight and slim-fit watch. The watch is supported for both iPhone and android phones. Also, you can monitor your heart rate, breath, calorie burn, sleep, and so on from the watch.
The watch will always notify you when any notification, call or text message comes. Additionally, you can handle it through your wrist.
The watch is for those who love to track their activity all the time. Because the watch is able to track your activity every time.
It's a unique smartwatch that has solar charging capabilities. In fact, the battery of the watch is long-lasting. You will get advanced training features and data which will help you to pass tough challenges.
You can pair the watch with a compatible smartphone. After pairing, you will get your phone's notifications instantly. The watch has GPS. Moreover, you can install the music easily. Because it has music storage.
The watch has a sports mode. For this, it can track your running, swimming, exercise, etc.
It is an outdoor sports watch. For this, you can do swimming, cycling, gym, hiking, workouts, running, and so on perfectly with the watch. The watch has a special feature which is a compass. Moreover, the watch will work in an excellent way for adventures because of its dual-time features.
By using your watch, you can always know the measurement of your activities which are hiking, biking, and camping. Because it has an altimeter, barometer, and storm alarm which are advanced features.
Good news for Apple users as Apple has not only focused on high-end technology features but with the new wider screen (40 mm and 44mm), optional LTE, the new wrist band has a more display space, built-in notifications, and curvy edges for a classy look.
The introduction of Digital Crown reminds us of the good old days when we pressed it to set and reset our watches. Here it's doing a lot more. By pressing the Digital Crown the user can return to the Homepage and by rotating you can scroll up and down or zoom.
Battery life though is not very promising. It can last for two days but the catch is that it should not be subject to a long exercise routine for very long.
I have reviewed here the 4 generation of this super popular watch, there are newer and of course more expensive versions(5,6).
So in case your budget doesn't allow you to go on the new gens, The Apple watch series 4 will serve you great for texting, call making, and much more.
Fossil Gen 6 is lightweight, durable and water resistant. Although it does not offer high tech features, it is dedicated to fitness and provides access to all of your notifications with ease.
For all those who wish to keep their health in proper check but do not wish to spend much Fossil Gen 6 can be a good pick.
It is completely sporty with colorful silicon straps and a bright display. The good news is that this smartwatch gives choices of colorful straps to flaunt whatever mood you are in. If Fossil Gen 6 is your companion at the gym you certainly do not need anyone else.
With the 1GB RAM, you can download quite a lot of apps as per your liking. The treat comes when you see the 8GB storage where you can store multiple apps as well as music. So next time you're headed to the gym with a bright Fossil Gen 6 around your wrist you don't have to worry where your phone is.
This model is the only watch on this list that is not able to answer phone calls, nor to make ones, as it has no speaker, however, it will alert you when you got a phone call coming in.
Battery life is also not a problem. The claim of two days of battery running is justified. The option of 'always-on' display can help save battery if you use it smartly.
There's good news for Android users that Fossil Gen 6 is more compatible with Android than iOS.
If anyone knows how to make a smartwatch the award has to go to Samsung. The SAMSUNG Galaxy Watch 5 Pro is simultaneously a fitness tracker as well as a Smartwatch.
It's that sophisticated wristwatch with a stainless steel case decorated with a rotating bezel. The smooth functioning bezel rotates to bring each app and notification without even touching the screen, which can be a task if you have ever tried navigating a tiny screen with finger touch, let alone if you're a girl who likes to keep long manicured nails.
Talk about battery life, no one can beat SAMSUNG Galaxy Watch 5 Pro with its four-day battery. This is all possible even with keeping yourself updated with all your messages, notifications, and workout updates.
If you are not too tight with the budget, I will recommend you going on the SAMSUNG Galaxy Watch 5 Pro which is the newest version. The other previous generations will work great too for texting and call making.
Fitbit introduced about a year ago the Versa, a smartwatch that will allow you to track your physical activity but not only.
The Versa includes all the necessary sensors: pedometer, heart rate sensor, and distance meter, and is also a smartwatch where you can receive alerts from your smartphone, store and play music and use custom apps. It is basically Fitbit's alternative to Apple's smartwatch at the top of our list.
Sport Elegant Look

At first glance, Versa certainly drew some inspiration from Apple Watch, and it seems not to be accidental.
It features a 1.34-inch LCD screen, and despite its generous margins (which are not typical of technology makers in recent years), it offers a pleasant, sharp, clear and comfortable viewing experience even in direct sunlight.
In terms of battery life, the watch can work for 5 days without charging, however, when the notifications are on the battery would have a shorter life. In any case, charging the watch from 0 to 100% takes about two hours.
As for the price – The Fitbit Versa comes with a very attractive price, especially when compared to the Apple watch series 4.
The Gear Fit2 Pro, in opposition to the other fitness trackers on this list, comes in the shape of a smart fitness band and not as a smartwatch.
Fitness bands usually come with a very small display or without one at all. Not the Gear Fit 2 Pro!, this band main uniqueness lies in its big gorgeous display and its ability to show notifications on it.
The Gear Fit 2 Pro is Samsung's latest flagship fitness tracker. With its sleek hardware coupled with Samsung's Tizen software, the Pro is becoming the user's number one choice by the millions.
Gear Fit 2's exterior is top notch and it can give Apple watch a run for its money when it comes down to fitness logging. If you want to know more about the mind-blowing features of Pro, then you have come to the right place.
Sleek and glossy exterior
The Gear Fit 2 Pro comes with 2 multi-occasion rubberized straps that are made to fit comfortably with a clasp ensuring that the Pro stays on during your swim or gym sessions, it has a slightly curved, rectangular, 1.5 inch Super AMOLED touch screen main body.
Its slick design along with 5 ATM water resistance feature sets this beauty apart from its predecessor and allows its users to enjoy a good swim up to 50 meters underwater. The phrase good things come in small packages goes accurately with the Pro wearable.
Numerous Apps and Watch Faces
In this 34g and roughly 1cm thick fitness tracker, Samsung has managed to stuff a considerable amount of tech for its technologically advanced users.
With more than 3000 apps and watch faces to choose from, including Spotify, you can customize your Gear Fit 2 Pro to make it work for you.
And this is not all, it also comes equipped with 0.5 GB of RAM, 4 GB of onboard memory, accelerometer, barometer, gyro Sensors, HR sensor, and GPS.
The additional memory allows the users to download songs through a compatible app thus removing the need for carrying an MP3 Player during training sessions.
Large Screen Display
Gear Fit 2 Pro most important feature is its large screen display that comes in handy while reading entire messages and notifications without having to follow the side-scrolling text.
You can simply swipe up on the home screen to view all the metrics and quickly scroll through them. The two physical keys are easy to handle.
The top key acts as a home key that takes you back to your primary watch face whereas the lower key opens up a vertical list of installed apps and shortcuts.
Easy Connectivity and Auto Tracking
This fitness tracker works on both Android and iOS with the super easy pairing process. Now you can download compatible apps on your Fit 2 Pro and track your basic cardio activities such as swimming, running, cycling and even some specific activities such as tennis and badminton.
This wearable tracker comes with auto-detecting and auto-logging feature that removes the need for you to manually select this option when you start your exercise.
It also measures your heart rate continuously throughout the day, indicating heart rate zones, to help you make better fitness decisions.
Best Smartwatches For Texting & Calls – Buying Guide 
For getting the best smartwatches that are able to text and call, you need to know some important features of the smartwatch. Hence, these guidelines will help you to choose a good smartwatch for you.
Here are these essential factors for buying a smartwatch for text and calls:
Compatible device
Smartwatches have to be compatible with your existing smartphone so that you can get all benefits through your wrist.
If you connect your smartwatch to your phone, then you will feel that your watch is not less than a phone. Additionally, you can do everything with your smartwatch.
Display and battery life
You should check the display before buying a smartwatch. The HD and always-on mode display are excellent for seeing the time every time.
Besides, you have to observe whether the battery of the watch is long-lasting or not because you need to send or receive calls and texts anytime, anywhere.
Health Features
This is the most important feature of a smartwatch. If the smartwatch has an advanced health sensor, then it will be able to monitor your heart rate, sleep stage, blood oxygen, and so on.
Activity Tracking
By having an activity and fitness tracking sensor, you can measure every step of your activity. The watch will show you how much you burn calories when you exercise.
On the other hand, this watch is perfect for outdoor sports and indoor activities. Also, you can take it with you on adventure activities.
Frequently Asked Questions [FAQs]
Do Smartwatches Let You Text Someone?
Answer: yes, smartwatches let you text someone. You can make calls and reply to your text as long as your watch connects to your smartphone.
Can Smartwatches Call Without A Phone?
Answer: For some advanced features, smartwatches can make calls without a phone. These smartwatches are known as cellular-enabled smartwatches or 4G LTE smartwatches.
Do Smartwatches Need A Data Plan?
Answer: smartwatches do not need a data plan. Because maximum smartwatches have GPS function.
Conclusion
So whether you are looking for the Best Smartwatches For Texting & Calls on it but doesn't want a big smartwatch on your hand then this device is the best for you.
I hope that I helped you with finding the best smartwatches with a large display and text notifications for your own style and needs. If you have any comments, please share them with us in the comments section below!
Here is a related article that you might find interesting on the best earbuds with a built-in heart rate monitor.
As a professional trainer and a gadget lover, I've spent a lot of money and time buying wearable activity trackers, smartwatches, and gadgets, and checking them out. My site is focused on helping you with your activity tracking and smart technology journey. I try to provide the most helpful updated content on this subject. Hopefully, you will love my blogs and be a regular around here.