Do you have a Garmin watch and you want to add a compatible chest strap monitor to it? you got to the right place! Adding a heart rate monitor to your wearable always helps in adding a little more data to your performance conditions, tracks, and analyzes your workout for better insights.
More data is always a winner when it comes to the choice of sports. Measuring your speed, cadence, distance, altitude, and heart rate can help you improve your health and training plan and you can make the most out of your workout sessions.
Here is an article on my website that you must read, its about the Best 7 Armband Heart Rate Monitor Of 2023.
Moreover, analysis of the heart rate can provide valuable insights form heart health and can help you get fitter.
How To Choose The Best Heart-Rate Monitor?
While choosing a heart rate monitor it is important to choose the one which gives the more accurate result, and of all the heart rate monitors chest strap wins the race by providing more precise results.
It is equally important to choose the one you feel comfortable in because it will help you prolong your fitness activities without any snag. 
Let's go through the other factors as well to keep in mind while selecting a heart rate monitor:
Battery
This is one of the most important factors to look for in a heart rate monitor after comfort. Long battery life is always a convenient option – because no one wants the monitor to shut off in the middle of the run!
Internal Memory
If you don't like to carry your smartphone with yourself during a run or other exercises than opt for a heart rate monitor that can store your necessary heart rate data in its internal memory and you can retrieve it whenever you want.
Performance Metrics
While choosing a heart rate monitor you should also consider which performance metrics you want to measure along with heart rate analytics. However, it's all about personal preferences!
Module Size and Strap Length
Choosing the right heart rate monitoring device with optimum strap length and module size is necessary because you don't want a device that looses up during your workout or run.
The performance analytics also depends upon this factor as the device cannot measure the data correctly when it is not perfectly in contact with the skin.
But hold on a bit. Which heart rate chest straps and monitor work with Garmin watches?
Top 7 Best Heart Rate Chest Straps & Monitoring Devices Compatible With Garmin Watches
Well, when choosing the right chest strap or heart rate monitor to keep the performance and comfort factors in mind. So, without a further delay here are the seven best heart rate monitoring devices that are great for runners and work well with Garmin watches:
If you want to buy a single device that could measure all your performance during a workout session or a run then this is a gold-standard heart rate sensor that gives the most accurate heart rate data and comes with a comfortable adjustable strap at a medium width.
Its built-in memory feature will store the data of one training session and will sync the data to the phone when it comes in contact with it. This feature helps the fitness freaks to track their fitness without being hooked-up with their smartphones.
It uses an ECG-style sensor that detects the electrical activity of the heart to deliver your BPM readings.
Compatibility: Android, iOS, ANT+ Bluetooth
Sensor type: Electrode pad/transmitter
Battery life: Up to 400 hours
Price when reviewed: USD 62
It comes with a super-thin chest strap and an impressive battery retention time of about a year, which will help you stay carefree and allows you a snag-free training session.
This not only collects the data of your heart but also keeps a track of some advance running stats like cadence, left/right balance, ground contact time and stride length, etc.
This will help identify your running techniques and will help you improve your running style to make it better and quicker.
It is comfortable to wear chest-strap because of its lightweight and delivers important credentials to the user. The Garmin HRM-Run can be used with a compatible Garmin watch to perform a lactate threshold test.
Compatibility: Android, iOS, ANT+ Bluetooth
Sensor type: Electrode pad/transmitter
Battery life: Up to one year
Price when reviewed: USD 99.99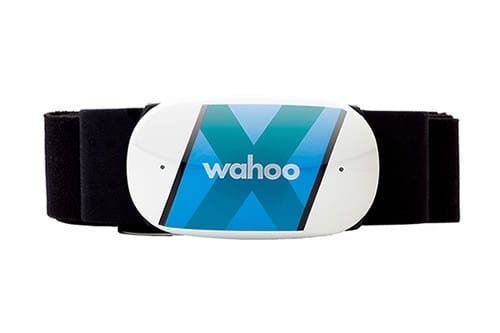 This is an improved version of Wahoo Tickr with improved battery life. The new Wahoo Tickr X tracks the heart rate, running analytics, burned calories, and much more!
Likewise Polar H10, it also consists of an internal memory which can hold up to 16 hours of workout stats and can sync the data with the smartphone when connected to it.
This monitor features a wider, softer, and lighter chest strap that can fit a chest size of 23-48 inches. The wider chest strap delivers a more profound connection with the body to deliver more accurate results.
Compatibility: Android, iOS, ANT+ Bluetooth
Sensor type: Electrode pad/transmitter
Battery life: Up to one year
Price when reviewed: USD 80
This fitness strap is specifically designed for swimming enthusiasts with a non-slip comfortable strap that will provide a hurdle-free swim. The sleek and non-slip straps don't come off even during wall push-offs.
Once you are done with swimming and come out of the water, this intelligent device will transfer all the recorded data regarding your heart rate and swimming interval summaries to your smartwatches.
Supports advance heart rate variability and advance heart rate features to give you a trouble-free swim.
This device cannot help you with running dynamics; it's only made for people to track their interval summaries and heart rate stats during a swim. The battery life can stay up to 18 months if you swim for 3 hours per week only.
Compatibility: Android, iOS, ANT+ Bluetooth
Sensor type: Electrode pad/transmitter
Battery life: Up to 18 months (swimming 3 hours per week)
Price when reviewed: USD 99.99
If you want to search for a monitor that could help you while cycling or swimming then you should opt for nothing but Garmin HRM-Tri which is specifically made for triathletes to track all their necessary data and store it in its internal memory.
This is one of the lightest and smallest heart rate monitors produced by Garmin which is comfortable and easy to use as well.
It also provides the stats for interval summaries and heart rate during swimming along with variable heart rate, advanced heart rate monitoring, and running dynamics (like cadence, vertical ratio, stride length, ground contact time balance, and vertical oscillation).
It possesses a bi-fold feature that will help the user to adjust the size of the strap when needed and a non-slip design that can make swimming resistance free.
Compatibility: Android, iOS, ANT+ Bluetooth
Sensor type: Electrode pad/transmitter
Battery life: 10 months (Tri training 1 hour per day)
Price when reviewed: USD 129.99
6. CooSpo IP67
This is the most budget-friendly chest strap heart monitor device to take your workouts to another level. This is comfortable to wear a heart rate monitor with an adjustable strap that can fit a chest size of 25.6-36.4 inches.
By the same token of features, CooSpo IP67 also helps the user with a real-time heart rate monitoring, running stats and burned calories, to keep you on track during a fitness regime.
ATN+ Bluetooth technology helps the device to connect with a variety of devices like Garmin smartwatches, to sync data when needed after a workout session. Users love this gadget due to its high functioning features and less price.
Compatibility: Android, iOS, ANT+ Bluetooth
Sensor type: Electrode pad/transmitter
Battery life: Up to one year
Price when reviewed: USD 31.46
The Polar T31 is not like a typical heart rate monitor and it also not cater to record the data while exercise like the other devices does but this only works as a transmitter that captures your readings with a waterproof ECG and then sends it to your smartwatch or any fitness tracker.
It also possesses a worthy and fancy feature for indoor runners since it can be connected to treadmills for indoor runs.
Most users praise it for its accuracy and ease of use for heart rate monitoring and also its ability to connect to third-party apps and devices.
Compatibility: Android, iOS, ANT+ Bluetooth
Sensor type: electrode pad/transmitter
Battery life: up to 2500 hours of use
Price when reviewed: USD 38.30
As a professional trainer and a gadget lover, I've spent a lot of money and time buying wearable activity trackers, smartwatches, and gadgets, and checking them out. My site is focused on helping you with your activity tracking and smart technology journey. I try to provide the most helpful updated content on this subject. Hopefully, you will love my blogs and be a regular around here.