I have researched the subject a lot in order to find the best smart speaker for privacy matters.
I will place the conclusion here and will save you many reading hours – when it comes to privacy concerns you should always prefer an Amazon device over Google's or Apple's.
This is why I have chosen Amazon's Echo – 2nd Generation as the best smart speaker for privacy.
I will explain more about this important topic in this article.
In the ever advancing world of today, our days are becoming extensively occupied. Accomplishing all that is planned for the day seems almost impossible and tiring.
Smart Speakers, the epitome of connectivity, have been invented to assist individuals through the routine tasks and to cut down the pressure.
These speakers perform all the pre-programmed functions as well as respond to the additional commands efficiently. A smart speaker can not only control the home environment but control lightning, locks and monitor house security which makes it a complete virtual home assistant.
It also serves as an information port where you can learn about current news, weather conditions and even meaning of a new word. Apart from this, it can access other voice controlled devices and carry out the given commands. With a single voice command, you can enjoy your favorite song while cooking or doing any other task!
Best Smart Speaker for Privacy – What Are The Privacy Concerns?
Ever since these digital assistants have been introduced, there have been widespread privacy concerns. A smart speaker begins operating after catching the "wake-word".
For that reason, it keeps its microphone active all the time. Consequently, concerns about the recording of personal information and conversations have been on a rise.
In 2018 Facebook had to shelve the "Facebook Portal", a smart speaker with a camera due to the huge privacy scandal that was discovered and exposed the problematic conduct of the company.
People had started to expressed concerns about the Idea of having a "spy" that can record them in the privacy of their home.
Since the Facebook scandal, people started to pay attention more to the fact that the big technology brands have access to our most private personal data.
Why Do I Choose An Amazon Smart Speaker Over The Others When It Comes To Privacy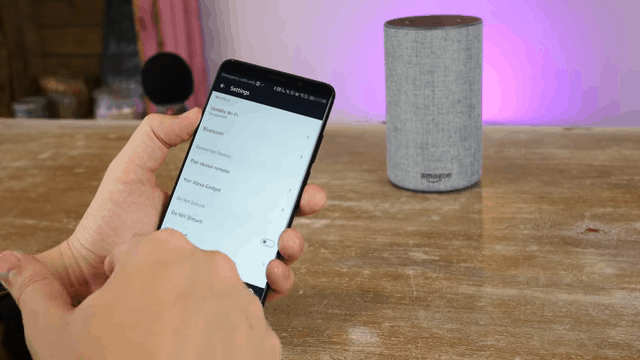 First of all, when it comes to a smart speaker, a voice assistant is a very important and cool feature.

And when it comes to a voice assistant platform, no other platform is getting close to Amazon's Alexa and Google's Google assistant.
Google is not the company that you want to work with when it is regarding your privacy as it is known that the friends in Google like to gather users information.
Apple is claiming to be more secure when it's regarding our privacy however their devices are very expensive and Siri, their voice assistant is just not good enough.
This leaves us with much fewer options and I choose the Echo 2nd Generation by Amazon since it works great with Alexa, comes with a great price tag and it seems that Amazon really took the user's privacy concerns into consideration by implementing some new features.
The Echo 2nd Generation allows you to completely switch off the microphone using A button. After that, it will only start up and search for the wake word when you enable the microphone button.
You can even manage the data sent to Amazon about different smart devices as well as skills permission through privacy settings.
The Ultimate Solution; Echo – 2nd Generation
Echo (2nd Generation) – Smart speaker with Alexa – Best For Privacy Concerns
Amazon's Echo – 2nd Generation is an all-in-one smart speaker. This Alexa-enabled device offers removable cloth covered designs as well as sleek wooden designs. This new edition is shorter and wider with a 5.8-inch tall body.
With a 3-inch neodymium woofer, increased back volume, 0.8-inch tweeter, and 3.5mm audio output jack, the Echo -2nd generation offers an unbelievably impressive audio quality.
Additionally, the Bluetooth feature allows you to connect the speaker to other speakers wirelessly.
There is a LED ring at the top of the speaker which turns blue when it is listening and red when the microphone is turned off.
In this way, you are in complete control of the data it collects. You can switch off the microphone by commanding Alexa, using the button at the top of the device or the remote.
Furthermore, Amazon also caters to its user's worries by allowing them to access their recorded data. You can review and delete all the recordings associated with your account.
The Alexa app which is installed in your smartphone, also allows you to review your skill permissions, smart home devices history (connected to Alexa), smart alerts history or how Amazon uses your data.
Another important thing that you can do is to set a pin code for the voice purchasing feature so nobody will be able to purchase on your behalf.
An important note: while using a device that connects to the internet there is no 100 percent guarantee for your privacy.
The Echo -2nd generation recommended in this article is no exception. Yes, It is considered safer than most of the other popular smart speakers, however, I cannot guarantee full privacy with this device nor with other smart speakers.
Important Features of the Echo -2nd generation
Echo -2nd generation offers a built-in ZigBee Hub which eradicates the need to purchase additional hub for connectivity with other devices. The ZigBee hub serves as a linking source between the smart speaker and other smart home appliances including lights and television. With a single command, you can control the entire house!
The temperature sensors in the new Echo-2nd generation allows you to pass temperature related instructions. You can ask your smart speaker to turn on the fan when it reaches a certain temperature.
The local voice control feature allows the user to control compatible devices like lights and switches even when the internet is not available.
Apart from increased sound quality, the device allows you to use multiroom audio which means that different tracks can be played in different house areas.
The Echo-2nd generation is not just a virtual home assistant and a central information source but a device to connect to other users. You can make calls and send text messages to other Echo users across the United States, Mexico, and Canada! The "drop-in" feature allows you even to speak through any other Echo device present in the house.
Finale Note
Technology, even at it's best, can not ever be completely relied upon. Every device has its own pros and cons. Although smart speakers have made our lives easier, these devices are also capable of jeopardizing us in several ways.
Therefore, despite the privacy policy of Echo 2nd Generation, the users must put certain measures into effect in order to ensure complete privacy.
• Change the wake word to something used infrequently in daily conversations.
• Avoid speaking about your personal data or information when your device is activated.
Keep the smart speaker away from windows or doors.

Clear your daily voice recordings.
• Place a two-factor authentication and a strong password on all the devices which may contain valuable and personal data including phones, laptops, and other appliances.
Use a strong Amazon Password as well as strengthen your internet network.
Finally, as I have mentioned, there isn't a full guarantee to our privacy when using a smart device, however, it seems that Amazon is really taking it into consideration and working address the privacy issue.

This is why I'm choosing the fantastic Echo -2nd generation as the best smart speaker for privacy matters.
Another amazing device which is considered safe when it comes to privacy issues is the Sonos One that I have reviewed here on my website.