I have researched the subject a lot in order to find the best smart speaker for privacy matters.
I will place the conclusion here and will save you many reading hours – when it comes to privacy concerns you should always prefer an Amazon device over Google's or Apple's.
This is why I have chosen Amazon's Echo – 4th Generation as the best smart speaker for privacy.
I will explain more about this important topic in this article.
In the ever-advancing world of today, our days are becoming extensively occupied. Accomplishing all that is planned for the day seems almost impossible and tiring.
Smart Speakers, the epitome of connectivity, have been invented to assist individuals through routine tasks and to cut down the pressure.
These speakers perform all the pre-programmed functions as well as respond to the additional commands efficiently. A smart speaker can not only control the home environment but control lightning, locks, and monitor house security which makes it a complete virtual home assistant. 
It also serves as an information port where you can learn about current news, weather conditions, and even the meaning of a new word. Apart from this, it can access other voice-controlled devices and carry out the given commands. With a single voice command, you can enjoy your favorite song while cooking or doing any other task! 
Here is a related article that might interest you on the Best Smart Speakers For Elderly And Seniors.
Best Smart Speaker for Privacy – What Are The Privacy Concerns?
Ever since these digital assistants have been introduced, there have been widespread privacy concerns. A smart speaker begins operating after catching the "wake-word".
For that reason, it keeps its microphone active all the time. Consequently, concerns about the recording of personal information and conversations have been on a rise.
In 2018 Facebook had to shelve the "Facebook Portal", a smart speaker with a camera due to the huge privacy scandal that was discovered and exposed the problematic conduct of the company.
People had started to expressed concerns about the idea of having a "spy" that can record them in the privacy of their home.
Since the Facebook scandal, people started to pay attention more to the fact that the big technology brands have access to our most private personal data.
We have a related article for you, you can read Best Smart Speakers For Bed Room, Bathroom, Kitchen, Living Room & Office.
Why Do I Choose An Amazon Smart Speaker Over The Others When It Comes To Privacy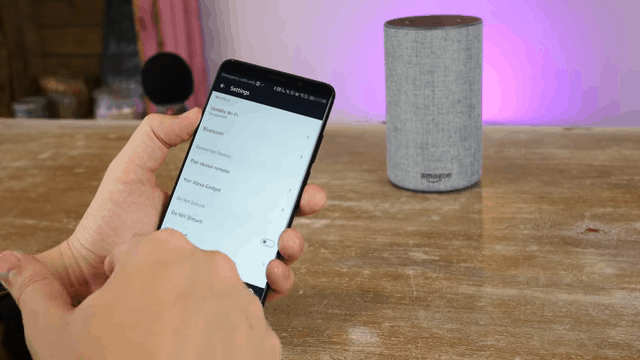 First of all, when it comes to a smart speaker, a voice assistant is a very important and cool feature.

And when it comes to a voice assistant platform, no other platform is getting close to Amazon's Alexa and Google's Google assistant.
Google is not the company that you want to work with when it is regarding your privacy as it is known that the friends in Google like to gather users information.
Apple is claiming to be more secure when it's regarding our privacy however their devices are very expensive and Siri, their voice assistant is just not good enough.
This leaves us with much fewer options and I choose the Echo 4th Generation by Amazon since it works great with Alexa, comes with a great price tag and it seems that Amazon really took the user's privacy concerns into consideration by implementing some new features.

Having said that, it is important for me to clear out a point – any device that connects to the Internet is not 100% safe. This is a price that we have to pay and live with.
The Echo 4th Generation allows you to completely switch off the microphone using A button. After that, it will only startup and search for the wake word when you enable the microphone button.
You can even manage the data sent to Amazon about different smart devices as well as skills permission through privacy settings.
( 4th Generation ) Echo Smart Speaker
Time to round out the entire house with one smart device. Echo Dot promises an upgraded lifestyle while you're at home.
Its sleek, elegant, compact design comfortably fits into small places. Yet, you'll receive crisp vocals with balanced bass all along.
Important Features
Privacy Protection
It ensures full protection of your privacy for features you can touch, view, hear. You can specifically control the built-in microphone and camera.
Simple to Setup
Use the Alexa app to set an internet connection after plugging in the echo dot. And you're all set to command the speaker for certain tasks.
Integrated Alexa
Make your everyday home life easy with the help of Alexa. Set timers, ask about weather/traffic, play the news – the voice assistance covers everything.
Multi-Room Music
Maximize your entertainment with its multi-room music. Command Alexa to play favorite music from Amazon, Apple, Pandora, Spotify, etc.
Safety Guard
Set a virtual yet effective guard for your home while you're outside. It can detect glass breaking and smoke alarms to let you know via the app.
The well-rounded Echo features a speaker, temp sensor, smart hub. Integration of Alexa brings the device to life for your commands.
Its premium sound is ready to adapt your rooms automatically. Keep enjoying music while controlling the entire house with your voice.
Important Features
Privacy Protection
Multiple layers of security leave no virtual hole for your info to get leaked. You can review the entire history of Alexa from time to time.
Smart Home Hub
Its hub lets you set up, use, manage multiple Zigbee smart devices at once. Also, the device can work with selected solar lights/bulbs.
No-Hand Connection
Keep everyone connected to you without any physical contact. You can control every room inside the house and sync with family/friends.
Limitless Entertainment
Patch Echo with compatible Fire TV devices to enjoy a home theatre. Also, play synchronized music across different rooms at a time.
Low Power Mode
The device will automatically enter low power mode while it's idle. Don't forget to check the energy dashboard to know the consumption.
Also, make sure to check out my post on the Best Smart Speaker for Spotify, Apple Music, Podcasts and Audio Books.
Finale Note
Technology, even at it's best, can not ever be completely relied upon. Every device has its own pros and cons. Although smart speakers have made our lives easier, these devices are also capable of jeopardizing us in several ways.
Therefore, despite the privacy policy of Echo 4th Generation, the users must put certain measures into effect in order to ensure complete privacy.
• Change the wake word to something used infrequently in daily conversations.
• Avoid speaking about your personal data or information when your device is activated.
Keep the smart speaker away from windows or doors.

Clear your daily voice recordings.
• Place a two-factor authentication and a strong password on all the devices which may contain valuable and personal data including phones, laptops, and other appliances.
Use a strong Amazon Password as well as strengthen your internet network.
Finally, as I have mentioned, there isn't a full guarantee to our privacy when using a smart device, however, it seems that Amazon is really taking it into consideration and working address the privacy issue.

This is why I'm choosing the fantastic Echo -4th generation as the best smart speaker for privacy matters.
Another amazing device which is considered safe when it comes to privacy issues is the Sonos One that I have reviewed here on my website.
As a professional trainer and a gadget lover, I've spent a lot of money and time buying wearable activity trackers, smartwatches, and gadgets, and checking them out. My site is focused on helping you with your activity tracking and smart technology journey. I try to provide the most helpful updated content on this subject. Hopefully, you will love my blogs and be a regular around here.