In case you are looking for the best Smart Speaker for streaming services such as Spotify, Apple Music, Podcasts, Audio Books and more, than these 6 devices worth your attention. I will always prefer Alexa and Google assistant as a voice assistant in my smart speaker, particularly when it comes to streaming data to it, however, Apple's lovers will find a great device too here.
A few years back, there was a time when none of us was sure whether the idea of smart technology and artificial intelligence would actually take off.
Nevertheless, if we have a look at our surroundings today, we'd see that each human problem is being managed by the highly innovative 'smart' technological devices.
Where once smartphones were thought of as a far cry, now not only they've taken over the world, but they have also given way to a more inventive smart device. However, it is doubtless that among all the recent technological creations, smart speakers have proved to be a ground-breaking discovery.
Here is a related article that might interest you on the Best Smart Speakers For Bed Room, Bathroom, Kitchen, Living Room & Office.
Although these speakers have become the talk of the town, however, in case you're still unfamiliar with their numerous amazing features, then leave it on us to tell you all about this ultra-modern creation.
6 Best Smart Speaker For Spotify, Apple Music, Podcasts, Audio Books And Streaming In General
We're aware of what you need the most in your smart device, which is why we've jotted down all the best smart speakers that work great with Spotify and Apple music while allowing you to play all sorts of podcasts and audiobooks.
So, now that you've decided to get your own smart speaker, don't forget to read all about the best smart speakers before you get yourself one. Read on for reviews on the most popular smart speakers that are among our top recommendations.
Honestly, Sonos One is known to be the best-sounding smart speaker that's available in the market. However, the real reason why it's on the top of our list lies in its various other amazing features.
Features:
Apart from its unrivaled sound performance, Sonos One comes with Alexa enabled. Not only this, but this popular gadget also supports Apple Airplay 2, while allowing the users to simultaneously control Apple Music.
Besides, it can be paired up with Apple HomePod for a multi-room connection that makes an incomparable all-rounder. With this smart speaker, you can play using any service with the help of the controller app on your computer or mobile phone.
In addition to all the above features, Sonos One's upcoming new update promises to add the support for Google Assistant. Isn't that just amazing? Plus, it's the number one choice of people who use Alexa and Spotify.
This device would most likely delight all the Apple and Google fans out there with its multi-room audio-setup, as well as the forthcoming Google Assistant support. The best part is that the features and characteristics of Sonos One would definitely improve over time, as is promised.
2. Apple HomePod Smart speaker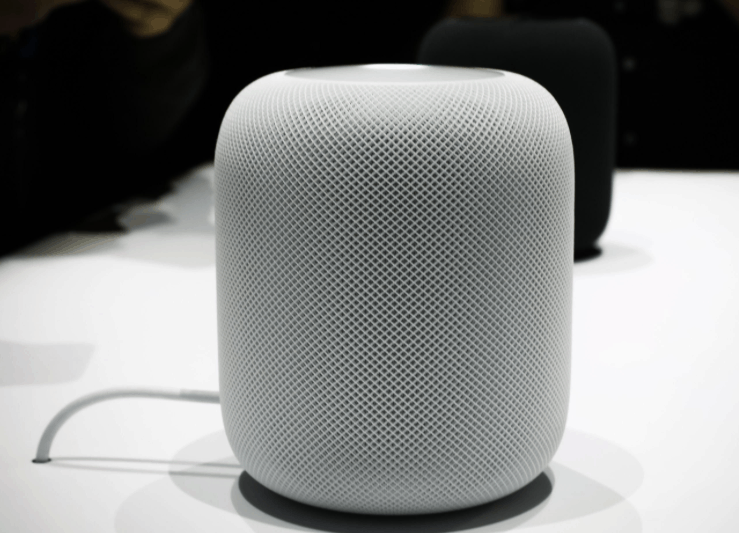 If you know my blog then you already know that I always prefer a smart speaker with Alexa or Google assistant as a voice assistant. Apple's voice assistant, Siri, is not in the same level as these 2 yet, however, I know that many of you just love Apple and wants an Apple smart speaker that will speak with their other Apple devices.
This is why I added the Homepod to this list and apart from Siri's disadvantages, this smart speaker is an awesome one.
As we've all heard, Apple HomePod works almost exclusively with both Apple music and iTunes purchases. Additionally, after testing the device, we can claim that its great sound quality won't surely disappoint you.
What's more, the smart speaker also allows you to AirPlay songs from a wide range of services, including Spotify. Plus, another great feature is that you can use voice commands to skip, pause, and play tracks, as well as to change the volume.
Lastly, for all the die-hard Apple fans out there, HomPod is undoubtedly a no-brainer as it will play amazingly with your other Apple products.
All in all, the Apple HomePod, with its nice minimal design, is likely to be a huge upgrade for you as a potential buyer. With this device by your side, you can listen to tunes while carrying on with your daily routine tasks.
Coming to another all-rounder and widely popular smart speaker, Riva Concert allows the users to connect to Airplay, Alexa, and much more.
The new gadget is utterly full of surprises. For instance, its sound quality is much clearer and far better than its competitors.
Also, the sound fills wider spaces owing to its passive radiators aiming out on each side, and the two extra drivers.
While mentioning the sound quality, how can we forget to mention that similar to Sonos One, multiple Riva speakers can also be paired up to provide all the bass lovers with what they're looking for?
Best Feature:
Want to know what's the best feature of Rive Concert speakers? Its ability to being flexible is what is loved the most by its users. Not only does it work with Spotify and Airplay, but it can also be used as a perfect hands-free speaker for using Alexa. Which means you can effortlessly control your home devices with this one!
Furthermore, Riva Concert also allows you to connect devices via Bluetooth. If not, you can always connect it with your phone with the help of its 3.5mm auxiliary port.
Warranty:
Riva Concert comes with a full three-year warranty, so you can always get it repaired if anything goes wrong.
Are you on a look for a smart speaker that looks great on the outside and performs outstandingly on the inside, then Amazon Echo 2nd Generation speaker is what you need!
This highly affordable smart speaker not only sounds great, but it also comes with the new Alexa features. Which means, with this one, your Alexa app could be far better.
Light on your wallet, the Amazon Echo smart speaker supports both voice calls, as well as video calls. While being able to use the video-version of Alexa, you can also play Amazon Prime videos, as well as view song lyrics on a number of Amazon Music tracks.
So, if you're one of those who don't want to spend much on devices like smart speakers, then Amazon Echo is definitely your call. After testing the device, we can ensure you that at its cheap rate, Amazon Echo does no compromises with quality.
5. Google Home Mini and Google Home Max
As you might have already guessed, both these smart speakers provide a great connection with Google Home. However, the major reason why they're in our list of best smart speakers is their feature of amplifying or reducing certain frequencies in order to deliver the users with a far more pleasant-sounding result.
As a result, these two smart speakers are unmatched when it comes to sound quality. What's more, the voice control options are utterly amazing if you're a fan of high volume.
What's even better? With the updated Google Assistant, the Google Home Mini and Max can be a great choice for all the bilinguals out there.
Lastly, if you're in the search of a mini speaker, no other mini smart speaker can provide you with such great sound quality as the Google Home Mini. Above all, it's quite inexpensive.
6. Google Home Hub
Although there are numerous devices available in the market if you wish to have a screen in your smart speaker. However, the Google Home Hub could be a cheaper option when it comes to keeping your budget balanced, but a great choice if you want no compromises with quality.
This smart speaker is cheaper than Amazon Echo (that also comes with a screen). In addition, it comes with a great voice-control feature, as well as perfectly designed and up-to-date first-party apps.
Other than that, the Google Home Hub can work amazingly as a control center for your digital home, as it is great with other smart devices.
So, if you wish to have something at a low price with a quote good value for the money you pay, then you can go for this one with your eyes closed!
Best Smart Speaker For Spotify, Apple Music, Podcasts & Audio Books – Buying Guide
Besides internet-connected music, the best smartwatch will have some amazing features in the market. After knowing the buying guide, you can choose the best smart speaker for you perfectly.
So, let's see the buying guide of the best speaker for Spotify, apple music, podcasts, and audiobooks:
Sound Quality:
You have to check the sound quality of the speaker first. Without the amazing quality of the sound feature, you can not enjoy the speaker.
Voice Assistant Feature:
There are three types of voice assistants in the market: Alexa, Google Assistant, and Siri. If your speaker has voice assistant features, then it will understand your voice command and what you are saying.
You will also get the traffic update and Google maps if you take the Google Assistant voice feature. According to your choice, you should choose a voice assistant.
Media Streaming Service:
If you want to use Spotify, Apple Music, Podcasts, and Audiobooks, then Alexa will give you better services than any other voice assistant features. Alexa is very powerful when it comes to media service.
Room Size:
You should buy a speaker according to your room size. For example, If your room is small or 150 sq, then a small smart speaker will be good.
Other Features:
You have to check the other features such as support voice calls, video calls, song lyrics, connectivity via Bluetooth, portable facilities, and so on. If your speaker has those features, then you can enjoy your day with the speaker fully.
Check Feedback:
You should check the best speaker's feedback before buying. It will help you a lot.
Frequently Asked Questions [FAQs]
In this section of the article, we are going to answer some of the most commonly asked questions regarding Smart Speaker for Spotify.
Does HomePod only work with Apple Music?
Answer: Yes, HomePod only works with Apple music very well. Actually, the HomePod is made for Apple music. It does not support Bluetooth connectivity.
Do you have to pay for Apple Music with HomePod?
Answer: If you do not have a subscription to Apple music, then you can play limited music with the HomePod. To stream music with HomePod, you have to pay for Apple music.
Can Apple HomePod play Spotify?
Answer: Apple HomePod can play Spotify. For playing Spotify, you have to use the Spotify connect features. Also, you can use Airplay to play Spotify music.
Which is better: Alexa or Apple HomePod?
Answer: HomePod is better for sound quality than Alexa. If you do not use Apple music, then it will be tough for you to play Homepod. But you can play with Alexa everywhere.
Conclusion:
As a whole, if it's a smart home that you wish for, then a good smart speaker is all you need. After all, smart speakers are now dominating the complete smart home market.
So, what are you waiting for? Enjoy listening to streaming services with the best smart speaker for Spotify, Apple Music, Podcasts and Audio Books Get your hands on one of those mentioned above and move forward with the changing world!
If privacy is an issue that concerns you regarding your smart speaker than I have an article on this website on the best smart speaker for privacy that you need to check out.
As a professional trainer and a gadget lover, I've spent a lot of money and time buying wearable activity trackers, smartwatches, and gadgets, and checking them out. My site is focused on helping you with your activity tracking and smart technology journey. I try to provide the most helpful updated content on this subject. Hopefully, you will love my blogs and be a regular around here.