The Bluetooth/ WIFI connection between smartwatches and phones is very important in this modern life. By properly using Bluetooth and WIFI connectivity of any smartwatch, when you are busy with any official task, you can operate your phone's activities easily via smartwatch.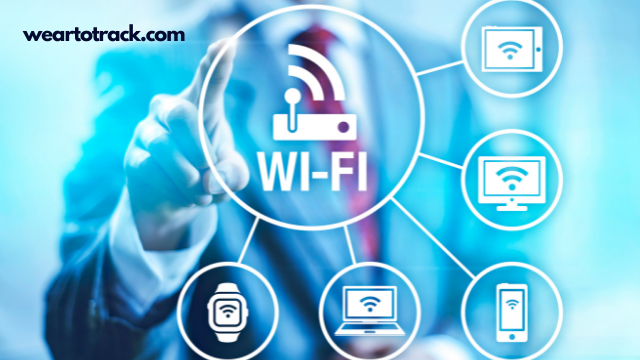 Smartwatch is a wearable device. In fact, it can operate every task very beautifully. Surprisingly, its features and functions are very advanced. Smartwatch is no less than a mobile if it has the Bluetooth or Wi-Fi connection of the phone.  
We have a related article for you, you can read the Best 8 Smartwatches For Firefighters – Tough & Reliable Ones.
Let's jump deep into this article for knowing smartwatches' Bluetooth and Wi-Fi distance range of connection with the phone. 
How Far Away Can My Smartwatch Be From My Phone And Still Be Connected?
If you want to know about the average distance range, then it will be 30 feet. If your smartwatch is not connected to your phone, then keep your smartwatch within 30 meters from your phone. After that, your smartwatch will connect to your phone.
But this distance varies in several smartwatches, phones as well as the environment. The Bluetooth and wifi range can be increased or decreased for this.
How Far Can A Smartwatch Be Away From Phone Without Losing Bluetooth?
The range of wireless Bluetooth connection between phone and  smartwatch is approximately 10 meters or 30 feet. 
If anyone takes their phone from a smartwatch so far away, then they can not connect their smartwatch with the phone's Bluetooth anymore.
Also, the range of connection capacity depends on the environment, phone, and model of the smartwatch.
The Samsung Galaxy watch is produced by Samsung electronics. It is a leading smartwatch now. Indeed, Samsung introduced its smartwatch 0n 24 August 2018.
At first, Samsung had come with Galaxy Watch Active 2 and Galaxy Watch3. After that, Galaxy Watch Active 2 and Galaxy Watch3 received feature updates. Now, Samsung is providing Galaxy Watch3 to the market.
The main productivity of this watch is managing health and life. In addition, the connectivity of its Bluetooth is 4.2. As a result, it is dramatically increased speed 2.6x faster which means you can download anything with super speed.
The range of its Bluetooth is approximately 30 feet. In addition, your phone remains connected with Samsung Galaxy Watch within 30 feet.
Apple smartwatch is produced by Apple Inc. Apple Inc introduced several series of smartwatches to the market. Hence, series 4 to 7 and SE are the latest watchOS. In this latest watchOS series, Apple used Bluetooth 5.0 which is more powerful.
In contrast, Apple uses Bluetooth 4.0 in 1st generation and 2nd generation series 1, 2. Besides, in the 3rd generation, Apple has used Bluetooth 4.2. 
The range of Apple watch Bluetooth is maximum 100 meters or 330 feet. If you use your smartwatch heavily, then the range of connection may be shorter. 
Garmin mainly produces the trackers and sports smartwatch. Amazingly, it's able to focus on main sports activities such as running, golf, cycling, watersports and swimming. Astoundingly, the smart watch of Garmin has a sensor for heart rate and gps.
Later, Garmin introduced maps and Bluetooth music playback. Garmin is the second smartwatch maker who makes watches based on sports and integrated Spotify to its smartwatch. Moreover, this Garmin smartwatch is known as a fitness device. 
The Bluetooth range of Garmin smartwatch is upto 10 meters or 33 feet. Also, the distance can be changed throughout the environment. Furthermore, the Bluetooth range of Garmin can be changed by connection with other electronic devices with Garmin smartwatch. 
How Far Can A Smartwatch Be Away From Phone Without Losing Wifi Connection
If you want to connect your phone's Wi-Fi or cellular network connection with your smartwatch, then you have to consider the distance. 
As a result, your Wi-Fi connection from your smartwatch will not be disconnected by maintaining a certain distance. For example, If you do not keep your smartwatch 30 feet from your phone, then Wi-Fi will not remain connected to your smartwatch. 
But surprisingly, the distance between phone and smartwatch depends on the phone and smartwatch.
1. Samsung
Samsung Galaxy Watch allows 4G connection to its users. As a result, you can use your phone's Wifi in your smartwatch anywhere you like. Luckily, you can leave your smartwatch at home!
After that, you are able to do everything you want such as music, GPS mapping, take calls and messages, get notifications from every app, and, so on from your smartwatch without a smartphone in your pocket.
After connection with WIFI, the Galaxy Watch's advanced fitness tracking features keep you motivated and on the right track. As a result, it is the first smartwatch maker that makes their smartwatch based on sports. 
This smartwatch automatically tracks popular sports such as running, walking, cycling, rowing, dynamic workouts, elliptical, etc.
2. Apple
If the Bluetooth connection between iPhone and the Apple smartwahasave lost, then the Apple smartwatch will automatically connect to iPhone WIFI. Also, Apple has built powerful GPS. As a result, you will get accurate distance and speed information when you leave your phone at home. 
The WIFI of your Apple smartwatch will always remain connected. You can do a  lot of things without keeping your phone in your pocket such as- 
Listen to music
Record and play memos on the Apple watch
Use transit card and student id card
Track activities and workout
Calendar event on Apple watch
Listen to podcasts on Apple watch
Heart rate check
Send SMS fromthe Apple watch
Use Walkie-Talkie
Make calls
Get apps from the app store etc.
If your iPhone is not with you or turned off but you have the Wi-Fi connection between your smartwatch and phone, then you are able to get every facility from your smartwatch.
3. Garmin
The smartwatches of Garmin have the ability to connect Wi-Fi with the phone. After that, it updates software activities and gives notifications automatically. Surprisingly, the Garmin smartwatch has GPS tracking. 
The users of the Garmin smartwatch are able to do every task or activity after connecting their phone Wi-Fi with their smartwatch. Furthermore, they have the ability to pick up calls or messages without digging in their pockets or bags. 
Garmin smartwatches do not have any Wi-Fi range. If anybody keeps his phones any place and forgets about that, then he will be able to do everything with his smartwatch. As a consequence, the range of Wi-Fi does not matter for the Garmin smartwatch. 
Is It Possible To Extend The Bluetooth Range From Phone To Watch?
It is not possible to extend the Bluetooth range from phone to watch without any apps. Because Bluetooth is designed to work as a personal network area within a certain distance. But here is a solution:
If you want to extend the range of Bluetooth from phone to watch, then you have to download an app from the play store or app store which works for esthete ending Bluetooth range from phone to watch. In the play store or app store, there are several apps for extending the Bluetooth range such as a Bluetooth Booster, a Repeater and so on. 
On the other hand, you can get the latest version of Bluetooth through buying the latest smartwatch.
This is how you can extend the Bluetooth range from phone to smartwatch without facing any diplomatic problems.
Can You Leave Your Phone At Home And Use Your Samsung/Apple/ Garmin Watch?
It depends on which type of smartwatch you use. If you can connect your smartwatch to your mobile device through Bluetooth or Wi-Fi, then you can leave your phone at home and use a Samsung/ Apple/ Garmin watch. 
The Wi-Fi connection of those smartwatches is excellent. In addition, you can call or pick up the phone, see notifications, listen to songs,  see your heart rate, and so on. 
As a result, if you keep your phone one day at home and go outside, then you will not face any trouble for leaving your phone. Because smartwatches have all the abilities which phones have.
Also, make sure to check out my post on Normal Watch Vs Smartwatch: Which One Should I Buy?
Frequently Asked Questions [FAQs]
What Is The Maximum Distance Coverage Of A Smartwatch?
Answer: The maximum distance coverage of a smartwatch depends on the environment and the model of the smartwatch. But generally, smartwatches have around 10 meters or 30 feet connectivity.
How Far Does A Bluetooth Watch Reach?
Answer: The maximum range of Bluetooth depends on the model of the smartwatches. Even after that, the average range of Bluetooth is approximately 30 feet of a watch.
For example, the Bluetooth range of the Samsung Galaxy Watch is 30 feet and Apple Watch is 330 feet.
Do You Need To Carry Your Phone With A Smartwatch?
Answer: Not always. But your phone needs to remain on. A smartwatch works with your phone. If your smartwatch connects via Bluetooth or Wi-Fi with your phone, then it is possible to use your smartwatch without carrying a phone. As a result, it does not need its own service plan. 
Verdict
Nowadays, smartwatches play a vital role besides phones in our life. Hence, it makes our life easier and more comfortable. In addition, smartwatches save our time also.
After reading this article on how far can smartwatch be away from phone without losing Bluetooth/Wi-Fi connection, I hope you might have no confusion about the range of the smartwatch's Bluetooth and Wi-Fi.
Stay connected with us for more updates about other gadgets.
As a professional trainer and a gadget lover, I've spent a lot of money and time buying wearable activity trackers, smartwatches, and gadgets, and checking them out. My site is focused on helping you with your activity tracking and smart technology journey. I try to provide the most helpful updated content on this subject. Hopefully, you will love my blogs and be a regular around here.