In this article, I will help you with finding The best Smartwatches with the Longest Battery Life.
Activity has helped motivate fitness freaks and excite technology enthusiasts alike. Most importantly, they have helped smoothen the transition to an active lifestyle for people from all walks of life.
To get the most out of your activity tracker, you'd have to wear it on a regular basis and also make sure that the battery is charged. With technology being constantly improved, new fitness trackers are equipped with even more intense features to further expand their functionalities.
Here is an article on my website that you must read, it's about the Best 11 Activity Trackers Without Screen.
However, battery life is the bane of these wearables. Most trackers are equipped with standard rechargeable batteries that don't last more than 2-3 days. On the days when you go through intense and periodic fitness routines, your tracker will run out of juice by the end of the day.
To keep that from happening, you'll have to invest in Smartwatches that have a decent enough battery life.
Best Smartwatches With The Longest Battery Life For Heavy Users 2023
So, as I have mentioned, most Smartwatches come with a rechargeable battery and the period of time between charges relies on the use of it and the features that it offers. (usually between 1 up to 5 days).
For example, a fitness/activity tracker with a built-in GPS will make you need to charge it very often since a GPS is a big energy eater.
So, if battery life is an important issue for you then you should avoid a built-in GPS in your tracker and you can buy one that can sync with the GPS in your phone(you will have to carry your phone with you in order for it to work).
The activity trackers with the longest battery life are the ones with replaceable batteries( usually coin cell batteries like the ones in watches).
Along with the longest battery life, the Series 8 will let you know if it notices an abnormal cardiac rhythm, loud noises, and a high or low heart rate. Most third-party apps of any smartwatch are available on the Apple Watch Series 8, which also offers a wide range of integrated fitness, health, and safety features.
Additionally, it enables international emergency and emergency SOS dialing and automatically calls for assistance if it notices a heavy fall. You can particularly enjoy the Series 8's automatic 20-second hand-washing timer since it makes you accountable for your cleaning efforts.
The following usage is the basis for the all-day battery life. Using Apple Watch Series 8 (GPS) involves Bluetooth connection to an iPhone for the entire 18 hours.
More value is provided by the Fitbit Charge 5 than any other fitness tracker you've tried ever. Typically found on more expensive gadgets, like an ECG monitoring system. In our testing, we discovered that the bright, invariably touch screen is a vast improvement over the one found on the Fitbit Charge 4.
Twenty sports profiles are included on the Charge 5 for tracking fitness, a 24/7 heart rate monitor, and a built-in GPS. You don't need to bring your phone along for outdoor runs. Battery life is up to 7 days.
The SpO2 function and always-on display will necessitate more frequent charging. For constant tracking, we advise recharging your device every few days.
The tracker claims to have many outstanding features in this year's high-end trackers, but at a far lower cost. It includes several high-end functions, including oxygen saturation (SpO2) reading, pressure tracking, increased pulse rate alarms, an Amazon Alexa constructed, sleeps monitoring, and others.
The Amazfit Band 5's sleep and fitness tracking is reasonable—not exceptional, but respectable given the low price and still providing more functionality than other trackers. Even better, you don't have to worry about constantly charging it because of the 15-day battery life.
For the longest battery feature, you can see the time on display when the watch turns off. Surprisingly, you will get vast applications on the watch such as a sleep monitor, pedometer, sleep monitor, phone alarm, and more.
The screen size of the watch is 1.5 inches. Besides, it is a water-resistant and powerful watch. For this, you can always wear the watch no matter where you are.
Activity tracking and GPS are included with the watch as a special feature. Consequently, you can always monitor the condition of your heart rate throughout the app. It will track your every activity accurately.
The Google Pixel is the best activity tracker because it comes with Fitbit activity tracking. Officially, Google announced that you will have 24 hours of battery life in a day in the watch.
So, You can use the watch non-stop in a day without any tension. The watch works in an excellent way when it monitors your heart rate. In fact, it is a heart rate tracking watch. Besides, it can track other activities very well.
The watch is scratch and water-resistant because of its robust gorilla screen. Amazingly, you can do payments through your wrist. In addition, you can use the map to see your exact destination.
Xiaomi introduces the highest battery life of the watch which is approximately 20 days. The style of the watch is modern. If you want to choose the color of the watch, then you will have one option which is black.
It will always show the time on the display. Moreover, an activity tracker is a special feature of the watch. As a result, it will track your sleep stage, heart rate, and calories accurately.
If anything is wrong, then it will give you a heart rate alert, an idle alert for helping you to maintain a healthy life. On the other hand, you will love to see its display because it has an AMOLED colorful display.
The Garmin Vivofit 4 has the longest battery life to date on an activity tracker with standard features.
The Garmin Vivofit 4 is said to feature a replaceable coin cell battery and is rated for a full year of use, you can find it also in my recent post on the best activity trackers with replaceable batteries.
Something like that really makes an activity tracker dependable as you'd be able to go on long hikes and intense cycling or running laps without having to worry about the battery getting low and eventually dying.
Apart from having a remarkable battery life, the Garmin Vivofit 4 is equipped with some solid features.
It does the standard activity tracking by displaying your steps, distance, and intensity minutes as well as tracking your sleep and recognizing what kind of activity you're performing. The move bar shows you a neat little progress widget to remind you of your goal as well.
The Withings Activité Pop also comes through with a rather impressive battery life of eight months making it one for the long haul.
You can eventually swap it out with a replacement battery but eight months of battery life is astounding.
For a gadget that offers all the great features of an activity tracker and looks like a fashionable wristwatch, this one's a solid package.
The Withings Activité Pop is designed like a traditional analog-style watch which means you can accessories most of your outfits with it.
The watch also comes in several aesthetic colors and its features include sleep tracking, a silent vibrating alarm, and activity tracking such as steps and distance measured.
The Withings Activité Pop also has swim tracking and is water resistant to up to 5 ATMs which is a very welcome feature on the device.
The watch face has a small dial that shows you your current standing on your fitness goals. The watch synchronizes seamlessly with your smartphone and uses data to update the time and your fitness app.
The Fitbit Zip is a cute little activity tracker that isn't a wristband or a strap. Rather, it's a drop-shaped activity tracker that clips on your apparel and monitors your activities.
The Fitbit Zip has had hugely positive reviews and its quirky design has made it a favorite of many.
The activity tracker also boasts an impressive battery life of up to 6 months. The build of the tracker is sturdy while the finish is smooth and overall its wear + water-resistant.
Among its features is the standard activity tracking such as tracking steps, distance, and calories burned as well as active minutes.
You can tap on the tracker's display to see daily stats as well as the time which makes using it impossibly easy.
The Fitbit Zip syncs wireless and automatically with your electronic devices. The Fitbit app lets you set fitness goals and also share your activity scores with your friends and also compete with them.
Completing goals earns you badges which is a very nice touch as the sense of reward keeps you motivated to push through. The Fitbit Zip comes in a wide assortment of colors and is always a welcome addition to your outfits.
The Amazfit Bip smartwatch, opposite to the first 3 on this list, comes with a rechargeable battery and not a replaceable one. But oh boy! this battery can go for the long run!
The Amazfit Bip's battery can work for a record time of up to 30 days on a single 2.5-hour charge.
I recently wrote a review that you might want to check out on the Amazfit Bip describing it as the best cheap smartwatch fitness tracker in 2023.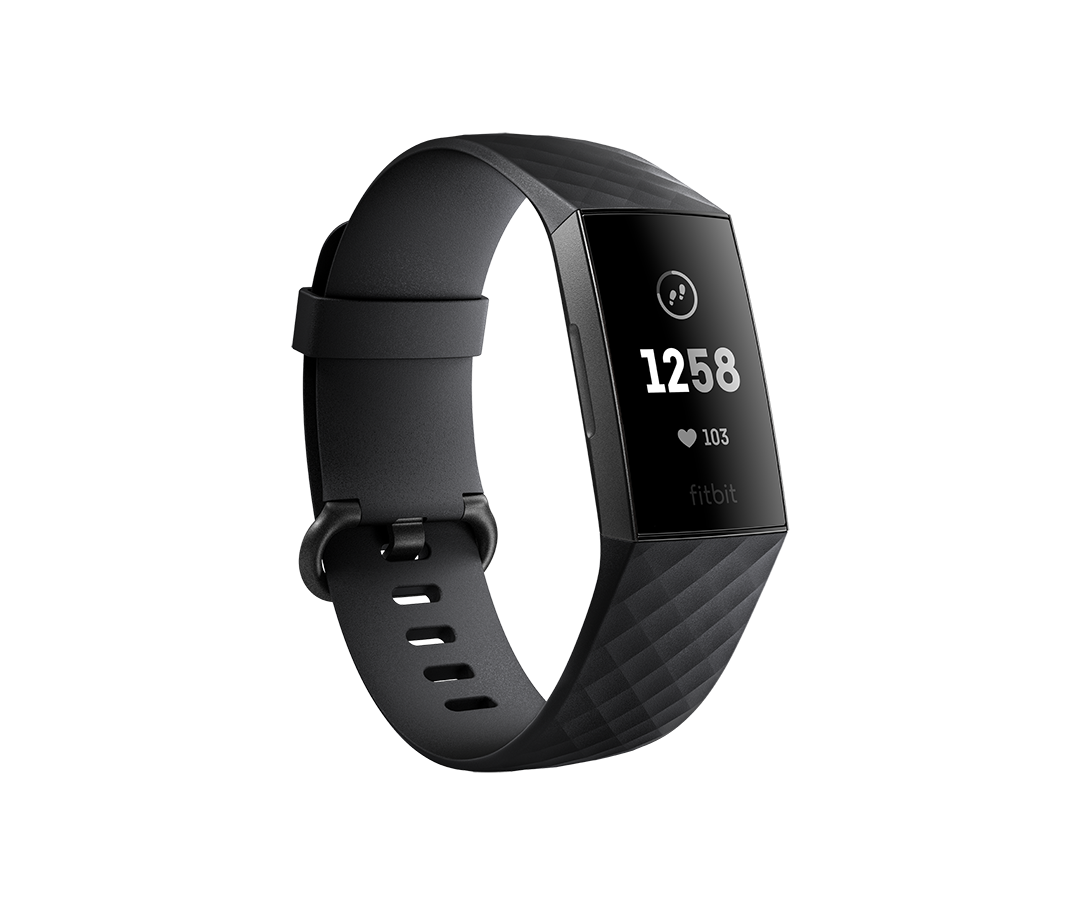 Another Fitbit fitness tracker is Charge 3 and this one, like the Amazfit Bip, comes with a rechargeable battery.
Fitbit announced at the end of 2018 a new fitness band to the Charge series, the Charge 3, with an upgraded design, water resistance up to 50 meters, and up to seven days of battery life.
The Charge 3 comes about two years after the Charge 2 model, but with an upgraded aluminum body and a larger front screen that is covered with Gorilla Glass 3 and can display shades of gray, not just black and white like the previous model.
Another improvement comes with an extended battery life of up to seven days compared to 5 days of the previous model.
Fitbit has been able to cram a lot of new features into its new fitness band:
Continuous pulse monitoring 24/7.
Fitness training is based on goals with more than 15 separate sports activities.
Water resistance up to 50 meters for water sports activities.
Tracking sleep and various stages of sleep.
Receive alerts and information from your mobile device.
FITBIT PAY support – Special Edition only.
Best Smartwatches With The Longest Battery Life -Buying Guidelines:
You may now choose from a wide range of trackers with long battery life. Additionally, you can see whether it is within your budget or not.
However, while selecting a tracker, remember that if you want to use it for swimming, you should also ensure that it's waterproof and capable of tracking your pool laps.
Most of the top smartwatches track fitness and offer other services like payment processing and text message replying. However, compared to activity trackers, smartwatches seem typically more expensive having even shorter battery life!
When choosing the top fitness and activity tracker, you should take the critical steps listed below:
The Factor Of Shape:
Unlike smartwatches, they have fundamental design ideas, and fitness. While some are finger rings or clip-on accessories, you can wear others on the wrist. But the vast majority of accessible fitness trackers are worn on the wrist. 
Smartwatches are more stylish if you prefer to wear the device on your wrist and may complement your wardrobe.
Price:
Activity trackers may be substantially less expensive than smartwatches right away in terms of price. The many features and priorities typically cause this.
Most fitness trackers offer fewer functions, but this is a plus rather than a con—fitness trackers are designed to be user-friendly, reliable, and good at obtaining data.
Although activity trackers offer benefits and drawbacks, they are frequently less expensive than smartwatches because of their practical form. Consider purchasing an activity tracker if you have a limited budget.
The Tracking Capacity:
More sensors are often preferred because they enable you to measure more variables. Numerous internal processes, such as blood oxygen levels, sleep, the number of steps taken when walking, heart rate, and body temperature, can all be tracked by wearables.
As a result, knowing your demands is necessary before deciding which gadget would be best for you.
Perfection:
You will depend on your monitoring device to provide information about numerous elements of your life. Therefore it must be able to give perfect measurements.
Don't expect flawless accuracy from fitness trackers and smartwatches because they are not devices that have received medical approval.
Battery Life:
A tracker should have excellent battery life, which is true of most. Smartwatches typically have a lower battery life than particular fitness trackers.
Water Intransigence:
Water resistance is equally important when selecting a smartwatch or activity tracker. There are many options available when buying a water-resistant fitness tracker. Some watches only have splash proof coatings. Others can take a severe shower or can swim.
Size Of Display:
Navigating between various functions is made more accessible by larger screens. More sophisticated trackers show words, numbers, and symbols on a watch face display. Others use an app or an LED light display to relay information.
Frequently Asked Questions [FAQs]
How Long Does A Fitness Tracker Battery Last?
Ans: The battery life of the majority of today's best fitness trackers ranges from 3 to 14 days, albeit it depends on the brand and type of battery it uses.
Which Fitbit Tracker Has The Most Extended Battery Life?
Ans: Fitbit Inspire has the most extended battery life. The Inspire 3 has the longest battery lifespan of any Fitbit device, according to Fitbit, at ten days.
Conclusion
Now that you are familiar with the top 11 options for smartwatches if the longest battery life is your primary concern, you are in a much better position to make an informed decision and get the most out of your investment.
As a professional trainer and a gadget lover, I've spent a lot of money and time buying wearable activity trackers, smartwatches, and gadgets, and checking them out. My site is focused on helping you with your activity tracking and smart technology journey. I try to provide the most helpful updated content on this subject. Hopefully, you will love my blogs and be a regular around here.