In this article, I will help you with finding The best fitness and activity trackers with the Longest Battery Life.
Activity has helped motivate fitness freaks and excite technology enthusiasts alike. Most importantly, they have helped smoothen the transition to an active lifestyle for people from all walks of life.
To get the most out of your activity tracker, you'd have to wear it on a regular basis and also make sure that the battery is charged. With technology being improved almost constantly, new fitness trackers are equipped with even more intense features to further expand on their functionalities.
However, battery life is the bane of these wearables. Most trackers are equipped with standard rechargables batteries that don't last more than 2-3 days. On the days where you go through intense and periodic fitness routines, your tracker will run out of juice by the end of the day.
To keep that from happening, you'll have to invest in an activity tracker that has a decent enough battery life.
Best Activity/Fitness Trackers with the Longest Battery Life
So, as I have mentioned, most of the activity trackers come with a rechargeable battery and the period of time between charges relies on the use of it and the features that it offers. (usually between 1 up to 5 days).
For example, a fitness/activity tracker with a built-in GPS will make you need to charge it very often since a GPS is a big energy eater.
So, if battery life is an important issue for you then you should avoid a built-in GPS in your tracker and you can buy one that can sync with the GPS in your phone(you will have to carry your phone with you in order for it to work).
The activity trackers with the longest battery life are the ones with replaceable batteries( usually coin cell batteries like the ones in watches).
We've reviewed three of the best activity trackers that have an extended battery life so you can keep on pushing your limits without having to worry about your tracker dying on you. The first 3 on the list are trackers with a replaceable battery and the last 2 with rechargeable ones.
The Garmin Vivofit 4 has the longest battery life to date on an activity tracker with standard features.
The Garmin Vivofit 4 is said to feature a replaceable coin cell battery and is rated for a full year of use, you can find it also in my recent post on the best activity trackers with replaceable battery.
Something like that really makes an activity tracker dependable as you'd be able to go on long hikes and intense cycling or running laps without having to worry about the battery getting low and eventually dying.
Apart from having a remarkable battery life, the Garmin Vivofit 4 is equipped with some solid features.
It does the standard activity tracking by displaying your steps, distance and intensity minutes as well as tracking your sleep and recognizing what kind of activity you're performing.

The move bar shows you a neat little progress widget to remind you of your goal as well.
The Withings Activité Pop also comes through with a rather impressive battery life of eight months making it one for the long haul.
You can eventually swap it out with a replacement battery but eight months of battery life is astounding.
For a gadget that offers all the great features of an activity tracker and looks like a fashionable wrist watch, this one's a solid package.
The Withings Activité Pop is designed like a traditional analog-style watch which means you can accessories most of your outfits with it.
The watch also comes in several aesthetic colors and its features include sleep tracking, silent vibrating alarm and activity tracking such as steps and distance measured.
The Withings Activité Pop also has swim tracking and is water resistant up to 5 ATM which is a very welcome feature on the device.
The watch face has a small dial that shows you your current standing on your fitness goals.

The watch synchronizes seamlessly with your smartphone and uses data to update the time and your fitness app.
The Fitbit Zip is a cute little activity tracker that isn't a wrist band or a strap. Rather, it's a drop shaped activity tracker that clips on your apparel and monitors your activities.
The Fitbit Zip has had hugely positive reviews and its quirky design has made it a favorite of many.
The activity tracker also boasts an impressive battery life of up to 6 months. The build of the tracker is sturdy while the finish is smooth and overall its wear + water resistant.
Among its features is the standard activity tracking such as tracking steps, distance and calories burned as well as active minutes.
You can tap on the tracker's display to see daily stats as well as the time which makes using it impossibly easy.
The Fitbit Zip syncs wireless and automatically with your electronic devices. The Fitbit app lets you set fitness goals and also share your activity scores with your friends and also compete with them.
Completing goals earns you badges which is a very nice touch as the sense of reward keeps you motivated to push through.

The Fitbit Zip comes in a wide assortment of colors and is always a welcome addition to your outfits.
The Amazfit Bip smartwatch, in opposite to the first 3 on this list, comes with a rechargeable battery and not a replaceable one.
But oh boy! this battery can go for the long run!
The Amazfit Bip's battery can work for a record time of up to 30 days on a single 2.5-hour charge.
I recently wrote a review that you might want to check out on the Amazfit Bip describing it as the best cheap smartwatch fitness tracker in 2022.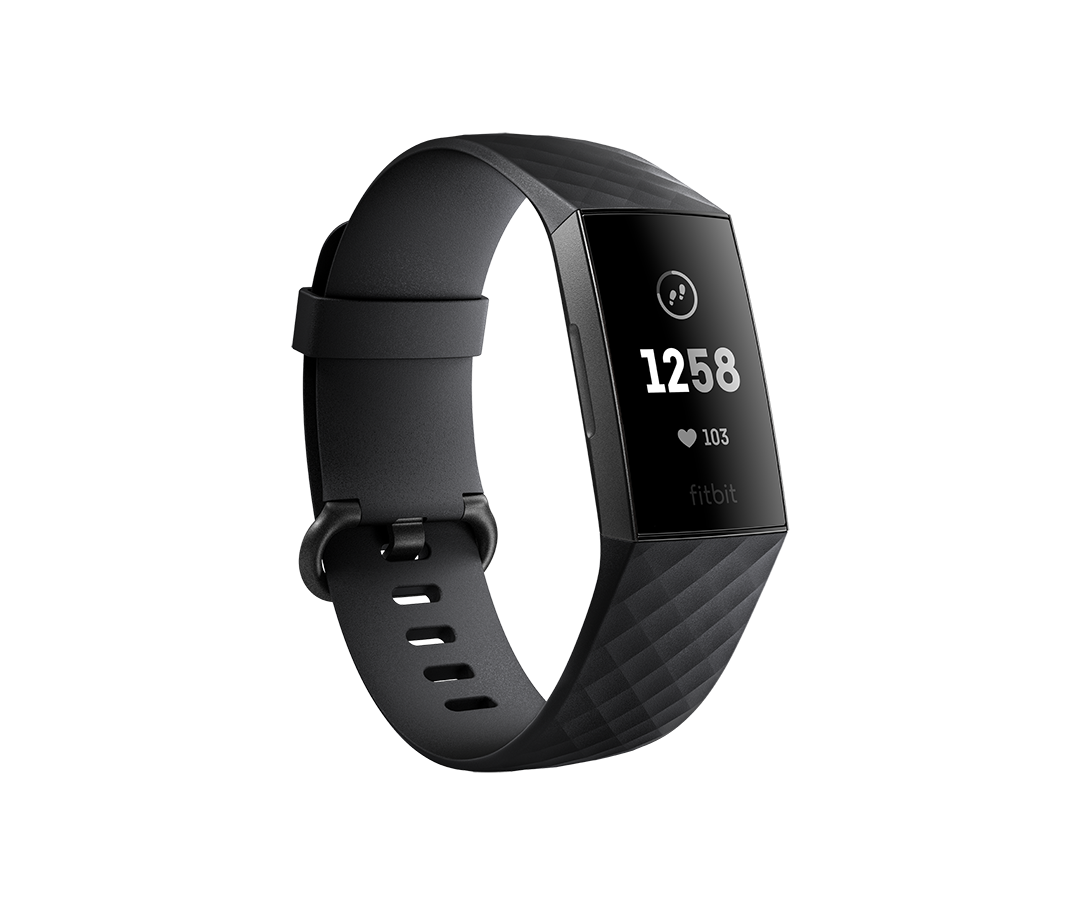 Another Fitbit fitness tracker is Charge 3 and this one, like the Amazfit Bip, comes with a rechargeable battery.
Fitbit has announced at the end of 2018 a new fitness band to the Charge series, the Charge 3, with upgraded design, water resistance up to 50 meters and up to seven days of battery life.
The Charge 3 comes about two years after the Charge 2 model, but with an upgraded aluminum body and a larger front screen that is covered with Gorilla Glass 3 and can display shades of gray, not just black and white like the previous model.
Another improvement comes with an extended battery life of up to seven days compared to 5 days of the previous model.
Fitbit has been able to cram a lot of new features into its new fitness band:
Continuous pulse monitoring 24/7.
Fitness training is based on goals with more than 15 separate sports activities.
Water resistance up to 50 meters for water sports activities.
Tracking sleep and various stages of sleep.
Receive alerts and information from your mobile device.
FITBIT PAY support – Special Edition only.
The Charge 3 is currently not available on Amazon but you can view and purchase it on Fitbit's website in this link.
6. Xiaomi Mi Band 3 – Low budget, long rechargable battery life
This activity band is a low budget fitness band that will give you the best value for the money.

You can read more on the Mi Band 3 on my review on the best cheap fitness tracker band.
When it comes to a battery life, this cheap band has an impressive rechargable battery that wiil keep the band working for about 20 days!
Conclusion
Now that you are familiar with the top three options for the activity trackers if the longest battery life is your primary concern, you are in a much better position to make an informed decision and get the most out of your investment.
All you have to do is choose from our list of top 5 activity trackers with the longst battery life and rest assured, you won't be disappointed with your decision.
As a professional trainer and a gadget lover, I've spent a lot of money and time buying wearable activity trackers, smartwatches, and gadgets, and checking them out. My site is focused on helping you with your activity tracking and smart technology journey. I try to provide the most helpful updated content on this subject. Hopefully, you will love my blogs and be a regular around here.