If you are looking for the best activity tracking ring that looks great and that can serve as a surprisingly accurate activity/fitness and sleep tracker than MyMotiv's Motiv Fitness tracking Ring is my recommendation. I will talk a bit about it in this article.
Wearable technology has truly revolutionized the scene for both health and fitness.
You don't even have to carry around an activity tracker in your phone anymore because that would let you shift your focus. It started out with smartwatches and then moved on to smart wrist bands.
These wearables would track your calories, sleep and remind you of your daily fitness activities too.
However, these were found to be a little heavy or clunky sometimes and you couldn't wear them all the time. It left people yearning for the same experience but in a smaller and slimmer package.
Best Activity and Fitness Tracking Ring Review
Smart rings serving as activity trackers took all that was great about activity bands and delivered it in a more comfortably wearable product.
This works great for people who found the bulkiness of a watch to get in the way of their activities. As well as for people who preferred a more discrete looking wearable.
There are tons of smartwatches but we found the Motiv ring to be the best choice for a fitness ring out there.
MyMotiv Motiv Fitness Tracking Ring Review
The Motiv ring by MyMotiv is one of the trendsetters for smart rings. It was announced back in 2017 and it took the industry by storm due to its ultra-sleek design and lightweight comfort.
The ring is just 8mm wide and sits on your finger very comfortably. It come in slate grey, silver and rose gold so you don't have to compromise on style either.

The design is easily one of the key selling factors of this smart ring, but it also delivers in terms of functionality as well.
This activity tracking ring has a fitness tracker module that will serve as a pedometer; monitor your steps, sleep, distance and active minutes.
The ring comes with its very own optical heart rate sensor which allows it to monitor your heart rate too.
Despite it being ingeniously small, it has a battery life of approximately five days which is quite impressive.
The ring is also tested to be waterproof to 50m. In terms of smartphone compatibility, the Motiv ring is compatible with both iPhone and Android.
The developers are always dishing out new features for the ring as well such as letting you control certain features on your phone via gestures. We've summarized how well the Motiv fared on the following criteria.
Design:
The Motiv is incredibly light in weight and it owes all that to its sleek design and light titanium body.
It comes in 3 colors – Black, silver and Rose Gold. It fits well on your finger and looks stylish as well. The ring being considerably less bulky than a fitness watch or a smart band makes it a breeze to go through your activities.
It also takes away the need to peek at your wearable from time to time making sure you focus on the activity.
In essence, the design has everything that would make you want to consider an activity tracking ring over the other variants in the market.

The ring is durable and waterproof but you do have to watch out with it as it can get scratches quite easily.

I heard that some colors might pill off after a short period of time, up until now I didn't have this issue with the color that I own( Silver).
Where can I get it?
The best place to buy it is from this seller on Amazon where it is currently priced at 199.99$.
App:
The iOS app that I used with the ring has a very interesting and detailed dashboard. The ring has also an Android app available which I didn't try. The displays analytical summaries of the data the ring monitors and harvests from you.
It displays the generic ones such as sleep, activity, and heart rate along with other notifications based on your workout preferences.
The process of syncing your Motiv with the app is quite interesting as you twist the ring a couple of times followed by a little light flash showing that the sync is done.
The app offers neat and orders visualization of your data making it intuitive and easy to navigate.

In overall, the app is pretty basic and not so customizable but it will easily be paired to your phone and it is very simple to use.
Another thing which I find as a great con is that you don't have to sync with the app too often, the ring will store your activity stats for a period of up to 5 days and will download the stored information once you sync it.

No need to keep your phone on you in order for the ring to track your activity!. You can see that Motiv is trying to improve the app as it constantly updates it an in overall terms I was happy with it. The Ring is also compatible with Apple Health and Google Fit.
Functionality:
The sensors reside on the underside of the ring and all sensors, including sleep and heart rate monitoring, collect data continuously through the day.
This makes the data all the more accurate and it also records the variations and pulsing of your activity rate such as your highs and lows during a workout.
It monitors both resting and maximum heart rate. Active minutes and calories burned are tracked via the three-axis accelerometer and it works with all kinds of activities.
The Motiv capitalizes on presenting data in the form of active minutes rather than a step count.
The idea behind this is that active minutes present a better standard for healthy activity as opposed to a benchmark that is measured in steps.
I must admit that I was surprised by the accuracy of this small gadget when it comes to activity tracking. The Motiv ring was very accurate in reading my heart rate and provided me with good and accurate information regarding my sleep patterns.
Also, the mileage on my runs was very accurate compared to other much expensive fitness watches that I own. In overall, the tracking abilities of this ring are not a joke and I was really impressed by it.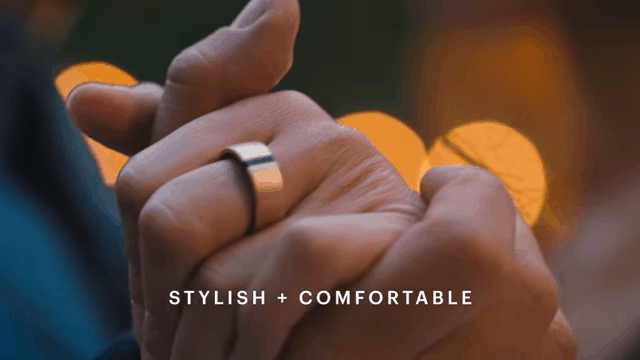 Battery: the battery life of the Motiv is also impressive, it can work up to 3 days without charging(For me it lasted for 3 and a half days). Charging time is about 90 minutes with a USB cable that is included.
In conclusion
The Motiv Ring is a really design-centric gadget that offers top-notch functionality while still being lightweight and easy to wear.
It deals with issues like charging and app syncing quite easily and effortlessly making the transition from watch to ring quite comfortable. I can easily recommend it as the Best Activity/fitness Tracking Ring in 2022.
As a professional trainer and a gadget lover, I've spent a lot of money and time buying wearable activity trackers, smartwatches, and gadgets, and checking them out. My site is focused on helping you with your activity tracking and smart technology journey. I try to provide the most helpful updated content on this subject. Hopefully, you will love my blogs and be a regular around here.