Apple Watch is arguably the most popular smartwatch in the world, and that's why the company offers a wide range of Apple Bands for its users, which means that you can easily find the Band of your choice.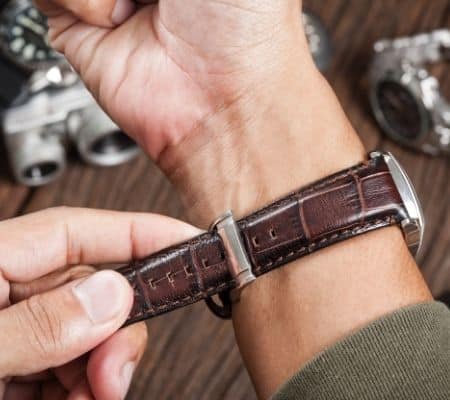 However, if you have sensitive Skin, you can't use every Band, and you will have to be very specific with band choice, and I will help you make the right choice.
In this WearToTrack Guide, you will learn which Apple Watch Band is Best for Sensitive Skin. Let's get started.
Here is an article on my website that you must read, its about Which Apple Watch Bands are Best for Small Wrists.
#Overview
IMAGE
PRODUCTS
FEATURES
PRICE

Band Material: Stainless Steel, Gold
Band Width: 40 Millimeters
PRICE RANGE: Under $100

Material: Stainless Steel
Clasp: Magnetic Clasp
PRICE RANGE: Under $20

Apple watch band with diamond cover compatible
Premium Zinc Alloy Metal With Rhinestones Diamond
PRICE RANGE: Under $20

Full elastic band
Scrunchies Watch Band Relaxed Length Is About 15.3cm
PRICE RANGE: Under $15

Durable Black Sport Band Fits Men And Women With 5.5- 7.5 Inch Wrists
Perfect For Sports And Outdoors
PRICE RANGE: Under $40
Why My Apple Watch Is Irritating My Skin?
Sensitive Skin is a very serious problem, and you will have to make sure that you use products that would not irritate your Skin. If you are Apple Watch is irritating your Skin, it could be due to two problems.
Sweat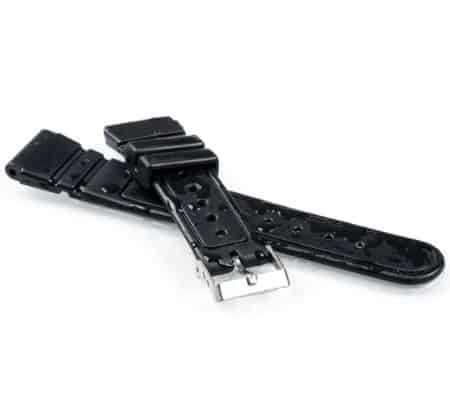 Sweat is one of the major causes of irritation on the Skin. When you wear a band for hours, it causes sweat, and when it dries, it makes the sodium, and when it get combine with moisture, it results in rashes.
This problem is not only limited to Apple Watch, and it's common with other Watch Bands as well.
Friction
Friction is another very common issue with sensitive skin. When you wear a band pretty tight, and it slides across your skin, it results in friction, which ultimately leads to irritation.
It's very common with bands that are made of non-natural materials such as rubber. So, the best way to avoid irritation on your skin is to use the Band, which is breathable and made of natural material.
Which Apple Watch Band Is Best For Sensitive Skin?
If you want the best Band for your sensitive Skin, make sure that it's "Hypoallergenic," which means that the product is less likely to cause allergic reactions.
The problem is that there are no defined standards for "Hypoallergenic" standards for watch bands, which means that the company doesn't need any tests to prove its claims.
So, the best way to find the right Band for your sensitive Skin is to check the reviews of other users with sensitive skin.
Now, you don't have to read every single review out there because I have done it for you. I have done my research, and I have picked the best Apple Watch Bands for sensitive Skin.
Disclaimer: Human Skin is very complex, and in some rare cases, there's a possibility that some of these hypoallergenic bands might cause allergy to you. If you are one of these rare cases, please the section of the guide where I have recommended the solution for you.
Kate Spade is a global lifestyle brand. You will love the band because of its modern and elegant color combination. The gold-tone color of the stainless bracelet brand looks very excellent.
On the other hand, you can choose the color according to your choice. The band size is 38 or 40mm.
The band is very high-tech and stylish, so if you are a girl, then you will love to have it. In fact, the strap will adjust perfectly with the Apple Watch 1, 2, 3, 4, 5, 6, 7, and 8 series.
It is a mesh loop stainless steel band. Actually, the band will comfortably fit both gender man and women. The size of the band can be 44m, 40mm, 38mm, 45mm, 41mm, etc.
The band comes in the four colors such as black, iridescent, pink, and silver. It has a magnetic lock system with a custom fit. As a result, the watch band will always stay in its place.
As a mesh loop band, it will give a cool or smooth touch so that your skin will not feel irritated.
The band is friendly for all types of skin types including sensitive skin. In fact, it is a very long-lasting band. If you use the band regularly, then the color of the band will not fade.
The metal of the band is premium zinc. Amazingly, the metal is decorated with rhinestones, diamonds, and scallop seashells. Additionally, sparkle and glitter are added to the band.
The Apple watch with the band is very eye-catchy because of its unique design.
The material of the band is cotton and polyester. It is very skin-friendly, lightweight, and durable. Most importantly, It comes 6 inches long. You can not scratch and snag the band.
The band is fully elastic. As a consequence, the band is very long-lasting. You can remove it from your wrist easily with the help of one button. Additionally, it is a stretch bracelet. So, without facing any problem you can comfortably fit it to your wrist easily.
Carterjett Sport Silicone Band another high-rated Apple Watch band that comes with hypoallergenic characteristics. The Band comes with silicone material, which is ultra-soft, and it's hypoallergenic, which means that it's less likely to cause any reactions on your screen.
As the Band uses silicone, it's resistant to water, and it can be used for swimming and other sports activities. Also, the Band has a very unique pattern, which gives it a very distant look. If you are looking for a highly durable Apple watch band for Sensitive Skin, Carterjett Sport Silicone Band is my recommendation.
During my research, I came across a great solution that protects your skin from allergies and allow you to wear your favorite Band without fear of getting allergies. It's basically band liners which you place on the inside, and it protects your skin from rashes and allergies due to band material.
It also protects the watch band from developing odor & funk, which is a plus. Also, the Bandliners have a soft material on the top, which ensures that you feel comfortable while wearing the Band. So, if you have highly sensitive skin, I would recommend you to try this product as it worked well for many users.
Frequently Asked Questions [FAQs]
For your further inquiry, you may check out this section of the article. Here, we will answer the most common questions regarding 'Which Apple Watch Band Is Best For Sensitive Skin?'"
Can You Be Allergic To Apple Watch Bands?
Yes, Apple Watch Bands come in different materials, and your skin might be allergic to those materials. So, it's best practice to consider the material of the Band while making the purchase decision.
What Is The Most Comfortable Apple Watch Band?
The whole idea of "Comfortable Apple Watch Band" is objective, and it varies from person to person. In my Opinion, Nylon Bands are the most comfortable ones as they are super soft and breathable.
Other than that, you can also consider Nike Sport Band, which comes with perforations on the top, which make it a very comfortable option as well.
Which Apple Watch Band Is Best For Sweating?
Ideally, you would want to get a band that comes with breathable material. In my Opinion, Nylon and Sports bands are best for Sweating as both of them handle sweat pretty well. Nylon Bands are not fully waterproof, but they get dry pretty quickly.
Conclusion
That's all, folks. In this guide, I shared the different types of bands which you can use for your sensitive skin. I also outlined my top picks, which I have chosen after extensive research. If you have any questions, please let me know in the comments.
Also, if you want to know the weight and thickness of the Apple Watch, you can check my guides where I have compared the weight and thickness of All Apple Watch's versions.
As a professional trainer and a gadget lover, I've spent a lot of money and time buying wearable activity trackers, smartwatches, and gadgets, and checking them out. My site is focused on helping you with your activity tracking and smart technology journey. I try to provide the most helpful updated content on this subject. Hopefully, you will love my blogs and be a regular around here.