Though the silicone band coming with the Pixel watch isn't bad, it might not be the right fit for sweaty workout sessions. Plus, the look and feel of the watch don't bloom until you pair it with a nice-looking band.
The following thins in this article will lead you to the bands you need-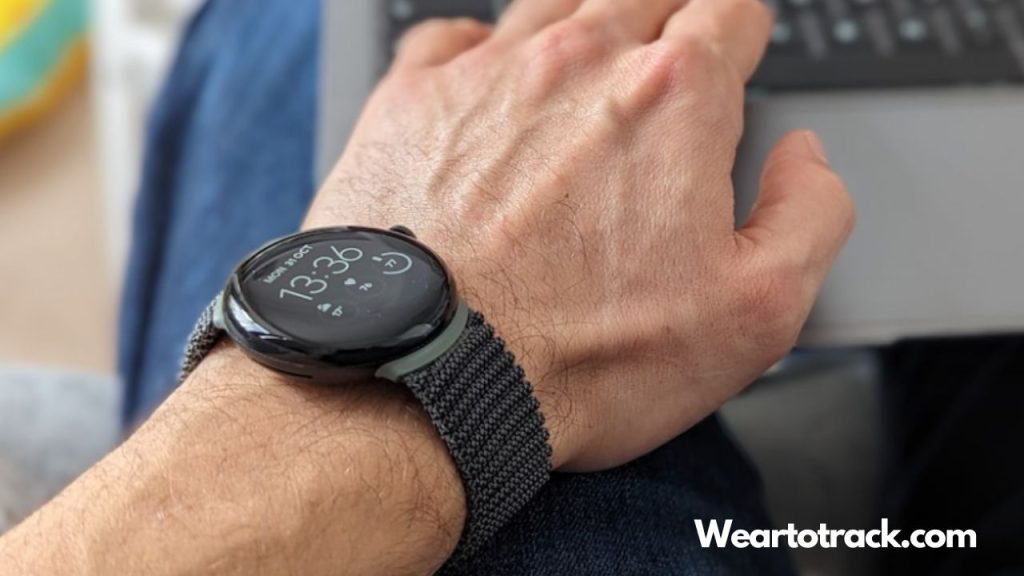 A detailed review of the 10 best Pixel watch bands with key features, pros, and cons
What band material should you choose for workouts
Answers to frequently asked questions
We reviewed the best 10 Pixel watch bands for workouts 2023 to help you pick the best matching band for your smartwatch. These bands will enhance the watch's sleek design and can withstand a lot of abuse.
Check out their features, pros, and cons to buy the best Pixel watch band.
Learn More: Top 5 Smartwatches With Leather Bands That Looks Great On Your Wrist In 2023.
Reviews Of The Best 10 Pixel Watch Bands For Workouts 2023
These are the best watch bands in terms of design, build quality, durability, etc. See how well they suit the Pixel watch in any given condition.
Key Features
Material: Nylon
Size: 5.5-9.3 inches wrists
Closure: Loop Buckle
Color: Black, Grey, Navy Blue, Pink, Wine
Weight: 32g
Nylon bands are very comfortable because they are soft and stretchable. Also, they are more lightweight than metal ones. So, you can wear this watch band for workouts and forget you have worn anything. The woven nylon strap has double layers to make the band breathable, so your wrists won't sweat so much.
If the band gets dirty, you can easily wash it out. Installing it is super easy, and the loop buckle ensures you spend the least time on adjustment. The adjustment range is higher than most other bands, so a broad group of users will find this band suitable.
Pros
Soft nylon build for better comfort
A washable band is great for maintaining hygiene
Easy installation and adjustment
Lightweight design to wear for longer
Available in multiple colors
Cons
Plastic connectors aren't that sturdy
The band doesn't look that premium
Key Features
Material: Stainless Steel
Size: 5.5-9 inches wrists
Closure: Magnetic Clasp
Color: Black, Rose Gold, Silver
Weight: 41g
Metal bands make this Pixel watch look more stunning by blending with the minimal glass dome design. This band is no exception because the mesh loop design perfectly matches the Pixel watch and enhances its look. The strap is adjustable to fit any wrist.
As the band has no sharp edges, it is very comfortable and safe to wear during workouts. It also has a non-slip design, so you won't feel irritated while the hand is sweaty.
The band has a magnetic clasp, so you won't struggle to attach the ends. It simply snaps in place, and you are ready to burn calories.
Pros
The material used in the band is rust and corrosion resistant
Very easy to install and take off
Adjustable band size fits all users
The magnetic clasp makes wearing the watch convenient
The band is pretty lightweight
Cons
The outer coating may get scratched
Connectors have some fitment issues
Key Features
Material: Recycled polyester woven
Size: 5.4-8 inches wrists
Closure: Stainless steel clasp
Color: Lemongrass
Weight: 0.43 ounces
If you are thinking of something more premium and exactly "original," we suggest Google's woven band. It's lightweight and made of recycled polyester yarn.
The band is thick enough but not heavy. As a result, it will give you ultimate comfort with day-long wear. The band is pretty much workout-friendly as it's sweat and water-resistant. So, "a wet" band won't bother you during the workout in the gymnasium or wherever.
By the way, the band size is customizable, suitable for 137 to 203 mm wrist sizes. So, no issues with the compatibility of the band.
On the other hand, the band's buckle is made of stainless steel with an ultimately smooth finish, which will be attached as a part of your hand while wearing.
Though it's available in 3 different colors, the "Lemongrass" will surely astonish your mind. By the way, the band is unisex and will fit both men and women.
Pros:
Highly durable construction
Extremely lightweight, which will not bother you during a workout or casual wear
Sweat and water-resistant will keep your wrist dry
Cons:
Since it falls into the premium category, the price is high
Key Features
Material: Stainless Steel
Size: 5.5-8.7 inches wrists
Closure: Magnetic Clasp
Color: Black, Gold, Rose, Gold, Silver
Weight: 18g
Though this band is made of stainless steel, it has a lightweight build to make it comfortable. The mesh loop design is aesthetically pleasing and ensures enough breathability. Setting up the band is straightforward.
And it has a magnetic clasp to wear or take off the watch easily. The lowest adjustable range is 5.5 inches, so users with very thin wrists might not find it suitable. Otherwise, the decent design is equally great for workouts and other activities. The band is resistant to rust and corrosion, so you can use it for a long time.
Pros
Stylish look with enhanced comfort
Smooth surface to be safe for workouts
Magnetic clasp for easy wearing
The durable strap is skin-friendly
Enough room for adjustment
Super lightweight
Cons
The band might come out of the loop
No protective case included
Key Features
Material: Stretchy Nylon
Size: 5.5-8.3 inches wrists
Closure: Direct
Color: Black, navy, army green, silver, pink, etc.
Weight: 0.40 ounces
Looking for something breathable, stretchy, comfortable, and washable? You probably got the exact band that you are looking for that can make a great companion during the workout.
Voma elastic nylon band is extremely lightweight, wet, water-resistant, and sturdy. It is able to fulfill your needs for extensive movement. The band is lightweight; even the double-layer nylon can't impact the weight and your skin.
Rather, it's skin-friendly, and the thickness gives great comfort with its soft cushioning construction. However, the band is washable, so there are no issues with getting dirty due to workouts in the gym, cycling, tracking, hiking, or whatever you do.
On the other hand, the multiple color options give separate fashion bases, which you can choose based on your fashion taste. The elasticity of the band fits it 5.5-inch to 8.3-inch diameter of wrists.
Need some more peace of mind? Then take the 6-month warranty from the seller, which is truly astonishing for a watch band.
Pros:
Highly durable
Give ultimate comfort due to stretchy nylon and lightweight construction
The band is washable, which is a great aspect
Available in multiple colors
6-month warranty available
Cons:
The band is only compatible with 2022 Pixel watches. So, check before purchasing that it is compatible with your Pixel watch version
Key Features
Material: Stainless Steel
Size: 5.5-8.7 inches wrists
Closure: Folding Clasp
Color: Black, Gold, Rose Gold, Silver
Weight: 82g
This band looks more like traditional straps for conventional watches. If you are a fan of that style, this metal band can be suitable for you. It is made of high-quality stainless steel, so the band is fairly durable and rust-resistant. The band is equipped with a folding clasp with dual buttons.
Once attached to the watch dial, the band will firmly hold the dial in place. So, you shouldn't worry about dropping the watch while working out. Adjusting the band is a bit tricky, but you can use the included tool to adjust the size. The metal is skin-friendly, so you won't feel any irritations even after wearing the watch for a long time.
Pros
Sleek design to match every outfit
Sturdy construction with high-quality material
Easy to put on and off
More durable than other bands
Secure fitment with the watch dial
Cons
Size adjustment is difficult
The band is pretty heavy
Key Features
Material: Soft silicon
Size: 6.7 inches to 9.1 inches wrist sizes
Closure: Metal clip
Color: Black, Off-white, and other colors
Weight: 0.86 ounces
I always prefer the exact thing that is required for a particular job. Silicon and nylon are the most effective material for bands when it comes to workouts.
FitTurn superlight silicon bands can be one of the best choices in such cases. It is made of lightweight rubber, along with durability and slimness.
On the other hand, the rubber used in it is fade-resistant. Summing up, there are no worries about the strength of the bands.
Many people may have health concerns when it's rubber. But the good news is the rubber is dust-proof, dirt-proof, contains no allergens, and has no odor, making it safe for your skin. Also, the holes on the bands ensure proper breathability for your wrist.
On the other hand, the superlight band is comfortable, wet, and water-resistant, with no issues with moisture grabbing. And you can wash it without thinking twice.
By the way, the FitTurn silicon band is available in multiple colors and sizes. The band is perfectly suitable for wrist sizes between 6.7" to 9.1".
Cycling, climbing, swimming, camping, walking, or workout in a gymnasium, whatever you do, this band can be a great companion for you with your Pixel watch.
Pros:
Super lightweight and comfortable to wear
No dust and allergens are attracted
Durable and no-fading
Good pricing
Cons:
There is no warranty for the band
A little uncomfortable closure system
Key Features
Material: Stretchy Nylon
Size: 4.5-9.5 inches wrists
Closure: Direct closure, adjustable stainless steel buckle
Color: F-black, army green, F-silver, etc.
Weight: 0.71 ounces
The Laben 2-pack nylon band weighs only 0.71 ounces each. Isn't it pretty impressive? To me, this is amazingly impressive, and you will not even feel it while moving with it on your wrist.
The Labend 2-pack nylon band is also stretchy and fits in wrist sizes as small as 4.5 inches and up to 9.1 inches. The size compatibility of the band is pretty impressive, allowing small to bigger hands to fit it.
Another impressive fact is the band was launched on January 4, 2023, which is one of the latest ones. This is by means of design and construction.
The band is pretty strong, allowing you any kind of workout. Also, the color scheme is significantly charming, which you will love for sure.
By the way, premium breathable, stretchy, and braided nylon is used, which is extremely durable, and has no chance of wear and tear so easily. The strong stretchy nature of the band ensures snug fitting in all-sized wrists.
Also, the band is adjustable through a stainless steel buckle on it. You don't need any tool to install it on your watch. It's very simple to snap into the watch.
For casual wear or workout, this band will give you ultimate comfort and style with no doubt.
Pros:
The premium material ensures longevity and durability
The band is very comfortable to wear due to the comfy material and lightweight
Very good pricing
Fit for any type of workout
Cons:
It will not be compatible with older Pixel watches
Key Features
Material: Genuine leather
Size: 5.5-7 inches wrists
Closure: Metal buckle
Color: Black, brown, gray, dark blue, etc.
Weight: 1.23 ounces
I generally don't suggest leather bands when the main purpose is the workout. But what if something gives you the ultimate workout features and durability, even with leather construction? Or what about some change of taste?
Here is the Botomore leather band for your Google Pixel watch. It's stylish, elegant, and fashionable. The band is made of top-grain leather, which is highly durable. The band is reliable enough for even a workout.
One drawback of the leather band is that they will be wet with sweat. But a 200-day warranty ensures its durability at its top, which can keep you in peace.
The warranty is for the replacement of the band or a 100% money-back guarantee. So, you can relax about the strength and longevity of the band.
By the way, the band comes with a premium buckle that is not edging and will not bother you with long-time wear. The lightweight construction will add extra comfort to your wrist. By the way, the band is sized for wrist sizes 5.5 to 7.9 inches.
Pros:
Premium grade leather makes the band highly durable
The band is comfortable to use
The band is lightweight
Cons:
Since being leather-made, it'd not sweat and water-proof
Key Features
Material: TPU- Thermoplastic Polyurethanes
Size: 5.31-9.25 inches wrists
Closure: Pin Buckle
Color: Black, Dark Green, Navy Blue, White, Transparent
Weight: 36g
In most cases, watch bands attach to the dial via connectors. This band comes with a protective case instead. So, you can directly insert the watch dial into the case.
The whole thing is made of TPU to protect your favorite watch from shocks or bumps, as it is abrasion-resistant. The main reason to suggest this band is its unique design factor.
As the top edges of the dial are protected, this band is highly suitable for the Pixel watch for workouts, cycling, climbing, and other movements. The strap has a pin buckle closure with dual pins and can be adjusted to fit any wrist.
It is a good buy for any weather because the band is soft and breathable. Plus, it doesn't catch stains even after undergoing rigorous workout sessions.
Pros
The sporty design makes the band suitable for workouts
Easy installation without any connectors
Dome glass is protected from the sides and the top
The adjustable strap is very comfortable
The band is available in many colors
Cons
The strap slack might not look so good
A single pin would be better
Which Band Materials Are Best For Workouts?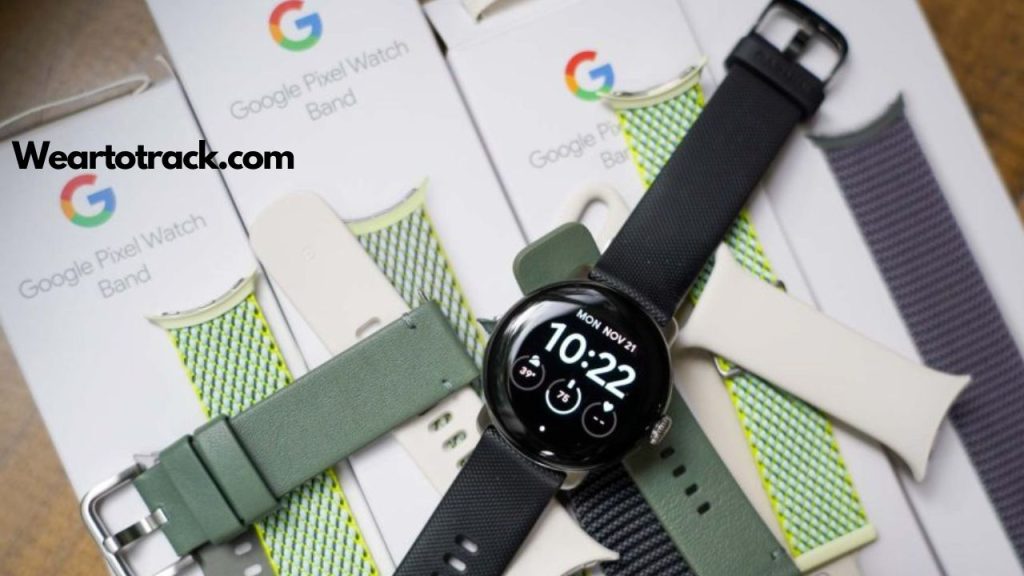 Nylon and silicon bands are highly recommended for workouts. Nylon and silicon bands are lightweight, washable, and durable. So you can eliminate unpleasant odors from the band.
And the fitment of nylon bands is way better than other materials. Silicon gives ultimate comfort.
Stainless steel bands for Pixel watches are durable and stylish. But they tend to be heavier than other materials. When you do workouts, this extra weight can cause some inconvenience.
TPU is very lightweight and water resistant. So, it can be a good choice for Pixel watch bands. But nylon is even more comfortable due to its high breathability.
On the other hand, genuine leather is comfortable and gives an aesthetic outlook, though they are not always recommended for workout purposes.
Frequently Asked Questions [FAQs]
Here are the answers to some frequently asked questions about Pixel watch bands. Check them out.
What Are The Best Pixel Watch Bands For Sensitive Skin?
High-quality silicon and nylon are the best for sensitive skin. However, stainless steel can also be an ideal option. However, ensure the quality of the band before buying.
Can I Use Metal Bands For Pixel Watches?
Of course, but you should look for a mesh metal band so that your wrists don't sweat too much. Also, mesh bands are more lightweight.
Are Leather Pixel Watch Bands Better For Workouts?
No, especially if you sweat a lot. During summer days, you might get too wet after the workout, and that moisture isn't good for the leather band.
Do Nylon Bands On Pixel Watches Get Dirty?
Yes, nylon bands can have dirt and grime inside the pores. Fortunately, you can wash these bands to get rid of dirt and odor.
Conclusion
The band you use with your Pixel watch shows a lot about your personality. So, you need to carefully choose the band. We reviewed the best 10 Pixel watch bands for workouts 2023, that is also suitable in other scenarios.
These bands are pretty stylish, comfortable, and durable. Most of them are lightweight, so you can wear them for longer. The closure on these watches is easy to put on and off. And all of them are affordable. Figure out how you prefer the watch band and choose the right one.
Read More: Which Apple Watch Bands Are Best For Small Wrists In 2023?
As a professional trainer and a gadget lover, I've spent a lot of money and time buying wearable activity trackers, smartwatches, and gadgets, and checking them out. My site is focused on helping you with your activity tracking and smart technology journey. I try to provide the most helpful updated content on this subject. Hopefully, you will love my blogs and be a regular around here.