I have been asked a lot what is the best Fitbit or Garmin device for blood pressure monitoring and the truth is that as of now(January 2022) there isn't a Garmin device that can monitor blood pressure or ECG while good news came lately from Fitbit with the Fitbit Sense and Charge 5.

The New Fitbit Sense and Charge 5 are capable of giving an ECG reading as well as measuring your body temperature – read here my related post about it.

Pay attention that the Sense, Charge 5, and almost all other smartwatches (except to the Omron HeartGuide and the new Huawei Watch D) are capable of performing an ECG test and not a real blood pressure test(read more about the differences later in this article).
Best Fitbit and Garmin For Blood Pressure Monitoring As For 2022
Can Fitbit and Garmin measure/monitor blood pressure or Perform An ECG Test?
Like I have mentioned, the answer is no for Garmin and yes for Fitbit with the new Fitbit Sense and Charge 5 with its ECG sensors.

I do not know the reason why Garmin doesn't come out with a Smartwatch that can monitor blood pressure or perform an ECG TEST but I can only guess that it is just a matter of time until they will add this feature to their smartwatches.
There are lots of Chinese wristband and Smartwatches that claims to be able to monitor blood pressure from your wrist but if you are looking for a serious, accurate blood pressure monitor watch that is FDA cleared then the best option is to buy it from the giant of the blood pressure monitoring world, Omron.

Important note and update!

Huawei has announced, Among other big announcements that it made at the end of 2021, that they are launching a new smartwatch called the Huawei Watch D.

According to the first reports on the subject, this is an incredibly expensive product(relative to the company's products) that will cost no less than $ 470 in China. A detail that is now revealed and may explain the price is an exceptional ability to measure blood pressure accurately enough for medical purposes.
The Watch D may not be the first watch to claim blood pressure measurement results, but previous models such as the ones mentioned in this post, provided measurement by indirect optical means(ECG tests), and this could at most serve as an early warning of a medical problem to be tested using more accurate equipment.
The Watch D, like the Omron HeartGuide on the other hand, will come with an accessory that is similar in operation to a medical blood pressure monitor: it swells slightly during the test, and then accurately measures blood pressure.

Omron HeartGuide and the new Huawei Watch D smartwatches are in a very small list of wearables that provide a real blood pressure test, all the other smartwatches can only provide an ECG test (explanation on the differences later in the article).

Can Smartwatches Detect Heart Problems?
Researchers at the University of California have found that the popular smartwatch can detect heart rate problems with an accuracy of 97 percent and can even distinguish between a state of emergency and an increase in heart rate caused by excitement.
A study conducted by researchers at the University of California USA in 2017 with the developers of the "Cardiogram" application revealed that, besides being the best-selling wearable item, Apple's smartwatch can also detect heart rate problems with a maximum accuracy of 97 percent.
Tested data for 6,000 users across the United States through a dedicated application (which is free to download), found that the smartwatch was able to locate users with atrial fibrillation (arrhythmias), compared to healthy users.
The diagnosis included wearing the watch and a series of tests of heart rate and pulse at intervals of several hours between test and test.
The app knew whether it was a change in heart rate due to any event or excitement, as opposed to those who regularly suffer from the problem.
However, there is a downside to these promising results. The results were accurate only when the subjects were at rest, while active, the results were inaccurate and not trustable.
The studies also showed that the Apple watch can also accurately detect sleep apnea – you can read more on the subject in this related article.
Since I have written this article, there are many stories about lives being saved by these amazing gadgets – the smartwatches.
Reminding you that the new Apple watches – the 4, 5, 6, and 7 come with a built-in ECG feature opposite to the Apple 3 participated in the test.

Since then we have heard of many lives that had been saved by Smartwatches and these numbers will increase in the years to follow as these gadgets are becoming smarter and more common.
Does Fitbit have ECG/EKG?
Yes, Fitbit can perform an ECG test with the Fitbit Sense and the new charge 5. The new ECG feature along with the new Fitbit's Daily Readiness Score requires a Fitbit Premium membership that costs $9.99 per month or $79.99 per year.
Which Garmin Watch is Best For ECG/EKG Monitoring?
Like I have mentioned at the beginning, Garmin Smartwatches and App do not include ECG at the moment but that might be about to change soon as Garmin conducted a clinical trial in order to check their ECG testing abilities.
What Is The Difference Between An ECG/EKG Measurement And A Blood Pressure Measurement?
An electrocardiogram also called an ECG or EKG is a quick, painless, and safe test that can provide information regarding your heart health.
How Does A Smartwatch Check Blood Pressure?
Like I have mentioned, most smartwatches are performing an ECG test and not a real blood pressure test.
The ECG/EKG test made by the smartwatches measures the electric activity of your heart using different sensors on your wrist.
Each heartbeat is caused by an electric wave. The ECG can basically measure how long it takes for the wave to move from one side of the heart to another and the amount of electrical activity passing through the heart.
A Real Blood Pressure Test(Not ECG)
In order to perform a real blood pressure check, pressure must be applied to the tested blood vessel. The pressure is intended to stop the blood flow and then it must slowly be released, this is the reason for the inflating sleeve that is being used with the standard monitors.
What Can The ECG Test Tell Us?
This ECG data can tell us the followings:
Abnormality of our heart rhythms
Enlargement of one side of the heart
Poor blood supply to the heart
Identify thickened heart muscle and more abnormal activity
ECG tests are usually recommended by doctors for people who suffer from high blood pressure or heart problems.

ECG TEST IS NOT A BLOOD PRESSURE TEST! – However, it can give very important information regarding your heart's health.
Also, blood pressure and heart problems are serious issues and if you suffer from it then you should advise a doctor.

These gadgets are not a replacement for a medical diagnosis! and although some of them are more accurate than the others, I wouldn't count any of them with my life but instead, use them as fun and helpful fitness gadgets.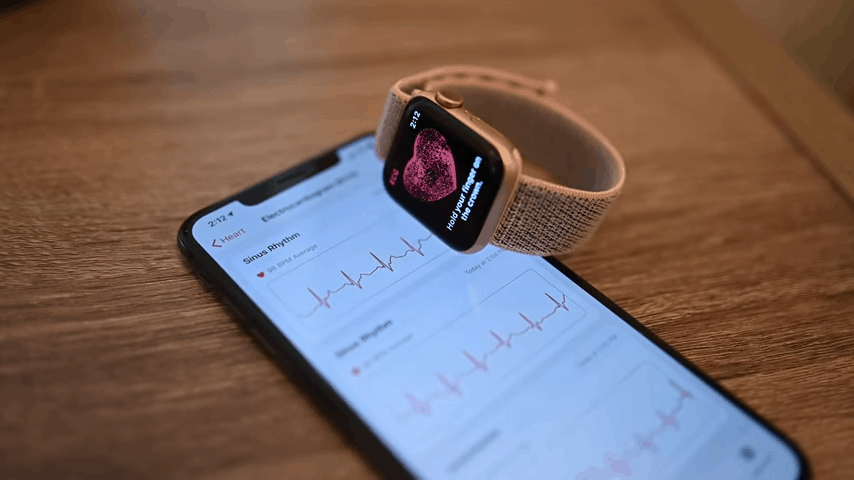 So, Except For Fitbit, What Is Then The Best Wearable Blood Pressure And ECG Monitoring Devices In 2022?
Like I have mentioned, there aren't too many good options when it comes to a wearable blood pressure monitor.

However, there are quite a few devices that are able to give accurate ECG readings.
Check out this post that I had recently wrote regarding the best 5 Android smartwatches with ECG sensors.

Here are some of the most successful Smartwatches with an ECG sensor:
1. Omron HeartGuide Smartwatch – Great Activity Tracker Smartwatch With A Real Built-in, Patented, Blood Pressure Monitor
The first one is the earlier mentioned Omron HeartGuide smartwatch which features a real blood pressure monitor by using smart, innovative, and patented technology in the shape of an inflating cuff (in opposite to the other watches on this list that are only able to make an ECG test).

The HeartGuide is currently not available on Amazon but you can check it out on Omron's website at this link:
Another option for a small, portable, wrist-based, and accurate device is the very popular Omron 7 Series Wrist Blood Pressure Monitor.
2. Apple Watch 4 & 5 & 6 & 7- An Amazing Activity Tracker Smartwatch With An Accurate ECG Feature And An Awesome Dedicated App
Like I have mentioned earlier if ECG testing satisfies you then this amazing watch is the best option for you.
The Apple Watch 4 is one of the most popular fitness trackers in the world and combined with its new abilities to perform ECG tests and to save and show your stats in the new, awesome ECG app makes it a great purchase.
If you want a really accurate blood pressure monitor then adding the QardioArm Blood Pressure Monitor will do the job.
You can check out more on the QardioArm Blood Pressure Monitor on Amazon.
A great way to buy the Apple Watch 7 is on this page on Amazon.
Apple had also launched the ECG app which is a great and convenient way to track your ECG measurements.
Here Is A Video Demonstration Of The New ECG App In The Apple 4 Smartwatch
3. Asus Vivowatch BP – A Cheap Option With An Accurate ECG Feature And A Built-in GPS
The second one is the quite new device by Asus, the Asus VivoWatch BP which is using a combination of EKG (electrocardiogram) and PPG (photoplethysmography) sensors to achieve a reading of the heart rate and health.
Both of the watches can serve also as fitness trackers as they have the ability to monitor heart rate, sleep patterns and activity.
The Asus is not a match to the amazing Apple watch 4 when referring to smartwatch abilities and features.

However, the ECG feature will provide very accurate data, lots of users claimed that the apple watch 4 and this watch gave almost the same results in the ECG tests.
When taking into consideration that the Vivowatch BP comes with a built-in GPS and costs about half of the Apple Watch 4, it makes sense to think of it as your next purchase.
The main Con of this device is that it is a bit bulky, so if the size of the watch is a big issue for you then it might be your deal-breaker.
I don't have too much information regarding the accuracy of the Asus device and it is too early to make big assumptions about it, but from a first look, it looks too bulky with a very poor display.
4. Samsung Galaxy Watch Active 2, 3 and 4
Another giant company that understood the importance of ECG and implied it, is Samsung with its Galaxy watch Active series.
The active 2 watch looks almost identical to its predecessor, but the AMOLED screen has grown slightly, to 1.2 inches in body 40 millimeters in diameter, and 1.4 inches in body 44 millimeters in diameter.
The resolution is 360 × 360 pixels in both sizes. In addition, the frame now supports touch so that the One UI Run interface can be run on Samsung's Tizen OS with gestures on the screen.
Galaxy Watch Active 2 received nearly the same hardware as Galaxy Watch, the company's standard watch: it carries Exynos 9110 dual-core chip at 1.15 GHz, 768 MB standard RAM, and 1.5 Gb 4-byte version with fourth-generation connectivity, and 4 GB internal storage.
Connectivity includes Bluetooth, WiFi b / g / n, and NFC, and as mentioned above, the watch can be purchased with independent 4G connectivity, which does not require a phone to make calls and the like.
The battery stays at a capacity of 247 millimeters/hour in the smaller edition and 340 millimeters/hour in the larger version, with Samsung ensuring they are sufficient for a working day.
The pulse sensor has also been upgraded and an ECG sensor was added.

The ECG feature has just got FDA approval and has started working on the galaxy 2 and o the newer Galaxy Watch 3 and Galaxy 4 watches.
5. Oppo Watch
At the beginning of March 2020 Oppo introduced its first smartwatch that looks very similar to the most successful watch on the market, the Apple Watch.

Oppo Watch comes in two configurations: a 1.91-inch or 1.6-inch screen. In both cases, this is a very high-quality AMOLED panel with a thin frame and a pair of buttons located in the aluminum frame.
It is capable of operating independently with the use of eSIM on supported networks and also, like the Apple watch, it comes with an ECG sensor.
Additional Affordable Smartwatches With ECG/EKG
Except for the 5 devices on the list above, there are more affordable smartwatches that can monitor ECG accurately.
Here is 1 of the best ones available today:
In order to understand more about wearable blood pressure monitors, we have to understand how a blood pressure monitor works.
Frequently Asked Questions [ FAQs ]
Does Fitbit Have A Watch That Monitors Blood Pressure?
Answer: Fitbit is a leading brand in heart rate monitoring features. It has several models that come with an ECG sensor.
Which Fitbit Is Best For Blood Pressure?
Answer: It's difficult to recognize only one model as the absolute best. you can consider Fitbit Versa and Fitbit Sense for ECG check.
What Is The Best Watch For Heart Rate And Blood Pressure?
Answer: Omron HeartGuide is the most accurate HR and BP tracker in the market.
Conclusion
According to the American Heart Association, about 2.7 million US citizens have atrial fibrillation and other heart problems that may lead to death, according to the association. Early identification of the problem may significantly reduce the risk of a stroke.

Studies that have been done on modern fitness trackers like the popular Apple watch showed that they can accurately indicate irregular heartbeats, atrial fibrillation, and more heart problems that can lead to a heart attack.
A wearable blood pressure monitor which is by its definition, smaller, convenient, and portable might be a great device that could be used everywhere and anytime. However, these are not a replacement for medical tests, and in case you have health issues you shouldn't count on any of the devices above.

The fitness trackers in this article are an awesome tool and can help you a lot with identifying heart problems before it is too late.

Each one of the Smartwatches above comes with its pros and cons and it is for you to choose the one that fits you most.

So in case you are looking for the best Fitbit devices for blood pressure monitoring, the only devices by Fitbit that are capable of performing an ECG test are the Fitbit Sense and Charge 5.
As a professional trainer and a gadget lover, I've spent a lot of money and time buying wearable activity trackers, smartwatches, and gadgets, and checking them out. My site is focused on helping you with your activity tracking and smart technology journey. I try to provide the most helpful updated content on this subject. Hopefully, you will love my blogs and be a regular around here.