Fitbit's app is simply one of the best in the business when it comes to health and sleep tracking.
The new Fitbit app is even better now regarding sleep tracking and has a new feature that's called sleep score which gives you a number that will help you to understand how good was your sleep.
Although Fitbit's app is so great, some of you will prefer to use other apps for running and sleep tracking – here are some of the best apps compatible with Fitbit.
Your health and fitness should matter to you as much as the other things in your life. One must prioritize his health concerns and carry out some efforts to maintain health statistics daily.
Well, those days are now history when you had to go through a proper medical checkup and let the doctor judge your health and fitness. The advancement of technology has introduced quite much to us. Along with it came Fitbit.
Here is an article on my website that you must read, its about Fitbit Time Wrong By A Few Minutes? Why Is It Wrong? How To Fix?
The slim, stylish and smart fitness tracking device which stays on your wrist like a wristwatch and can monitor your weight, running, sleeping, and other health data and show statistical results of your workouts and simple routine data.
Reviewing Some the Best Fitbit Compatible Apps For Running & Sleep Tracking:
Hence, to make this experience better, you can integrate some apps to your Fitbit and make the best out of it. Here are some of my favorite apps which you can integrate with your Fitbit and track your data in a better way.
They have succeeded in maintaining the best performance of the fitness app. The app will track your workout very well. However, it is a health and fitness app.
You can use the app without making any payment. Additionally, you will get all benefits from the app which is related to fitness and health.
In contrast, for more advanced features, it is a paid app indeed. If you pay, you will get some advanced extra sensors and features.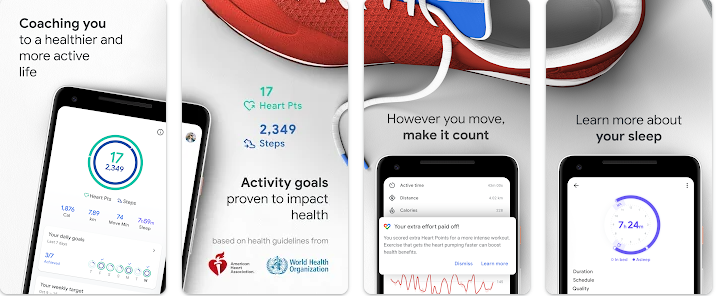 Google Fit app is a certified activity-tracking app. The app is top-rated all over the world. The World Health Organization and the American Heart Association agreed to collaborate with Google for making good healthy activity tracking.
As a consequence, you don't need to be tense about your workout. You can do your workout in a healthy way through this app. After exercising and running, the app will tell you how much you will improve your health.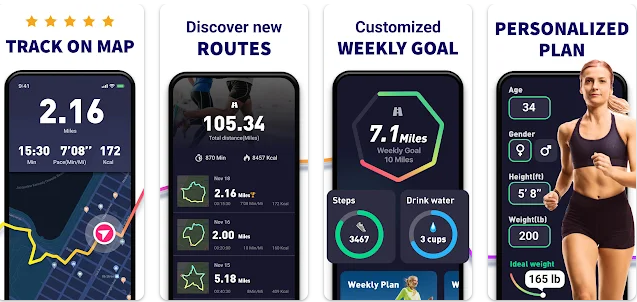 This is the best app for running. The app provides numerous plans for losing weight. Moreover, the app will motivate you to maintain your fitness properly.
The app provides all directions for other fitness exercises. Luckily, the coach will give you feedback through voice. The coach of the app will make your fitness journey easy, effective, and fun.
You can burn your calories easily through the app. Unfortunately, the app will not track your sleep stage.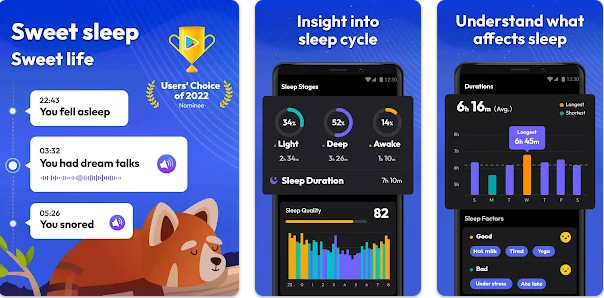 The app works for measuring sleep. It will be your personal sleep stage monitor. You can know the cognition of your sleep by using the app.
You can record your snoring and sleep sound. Consequently, you are able to check out your dream talk in your sleep. If you have bad sleep, then you can improve your sleep via the app.
The app will help you to lead a healthier life. For distressing sleep issues, you are able to customize the smart app.
For managing a healthy life, SAMSUNG Health has various features and functions. The app is able to track both running and sleeping very well. Besides, you can see your body composition such as weight, skeletal muscle, fat mass, body fat, etc.
The app will track your pace, elevation, cadence, and heart rate condition while you run. When you sleep, the app will give you a sleep score based on your sleep condition. It will show you a sleep chart as a graph for a better view.
The app is amazing for tracking activity. It is made with health and wellness features. Also, the app will monitor the heart rate and other activities.
The app will track running, biking, sleeping, and so on. While you run, then you are able to see your footsteps. Additionally, you are able to see how far you run.
It will show your sleep stage more accurately. You will know about your sleep hour, sleep score, sleep report in a week, etc via the Fitbit app.
The reason why I'm Starting with Alexa is because of the new Versa – The Versa 2 which comes with a built-in Alexa inside it and this feature is a step that makes these gadgets even cooler.
Amazon's Alexa has made so many things easier for us. It has done the same in the fitness and health tracking aspect. Integrating Alexa with Fitbit will result in a simple solution which allows the overview of your health statistics to you easily accessible.
You can directly ask Alexa to ask Fitbit about how you slept last night, or how much distance you covered while running or any other health concern, Alexa app is there for you to help you through it. It is a pretty neat app and works accurately.
The app does not have any fees, but if you want a smart speaker with Alexa inside which will enable you to connect with Fitbit data, then you must buy it first.
However, in the New Versa – the Versa 2 you will be able to talk to Alexa using the built-in microphone on the watch and receive text message from Alexa on your watch.
You will no longer need a smart speaker in order to communicate with Alexa and you will also be able to connect to your smart devices at home from your watch.
With an excessive range of features, MyFitnessPal is the most amazing and handy app that you will need to stay fit and healthy.
Whether you are aiming for weight loss, running routine, seep tracking or any other physical activity concerning your health, MyFitnessPal is the app you choose to get your multiple jobs done.
It will be assisting you throughout your day in whatever you eat or exercise. Your calorie intake and your weight loss goals will be taken care of with this pal app of yours.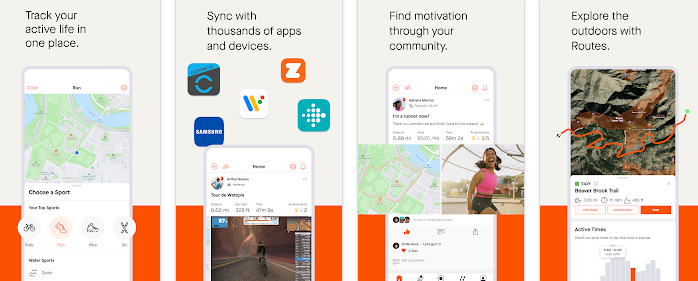 Strava has succeeded to maintain its fame as it is a renowned app used for fitness purposes and has the tendency to showcase your statistical data whenever you want to access it.
It is compatible with Fitbit and works like a buddy that keeps on motivating you to do more and more.
It can count your steps, elevations, distance, time, and other statistics we come across during a workout. You can also keep track of your biking progress with Strava.
Although it does not track sleep, it is the ideal app for your workouts without being attached to you. However, it is free unless you want to go Premium to access more tools and features. But the Premium membership is expensive in Strava.
In addition to it, Strava has a competitive edge to it which stuffs you up with motivation on the go.
10. Nudge Health Tracking
If you need a health and fitness tracker by your side watching over you, then Nudge Health tracking app has all that it takes to be your best choice.
Your plan for a healthy lifestyle will be easily attained and accomplished with the Nudge Coach App to guide you throughout the experience.
Moreover, you can count your steps, distance, and even sleep hours with it. Integrating Nudge with your Fitbit will bring so many perks for you and will help you stay fit and healthy. Also, you can watch over all your health data by yourself and can plan accordingly.
The best feature of this app is the ability it provides you to connect with a coach simply on your phone and allow him to supervise you on your fitness journey. It is a paid app and requires monthly charges.
Other Very Popular Running And Diet Apps Compatible With Fitbit
RunKeeper
Weight Watchers
MapMyRun
Endomondo
These were just a few of the best running and sleep tracking apps, compatible with Fitbit that you can use to plan, schedule and execute your healthy routine in the best possible way.
Your sleeping hours and the activity data will be counted to provide you a statistical overview of how you are doing in your health niche.
Conclusion
Here is a word: Health is Wealth. For living a healthy life, an activity-tracking app is very important. If you suffer from various problems with your sleep, then you can solve your sleep problems by using a sleeping tracking app.
Moreover, you have to run regularly to make yourself fit. You can see your running performance throughout the app. As a result, activity-tracking apps are helpful to meet up your fitness goal.
For more details on this subject, please check out this post that I published recently- What Is The Best Fitbit For A Small Wrist & How To Measure It Before Buying?
As a professional trainer and a gadget lover, I've spent a lot of money and time buying wearable activity trackers, smartwatches, and gadgets, and checking them out. My site is focused on helping you with your activity tracking and smart technology journey. I try to provide the most helpful updated content on this subject. Hopefully, you will love my blogs and be a regular around here.