In this article, I will answer what are the best fitness trackers without Bluetooth and EMF radiation, which Fitbit is the safest, and will give you a list of 7 fitness trackers that you need to check out.
Are you also a fitness freak? Then, believe me, wearing a fitness tracker is great to complete your sports gear.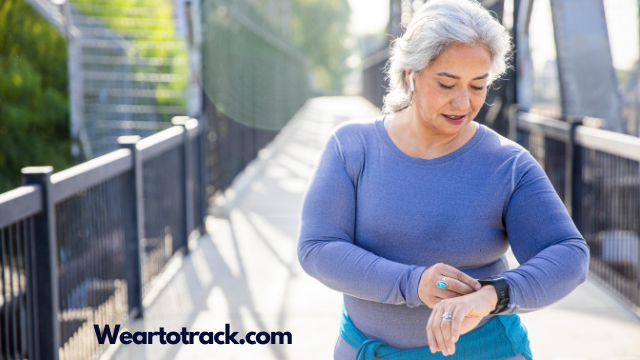 Fitness trackers allow you to be able to monitor your heart rate, step count, as well as your sleep quality. As in, these gadgets provide you with complete monitoring of your health situation on a daily basis.
Here is a related article that might interest you on the 15 Best Fitness Trackers Compatible with MyFitnessPal(MFP) In 2023.
In addition to this, wearing a fitness tracker ensures to level up your daily workout sessions. However, there are different kinds of each gadgets that are available in the market. Similar is the case with fitness trackers.
There might be those that would be a perfect addition to your fitness sessions, while others would end up in your junk drawer, merely collecting dust. The later ones are most likely to be those with radiation.
#Overview
IMAGE
PRODUCTS
FEATURES
PRICE

Screen Size: 1.04 inches
Battery Life: 7.0 Days
PRICE RANGE: Under $150

15-day Battery Life
Screen Size: 1.1 Inches
PRICE RANGE: Under $50

Waterproof Exercise Pedometer
Battery Life: 7 Days
PRICE RANGE: Under $30

Screen Size: 2 Inches
Display Type: 160 x 68 pixels, Touch Display
PRICE RANGE: Under $300

Screen Size: 1.6 Inches
Battery Life: 365 days
PRICE RANGE: Under $25
Best Fitness Tracker Without Radiation – No Bluetooth or EMF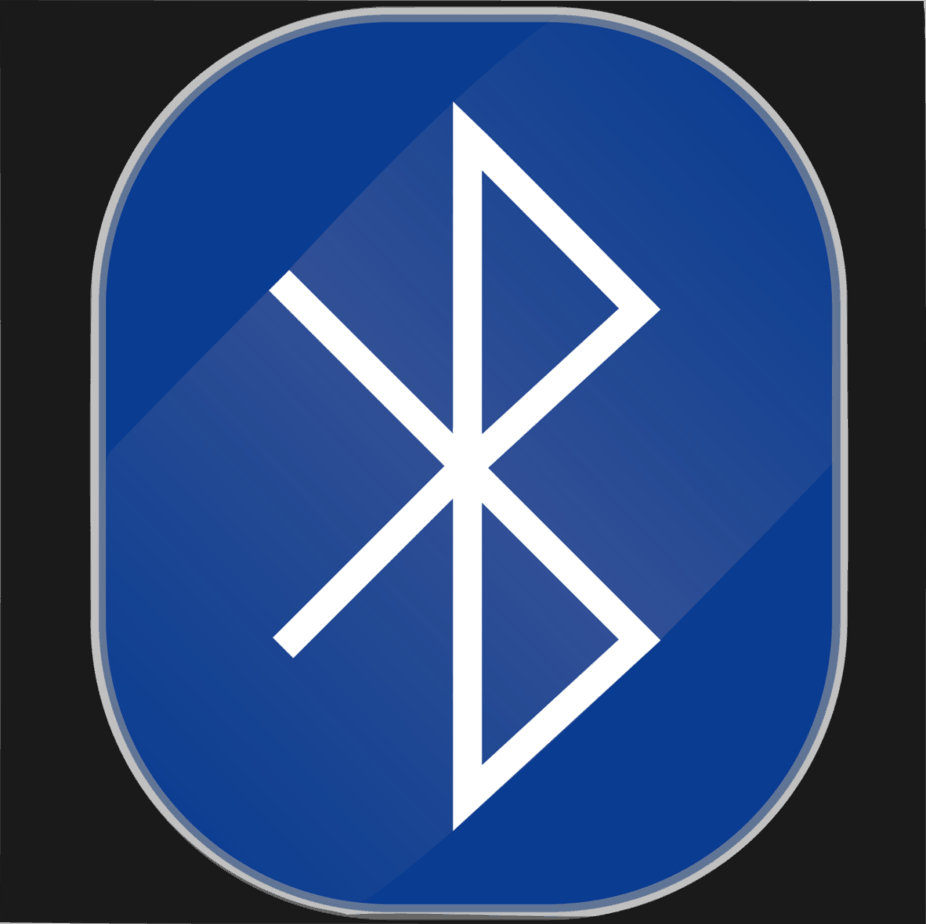 You might've heard the word "radiation" before in various negative terms. This is because recent medical researchers have proved that radiation is damaging to human health.
How ironic is it that these harmful radiations are often emitted by fitness trackers, the devices that are worn by millions of people around the world who aim for better health?
Learn more about the dangers of EMF radiations below:
Unsafe Radiation In Fitness Trackers – Do Fitness Trackers Cause Cancer? Let's Learn The Truth!
There have been a lot of complaints regarding fitness trackers. Some say that wearing them caused skin irritation, others complained of burns, while numerous people suffered from wrist pain after wearing the device for a long time period.
Wondering why these people faced such problems? Well, some experts suspect that lots of it are because of the increasingly dangerous EMF radiations emitted by these supposed health tracking devices.
Irritation of the skin might occur due to allergic to different materials in the fitness tracker, Nickel, for example, you can read more about this topic in my article on the best fitness trackers for sensitive skin.
These radiations are primarily emitted by the Bluetooth connection of a fitness tracker. However, it is said that these radiations are not emitted as much by your fitness tracker, as they are by your mobile phone when in a Bluetooth connection with this gadget.
Nevertheless, either emitted by the tracker or the mobile, radiations are known to have large negative impacts on your health. In fact, the level of the radiations emitted by electronic devices around us is far more than what can be safely absorbed by the body.
In a lot of cases, these radiations can have a lethal impact on your overall health and fitness. The radiative emissions from Bluetooth devices happen in the form of pulses.
These pulses are known to have a wavelength that's extremely short. Which means, the radiations tend to travel at a very high speed. As a result, they can efficiently penetrate the human tissue and biologically damage the body.
According to research, these radiations can lead to various medical issues. In the case of constant exposure, the EMF radiations may cause health issues such as sleep disorders, moodiness, and skin irritation.
In addition to this, exposure to radiation may also lead to severe headaches, nausea, as well as a foggy brain in some cases. Here is An appeal from 2015 in which 247 scientists from 42 have been warning us about the risks of EMF radiation. These risks include various serious health problems, including cancer.
Moreover, sleep is another issue faced by people who use fitness trackers with radiation. In a recent study, it has been discovered that EMF radiations inhibit the production of melatonin in the body. As a result, the sleep cycle might get affected.
Do Fitness Trackers Cause Cancer?
Having said all that, fitness trackers are emitting much less EMF than mobile phones and while there are lots of speculations regarding the risks of EMF, there aren't really proofs that the EMF from our devices is dangerous and I guess that it will take some more time until we will have more solid knowledge on this topic.
In the meanwhile, we should try to do our best in order to expose our selves as less as possible to EMF radiation. Regarding fitness trackers, as I have mentioned, the amount of EMF emitted by them is far less than the amount emitted by our mobile phones and we should be less concerned about them.
However, I really recommend avoiding leaving your Bluetooth on when it is not in use. Use your Bluetooth when needed and turn it off when you're done.
Is The Light Used By Fitness Trackers Safe?
To be short, yes that light on your fitness tracker is absolutely safe. What the light does is that it provides continuous heart rate monitoring by recognizing the blood flow in your veins.
It has no dangers in terms of your health as the LED light is very much similar to the usual lights around you. Moreover, it's completely non-thermal, as well as extremely low-powered.
However, the danger lies in the Bluetooth connection through which the information regarding your heart rate is sent to your mobile phone.
As described earlier, the Bluetooth connection is responsible for the emission of EMF radiation that might cause you health problems.
Can I Turn Off My Bluetooth On Fitbit? Is There A Fitbit Device That Allows Disabling The Bluetooth?
This is a question that I get a lot and the answer to it is no, there isn't a Fitbit device that allows you to turn off the Bluetooth.
The Bluetooth on all Fitbit's devices is working all the time. You can turn it off in the app which will cost your phone to not sync with your Fitbit. However, it will keep emitting EMF constantly, in a very low amount tho.
Which Fitbit is Safe When It Comes to Radiation?
Having a direct source of radiation on the body amplifies the effects of EMF. These effects may not appear immediately, but they are devastating as they progress. In fitness trackers, radiation emits through Bluetooth.
Research says that all Fitbit watches and bands are safe as it emits a low amount of radiation. However, there are many Fitbit fitness trackers which have no Bluetooth or EMF that cannot make radiation. And of course, that makes them safe in the human body.
Some safe radiation-free Fitbit fitness trackers are the Fitbit Charge 5, Garmin Vivosmart 4, Amazfit Band 5, Vilsaw Fitness Tracker, etc.
Is It Safe To Wear A Fitness Tracker While Pregnant?
Well, here I can just give you my opinion based on the facts. After many years of using cellphones and Bluetooth devices, there isn't a real scientifically evidence that these gadgets are harmful in any way.
On top of that, a manufacturer like Fitbit declares that "Fitbit's power output is extremely low, about 0.5% – 1% of the output power of a cell phone".
The radiation emitted by the activity trackers watches is minimal and using your phone or even expose yourself to the sun would be riskier than using one of them.
But again, this is only my opinion.
7 Fitness Trackers Which Considered To Emit A Very Low Radiation
Due to all these side-effects of radiation-emitting fitness trackers, it's best for you to opt for one without radiation. Below are some of the best fitness trackers without radiation or should I say with a very low amount of radiation.
These trackers don't have Wi-Fi or Bluetooth in them. And if they have the Bluetooth facility, it could be easily disabled to make the tracker free of EMF radiation.
It is one of the best radiation-free trackers that can track activity and heart rate. The battery life of this watch is 7 days and it is compatible with smartphones. Its special features are its time display, Heart rate monitor, GPS, Sleep monitor, Daily workout memory, Pedometer, ECG, Oximeter (SpO2), and Stress tracking.
You can see your real-time pace and distance without your phone during outdoor activities with built-in GPS, and view maps of your workout routes in the Fitbit app. Get a daily stress management score that shows your body's response to stress and take steps to improve your levels through this watch.
Another radiation-free fitness tracker is the Amazing Band 5 Activity Fitness Tracker with 15 days of battery life. With a fully charged Amazfit Band 5, you don't have the necessity to bring a charger for your two-week trip. With OxygenBeatsTM, you can measure your blood oxygen saturation and know how you are feeling.
It is perfect for high-intensity workouts and sports like marathons and gym workouts. Also, it can measure heart rate and track sleep. It can resist water in at least 5 ATMs. With a women's menstrual tracking system, Band 5 records and predicts women's menstrual cycles and sends smart notification reminders.
It is another radiation-free smartwatch. Additionally, this tracker also works as a sleep, step, and calorie monitor. Also, it works as a 24 hours activity tracker in workouts, running, hiking, jogging, cycling, walking, yoga, etc. Interestingly both men and women can use this stylish watch. It consists of a waterproof exercise pedometer.
Apart from this, you can get calls, receive text and social media notifications on display, and get exercise reminders right from your wrist. You will never miss important information even when you don't have your phone in your hand.
4. Garmin Vívosmart HR Activity Tracker – Popular fitness tracker with low radiation and Bluetooth disabling option
One of the most popular fitness trackers available in the market, Garmin Vivosmart HR is a true show-stealer.
The device provides the option of switching off the Bluetooth. The best part is that even with the Bluetooth turned off, it tracks your heart rate, steps, movement, sleep, and much more in real-time.
However, you'd need to turn on the Bluetooth in order to download the tracked information in your mobile phone for it to be clearly visible.
The level EMF radiation emitted by the device decreases dramatically once you turn off the Bluetooth, making Garmin Vivosmart HR a truly smart choice.
For the purpose of disabling the Bluetooth, all you have to do is just hold your finger on the touch screen of Garmin Vívosmart HR and wait for the pop-up menu to appear. In the pop-up menu, you can select the Bluetooth icon and easily turn it off.
So, if you're cautious about your health, make sure to turn off or disable the Bluetooth on this device as it is enabled by default.
5. Samsung Gear Fit2 Pro – another popular device with low radiation while Bluetooth is off
Highly affordable and efficient, Samsung Gear Fit2 Pro comes with great features. Similar to Garmin Vívosmart HR Activity Tracker, this device by Samsung also allows you to disable Bluetooth. Moreover, it also tracks information in real-time.
To turn off the Bluetooth on your Samsung Gear Fit2 Pro, swipe left from the home screen and go to the Settings. After accessing the Settings, tap on the Bluetooth option and simply turn it off.
In addition to this, the fitness tracker by Samsung has various other amazing features. Such as, the device is completely water-resistant, which makes it a great choice for your swimming sessions.
Plus, it has a reasonably large display as compared to other fitness trackers available in the market. This feature allows you to easily view information related to your steps, burned calories, and your heart rate.
Moreover, the Samsung Gear Fit2 Pro is one of the lower radiation trackers available in the market. Thus, it's definitely the best choice for keeping your body free from the damage caused by EMF radiation.
A simple Pedometer is a great option for those of you who are looking to track their activity levels without the need to use the Internet, app or Bluetooth, which means no radiation at all.
Of course, a Pedometer will not provide as many features and options as the popular fitness trackers above, but it can still help you a lot in tracking your activity.

This one is a bit unconventional when it comes to the commonly used wearable fitness trackers. Nevertheless, this pedometer is the best you can have if you're looking for a fitness tracker that is completely free of EMF radiation.
In other words, OZO Fitness SC2 Digital Pedometer emits absolutely zero radiations. Isn't that just what you've been looking for?
Moreover, this pedometer is very simple to use if you're not good with high-tech devices. Also, it doesn't require to be connected with any device via Wi-Fi or Bluetooth.

This means you don't even need to have a mobile phone, as you can easily track your health information directly through this amazing fitness tracker.
However, in case you're wondering regarding its ability of tracking, it's no less than other wearable fitness trackers available in the market. OZO Fitness SC2 Digital Pedometer allows you to be able to track your steps, calories burned, distance traveled, MPH/KPH, as well as the duration of the exercise.
Its large display makes it perfectly easy to operate and program. Also, you can view the tracking information and your health goals comfortably, without facing any kind of trouble of downloading the information in your phone.
Wondering how to carry this pedometer if it's not wearable like the others? Well, that's quite simple. It can be clipped on, which makes it easy to carry while you go around with your strenuous exercise and training sessions. Plus, it is small enough in size, so that you can put it in your pocket, backpack, or purse.
Thus, as a complete radiation-free fitness tracker, OZO Fitness SC2 Digital Pedometer is the best choice for those who are bothered by EMF radiation.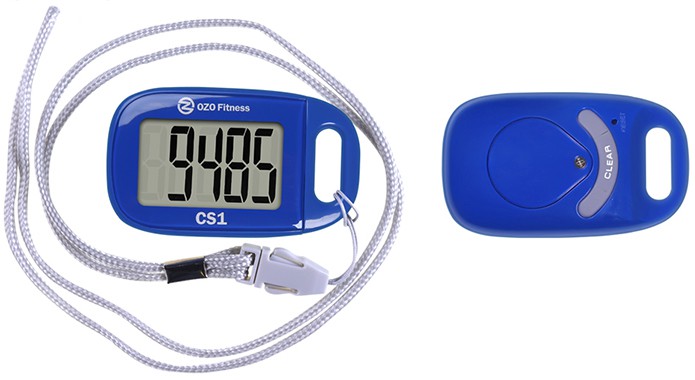 Another device from Ozo Fitness which is even more basic and simple to use than SC2 digital pedometer is the CS1 pedometer.
This digital pedometer is simple to use a stand-alone device which doesn't use Bluetooth or
Wi-Fi. All data remains on the device itself. Since there is no programming required, it is popular with seniors and kids looking for a non-complicated step counter.
A single button press will reset the step counts to zero whenever needed and the extra-large display is easy to see.
The CS1 step counter is less than $20 and accurately tracks your steps.It can be carried comfortably in a pocket or bag all-day or attach the included lanyard and hang it around your neck. The included CR2032 battery has enough power to keep it going for up to 12 months.
Nevertheless, it is important for you to know that every electronic device emits a small level of radiation and aren't completely radiation free.
Even after you disable the Bluetooth, the radiation can reach your body when the device is close to you. So, if you're really sensitive to radiation, it would be best for you to not carry them.
Conclusion
However, as humans are increasingly aware of the risks of EMF radiation from the gadgets they use each day, they're starting to question those technologies. There are many radiation-free devices that track heart rate, sleep, exercise, calories burned, etc. accurately.
We hope this article has helped you to find a radiation-free fitness tracker at your convenience.
As a professional trainer and a gadget lover, I've spent a lot of money and time buying wearable activity trackers, smartwatches, and gadgets, and checking them out. My site is focused on helping you with your activity tracking and smart technology journey. I try to provide the most helpful updated content on this subject. Hopefully, you will love my blogs and be a regular around here.