The measurement done through digital means is one of the prolific features of today's phones. And these are done through some apps present for both Android and IOS. This measurement feature has been possible due to the introduction of Google "ARCore" and Apple "LiDAR".
With the digitalization of the era, analog measures are now being replaced with digital apps and algorithms that enable a smartphone to measure objects in real life.
Here is a related article that might interest you on the Best 6 Free Golf Apps For Wear OS That Will Help You Improve Your Game.
And with this view, we have analyzed and collected info about the best apps that let the smartphone measure in objects supported by Android and iPhone respectively. Without further ado, let's dive in.
Measurement Apps And Why We Need Them:
In the world of technology, reliability depends on digitization in lieu of analog. The fast-paced world demands a quick pace of work and digital methods provide that. Measurement apps are AI-core-based apps that measure objects in real life almost accurately.
The apps not only provide accurate measures of length but also the angle of measurement and other related components. On a factual basis, the apps are pretty reliable unless you are using them for industry-level measurements.
These apps relieve one from the hassle of carrying a piece of extra equipment for measuring. And helps them to measure something on the spot as it is not possible to always have a piece of measuring equipment.
Top 18 Free Measuring Apps For iPhone And Android:
Here we will lead you to the top 18 free measuring apps for iPhone and Android. Most of them are available in the play store or the App store of IOS.
It is a built-in IOS-supported app for Apple smartphones. And being pre-installed, the hassle of downloading is the first problem it has solved.
The app is straightforward to use. The process of measuring by drawing lines to measure either vertically or horizontally is very clearly explained in the app tutorial.
Although only the latest iPhones support this basic featured app, its ease of use and guided instruction prompts makes it a better pick of free measuring apps.
As stated in its name, this app is based on an AR management system. The app has been built on Google's ARCore. The app has features that let the user measure objects in different units of measuring such as feet, yards, miles, inches, meters, and centimeters.
Besides the basic measurement system, it also offers to make measurements of rooms and make 3d floor plans ( with the help of an additional app of its maker).
The ads are sometimes a distraction and may hamper the sound use of the app. But, the modern interface and the accurate measurements balance all its flaws.
Unlike its unusual name, Moasure is a quite renowned app for measurement. One of its most profound features is its 300m/1000ft measure of tape, protractor, and goniometer.
Alongside these, you can also measure the angle that ranges up to 30m/100ft
The best thing about using this app is that it anticipates what it is measuring and prompts intuitive interactions along with a user-friendly interface.
With the pros of various methods of measurement available, the tutorial might get repetitive sometimes. It is available for both iOS and Android.
The app is basically what the name is. It counts the level of sound (SPL). The app detects any sound around the smartphone and measures it in decibel units. Available for Android only.
The first thing that strikes when using the angle meter app is its versatility in measurements despite the looks and the UI of the app is backdated. Unlike other apps, it doesn't use augmented reality.
Instead, it uses conventional methods of measurement. The process that it offers is the on-screen measurements of different aspects. It ranges in measuring ruler, angle measurement by on-screen protractor, and camera-based laser levels.
Interestingly, it can measure the level of inclination which most other measuring apps can't. The ads are the only issues that one may face.
It is the most surprising name on the list. Nobody clearly anticipates how google maps, an app for geolocation can play a role in measurement.
Google Maps is basically used to locate a place and its course. While finding its course, google maps count the distance. The selected destinations are measured in the unit of yards or kilometers.
The process of measuring is selecting the destinations (start and stop) and hitting the "measure" button. Although it is not a dedicated measuring app, its data are quite accurate. Because they are solely associated with real-world locations.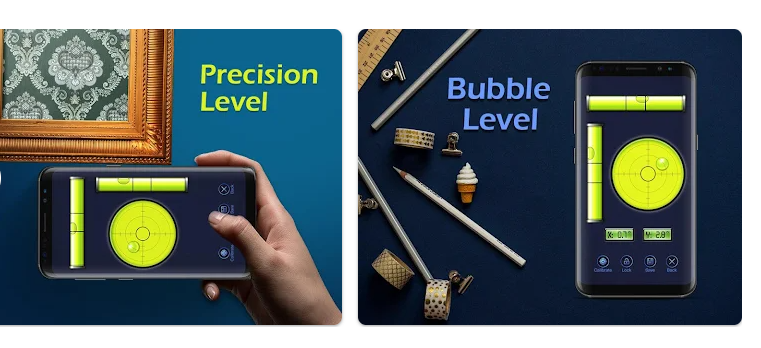 This is an app replicating the real-life bubble level tool. A bubble level is a tool that is alcohol filled and contains a bubble. It indicates the direction in which the horizontal and the vertical are inclined.
The digital version also does the same work along with various other features such as a 2d ruler, angle meter, and a straight ruler.
The bad side of this app is its ads and the requirement for the phone to be calibrated. Otherwise, its simple interface and reliable results don't let the user down.
This app is perfect if one has the requirement of measuring rooms and making floor plans. And to use this app, the tutorial of the processes is embedded by default.
The AI of this app is very advanced and useful for making floor plans. By simply pointing toward a floor, the app scans for the groundwork, and then by scanning the wall, it can make a complete floor plan.
It is an iOS-supported app and there is no version available for Android. But, one can surely understand that this app is made for professionals having some advanced features.
This app counts the daily walking and running steps taken by an individual.
It has a built-in step counter sensor and tracks when the phone is carried along when walking or running. It also counts the burnt calories and time of doing workouts.
The main purpose of this app is to measure the distance between two locations, an area within an enclosed region, and its perimeter.
It is much similar to google maps. And measurement can be done manually or set directives to be done by the app. To solve the cases of area and field measurement, it is a very reliable app.
The cons are the ads, similarities to another well-known app, and no other basic features.
It is one of the worth mentioning apps whose sole purpose is to measure heights and distances. The powerful AR of the app makes it possible to give really accurate data and measurements.
The irritating part is the ads that can be removed by upgrading to the pro level. Otherwise, it is a decent lightweight app that measures the height from the ground level.
PLNAR is the most efficient and beyond a simple app for measurement. It is an iOS-based app and found nowhere else.
The app was designed for professionals and it renders the option for making 3D floor plans, and even generating the CAD files of the floorplan. It can also measure area, perimeter, and surface area. It is a very powerful and advanced app due to the strong AR implemented on it.
The ruler app is simply an on-screen ruler that helps measure objects. It is a very basic and simple app for measuring.
The user-friendly UI makes it much more appealing although it lacks many aspects of measuring techniques.
It contains a ruler and two guidelines on the screen for ease of measuring. Only available for Android.
It is also pretty much similar to the ruler app but it is dedicated to iOS devices only. It converts a smartphone into a portable ruler which is simple but really accurate.
The units of measurement vary within centimeters, millimeters, inches, etc. Also, there are 4 stages in which their measurement can be done. They are point, line, plane, and level.
And the best part is the measurements can be converted within the selected units.
It is also an iOS app that helps to measure almost everything. From the height of an object to the distance between two objects- all can be measured very easily with this app.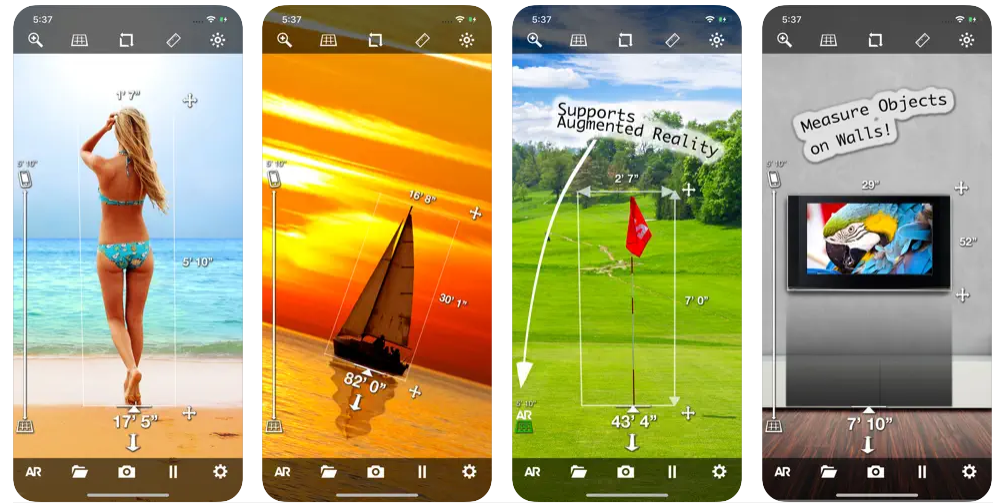 This is an interesting app. It helps to measure the dimensions of an object's distance between the object and the user. The mechanism on which the app works is the tilt of the smartphone and the height of the camera.
The core feature is to measure distance. And it supports two units of measuring- Metric and Imperial. One may choose the best unit for their convenience.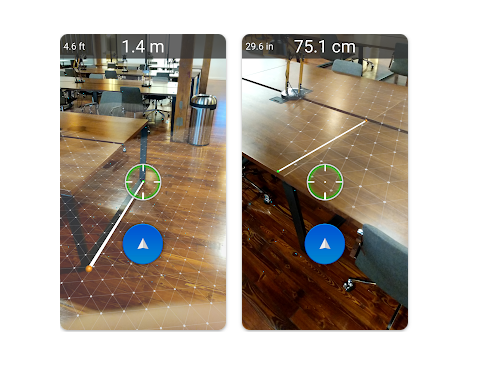 It is an app supported on both android and iOS platforms. Most importantly, AR technology has been implemented on them. In comparison to other measuring apps, it has the most tools and features that one can expect in a measuring app.
There are two modes of measurement, 'point and shoot' where one only needs to aim the camera towards the object to measure. And the other is AirMode which acts like a tape measure of real life. One needs to move the phone from one point to another to measure.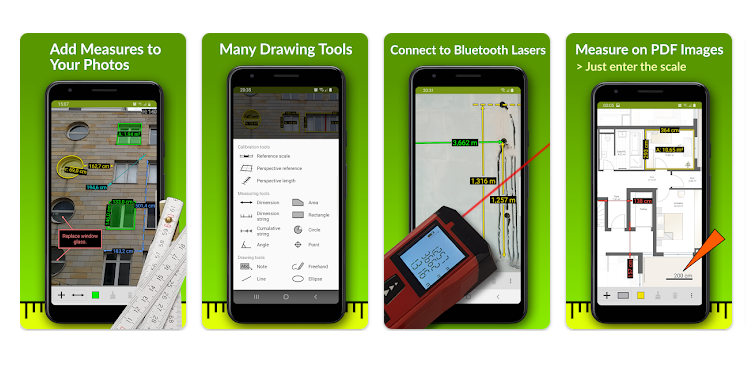 Unlike all other measuring apps, the ImageMeter is kind of peculiar. It takes the picture of the object at first then through augmentation, it automatically calculates the architectural measure.
The app is made for general use, so it is simple and anyone can use it without having prior experience.
Also, you have to check out my post on the Top 10 Fishing APPS & Trackers | Free APPS to Download.
How To Choose The Best Free Measuring Apps For iPhone & Android?
There are several available free measuring Apps for iPhone and Android. However, in this part, we are going to help you to choose the best one out there.
Below we have pointed out a few important factors you need to consider before downloading such an App.
Type Of User
Most importantly, before having a free measuring App, you need to know what kind of user you are or what sort of measurement you desire. For example, if you want to determine a floor's area or surface area, you need to download an App well-suited for such measurements.
Availability
Only some of the Apps work for both iPhone and Android. Some Apps are designed to work for Android only and vice versa. So it is essential to recognize which App is available for your existing phone.
Swapping Units
We recommend you download an App that features easy swapping between metric and imperial units. This will help you in taking measurements.
Frequently Asked Questions [FAQs]
In this section of the article, we are going to answer some of the most commonly asked questions regarding Measuring Apps.
Does Google Have A Measuring App?
Answer: Although Google has a measuring App called Measure Up, it is a web-based App. You will find it in the chrome browser instead of the Play Store.
Is There A Measure App On Samsung?
Answer: Yes, there is a measuring App on Samsung called Quick Measure. You can find it for free in the Galaxy Store.
Does The iPhone Have A Ruler?
Answer: Yes, the iPhone has a Ruler. You can find the iPhone Ruler in the App Store. This measuring App has very high accuracy.
Does Android Have A Built-in Ruler?
Answer: No, Android doesn't have any built-in ruler. Nevertheless, among the various ruler Apps available in the Play Store, you can download any ruler App of your choice.
Verdict:
We hope our article was helpful enough for the knowledge of measuring apps and which one is the best among them.
The article was solely for the purpose of helping our readers to understand the apps that they need and choose accordingly.
Another post that will interest you is about the Best 10 Fitbit Compatible Apps For Running & Sleep Tracking In 2023.
Hopefully, you can easily do that once you have finished reading the article. Thanks!
As a professional trainer and a gadget lover, I've spent a lot of money and time buying wearable activity trackers, smartwatches, and gadgets, and checking them out. My site is focused on helping you with your activity tracking and smart technology journey. I try to provide the most helpful updated content on this subject. Hopefully, you will love my blogs and be a regular around here.