In case you are a senior who has decided to learn to play the piano, don't worry, it isn't too late, These 8 apps will help you with it.
Regardless of which field or niche you have ended up in as an adult, most of us wish that we were able to play at least one musical instrument with relative mastery.
It is an extra skill that is undoubtedly highly appreciated and praised, an impressive display of one of your many talents as you perch yourself in front of the piano with aplomb and tickle the ivories to produce a pleasing melody.
Here is an article on my website that you must read, its about the Best 7 Breastfeeding Apps For Apple Watch In 2023.
Most of the people who are able to play a complex instrument such as the piano start learning it at a young age. But that does not mean that you cannot learn to play it as an adult.
Learning How To Play The Piano As An Adult
Many adults think that the boat has long since sailed on them learning to play a musical instrument since it takes too much time and effort, and can also be a quite boring process- simply too tedious to even think about. With modern technology, however, that is not the case at all.
In fact, you can become a fairly competent piano player in the matter of a couple of months with the help of a simple piano learning application on your mobile phone or tablet.
You don't even need to have access to or purchase an expensive piano set to be able to learn- all you need is a mobile device such as a smartphone or tablet (Android or iOS) and a positive attitude!
Finding The Right App For Yourself
By running a simple search for piano apps on your device's Play Store or App Store, you will discover that there are tens and hundreds of different kinds of applications available to receive these music lessons.
But more does not always equal best- meaning you will have to sift through the coal to find a true gem of an app that will actually succeed in teaching you how to play the instrument efficiently.
There are many things you will want to take into consideration when analyzing a piano teaching app for quality, such as the ease of use, the accuracy of the teaching, the quality of the interface, etc.
The Best 8 Free And Paid Piano Learning Apps For Adults
To help you in the process of selecting the best application for learning how to play the piano, we have done our research and compiled a list of some of the top piano learning applications available for download on Android as well as iOS using devices. Some of these can be accessed through paid subscriptions while others are completely free to download and use right away:
When it comes to learning the piano on your device, there are not many apps that are better in this regard than Flowkey. Available across a multitude of different kinds of platforms, Flowkey can be used to practice on a real acoustic piano or a MIDI keyboard.
The input is recording through the microphone of your device and the application tracks your progress in real-time, giving you immediate feedback on your performance to help you make improvements.
You can partake in a number of different courses and perform various songs based on your personal preference.
It also bookmarks your position in a given song so you can carry on where you left off from whenever you choose to return to the app for some piano practice in your free time. Flowkey is a paid application but you get a free one month trial period to test it out once you sign up.
Smule has been a prominent presence in the digital world of music- from singing to learning and playing instruments.
That is why it should not be a surprise to find their piano teaching application on this list. Magic Piano by Smule is the perfect teaching tool for beginners, children, and adults alike.
The application allows you to access a digital keyboard on your screen which you can play by tapping the keys as you simultaneously go through the sheet music.
The app also allows you to interact with other learners across the globe by either listening to their performances or even performing a duet with them.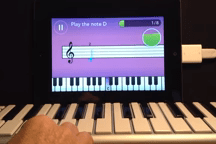 JoyTunes' Simply Piano is something of a standard when it comes to music applications thanks to its incredible interface and numerous features.
All you need to learn piano with this app is your mobile device- the keys are displayed on the screen and you receive feedback on your performance as you go with each note that you play.
There are a number of courses offered by this app, each with a theme of its own.
You can choose which course to partake in based on your personal preference to make the experience even more fun with songs that you know, love, and enjoy. Simply Piano can be accessed through a monthly subscription.
Piano Marvel is the ideal choice for you if you are a complete beginner or find it difficult to digest large chunks of information or instructions at a time.
With the help of this interactive interface, you can break down any given lesson into smaller parts and make practice even more convenient for yourself.
Piano Marvel works with a MIDI keyboard and also allows you to track your progress as you go along. Not to mention that you receive achievements and awards for completing certain performances, encouraging you to fill your trophy cabinet as you learn with the incredibly helpful and detailed tutorials.
The best way to describe Yousician would be as a feature filled extravaganza that makes learning any instrument as easy as possible for anyone in the world.
While the app allows you to play songs and provides feedback on your performance, it also gives you access to a Practice Mode where you can slow down the pace, analyze the sheet music, and truly understand what you are playing so you can perfect your skills as you go along.
You can choose to go through Guided Lessons as well that are conducted through multiple sessions based on your proficiency level and convenience.
If you are someone who responds better to game-like interfaces, then Melodics is the perfect option as it gamifies the digital piano learning experience for its users.
The interface is super intuitive and still easy to use, displaying individual achievements, status, and progress as you continue to practice on it.
The Melodics application can be connected to a MIDI keyboard as well as pads so you can make the experience as real as possible for your learning convenience.
This is a paid application, although you can avail a free one month trial period with over 60 free lessons when your register.
Playground Sessions brings something unique to the table in the fact that it is one of the very few musical apps out there that capitalized on AI technology to deliver piano lessons and track performance.
The platform gives you access to a seemingly never-ending library of songs to practice along with interactive videos from music experts who will guide you through the learning process in a very engaging manner.
You can access the sheet music to the practice songs, practice using MIDI keyboards, and receive feedback on every note that you play instantaneously.
Playground Sessions is a great app for anyone who wants to build a very strong theoretical foundation of the instrument along with consistent practice to apply the knowledge that they learn through the tutorials.
My Piano is an application that you will find only on Android systems. The key feature that sets this application developed by Borce Trajkovski apart from the rest is the fact the sound of the interface comes as close to replicating a real life piano as any application out there.
Each note can be heard in extremely high quality, as close to accurate as possible, allowing you to have an extremely realistic experience of playing the instrument even if you are only accessing it virtually.
Apart from that, you also get access to a host of interactive and intuitive features that enable you to add effects, layer the audio, and even manipulate the pitch and velocity. Not only that, but you can also include around 11 other instruments with the piano, making your musical experience as diverse and nuanced as possible.
As a professional trainer and a gadget lover, I've spent a lot of money and time buying wearable activity trackers, smartwatches, and gadgets, and checking them out. My site is focused on helping you with your activity tracking and smart technology journey. I try to provide the most helpful updated content on this subject. Hopefully, you will love my blogs and be a regular around here.