Amazon Music is one of the most popular music streaming services, with more than 60 million songs in its database.
So, it's natural that you would want to use it on your Smartwatch to enjoy your favorite music, but the question is: Does your smartwatch work with Amazon Music?
In this guide, I will share the smartwatches that work with Amazon Music. Let's dive right into it.
Here is an article on my website that you must read, its about the Best Smart Speaker for Spotify, Apple Music, Podcasts and Audio Books.
Which Smartwatches Work With Amazon Music?
Amazon Music is a popular music streaming service, and it should work on smartwatches as many of us enjoy music while working out.
However, only a few smartwatches work well with Amazon Music. Let's take a look at smartwatches that work with Amazon Music.
Can Garmin Play Amazon Music?
Garmin was the first smartwatch brand that got the Amazon Music App, allowing the Garmin users to enjoy the vast music collection on Amazon music.
However, the catch here is that the Amazon Music only works on selected Garmin smartwatches, but the good thing is that it works well on recent smartwatches by Garmin. The following are some of the Garmin Smartwatches that can play Amazon Music.
Forerunner 245 Music
Forerunner 645 Music
Forerunner 745
Forerunner 945
Fenix 5 Series
Fenix 6 Series
MARQ Adventurer, Athlete, Aviator, Commander, Driver, and Golfer
Vivoactive 4 Series
Vivoactive 3
Garmin Venu
Garmin Rey
Can Fitbit Play Amazon Music?
Fitbit is one of the most popular smartwatch brands out there, and the company has some of the most popular smartwatches, such as Fitbit Sense, Versa 3, Ionic, and others on its credit. However, when it comes to Amazon Music, the Fitbit smartwatches can't play it as there is no dedicated app available for the Fitbit.
So, if you want to enjoy the Music, you can have it via Deezer, or you can simply put it from your PC.
However, the Fitbit community is continuously demanding for Amazon Music App for Fitbit devices, and they also have a dedicated thread with over 1800 votes.
Considering the track record of Fitbit, it would be safe to assume that you will most probably see the Amazon Music on Fitbit devices really soon, and if it happens, I will let you know.
Can Apple Watch Play Amazon Music?
Apple Watch is considered one of the best smartwatches out there, and it should be able to play the Amazon Music, right?
Unfortunately, Amazon Music is not supported on Apple Watch, and you can't enjoy the great music collection from Amazon Music on your Apple Watch.
Interestingly. Amazon Music App is available for iOS devices, but you can't install it on your Apple Watch. Considering the circumstances, I think that Amazon might add the support for Apple Watch as well, but I cannot say it for sure because Apple also has a similar streaming service named "Apple Music," and it's also true that Apple might not want this partnership to happen. So, we will have to wait and see what will happen.
Can Samsung Smartwatches Play Amazon Music?
Like Fitbit and Apple, Samsung also doesn't support the Apple Music, and you can't enjoy the Amazon Music on your Samsung smartwatch.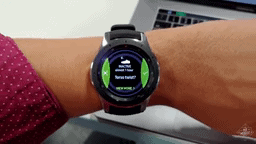 Also, Samsung has a history of not allowing the competitive services on its products, so I don't think that Samsung smartwatches will get the support for Amazon Music anytime sooner.
There is also no workaround to enjoy the Amazon Music directly on your Samsung Smartwatch. However, you can install the Amazon Music app on your smartphone, connect the Smartwatch via Bluetooth, and you can control the Music from your watch.
This is the only way you can enjoy Amazon Music on your Samsung Smartwatch. Luckily, Samsung supports Spotify, and if you want, you can install the Spotify App on your Galaxy watch and enjoy the Music.
Can Smartwatch Play Music?
Yes, Smartwatches comes with support for Music, and you can enjoy your favorite Music on your Smartwatch. When it comes to smartwatches, some of them come with dedicated storage where you can store the Music and enjoy it without the internet or smartphone.
While some smartwatch doesn't have any dedicated storage and you will have to either use the Music streaming app (If Supported) or your smartphone to enjoy the Music.
If you are looking for Smartwatch that can play Music, then you can check our guide on "Best Activity Trackers with Music Storage." In this guide, I have shared some of the best smartwatches that come with huge storage where you can store hundreds of songs. The following are some of the smartwatches that comes with built-in storage and can play Music.
Fitbit Ionic
Galaxy Watch Active 2
Fenix 6 Pro
Apple Watch Series 5
I would recommend that you read the guide to find out how many songs you can store on these smartwatches and other details.
What Is The Bitrate Of Amazon Music?
When it comes to Amazon music, the service offers two bitrates. The Standard Definition (SD) offers a bitrate of up to 320 Kbps.
While the Amazon Music HD comes with a bitrate of up to 850 Kbps, which is 2x better than the Standard Definition.
Conclusion
Now you that which smart watches work with Amazon Music. While it's true that only Garmin Smartwatches work with Amazon Music, but it's not the end of the world.
Modern Smartwatches comes with Music storage and Amazon Music Alternatives such as Spotify and Deezer, which you can enjoy.
Another post that will interest you is about Apple Music Replay Not Working | 5 Easy Ways To Fix It!
If you have any questions, please let me know in the comment section below. Also, don't forget to visit WearToTrack for more useful guides.
As a professional trainer and a gadget lover, I've spent a lot of money and time buying wearable activity trackers, smartwatches, and gadgets, and checking them out. My site is focused on helping you with your activity tracking and smart technology journey. I try to provide the most helpful updated content on this subject. Hopefully, you will love my blogs and be a regular around here.