Many young folks are die-hard sports fans who can't get to the game of their favorite team due to work. Keeping up with your favorite sport in today's hectic world can be tricky.
Hence, with just some live score apps on your smartwatch, you can easily look up live scores while you're on the go!
Here is a related article that might interest you on the 12 Best American-made Smartwatches and Sports Watches in 2023.
For you, we have come up with the top 10 sports apps for smartwatches so that you can get the live game scores, no matter where you are.
What Is The Livescore App?
LiveScore is both a website and an app that keeps you up to date with the latest scores and live sports action.
It provides quick updates with the most recent score and sports information for football, tennis, hockey, basketball, and cricket.
Many sports-related websites and broadcast networks, as well as online betting site operators, provide LiveScore services.
Top 10 Sports Apps For Smartwatch To Get Live Games Score
There is a large number of sports apps accessible, which means there is also a lot of garbage. To save you time, we have cherry-picked the best 10 sports apps for smartwatches.
ESPN is a global leader in sports reporting. As per Play Store survey results, the ESPN Android app ranks as the most famous app on this list, with over 50 million downloads to date.
ESPN has an Android app that includes more or less everything you'd expect from a reputable company. The ESPN app tracks the day's top matches. Thus you can keep up with what's happening within the field of sports.
ESPN upgrades your feed with the most recent sports scores and highlights as a basic feature. Its content is equivalently thorough with updates ranging from NFL to the FIFA World Cup and even the national league.
If you prefer to see more scores from a specific league or team, you can make it a personal favorite on your Smartwatch. ESPN is a top-notch spot for live sports activity and also the app does an excellent job of keeping audiences informed with trending news and live score updates that cover a large range of games.
TheScore is ranked second on our list due to its comprehensive coverage of sporting events. There isn't much to know about sports that aren't available on theScore.
It doesn't matter whether you're a fan of the NFL, NBA, or EPL, you can easily keep up with all of your favorite series in one place. This website covers almost all major leagues and competitions.
Besides informing about trending sports news and topics, users can also use the sports calendar feature to stay ahead of the curve on upcoming matches of their favorite teams.
There's also a messaging option if you wish to discuss the sports activity with other audiences. Because of its compact size and simple design, it is compatible with almost all smartwatches.
Bleacher Report is an excellent sports app for fans who wish to discover more about their favorite sports teams.
In addition to sports coverage and scores, the app provides blog posts about sports, rankings, and forecasts for almost every major league sport.
You will also be informed of any new updates on your team's players. Users can also narrow down their sports options to a specific sport, league, or team.
LiveScore covers a wide range of sports actions. Even if it prioritizes football, other sports such as tennis, cricket, and basketball are also discussed in detail.
It also allows the users to stream live football for free apart from providing updates about the most recent activities in the field. Due to its smooth layout, you can effortlessly scroll through the highlights of any sport.
It also has a calendar option by which you can get notified at the right time of your upcoming matches. This app, which is available for both Android and iOS, is an obvious choice for anyone looking for the latest sports news.
SofaScore is a no-brainer for all tech-savvy sports fans. SofaScore has become one of the best sports applications with features like live streaming and real-time score news for almost 5000 league teams across 20 kinds of sports.
Its most striking feature which sets it aside from the others is that SofaScore Livescore gives game predictions. Eventually, that makes watching the match much more enjoyable!
FlashScore tends to cover over 30 sports and approximately 6,000 sporting events to keep the audience up to date on the most recent headlines, scores, statistics, and statuses. All updates are provided in live time.
The CBS Sports app provides personalized updates on various sports. It notifies you each time there are sports highlights, sports headlines, and new scores. You can customize these notifications based on your preferences.
365Scores provides all sports fans with full coverage of approximately ten sports, including access to the most recent scores, statistics, videos, and schedules. It also provides up-to-date info on teams and athletes from all over the world.
Though many consider it a bygone era, the Yahoo Sports app is always a reliable source for providing sports scores, news, and highlights.
Although it is no longer as prevalent as it used to be, the app still receives a fair amount of visitors from sports fans around the world.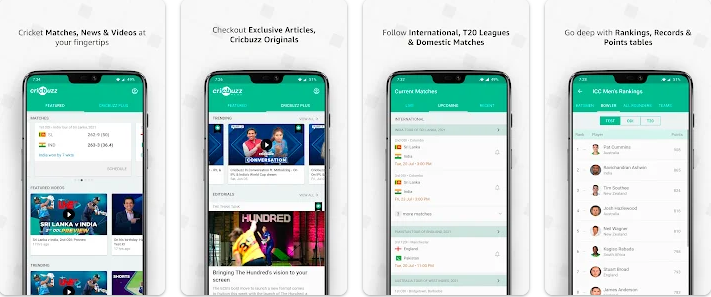 The most prevalent cricket-scoring app is Cricbuzz. It has also been outstanding in terms of cricket and IPL real-time scores.
Its commentary panel is excellent, and the majority of fan tweets are posted in the middle. The app refreshes quickly, and you'll be notified about all the updates instantly.
How Do I Add ESPN To My Apple Watch Face?
You can get updates on scoring and the latest news from the teams of your personal favorites by installing the ESPN app on your Apple Watch. You can also view live scores, Sports news alerts, and articles all in one place.
The ESPN app is a one-stop shop for sports info. To add ESPN to your apple watch, follow these steps.
On your apple device, and activate the Apple Watch app.
Click My Watch, then General, and then disable Automatic App Install.
Scroll down to Available Apps after tapping My Watch.
Install the apps by pressing the Install button next to them.
How Do I Download A Livescore App?
Download the LiveScore app for a good LiveScore experience on your smartwatch.
LiveScore is accessible for both iOS and Android devices.
To get the app on an iOS device, go to the App Store and search for LiveScore.
There are several ways to get our app on an Android device. Search for LiveScore in the Google Play Store to install the app.
Download the app straight by clicking the link below it and following the steps.
Also, you have to check out my post on Multisport GPS Watch Comparison – The Big Sports Watches Test In 2023.
Frequently Asked Questions [FAQs]
For your further inquiry, you may check out this section of the article. Here, we will answer the most common questions regarding Sports Apps For Smartwatch To Get Live Games Score
Can You Get Football Scores On Apple Watch?
Ans: By using a decent sports score app on your Apple Watch, you can easily get football scores, highlights, and other updates about your favorite clubs from your wrist.
Is LiveScore on Apple Watch?
Ans: Yes. LiveScore is accessible on Apple watch.
Can I Get Sports Scores On My Apple Watch?
Ans: You can easily get sports scores, highlights, and other updates about your favorite teams on your Apple watch.
Verdict
Sometimes you desire to watch a live game, and other times you just wish to purchase a ticket to go and watch your favorite team's match. Getting live scores or purchasing match tickets is extremely important for you as a sports fan.
However, the above top Live Sports Score apps will display the rankings on your watch screen.
Another post that will interest you is about Types of Altimeter for Climbers and Extreme Sports at High Altitude.
As a professional trainer and a gadget lover, I've spent a lot of money and time buying wearable activity trackers, smartwatches, and gadgets, and checking them out. My site is focused on helping you with your activity tracking and smart technology journey. I try to provide the most helpful updated content on this subject. Hopefully, you will love my blogs and be a regular around here.