A diabetic patient never knows when his or her blood glucose level rises or gets low. That's why they are in constant need of a blood glucose monitoring device.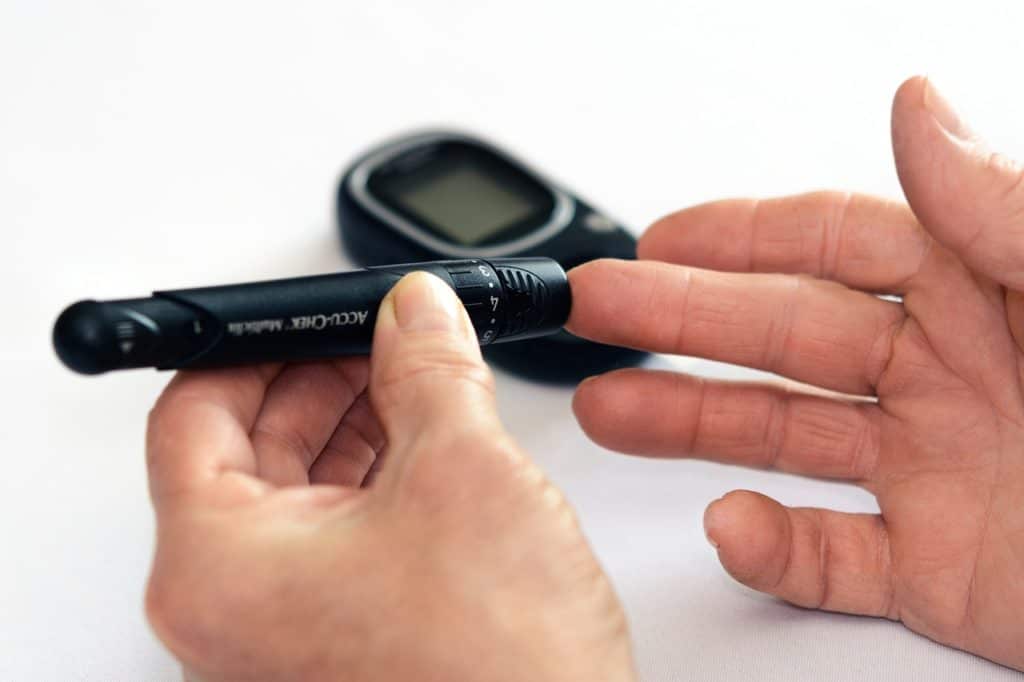 For those who are suffering from this medical condition doctors will prescribe them to have a wearable blood glucose monitoring device. This device is for all ages, from young to old ones.
After eating, our blood sugar level can rise and this device will monitor the fluctuation of your blood glucose level in response to your diet exercise, and after eating.
Here is an article on my website that you must read, its about the Top 6 Google Fit Compatible Blood Pressure Monitors.
There are many devices out there. But in this article, we have listed only the topmost ones.
Is There An Accurate Diabetic Meter That Doesn't Require Blood By Finger Pricking?
So, to the question, Is there a diabetic meter that doesn't require blood by finger pricking? The answer is yes, and it comes in the form of CGM devices.
For monitoring blood glucose, Continuous Glucose Monitoring (CGM) devices have been the most popular types of wearable devices up until now. Didn't know about CGM before? Well, a method of tracking levels of glucose 24 hours a day is referred to as Continuous Glucose Monitoring (CGM).
Moreover, the CGM systems measure glucose levels at regular intervals, all through the day as well as at night. More interestingly, it allows you to view your levels of glucose, whenever you want, at a glance.
For seeing trends, you can review the way of changing your glucose levels after a few hours or one day. By viewing real-time glucose levels, you will be able to decide more appropriately the way of balancing your diet, exercise, and medication throughout the day.
Possibly, a Continuous Glucose Monitoring (CGM) system benefits people with type 1 diabetes. Besides, type 2 diabetics using multiple injections of insulin, sulfonylureas or basal insulin may also get benefit from it. Other than that, individuals who are unaware of hypoglycemia or are at hypoglycemic risk may also take advantage of the CGM system.
Pondering Over How Does CGM System Work?
In order to make a CGM system work, you need to insert a tiny sensor beneath your skin, on your arm or abdomen usually. The sensor then performs the measurement of your levels of interstitial glucose.
Adding to it, the sensor performs testing of your glucose every few minutes. To a monitor, a transmitter relays the information wirelessly.
Possibly, the monitor is a separate device's part such as a smartwatch or an insulin pump. Other than this, some CGMs directly send information to a tablet or smartphone as well.
In case that you are looking for a Smartwatch that can monitor blood pressure, here is a post that I have written about the Best Android Smartwatches with ECG Monitoring.
Which CGM Device Would Work Best? And How Accurate These Devices Are?
The CGM devices are very accurate and give a lot of data, in opposition to the traditional blood glucose meter (BGM) which provide information from a single finger prick, the CGM devices will give you a full day data that can be viewed on smart devices like watches, smartphones, and tablets.
Like Dexcom describes it "instead of a snapshot you get a full story".
When it comes to choosing the best CGM device, the accuracy of the reading of glucose levels should be taken into account. With this respect, the U.S. Food & Drug Administration (FDA) is approving the following CGM devices lately:
List Of 5 Best Wearable Blood Sugar/Glucose Monitor Devices Reviews
This FDA-approved CGM system is capable of determining levels of blood glucose in diabetic kids age two and above as well as adults.
The Dexcom CGM system comprises the following components:
A tiny sensor for glucose levels measurement just beneath the skin.
A transmitter that fixes on top of the sensor and performs wireless sending of glucose data to your display device
A supporting smart device or little receiver displaying real-time information regarding glucose.
Over and above that, the CGM system offers customizable alerts for warning the user of approaching the rise and falls of glucose.
Dexcom CGM System can be integrated with other supporting electronic interfaces as well as medical devices. This is what sets it apart from its competitors. In this regard, other supporting devices can possibly be insulin pumps, automated systems of insulin dosing as well as blood glucose meters. In addition, it also includes some other electronic devices intended to manage diabetes.
Here is an article that I have written about the Best Smartwatches and Smartphones for Dexcom G6.
Here is a short video demonstration on how to replace the sensor of the latest generation of Dexcom's CGM device – the Dexcom G6
This blood glucose monitoring device is environmentally friendly as it does not need to be operated by batteries. You can easily plug this glucose meter directly into your phone making it more convenient to use.
Having connected with your phone has many advantages: you can get your results in real-time easily and accurately, it gives you an insight into your health, tracks your blood sugar level, and how food and exercises affect your diabetes.
This glucose meter is a compatible device to fit in a pocket if needed. You can get the Dario app for free. In addition to this, you get 25 testing strips and 10 lancets. With the Dario app, you can share your data and progress with your close ones.
For self-testing, this test strip is an appropriate choice for those who are dealing with diabetes. You can test all by yourself at home which gives an accurate result in seconds. No coding technology is needed as the meter can turn on by itself when a test strip is inserted so it can be used comfortably.
No coding technology also eliminates errors. Contour next blood glucose meter allows you to do second chance sampling to ensure no test strips are wasted and saves your valuable time. It comes with a small 0.6 microliter blood sample and a 5-second countdown.
In fact, this device is designed for patients in a way that it can save both their time and money. It is exclusively used with the Contour Next Meter.
This lightweight blood glucose monitoring device which comes with a starter pack (100 blood sugar test trips, 1 blood glucose meter, 1 lancing device, a traveling case, and 100 lancets,) has also a battery life of about 1000 tests which makes it more reliable and convenient to use.
The traveling case has the added advantage that it can hold a diabetes kit so this device can be taken to anywhere.
This starter pack has all the necessary things so the patient doesn't need to stress over buying each thing individually. Thus it has made blood sugar testing easy.
It helps to give you accurate and fast results in seconds. Designed in a simple and easy way so that people of any age can use it. Blood drawing is made easy and painless as it requires only a 0.5 microliter blood sample. It has the best customer service care.
There are many young patients out there who are afraid to prick their fingers. Genteel plus is designed with ultra-depth precise control which states that this device is painless and takes a considerable amount of blood as soon as possible. So this device is one for those who are scared.
This glucose monitoring device uses Vacuum technology making diabetes testing almost painless and easy.
The exclusive vacuum technology means that you can get the right amount of blood without having to squeeze. It is clinically proven to be painless, so less tissue is damaged.
You can let your fingers heal while checking sugar as recommended by the doctor. FDA cleared for use anywhere on the body. It is also designed to last for years.
Buying Guide Of The Best Wearable Blood Sugar/Glucose Monitor Devices
When it comes to health, choosing the best product should be the main thing to do. These are some of the key factors you should keep in mind before buying.
Ease Of Transport
A key factor for those who need to use this wearable device is whether they can take it from one place to another. It has to be lightweight and manageable. Weight should not become a hurdle for patients.
Compatibility
Before buying, it must be checked whether it is compatible with other smartphone devices. If it is supported by other devices, then it will make it a lot easier to use.
Easy To Use
Devices should be easy to use and all the necessary information should be displayed. Some have a touch screen which makes them comfortable to use. Also, you can test by yourself at home.
Storage
Storage is an issue for many of them. If there is a good amount of storage, then the device can store all the necessary information that the device had monitored
Audio
The quality of audio should be good as there are many patients with impaired vision. With the help of audio, the patients can use the device a bit easily.
Painless Device
There are young patients out there who are scared of the needle and the pain. Some blood glucose monitoring devices can take consistent amounts of blood in seconds which makes it painless.
Accuracy
Test strips allow you to second chance sampling which saves test strips and prevents being wasted. Some other models are of sizes and shapes that allow a good grip. All these features result in accuracy
Cost
Blood glucose monitoring devices vary in price. Good quality devices are quite costly and nobody will risk their health so make sure you buy the best one.
Frequently Asked Question [FAQs]
In this section of the article, we are going to answer some of the most commonly asked questions regarding wearable blood sugar monitor.
Are There Wearables To Measure Blood Sugar?
Answer: Several wearables currently feature CGM (continuous glucose monitor). It can give you readings of your blood sugar 24 hours a day.
Are Blood Sugar And Glucose The Same Thing?
Answer: Yes, there's no special difference between the two. Wearable marketers interchangeably use blood sugar and glucose.
Does The Apple Watch Monitor Blood Sugar?
Answer: Unfortunately, Apple is yet to include CGM in its smartwatch models. But the upcoming Apple Watch 8 may include the sensor.
In A Nutshell:
Isn't it wonderful to get more than 288 glucose readings in a period of 24-hours? This is what the CGM system is actually capable of doing. Moreover, it offers you valuable understanding regarding your rate, levels as well as the direction of change of glucose.
Thus, by providing you with additional insight, the CGM system enables you to manage your diabetes proactively. So, get the most suitable CGM wearable device today to start managing your blood glucose in a more appropriate manner for better-quality living.
A related article that you will find interesting – Many people who are interested in this topic are also interested in the Best Fitbit & Garmin For Blood Pressure Monitoring In 2023.

As a professional trainer and a gadget lover, I've spent a lot of money and time buying wearable activity trackers, smartwatches, and gadgets, and checking them out. My site is focused on helping you with your activity tracking and smart technology journey. I try to provide the most helpful updated content on this subject. Hopefully, you will love my blogs and be a regular around here.