Apple Watch is arguably one of the best smartwatches, and you can use it to stay on top of your fitness games.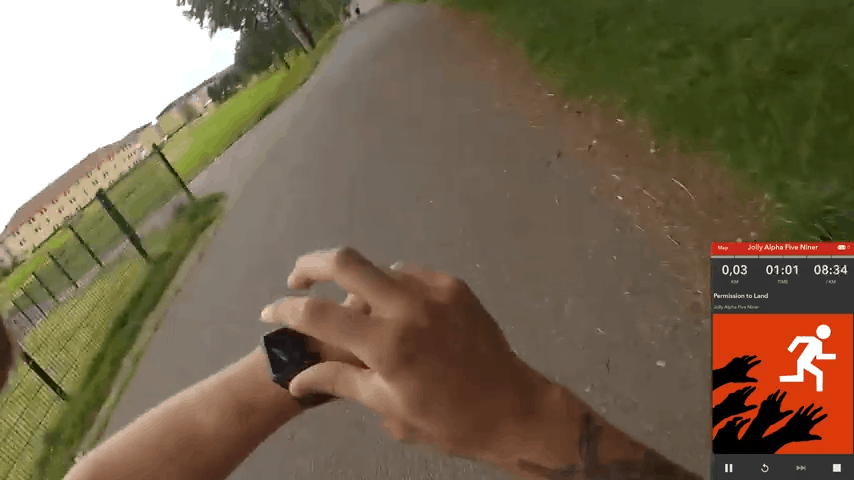 Workout sessions can be boring sometimes, but some exercise & fitness games can make them interesting and give you the motivation you need.
Here is an article on my website that you must read, its about Best Apple Watch Running Apps For Intervals & Splits.
In this WearToTrack guide, I will share the Best Apple Watch Exercise & Fitness Games that will make you work. Let's get started.
Top 5 Best Exercise & Fitness Games For Apple Watch In 2023
Apple Watch have many great exercise and fitness games but I've handpicked the best ones for you. These are the top 5 best exercise and fitness games for Apple Watch in 2023.
1. Zombies, Run!
Zombies, Run! is arguably one of the best fitness games for Apple Watch. It's basically an audio adventure game that provides an immersive experience while you are running.
The game is created by the award-winning novelist Naomi Alderman who had made sure that you have the most interesting running experience ever. To enjoy Zombies, Run! all you need is the headphones. Just put them on, and you are all set to have the immersive Run.
It comes with over 500 immersive story missions along with interval training mode, which will ensure that you have sufficient stories for your Run. So, if you want to make your running session interesting, I would recommend you to try Zombies, Run!
2. Wokamon
Wokamon is another very interesting fitness game for Apple Watch, which focuses on your step counts.
In this game, you will be helping Wokamons who are running out of resources, and you will have to help them.
You can do it by walking, and the more you walk, the more resources Wokamons will get.
The game also has great progression where you will get the chance to explore the Woka-worlds like icy realm, mystical forest, and others. Overall, Wokamon is a very interesting game, and if you want to walk more, getting Wokamon will surely help you achieve your steps goal.
Interesting Fact: Walking 10,000 steps per day can help you lose up to 1 pound of fat per week.
3. Fitness RPG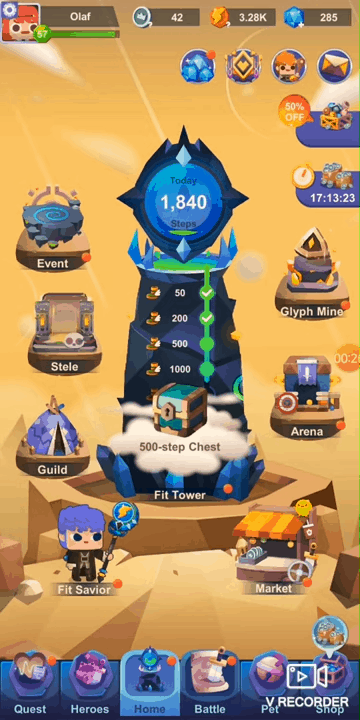 Fitness RPG is arguably one of the most comprehensive exercise games for the Apple Watch. The thing which I like the most about Fitness RPG is its story, which is very immersive.
Fitness RPG is a story of "Fitland," which has been taken over by Dark Force for over 12 years, and now you will have to lead the team of heroes to free it.
In the game, you will get heroes, and you can upgrade them by using energy, which you will get by the number of steps you walk. The game works well with the Apple watch, and it syncs the number of steps from different Apple watches (If any) and then turns the step count to energy.
Fitness RPG also comes with many unique equipment and Skins, which will help you make your heroes stronger. On top of that, it features the Arena as well, where you will be competing with other players for the top spot.
In short, everything in Fitness RPG is linked to your activity, and it will motivate you to do more activity in order to progress in the game. Fitness RPG is free to play the game, but it comes with in-app purchases.
4. Elevate
Mental health is as important as your physical health, and it's important that you keep working on your mental health. Elevate is one of the best brain training games, which will help you improve your focus, speaking abilities, processing speed, and other skills.
The game comes with over 35 games, which will help you improve the various brain skills. On top of that, Elevate will recommend your daily workouts as well, which will help you improve your skills.
Overall, Elevate is a very interesting game, and you should consider it if you want to improve your skills.
5. Pokémon Go
Syncing Pokémon Go to the Apple watch is impossible, however, you can sync it with the Apple health app.
Here is an article that I have written about how to sync Pokemon Go with Apple health here!
Frequently Asked Questions [FAQs]
In this section of the article, we are going to answer some of the most commonly asked questions regarding the Best Apple Watch Exercise & Fitness Games.
Can You Play Games On Apple Watch?
Yes, you can play games on Apple Watch. App Store has hundreds of dedicated games that you can play on your Apple Watch and have fun. I have also shared some of the best Apple Watch fitness games you can enjoy on your watch.
Which Apple Watch Is Best For Fitness?
When it comes to fitness, Apple Watch is the best, and you can't go wrong with any version. However, if you want the latest and greatest, you should consider Apple Watch Series 6, which offers very accurate workout monitoring. If you want a budget option, you can consider the Apple Watch SE that comes with an affordable price tag at the cost of advanced features.
What Is Fitness Gaming On Apple Watch?
Fitness Gaming is a workout mode which is mainly designed for VR Games like Beat Saber. Like other workouts, the main purpose of this workout mode is to keep track of your heart rate, calories burned, and other metrics. So, if you play VR games and you want to track your workout, you can use Fitness Gaming.
What Type Of Activity Burns The Most Calories?
If you want to burn the most calories, you can consider running as it arguably burns the most calories. For example, if you have 15 pounds weight and you run for around 30 minutes at 5 mph, you will burn around 355 calories. Other workouts, such as HIIT & Swimming, also burn a lot of calories.
Can Apple Watch Track Push-Ups?
Apple Watch doesn't have the dedicated workout mode to track push-Ups, so you can use the "Other workout" mode for tracking your push-Ups. If you want to accurately track your push-Ups, you can use the third-party apps, but those apps usually count the reps.
Conclusion
Fitness Game is a great way to keep you entertained and burn calories. In this guide, I've shared the top 5 best Apple Watch exercise and fitness games that you can install to have fun and burn calories at the same time. Also, don't forget to try "Elevate" which will improve your mental health and cognitive skills.
I hope that you found the guide useful and if you liked it, please share it with your friends. Have fun!
As a professional trainer and a gadget lover, I've spent a lot of money and time buying wearable activity trackers, smartwatches, and gadgets, and checking them out. My site is focused on helping you with your activity tracking and smart technology journey. I try to provide the most helpful updated content on this subject. Hopefully, you will love my blogs and be a regular around here.