Today, our focus will be on Android compatible smartwatches, which contain a speaker and a microphone that enables you to make and receive calls from your watch.
Most of Android users want their smartwatches to do more. If your smartwatch has a speaker and a microphone that allows you to answer calls, as well. That is truly something that one could need. You could ring someone up from your watch, as well as attend any incomings. It's hard to say whether you need something like that in life, but once you have it, it's hard to imagine the time when you did not have such luxury.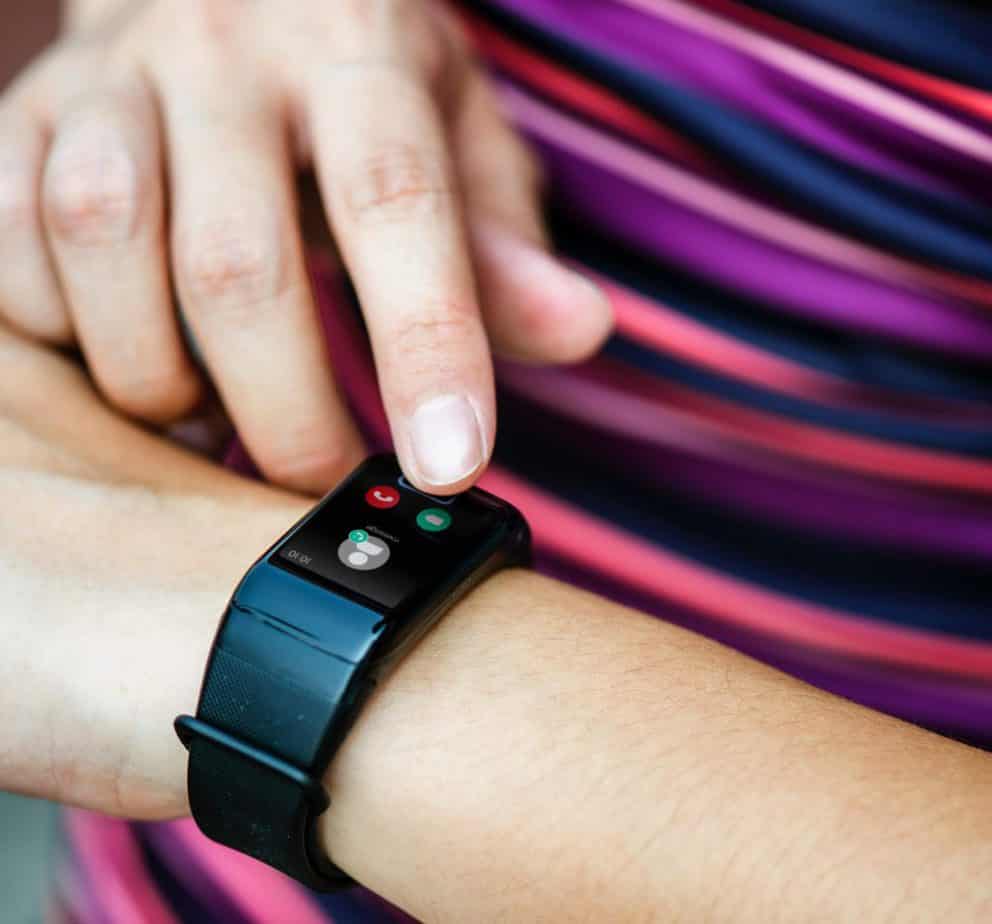 Best Android Smartwatches For Calling With Speaker And A Microphone
There are lots of options in this particular dimension. However, to make sure that your experience is the very best, we suggest that you should opt for smartwatches that use Wear OS.
Wear OS was previously called Android Wear, so do not be confused with the new terminology. Wear OS is developed by Google, specifically for watches and other wearables, this means that it will automatically be better suited. Also, Wear OS is Android, obviously, so that means it's perfectly compatible with your Android smartphone. It has been a gamechanger for the wear technology, Google has once again, outdone itself. So, it's more of a no-brainer, actually, to opt for smartwatches that use the Wear OS.
1) Fitbit Versa 2:
Fitbit Versa 2 is a great option to have. It's one of the few smartwatches on the list that do not currently run on the Wear OS, but we still suggest you go for this brilliant piece of technology due to our trust in Fitbit.
Fitbit Versa 2 is one of the best watches developed by Fitbit and also it is important to note that Fitbit has been bought by Google.
So, it is only a matter of time before Fitbit OS is changed to Wear OS. The Fitbit Versa 2 has a built-in speaker and a microphone that allows you to make calls and also listen to songs as it can control your Music apps such as Spotify.
It also has a premium design that is ideally suited to its function. The battery timing of the Fitbit Versa 2 is sensational. It can last more than six days. It really is a fine, fine smartwatch.
2) Samsung Galaxy Watch Active2:
This is another smartwatch that does not have the Wear OS. It runs on the Tizen operating system, but this smartwatch with its stainless steel is definitely something that belongs on the list purely due to its beautiful design and fantastic performance.
The best thing about this is the fact that your phone can actually be more than 30 feet away from you and you would still be able to respond to your calls.
The voice clarity is absolutely phenomenal. There is also the option to text through voice and you can also edit your responses through voice command.
Samsung really does know how to pack efficiency and class in one! It's an even better option if you have a Samsung smartphone because that will allow you to use all the features possible.
Mobvoi's TicWatch Series:
The TicWatch series by Mobvoi are the smartwatches that don't break the bank and still function at the highest level. They are relatively cheaper, but also, they run on the Wear OS.
This is a huge benefit, as it is perfect for the usage of a smartwatch. This contains multiple options for you. All of them have the option for the speaker and the microphone.
That allows you to attend calls as well as make calls. It's a great option to have, however, there are other features which means that you have a wide range of options to choose your TicWatch from.
3. TicWatch S2:
The TicWatch S2 is primarily designed for people who are constantly on the move. This is an outdoor smartwatch that caters to extreme conditions and is the perfect partner for you if you are an adventurous type.
4.TicWatch Pro:
This is probably the best smartwatch developed by Mobvoi. It is a fantastic smartwatch that is for everyday use for all kinds of people. You can wear it to work, you can wear it at home, and it has a fantastic sleek design that is not only aesthetic but also extremely decent.
5. TicWatch E2:
The TicWatch E2 is designed only for fitness users. It is a really good companion for you in the pool, as well as, for other workouts. It is designed for users that have an active lifestyle and it caters to all of those needs in the most efficient manner.
6 Fossil Gen 5:
The Fossil Gen 5 series is another fantastic piece of technology. Apart from not so great battery life, they barely have any issues.
They are also a significant improvement on the Gen 4s and the best part is, they run on the Wear OS.
They come in two models, there is the Fossil Gen 5 Carlyle and the Fossil Gen 5 Julianna.
There are no functional differences in either of them, the difference between the two models is purely on the basis of color.
The Julianna has a dashing rose gold variant while the Carlyle comes with a smoky gray color variant.
This is to maybe offer an equal amount of options to two different sets of consumers as not everyone likes a dull color and vice versa.
They have a good connectivity range which allows you to take calls and make them.
The battery life, as mentioned before, is not exactly amazing. Unlike the rest of the watches mentioned above, this one only lasts about 24 hours.
So, if you plan on making this a part of your daily life, you will have to make sure that you remember to charge it.
The Wear OS works extremely well with is, and it will offer you no problems in its usage. It connects to your Android and fits it like a glove.

Despite the battery life, it is one of the ideal options to consider when looking for a watch that offers you the ability to take calls and make calls.
7) Emporio Armani Smartwatch 3:
This is a stylish, high-end, and really high-functioning watch. The focus, unsurprisingly, has been on style and fashion.
Emporio Armani made sure not to go overboard with style and managed to pack a really smooth piece of technology in a simple and unisex model.
It contains the Wear OS and along with that, it has a really good in-built speaker and microphone.
They work well with the Google Assistant; also help you take calls and helps you listen to music as well.
The battery timing, once again, is not as great as the Active2 or TicWatch, but it lasts more than a day, with ease.
It also comes with 8GB storage which helps you archive music, notifications, apps, etc, with ease and without making your device slow.
8) Diesel On Axial:
This is probably the smartwatch that tries to pack it all in one. That is not necessarily a bad thing, but it is not exactly everyone's tea, either.
It comes with the Wear OS, it contains the ability to call like all the other watches on the list.
To add to all that, it has a very masculine and rugged look. It is also fairly large in size, so if you are into bigger sized smartwatches, you should definitely be considering this.
People with small wrists might as well look away. It is quite comfortable to wear, though, if you do have bigger wrists, and on top of that, it offers a sharp 1.28 inch 416 x 416 screen.
The Diesel On Axial is one of the expensive smartwatches on the list. The fact that it has a poor battery timing, does not help its cause.
However, it has multiple customized battery saving options, that can actually help your smartwatch last more than 1-1.5 days.
There have been complaints that the Wear OS can be a little sluggish on the Diesel On Axial, but despite all this, the memorable design might just mean you opt for it.
Conclusion
Plenty of options to choose from, but it really comes down to your choice. If you want something that lasts longer than your best bet is probably the Fitbit Versa 2 or the TicWatch. Emporio Armani brings the brand conscious people to the mix. If you are a Samsung user you should go for the Active2 and if your prime concern is design then the Diesel On Axial or even the Fossil Gen series are not bad shouts, either!
As a professional trainer and a gadget lover, I've spent a lot of money and time buying wearable activity trackers, smartwatches, and gadgets, and checking them out. My site is focused on helping you with your activity tracking and smart technology journey. I try to provide the most helpful updated content on this subject. Hopefully, you will love my blogs and be a regular around here.