The Apple Watch is making our tech life simple and easy. Through this watch, the kids can be in touch with their parents and parents also know where they are through GPS.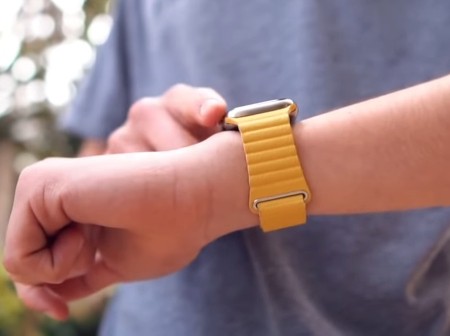 There are some watch bands from third-party options for kids. However, you can easily replace your kid's Apple watch band. 
Here is an article on my website that you must read, its about the Best 10 Apple Watch Bands For Sweaty Wrists In 2023.
There are some best Apple watch bands for kids. This article is going to talk about some best Apple watches for kids.
Top 10 Best Apple Watch Bands For Kids Reviews
Whenever you need to replace the band of your Kid's Apple watch, you should not choose one blindly. Rather, you should analyze the market before choosing one. However, some of the best Apple Watch bands are given below-
Dinosaurs were perished millions of years ago, which means that there's a lot of curiosity around them, and kids love curiosity, which is why many kids love Dinosaurs.
Art-Strap Leather Watch band comes with the colorful dinosaurs print on the top, which makes it an ideal band for Kids.
The band comes with leather material, which is very comfortable and durable. Also, the band is highly flexible and waterproof, which means that the band can handle the rough treatment pretty well. Overall, Art-Strap leather Watch Band is a solid watch band for Kid, and your Kid will surely love it.
Bandmax Nylon Apple Watch Band is a very unique band that is surely an ideal choice for young girls. The band is handmade, and it features Nylon material, which is arguably ultra-soft material.
Also, the band uses a high flexible drawstring clasp, which makes it easier to fasten the band around your wrist. If you are looking for a unique band for your young girl, Bandmax Nylon Apple Watch Band is an ideal option for you.
If your kid is a fan of Mickey Mouse, he/she will love this band because it features the print of the iconic Mickey mouse. The band is made of silicone material, which is very soft and durable.
It also offers great protection against water and sweat, which means that your kids can use it in the rain and water. Also, the stainless steel clasp ensures that the watch stays well on your kids' wrists even during rigorous sports sessions.
Easuny Sunflower Band is another great watch band for girls. The band comes with a very streamlined shape, which gives the band a very modern look.
Also, the band features the sunflower print on the top, which is made using high-quality materials, which means it won't fade away with time.
When it comes to material, the band uses silicone, which is known for its durability and comfort. You can use the band in water and everyday use without fear of getting damaged. It also comes in other prints which you can choose for your Kids.
Henva Slim Band is one of the most popular Apple Watch Bands in the market, and the reason why it's so popular is that it glows in the dark.
That's right, the band uses a unique material that starts glowing whenever you go in the dark, and I'm sure that your Kid will love it.
When it comes to durability, it's a very durable band because it uses a high-quality elastomer, which is known for its durability. The band comes in different colors, and you can pick your Kid's favorite color.
Star Wars is one of the most iconic movie franchises, and it's loved by millions of fans, including kids around the world.
If your Kid is also a fan of Star Wars, he/she will love it because this band features Darth Vader, who is one of the most iconic characters of the Star Wars Franchise.
The band uses a red and black theme, which looks really cool. Also, the band uses silicone material, which is very durable and waterproof, making it an ideal band for kids.
Mickey Mouse is the favorite cartoon character of many Kids, and if your Kid also loves Mickey Mouse, you can consider this band. The bad comes with a Mickey Mouse print featuring several of them in various positions.
Also, the band features leather material, which is very durable and comfortable. The one thing which I like the most about leather bands is that they are very comfortable and that's why I prefer them.
So, if you are interested in getting a comfortable band for your Kid, you should consider the leather Mickey Mouse Band.
The Cavka wristband has a cute Panda Strap for kids. This band has a healthy color that will not fade. The sizes are adjustable which is between 6.3-8.8 inches.
There are 38-40-41-42-44-45 sizes and they are made of PU leather which has a smooth, flexible texture and is eco-friendly. It also has stainless steel tang buckle closure that is easy to use.
This is also compatible with all Apple Watch series- 7/6/5/4/3/2/1/SE. This design is very unique and comfortable to wear. This band also provides a matching phone case.
The generic wristband has a cute whale unicorn cartoon wristband for kids. It has a stylish look and is very flexible. There are small sizes 38-40-41 and large sizes 42-44-45 which are compatible with all Apple watch series.
It is lightweight and comfortable to wear. It is made of PU leather which is vegan. It also has stainless steel tang buckle closure.
These buckle closures locked the band perfectly with the watch. It is very easy to attach and remove from bands. These bands also come with a matching phone case.
The polyjoy pattern has some anime sports patterns, and watch bands. They are 38-40-41-41-44-45 mm sizes and all sizes are adjustable.
They all are compatible with all Apple watch series. They are made of soft silicon material and are comfortable.
Frequently Asked Questions [FAQs]
For your further inquiry, you may check out this section of the article. Here, we will answer the most common questions regarding Apple Watch Bands for Kids.
Which Apple Watch Band Is The Best For Kid?
As kids are usually not very thoughtful with the materials they wear, it's important that you pick a band that can withstand rough usage. I would recommend you to consider Silicone or Leather band as these two materials are both durable and comfortable. You can consider Nylon material, which is ultra-comfortable, but it's not waterproof, and you will need to wash it once in a while to keep it clean.
Will An Apple Watch Fit A Kid?
Yes, if your Kid is around 8 years old or higher, you can surely use the Apple watch for your Kid. I'd recommend getting Apple Watch SE as it's not as expensive as other Apple Watches, and it comes with a good number of features.
What Size Apple Watch Band For Kids?
The Apple Watch band has many sizes but 38-40-41mm are small sizes that are suitable for kids. The bands that are adjustable between 6.3 and 7.3 inches are kid friendly. It is a suitable length and comfortable for kids.
What Is The Smallest Size Apple Watch Band?
The smallest size Apple Watch band is 38mm. It will fit small wrists that are 130-180mm in circumference. Classic Buckle is the smallest band of Apple Watch.
Can You Get Smaller Apple Watch Bands?
You can get smaller Apple watch bands as there are many third-party options. Though Apple is not making 38 mm watch bands anymore after Apple watch series 4 launched, 38mm can still fit with your 40mm Apple watch.
Conclusion
Apple Watches are very popular around the world. There are lots of options to choose the perfect apple watch band for kids. These bands can help to hold the watches comfortably on the wrist.
Best Apple Watch Bands for kids have many third-party options which are available at reasonable prices. They have lots of unique and colorful bands for kids.
If your Kid is young, I would not recommend using Apple Watch, and you should pick the one from my guide the Best Smartwatches for Teenagers and Kids in 2023.
As a professional trainer and a gadget lover, I've spent a lot of money and time buying wearable activity trackers, smartwatches, and gadgets, and checking them out. My site is focused on helping you with your activity tracking and smart technology journey. I try to provide the most helpful updated content on this subject. Hopefully, you will love my blogs and be a regular around here.