There are numerous fitness trackers and swing analyzers for tennis available at the market these days.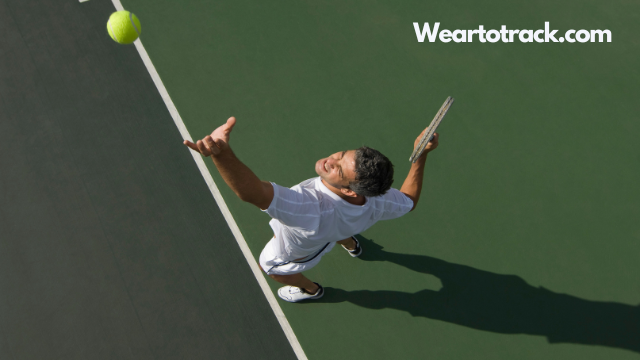 But unfortunately, there is no gadget that works as both a fitness tracker and a swing analyzer. Therefore, you need to look for two distinct devices for each activity.
Nevertheless, to make your task easier, below we have mentioned the best two options for a fitness tracker and swing analyzer for tennis, where each of them offers diverse characteristics and capabilities.
Here is an article on my website that you must read, its about Best Fitness Trackers For Yoga And Dancing – Updated Top 8.
Without Further Ado, Let's Find Out Which Is The Best Fitness Tracker And Swing Analyzer For Tennis?
Like I have mentioned, a device that serves both as a fitness tracker and as a swing analyzer is not available at the moment, however, combining with an adapted Tennis app, a fitness tracker might be an awesome tool.
Best Swing Analyzer For Tennis – the best swing analyzer available in the market today is the Babolat and PIQ Tennis Swing Analyzer. I will elaborate on it later in the article.
Best Fitness tracker for Tennis – well, there are a lot of good devices that are able to give you an accurate stats of your heart rate, calories burn, steps, etc while running or Jogging.

However, when it is regarding Tennis, I have to be honest and tell you that no fitness tracker will give you data that you can count on, and these are the reasons for that:
Since the steps that you are doing are not equal and combined with the hand swinging movements, the pedometer of all the devices available today will not count your steps correctly.
The built-in heart rate sensors of the modern fitness trackers are not so accurate when tracking activity with high picks of heart rate(such as tennis), therefore, a chest strap HR sensor is recommended.

The Calories count is directly related to the HR reading, therefore, an inaccurate HR reading will affect it as well.
And as for distance tracking, a GPS, in this case, will be useless as you are moving only within the space of the court.
OK, I get it, Fitness trackers are not that accurate and adapted to Tennis, so what is available then?
A very cool option is to combine the amazing Apple watch series 4 with the adapted "Swing App" which is available for free on Apple store. You can check out the Swing App here.
In this case, you can enjoy the tones of great features that this amazing smartwatch offers for different types of sports, health and daily activities.
And you can also use it on the Tennis court along with the Swing app for a quite accurate swing and health analysis and tracking.
Like I have mentioned, the fitness tracking is not so accurate when regarding Tennis, however, it can give you a good estimation between one session to another and along with the accurate swing analyzer produced by the Swing App, it becomes an amazing and fun device for your Tennis sessions.
Best Fitness Tracker And Swing Analyzer For Tennis
Finding out a perfect fitness tracker that will work as a swing analyzer as well was not an easy task for us. We had to research and analyze the number of products in this regard. And finally, we could sort out these two.
Babolat and PIQ Wearable Tennis Swing display Analyzer is not your average analyzer. Whereas, it is taking the game on a next up notch level. The tennis tracking was never this easy before.
The best way to check it out, read users reviews and get it is from this page on Amazon. The device has capabilities far better than a simple tennis tracker. It has within it the power of the PIQ ROBOT.
You wear the device casually on your wrist and gets your strengths and weaknesses identified while playing the game. In this way, you become more immune to winning.
Data Is Displayed On The Wrist:
With every shot and every tactic, you are having the data fully identified and stored for you in the best form.
This data is also easily accessible as you need to just give sight to your wrist in order to get known how better your game is going.
The real-time management and display of the game data are taken care of by this amazing Babolat and PIQ Wearable Tennis Swing Analyzer.
The data collected throughout the game is easily approached by the player even when remaining in the game.
Evaluates Variety Of Strokes And Styles:
This impeccable Tennis Swing Analyzer is aware of all the different types of strokes and styles.
It knows what different strokes and styles are there in the game, and measures the different styles of them for you. It knows the different styled serve, backhand volley, forehand groundstroke and other enormous tactics the tennis player knows best.
This amazing tennis analyzer keeps the information of the basic six strokes that are mundane to tennis players. It notices their movement with reference to the most advanced setup that is built in.
Measures The Accurate Speed And Spin:
The Babolat and PIQ Tennis Swing analyzer evaluates and notices every move with great accuracy.
The system is impeccably responsive. The speed with which the player hits the ball and the velocity with which it moves is precisely measured.
The device makes sure that the specific kind of spin that the ball undergoes must not go unnoticed. Hence, this gadget is a preference to all those who take tennis very seriously and want the accurate data of their game known.
Your Tennis Moves Become Exceptional:
Since this beatific device takes care of everything that is related to tennis and makes you become more perfect with its use.
You tend to become an invincible tennis player. You manage to get a notch up than other tennis players. This device intricately sharpens your tennis game instincts and skills with its excellent performance.
The Fundamental Analysis Of The Shot:
The advanced qualities of this gadget free you from the worries. It is light in weight so that you do not feel something heavy disturbing you and taking your focus apart from the game.
This wrist band that weights nothing more than a feather comes with a tiny sensor attached to it. This wonderful instrument takes care of each and every single shot and analyzes them with perfection.
Just this device is worn in your hand and here you get all of your distinctive tennis strokes, spins and speed identified.
As well as, it also takes cares of the rates of these strokes and spins made. All you have to do is to press this small button in an instantaneous manner to realize the velocity of the last serve. Just that and you get the accurate information right there on your wrist.
Data Fully Sorted Right In Front Of You:
It manages to keep track of all the ins and outs of your game. The number of the shots you hit, the serves you make, all the other backhands, overheads and forehands you make in your game are noticed by Babolat and PIQ Wearable Tennis Swing Analyzer.
It even notices and tracks the precise value at what you made a stroke and intended a swing. It notices down the swing you made in the fastest velocity, the average speed of what your ball moves and the best rally that you have stroked.
It Makes You The Ultimate Winner:
This device tells you all the information that you need to know in order to get morphed into a real winner. The PIQ ROBOT's Winning Factors make you more knowledgeable and aware as per your tennis game.
It gives you an appreciation of letting you know where you had performed well and it also makes you know where you had weaknesses.
This PIQ ROBOT's Winning Factors guide makes you realize at which angle you need to put more resilient efforts. You need to percept this information in order to enhance the betterment of your performance in the game.
After every single match, keep these pointers and guides in track and ameliorate your game with reference to this.
Brings Improvement To Your Game:
When once you are done playing the game, you are supposed to download all the recorded data from the sensor on your device.
This data needs to be installed on the Babolat POP application that you might have on your smartphone.
This is how you will get to know the right and decisive tactics of the game. It will make you know really well what has been wrong with the game and could also become helpful in the amelioration of your tennis match.
This data provides a great and useful lookout for planning your upcoming tennis session for you.
Babolat Offers The Best Range Of Tennis Rackets:
Babolat also makes offers in the best qualitative tennis rackets. It overpowers all the sales that are made in the tennis industry in the United States today.
The company is all over again writing the history of this game with phenomenal advancement in tennis.
The brand has a team of athletes of its own. After every passing tournament, there is being some increment in the advances made in the tennis industry. The credit goes to Babolat for venturing the revival in the game of tennis.
Usually, people play in order to stay fit and healthy. Here we are introducing an amazing fitness tracker that will really get you your work done easier.
A great way to check its current price, read its reviews and get it is from this Apple's top seller page on Amazon
This watch is not just your average day to day smartwatch that takes care of your fitness and health. It is more of a trainer that helps you all around the toiling.
It understands you with every move you make in your healthy workout. It instructs and directs you in other activities like swimming and yoga training.
You have the whole data intimately tied to your wrist. It is best featured for us all in our athletic persona.
Your Exercises Are Governed In A Pristine Manner:
No matter what the task it is that you have to take care of, either to have to go swimming or occupy yourself in a basketball match, its amazing Workout app manages to all the exercise rounds you put yourself into.
You can set up the goals you want to pass with the game. You can essentially get the measurement of the calorie burn in you to yourself.
With this fitness tracker, you can evaluate the performance that you make and know whether it is being progressive with time. The data of the activity can be viewed on the Activity application on your Apple iPhone.
Takes Ultimate Care Of All Your Moves:
Whether it is a marathon run or a random walk in your countryside. The Apple Watch Series 4 occupies amazing features in order to make you have the most out of your flight.
The device has features as Pace alerts that make you choose a targeted pace. You tap gingerly on your wrist and you get to know whether you are behind, away or ahead of what you targeted.
Your Health Is Prioritized:
The iWatch lets you monitor every step you make every minute and makes you ameliorate your run. The Cadence characteristic with it helps you run faster and makes the number of injuries lesser.
As For Your Tennis Sessions:
Like I have mentioned, combining it with the amazing Swing App will make the Apple watch an amazing tool that will give you lots of data and will add tons of fun to your Tennis sessions.
Here is a short video demonstration of the Swing App on The Apple watch.
I hope that this article has helped you with finding the best fitness tracker and swing analyzer for tennis and that it will help you with improving your game while having much more fun.
Here is an article that you might find interesting about the best fitness tracker for Boxing, Kickboxing and MMA.
Conclusion
As we have explained that in regard to tennis, fitness tracking is not that valid. However, the amazing Apple watch series 4 can provide a great assessment from one round to another. Moreover, the Swing App can produce a precise swing analyzer.
Also, as we have mentioned, the best swing analyzer out there is the Babolat and PIQ Tennis Swing Analyzer. Undoubtedly, these two excellent devices will make your tennis session much more fun and easier and you will surely find them the finest choice for a fitness tracker and swing analyzer!
As a professional trainer and a gadget lover, I've spent a lot of money and time buying wearable activity trackers, smartwatches, and gadgets, and checking them out. My site is focused on helping you with your activity tracking and smart technology journey. I try to provide the most helpful updated content on this subject. Hopefully, you will love my blogs and be a regular around here.