There are a lot of iPhone users who switch from Apple watch to other alternatives because it costs too much and its battery retention time is very low.
And if you are an iPhone user too and looking for a smartwatch that is equally compatible with iPhone and costs less than the Apple watch then you should read ahead because Garmin watch has sorted out all this for you!
Garmin has produced finest smartwatches over the years and it will be an unfailing rival to the Apple smartwatch for being well-performed in battery retention and providing all the requirements for a sports-loving individual.
Here is a related article that might interest you on Which Garmin Watch has the Best Display and Best Battery Life?
Let's start…
List Of 7 Best Garmin Watches Compatible With iPhone
So, let's find a perfect Garmin Watches for you. In this section of this article, you are going to have a review on our top 7 Garmin Watches.
Let's dive into some details.
Products Information:
| | |
| --- | --- |
| Screen Size | 1.2 Inches |
| Connectivity Technology | Bluetooth, USB |
| Human Interface Input | Touchscreen, Buttons |
| Water Resistance Level | Water Resistant |
Get better anywhere, anytime while meeting your outdoor challenges with Garmin. It's Fenix 7S combines superior design with functional features. The stylish steel bezel stands against heat, water, shock with its military-grade construction.
Its 42mm casing contains a colorful, bright, clear 1.2" sized display. Still, you can use the included button controls to make onscreen selections. Also, push your fitness training to the next level using its activity tracker.
There are 30+ built-in sports apps to cheer you up. Don't forget the stamina tracking, workout status, and advanced training metrics either. Again, you can receive 24/7 wellness monitoring through different health metrics. It includes sensors to measure – heart rate, pulse ox, sleep, and stress.
Continue navigating your outdoor adventure with multiple built-in sensors. Explore impregnable areas using its 3-axis compass, barometric altimeter, gyroscope. Fenix 7S also supports a multi-GNSS (GPS, Galileo, GLONASS) satellite system.
Look into the preloaded maps to find ski resorts and golf courses. Download to use TopoActive to map any region in seconds. Pairing the watch with your smartphone will get you the notifications.
A powerful battery can last up to 26 days in expedition mode. Expect a full recharge to last 11 days (normal mode) or 37 hours (GPS mode).
Additionally, you'll get to use the contactless Garmin Pay and built-in music storage.
Products Information:
| | |
| --- | --- |
| Special Feature | Bluetooth |
| Screen Size | 0.8 Inches |
| Operating System | Proprietary OS |
| Style | Vívomove 3S |
| Connectivity Technology | GPS |
| Band Material Type | Silicone |
Time to enjoy absolute smartness with premium styles embedded in a watch. Garmin designed its exclusive Vivomove 3S for affectionate females.
The eye-catching rose gold display with a matching light-colored sand case makes it one perfect purchase. Garmin also allows you to change the 20mm quick-release band to match your outfit.
However, the hybrid watch comes with analog clocking with digital features. The small yet perfect sized 39mm watch fits wrists having 110cm – 175cm circumference. You'll get reactions from the hidden touchscreen display based on your movements only.
So, the chances for the battery to get drained too fast are almost zero. Speaking of power, it comes with one Li-ion battery. A full recharge can keep it running for 5 days (smart mode) or 12 days (watch mode).
Track your fitness level using its sensors to detect steps, climbs, workouts. Also, check for the body battery percentage, menstrual cycle, breathing, hydration, etc. Don't miss the useful stress tracker to decide on your relaxation/workout time.
Stay connected with your smartphone to navigate outdoor work using GPS. You can also look into calls, texts, other notifications, even calendars from the watch screen.
There are additional activity profiles (cardio, yoga, strength) to cover your lifestyle.
With Garmin Fenix 5 and 6, you are all sorted! Apart from a bold and robust look, it comes with all the features that one could ever want in a smartwatch and its functionality stands out.
The bright Garmin Chroma Display with LED backlighting establishes great readability in all conditions, especially under intense sunlight.
It is a compact and multi-sport GPS watch that ensures fitness level by the Elevate wrist heart rate monitor technology and built-in activity profiles tracks your exercises and fitness while on adventures or indoors, with enabled wifi.
More features include smart notifications, 3-axis compass with a gyroscope, outdoor sensors including GPS, barometric altimeter, GLONASS satellite reception, and a customizable face to match the watch to your desired outfit.
The watch also has a special feature of Advanced Running Dynamics that can help you keep a track of your performance condition, lactate threshold, tempo/pulse, and length of steps you have taken.
The battery life is 24hrs on GPS, and up to 2 weeks when in smartwatch mode.
Products Information:
| | |
| --- | --- |
| Special Feature | Time Display, GPS, Heart Rate Monitor |
| Compatible Devices | Smartphone |
| Screen Size | 1.2 Inches |
| Style | With Music |
| Connectivity Technology | Bluetooth, GPS |
| Band Material Type | Silicone |
| Scanner Resolution | 240 x 240 pixels |
Every smartwatch offers a good sport tracking feature but this Garmin Vivoactive 3 Music is a choice for your active life designed for those who want to keep a track of their activities while enjoying music.
It makes you care-free with its waterproof feature, and also ensures trouble-free reading by providing Garmin Chroma Display.
An added feature of Garmin Pay has made the payments just a click away and improved notifications always keep you updated.
It has an improved battery life over its predecessors and comes with 15 preloaded sports apps making it easy for the user to stay active in a fun way!
Products Information:
| | |
| --- | --- |
| Material | Plastic |
| Color | Rose Gold with Tan Band |
| Screen Size | 1.2 Inches |
| Item Dimensions LxWxH | 1.7 x 1.7 x 0.49 inches |
| Item Weight | 0.1 Pounds |
| Battery Life | 5 days |
The Garmin Venu is more than just a smartwatch capturing a full picture of your health.
It comes with a feature of your deep workout analysis along with some useful trackers like body battery, stress, heart rate, hydration, and advanced sleep monitor to add more data for serious runners.
The glossy AMOLED touchscreen display gives a little drop in the battery life but the user still gets a battery life of 5 days when used as a smartwatch with 2-3 small runs or workout sessions and up to 6 hours in GPS mode with music.
It is waterproof, so you can use it during your spa, swim, or shower day.
Products Information:
| | |
| --- | --- |
| Color | White w/ Rose Gold |
| Screen Size | 0.9 Inches |
| Item Dimensions LxWxH | 1.7 x 0.5 x 1.7 inches |
| Item Weight | 0.09 Pounds |
| Battery Life | 0.01 seconds |
Stylish hybrid smartwatch with a hidden touchscreen display which only appears at your glance. The dynamic watch hands of Garmin Vivomore HR move when you interact with the touch screen and regain the original time when you move back.
Like the other Garmin smartwatches, this one also comes with stress, heart rate, sleep, and fitness monitoring technology, and stays active with its powerful battery time 5 days on smart mode and up to two weeks on the discrete-watch mode.
It also lets you know when your stress levels are high and remind you to take a break that can eventually increase your productivity.
You can complement your outfit with a wide range of 20mm quick release bands by effortlessly changing them whenever you like.
Products Information:
| | |
| --- | --- |
| Material | Glass, Silicone |
| Color | Silver with Gray Band |
| Screen Size | 1.3 Inches |
| Item Dimensions LxWxH | 1.78 x 1.78 x 0.5 inches |
| Item Weight | 0.08 Pounds |
| Battery Life | 18 Hours |
Garmin Vivoactive 4 is a GPS smartwatch built for the active lifestyle that can track it all and help you reach your health and fitness goals.
It comes with a heart rate monitoring technology that is more accurate than the one in Apple watch.
It provides a sunlight-readable and high-resolution color touchscreen. It comes with a feature of on-screen workouts and Garmin coach to help you to achieve your desired fitness targets.
Like other Garmin smartwatches, it also comprises pulse ox sensor, stress tracking, hydration tracking, respiration tracking, advanced sleep monitoring, and body battery energy monitoring.
Why Garmin Is A Top Smartwatch Brand?
Garmin managed to establish its reputation in the smartwatch market. When it comes to a premium alternative to Apple Watch, many turn to Garmin.
So, what actually makes Garmin one of the leading brands in the market?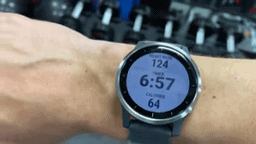 Garmin is primarily focused on integrating fitness-based features. Almost no brand can outrun Garmin in terms of health-focused features.
Several Garmin watches offer additional features you can only find in the expensive models. It may include – payment, storage, analysis, suggestions, color display.
Latest Garmin watches are compatible with Android as well as iOS. So, you won't have to worry about its function while changing the phone.
Top Garmin watches are direct alternatives to Apple and Samsung. The options can kick out almost any mid-quality smartwatches right away.
The global smartwatch market keeps surging with new models, designs, features. And Garmin is currently owning a limited share of the market. Still, wearable enthusiasts seek news about its latest upgrades/models.
We have a related article for you, you can read the Best Garmin Watches to Use with Strava.
How To Sync Garmin Watch With iPhone?
Syncing Garmin Smartwatch with your iPhone is simpler than you think. The entire process takes about some mere minutes by yourself. Look into the step-by-step guide to establish Bluetooth connectivity.
Charge the battery to the maximum percentage before setup. It's compulsory if you're trying to sync a new Garmin watch.
Download the Garmin Connect™ app to your smartphone. Either check the App Store or Garmin's official website.
Open the app to click on the 'Sign In' or 'Create Account' option. You'll have to create an account to use the app's features.
If you already have a Garmin account, simply signing in will do the job. The process only requires some existing details.
Find Settings on your smartphone to activate the Bluetooth. You must enable BT to sync or pair with your Garmin watch.
Now, head to Menu > Settings > Bluetooth > Pair from the smartwatch. It'll start finding the available BTs for pairing.
Click on your smartphone's Bluetooth from the screen. Your watch will display the requirement of a six-digit pairing code.
Enter the code to establish a connection between iPhone and Garmin. Again, check into Garmin App from your smartphone.
Click on More > Garmin Devices > Add Garmin Device to patch the watch. It should complete the initial pairing or setup.
Well, actually it is very simple, here is a short video that will help you with it:
Frequently Asked Questions [ FAQs ]
In this section of the article, we are going to answer some of the most commonly asked questions regarding 'Which Garmin Watch Is Compatible With iPhone?'
How Many Years Does A Garmin Smartwatch Last?
Answer: Latest Garmin watches should last about five years. But the endurance gets lower for older models.
Can I Replace The Included Batteries In The Garmin Watch?
Answer: No, the included batteries are non-replaceable. You'll have to get rid of a bad-battery Garmin watch.
Do Garmin Smartwatches Work With iPhones?
Answer: Updated Garmin smartwatches do work with iPhones. But you must have an iOS 7.0 or higher version.
Can You Take Calls Or Make Texts On Your Garmin Watch?
Answer: Of course, you can take incoming calls to send replies to messages. But check the compatibility first.
Why Is My Garmin Watch Battery Draining So Fast?
Answer: Brighter backlight keeps draining the batteries too fast. Keep the backlight turned off without necessities.
Conclusion
Garmin is one of the most recognized, leading, prolific smartwatch brands. And you can't skip its rich lineup focused on fitness and health features. That's why your spent money on Garmin watches is well worth every time.
But you have to make sure of its compatibility with the iPhone first. Almost all the latest Garmin watches seem to work with iPhones. Make your ultimate choice to lead a healthy, fit, happy life with Apple and Garmin altogether.
Also, make sure to check out my post on the Best Garmin Watch And Settings For Crossfit And Gym.
As a professional trainer and a gadget lover, I've spent a lot of money and time buying wearable activity trackers, smartwatches, and gadgets, and checking them out. My site is focused on helping you with your activity tracking and smart technology journey. I try to provide the most helpful updated content on this subject. Hopefully, you will love my blogs and be a regular around here.