There are a lot of iPhone users who switch from Apple watch to other alternatives because it costs too much and its battery retention time is very low, and if you are an iPhone user too and looking for a smartwatch that is equally compatible with iPhone and costs less than the Apple watch then you should read ahead because Garmin watch has sorted out all this for you!
Garmin has produced finest smartwatches over the years and it will be an unfailing rival to the Apple smartwatch for being well-performed in battery retention and providing all the requirements for a sports-loving individual.
5 Garmin watches compatible with iPhone
Garmin Fenix 5 and 6
Garmin Vivoactive 3 Music
Garmin Venu
Garmin VIvomore HR
Garmin Vivoactive 4
Let's dive into some details.
Garmin Fenix 5 and 6
With Garmin Fenix 5 and 6, you are all sorted! Apart from a bold and robust look, it comes with all the features that one could ever want in a smartwatch and its functionality stands out.
The bright Garmin Chroma Display with LED backlighting establishes great readability in all conditions, especially under intense sunlight.
It is a compact and multi-sport GPS watch that ensures fitness level by the Elevate wrist heart rate monitor technology and built-in activity profiles tracks your exercises and fitness while on adventures or indoors, with enabled wifi.
More features include smart notifications, 3-axis compass with a gyroscope, outdoor sensors including GPS, barometric altimeter, GLONASS satellite reception, and a customizable face to match the watch to your desired outfit.
The watch also has a special feature of Advanced Running Dynamics that can help you keep a track of your performance condition, lactate threshold, tempo/pulse, and length of steps you have taken.
The battery life is 24hrs on GPS, and up to 2 weeks when in smartwatch mode.
Cost range when reviewed: $449.99-$499.99USD
Garmin Vivoactive 3 Music
Every smartwatch offers a good sport tracking feature but this Garmin Vivoactive 3 Music is a choice for your active life designed for those who want to keep a track of their activities while enjoying music.
It makes you care-free with its waterproof feature, and also ensures trouble-free reading by providing Garmin Chroma Display.
An added feature of Garmin Pay has made the payments just a click away and improved notifications always keep you updated.
It has an improved battery life over its predecessors and comes with 15 preloaded sports apps making it easy for the user to stay active in a fun way!
Cost range when reviewed: $187.49USD
Garmin Venu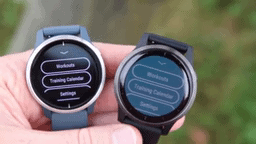 The Garmin Venu is more than just a smartwatch capturing a full picture of your health.
It comes with a feature of your deep workout analysis along with some useful trackers like body battery, stress, heart rate, hydration, and advanced sleep monitor to add more data for serious runners.
The glossy AMOLED touchscreen display gives a little drop in the battery life but the user still gets a battery life of 5 days when used as a smartwatch with 2-3 small runs or workout sessions and up to 6 hours in GPS mode with music.
It is waterproof, so you can use it during your spa, swim, or shower day.
Cost range when reviewed: $349.99USD
Garmin Vivomore HR
Stylish hybrid smartwatch with a hidden touchscreen display which only appears at your glance. The dynamic watch hands of Garmin Vivomore HR move when you interact with the touch screen and regain the original time when you move back.
Like the other Garmin smartwatches, this one also comes with stress, heart rate, sleep, and fitness monitoring technology, and stays active with its powerful battery time 5 days on smart mode and up to two weeks on the discrete-watch mode.
It also lets you know when your stress levels are high and remind you to take a break that can eventually increase your productivity.
You can complement your outfit with a wide range of 20mm quick release bands by effortlessly changing them whenever you like.
Cost range when reviewed: $349.99USD
Garmin Vivoactive 4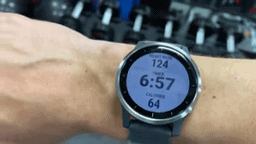 Garmin Vivoactive 4 is a GPS smartwatch built for the active lifestyle that can track it all and help you reach your health and fitness goals.
It comes with a heart rate monitoring technology that is more accurate than the one in Apple watch.
It provides a sunlight-readable and high-resolution color touchscreen. It comes with a feature of on-screen workouts and Garmin coach to help you to achieve your desired fitness targets.
Like other Garmin smartwatches, it also comprises pulse ox sensor, stress tracking, hydration tracking, respiration tracking, advanced sleep monitoring, and body battery energy monitoring
Cost range when reviewed: $349.99USD
How To Sync Garmin Watch With iPhone?

Well, actually it is very simple, here is a short video that will help you with it: