Sports and running will be very difficult if you wear spectacles. You may be afraid of running and other sports because of falling glasses from your eyes. Because it is very difficult to hold the glasses in place during sports time.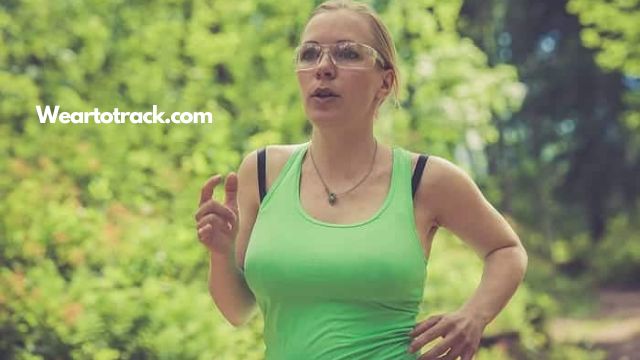 No way! There are several ways that will help you to keep your eyeglass on a point in your face. As a result, you can move heavily without facing difficulties.
Here is an article on my website that you must read, its about the Best 4 Fitness Tracker Glasses In 2023.
So, stay connected with us to explore some amazing hacks for falling off glasses during sports or running.
In this guide, I will share some very useful products and tips which will help your glasses to stay on while running and other intense sports. Let's get started.
Tips To Keep Your Glasses From Falling Off During Running & Sports
Running or any kind of sports which involve a lot of movements make it difficult to keep your glasses stays on while playing or running. So, if you don't want your glasses to fall off during running, then these tips can help you.
The first and foremost tip is to ensure that your glasses are properly fit according to the size of your head. I would recommend you to personally visit the optical store, try different frames, and then pick the ones which fit you perfectly. Otherwise, you can order the custom one for yourself.
If you are an avid runner or sports person, then investing in a good sports glasses would be a great option. Why? Because sports glasses are designed to be used for sports, and it comes with the durable build so even if it falls off, the glasses won't break like the regular ones.
If you don't want to invest in sports, want, then you can use the add-ons such as nose pads, ear hooks, or straps to ensure that your glasses don't fall off while running.
I have added in this article some of the best products that will help you with it.
If you have slightly loose glasses and you don't want to spend a dime on any add-ons, then you can use the heat gun. Use the heat gun to soften up your glasses, and then you can bend the glasses gently until they fit perfectly. I'd not recommend you to use this method as it can potentially ruin your glasses. If your glasses use the metal, then you can bend the glasses gently using your force, but again, if you have never done this before, excessive force can potentially break the glasses.
How Can You Keep Glasses from Falling Off During Sport & Running?
If you follow some steps, then you do not need to be worried about falling glasses during your sports or running time. Without any doubt, it will be beneficial for you.
Here are these factors:
If your glass is too large, then it will fall down easily. In contrast, if you choose a tight glass, then it will be the reason for your headache. You have to choose a glass that is suitable for your head size.
You have to buy ear grips for eyeglasses. When you set the ear grip with your eyeglass, they will not fall down when you play outdoor games.
You should use elastic bands or hair ties on the hands of your glasses. It will help you to hold your glass in place.
You can apply silicone nose pads. After that, the glass will not slip from your nose area.
7 Products That Will Keep Your Glasses On You During Sports & Running
If you choose the right fit in terms of glasses, you don't have to worry about falling off during sports running. Hence, you should have a look at our top picks to have a perfect fit for you!
Let's start with the Rydon Direct Clip, which is basically a premium glass frame that comes with interchangeable lenses. When it comes to normal glasses, they come with regular frames which are not ideal for sports.
So, if you are into running or sports, then investing in a dedicated sports glasses would be a good option. Rydon Direct Clip is a great option because it comes with interchangeable lenses so you can use the regular lenses while working, and you can use the UV lenses for the running and sports.
The best thing about Rydon Direct Clip is that it comes with a very durable Adjustable Nose pad and Temple tips, which ensures that you get the best grip while intense activities like running, jogging, and more. If you want to invest in a good sports frame, then Rydon Direct Clip is a great option for you.
One of the major reasons why glasses fall off during running and sports activities is that our sweat makes the friction negligible.
So, one of the best ways to solve this problem is to create more friction between your skin and glasses. You can do it by using the wax as it will make it easier for glasses to stay on even during intense sessions.
Nerdwax is a very popular wax that you can use for this purpose, but you are not limited to Nerdwax, and you can go for any wax of your choice. However, if you pick this option, then you will need to take great caution. You will need to properly clean the wax from your skin after every session to ensure that germs don't get accumulated there and cause an infection or something, as some users reported this issue.
Secondly, you will also need to clean the wax off the glasses as well because if the wax stays on, the next time you use the wax on the glasses, the friction will be less because of already applied wax. So, make sure to clean the wax off from the glasses and your skin, and you are good to go.
If you are looking for a simple solution to fix this problem without spending a lot of money, then you can get yourself a glasses clip. What these clips do is to get attached to the arms of glasses, and there they create a hook, which results in a better grip.
Keepons Fin Clips is a very popular clip which you can use. These clips come with anti-slip finishing, which allows them to stick around your ears, and you get better protection.
However, the problem with using these clips is that they offer the fall off protection to a certain limit. For example, if your glasses are not a good fit, then it doesn't matter if you have clips on or off, the glasses will keep bouncing.
Another simple solution to solve the glasses fall off the problem is to use the Silicone Nose Pads. Glasses come with their own Nose Pads, but they are usually very small, so you can use the bigger silicone nose pads to ensure that they hold off the glasses.
I'd recommend that you should use the combination of Nose pads with Clips as together, both items can offer great protection.
Also, both products are much cheaper, so I would recommend that you try this combination; if this works for you, then there is no need to invest in expensive sports glasses.
One of the best ways to keep your glasses from falling off during running is to use the strap to hold your glasses. The biggest benefit of this solution is that it works well most of the time. It may feel a bit odd wearing it at the start, but you will surely get used to it after some time.
Now when it comes to glasses strap, there are tons of them out there. The one I'm recommending here is the silicone strap, which is lightweight, and it offers great protection. If you don't want to spend your money, then you can use any elastic strap in your house to use as a support to hold off your glasses, and you are good to go.
If you are looking for a strap that is adjustable and has a minimalistic look, then PAWALT Glasses strap is the best option for you.
The thing which I liked the most about this strap is that they come with dual protection. You get the ear hook, which ensures that the glasses stay on during running, and the strap to ensure that glasses don't fall off.
On top of that, the strap comes with an adjustable mechanism that you can adjust according to the size of your head.
Deoot Eyeglasses Ear Grip is another very popular clip that comes with a different shape. This ear clip comes in round shape, and it has the anti-slip finishing, which creates friction between the glasses and your skin.
You can go for this option if you don't like the regular clips, or you are looking for a clip with a low profile. Just like the other clips, Deoot Eyeglasses Ear Grip Clips are also very affordable.
Frequently Asked Questions [FAQs]
Should I Run With Glasses On Or Off?
Answer: If you set your glasses on a point very well, then you should run with the glasses. You do not need to take it off.
What Kind Of Glasses Are Good For Running?
Answer: the photochromic lens glasses are good for running. Because the glasses are made for running or other sports.
Why Do Athletes Run With Sunglasses?
Answer: Basically, sunglasses can boost athletes' performance. Also, the athletes can see clearly after wearing the sunglasses.
Conclusion
Now you know about the products which you can use to keep your glasses from falling off during running & sports. My first recommendation will be to invest in a good sports glasses because they are a better option in the long run.
If you don't want to spend a lot of money, then you can go for the add-ons such as ear clips, nose pads, and straps, which can get the job done.
If you have any questions, please feel free to ask in the comment section below. Also, if you are wondering why runners wear two watches while running, then you can check this guide on the website.
As a professional trainer and a gadget lover, I've spent a lot of money and time buying wearable activity trackers, smartwatches, and gadgets, and checking them out. My site is focused on helping you with your activity tracking and smart technology journey. I try to provide the most helpful updated content on this subject. Hopefully, you will love my blogs and be a regular around here.