In the last few years, Apple Watch has emerged as one of the best smartwatches for runners, and it's the first choice of many runners.
With tons of sensors and GPS, the Apple watch offers accurate tracking, and with the help of running apps, you can take the things to the next level by recording your intervals and splits.
Here is a related article that I wrote in case that you are wondering How Accurate is Apple Watch for HIIT Workout?
But the question is? What are the best Apple Watch running apps for intervals & splits? Let's find out.
Best 9 Apple Watch Running Apps For Intervals & Splits
There are tons of running Apps available on App Store, but if you ask me, then these are the best Apple Watch Running Apps for Intervals & Splits.
Nike Run Club advertises itself as "Your Perfect Running Partner," and in my opinion, it is one of the best apple watch running apps out there. The best thing about Nike+ Run Club is that it is fully compatible with Apple Watch, and no matter which Apple watch, you use it will work really well.
With its automatically marked Intervals, you can easily keep your focus on running and let the app worry about tracking your intervals.
Similarly, it also keeps records of the splits according to "Miles," and when you complete your run, you get the complete details of your running session such as pace, distance, GPS Route, Elevation, Heart Rate, and mile splits. If you are looking for a comprehensive running app with great community & features, then Nike+ Run Club is a solid option for you.
Intervals Pro is another very popular Apple watch running apps which you can use to keep track of your intervals. This app is specifically designed to track your intervals, and it offers a variety of intervals options such as time-based interval, distance-based travel, counts up intervals, and more.
It also features excellent integration with the Apple watch. You can simply leave your iPhone at home and use the intervals Pro on your watch to track your intervals. On top of intervals, the app features a variety of built-in templates and training programs that can take your fitness to the next level.
Endomondo Sports Tracker is one of the finest running apps for intervals & splits. Just like the other running apps on this list, Endomondo also comes with excellent integration with Apple watch, and you can easily use it to track your intervals.
The app allows you to set your personal training goals and then help you achieve them. It offers your detailed statistics, which will help you stay motivated. Also, if you need the motivation, you can always ask your buddy via a built-in audio feature. So, it's another great running app which you can consider for your Apple Watch.
If you are planning to take your fitness to your desired level and looking for a comprehensive running app, then you can't go wrong with Runkeeper. You can use the app to set your fitness goals, and it can help you train for marathons, 5Ks, and other types of races.
It also comes with great integration with Apple watch, and it will help you track your run without your iPhone. After your run, it will show the detailed stats, including splits, pace charts, heart rate charts, and more.
As the name shows, Strava is an all-in-one app that can not only help you track your run but also your swimming and other activities. It is one of the most popular running apps out there, and it can help you accurately track your run.
The app offers various ways to train your body. You can simply go for a run or other activity, and it will track your run with Apple Watch. You can also participate in routes & maps where the app mixes your training with "World's largest trail network.
It also allows you to compete in challenges where you push yourself to achieve your fitness goals. If you are willing to pay some extra money, you can get customizable training & workout plans, which can help you achieve your fitness goals quickly.
Runtastic by Adidas is one of the best Apple Watch running apps for Intervals & Splits. Whether you are training for weight loss or participate in a long marathon, Runtastic can help you achieve the required fitness level.
The app comes with comprehensive tracking, and it tracks your distance, speed, elevation, and other useful metrics. It also supports the interval training, so if you want to take things to the next level, then you can use the interval training. If you are into social running, you can create a group with your friends on the app and go running with your friends.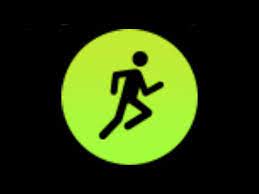 Apple Workout is the default workout App on iPhones, and trust me, it's better than many running apps out there. The best thing about this app is its flawless integration within Apple Ecosystem, and you won't experience any problems.
Apple Workout also supports the Interval & Splits so you can use these two features to make workouts more challenging for you. On top of that, the watch also keeps track of distance, time, active calories, average pace, and other metrics, which will give insight into your improvement.
RunGo is another very popular Apple Watch Running app which can track your running sessions with great accuracy.
The most notable feature of RunGo is that it comes with a turn-by-turn voice navigation feature which is very helpful if you are running on a track or area which is not very familiar to you. RunGo will keep track of your run and will provide turn-by-turn navigation making it easier for you to complete your route.
Also, it comes with over 600,000 popular routes from over 171 countries worldwide including the US. So, all you will have to do is to select your route and RunGo will provide navigation.
This app is also really good at tracking and it can accurately track your running stats such as your speed, elevation, distance, and estimated finish time. Also, you can easily log your splits and intervals.
Another nifty feature of the RunGo is the virtual races which will motivate you and break your own records. Also, the app will send you custom voice messages while you run where it will tell you stories about the landmarks and other significant places near your route. In my opinion, a virtual race is a very unique feature and other running apps should implement it as well.
Overall, if you want an accurate running app with a voice navigation feature, you can't go wrong with RunGo.
Simple Interval Timer, also known as SIT, is a basic app that you can use to track your intervals. It's a very basic app and it won't be my first choice as it has very limited functionality. However, it can be an ideal app for those who just want a simple and basic app to track their interval.
On SIT, you will need to set the duration of your interval, number of sets, and rest time and then you can go for running or workout. Once you start the app, SIT will show you the duration and other data on the screen.
Overall, SIT is not as good as other apps on the list but it gets the job done. So, if you want an app to track just your intervals, SIT is an ideal app for you. However, if you want an app to track your interval, splits, and other running metrics, you should consider other apps on the list.
Here is an article on my website that you must read, its about the Best 18 Free Measuring Apps For iPhone & Android That Are Accurate In 2023.
Frequently Asked Questions [ FAQs ]
At this stage of the article, let's see some FAQs, that people frequently ask about Apple Watch Running Apps.
Does The Apple Watch Track Running Split?
Answer: Yes, you can measure the running split from your iWatch. You need to launch the Workout app to choose from the list.
Can You Set Running Intervals On Apple Watch?
Answer: Second Interval Timer is a great app for Apple Watch. You can use this and other third-party apps to set the desired intervals.
How Do You Record Running Splits On Apple Watch?
Answer: Double-tapping on the screen can split your workouts into two segments. But you need to make the tap after the first segment is completed.
Conclusion
Tracking your intervals and splits is an excellent way of getting insights into your running sessions and you can eventually use this data to improve your finish time and become a better runner.
In this comprehensive guide, I've shared the Apple Watch apps which can help runners to track intervals and splits easily. I hope that you found this guide useful and if you liked it, please do share it with your friends.
Also, if you are an avid runner then you would have experienced blisters at some time but you can potentially avoid blisters by using good socks.
If you are interested, please check this guide where I've discussed the main cause of blisters and also shared some of the best Running socks which you can use to prevent blisters.
As a professional trainer and a gadget lover, I've spent a lot of money and time buying wearable activity trackers, smartwatches, and gadgets, and checking them out. My site is focused on helping you with your activity tracking and smart technology journey. I try to provide the most helpful updated content on this subject. Hopefully, you will love my blogs and be a regular around here.