Triathletes are serious athletes that require a serious tracking device, the best fitness tracker watch for triathletes is the veteran Polar V800 and in this article, I will show you why.
Polar's V800 watch is with us since 2014, it is an interesting crossbreeding between three previous versions: the wrist-shaped LOP watch, which transmits daily activity data to the mobile phone, the RC3 GPS running watch, which offers a wide range of running data but is not waterproof and therefore not suitable for use in all Sports and RCX5 – triathlon watch that displays high-resolution data but doesn't have a built-in GPS.
The V800 didn't get major upgrades in terms of hardware but in terms of its software it has been greatly improved.
Best Fitness Tracker Watch For Triathletes – Polar V800 Review
It's obvious that Polar have invested a lot of thinking even on the smallest details that make the experience more pleasant.
For example, when you get out of the water in a triathlon and sometimes your head spins, it's hard to find the small button that ends a section. So now you can just tap on the watch easily and it happens.
Another example of thinking on the smallest thing is the possibility of finishing a workout only after a three-second long press on the end button and actually, avoid stopping the training in the middle because of a wrong click (oh how annoying when it happens!).
Perhaps the most important option in the comfort category is the ability to transfer training data to a smartphone at the touch of a button.
It is really much more convenient to see the data on the phone's screen than just on the watch as it was in previous models. You can feel that the watch was designed by people who really do this sport.
Activation
Initial activation is easy. The satellite is acquired easily and quickly and you will get an "OK" sign that informs you that and in two clicks the watch goes into a triathlon mode.
This mode automatically divides watch behavior between the various activities. In other words, activating the watch at the beginning of the swimming session and clicking on it after leaving the water saves the segment data and transfers it to a substitution state.
After the substitution and exit to the bicycle, you can press again and receive the substitution time separately from the time of the segment.
The ability to measure the substitutions separately allows you to obtain more accurate data on the results in the various points and to accurately analyze all the parts of the activity.
I had an English coach who always said: "More accurate data, better training, faster competition" and that's exactly it.
Additional functions – 24/7 Activity Tracking
In addition to proven abilities in measuring the training, the biggest upgrade made by the watch is actually outside the activity.
One of the main principles of coaching is the physiological improvement that comes precisely during rest time after training and not in training itself.
That is, the level of body recovery from a particular workout has a decisive impact on performance in the next workout.
There is a problem here. Our recovery is also affected by our day-to-day activities outside the training time.
So that someone who works in physical work will recover more slowly than an athlete who went to rest at home after training.
Insufficient recovery is a major cause of injury and overload. Here we have a real solution.
The watch tracks the physical activity even outside the training hours. Apart from data such as the number of steps and calories burned during the day, you can get data on the state of the body in terms of training.
The watch can calculate the load that the workout puts on the body and show us when we are ready for the next workout, given our daily activity.
This is a great innovation because in this way you can avoid unnecessary injuries and practice more correctly.
The V800 is an old school device. It doesn't come with a built-in optical heart rate sensors like its competitors.
Instead, you can pair it with Polar's H7 chest strap or the new improved H10. Some might see it as a con but for those who need a very accurate heart rate tracking, a chest strap is a "must" anyway.
Besides pairing it with a chest strap, the watch is compatible with Bluetooth Smart Running, 3rd party power meters, and cycling sensors.
Polar's App has improved a lot since I bought my old V800 and connecting to the Polar flow web app you will get tons of features stats and guidance which I'm not going to dwell on in this article since it can long and will require another different article. You will just have to experiment it yourself, it is very easy and friendly to use.
Same Old School Sturdy Design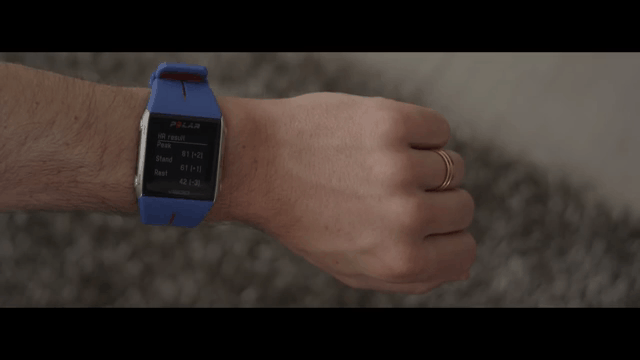 In recent years there has been a sense that there is no real innovation in triathlon watches, except for small improvements or a smaller and more comfortable design from model to model.
But in this case, when you look at the V800, you understand that Polar has made a real visual change. The watch is comfortable and pleasant, it feels like the first watch that was really designed so you can hang out with him even after the training hours.
Yes, compared to other Multi-sports watches by Garmin, Fitbit, and the Tomtom, it can feel more Chunky and heavy. But once you get to use to it, it becomes comfortable and feels great on your wrist.
It has a 12.7mm thick stainless steel body with a wide rubber band and a 128 x 128-pixel resolution monochrome display with Gorilla Glass which makes it very sturdy and strong device. The large display can be easily read in the day time and a good backlight will make it readable at night too.
Battery: a 350mAh strong battery that is capable of 12-13 working hours with the GPS turned on and about 50 hours with GPS at a low powered mode. Without using it extesivly the watch worked for me for a bit more than 2 weeks before the battery died.
An Add-On Compatible device – Polar Bluetooth Stride Sensor
The Polar Bluetooth Stride Sensor works perfect with the V800 and can give you additional important running data to the tones of data that the watch already provides you.
It especially can help you with running indoor and on a treadmill, making the V800 even more powerful than what it is.
Conclusion
The V800 is a great tool for runners or triathletes who love data. It allows in a very simple way to see and analyze the data and create continuous monitoring of the training program.

The amount of data the watch offers is almost endless and through the computer, you can decide which data are relevant to you and how to direct it.
The large and clear display is advantageous for those who have difficulty reading data from the watch during activity, and the long battery allows them to use it in very long activities.
All that along with the new and improved Polar app makes the V800 the best fitness tracker watch for triathletes.
My main pros: appearance, simplicity, smartphone connection, convenient data update portal, long battery life, simple operation during training, recovery tracking, large display.
My main cons: a clumsy charger, The H10 heart sensor chest strap will not hold in place while swimming, I recommend swimming with a swim suite above it.
I hope that I helped you to find the best fitness tracker watch for triathletes. If you have any comments or you would like to share your experiences with the V800 or other watches, feel free to write them in the comments below.
As a professional trainer and a gadget lover, I've spent a lot of money and time buying wearable activity trackers, smartwatches, and gadgets, and checking them out. My site is focused on helping you with your activity tracking and smart technology journey. I try to provide the most helpful updated content on this subject. Hopefully, you will love my blogs and be a regular around here.