In this era of the android world, if you are on the way to upgrading yourself with the technology, it is very pertinent to become familiar with the digital wallet system.
Smartwatches have improved a lot over the years. In fact, many of them come with NFC, which allows the users to pay for their shopping and stuff using their smartwatches.
However, the question is: Is it safe to pay with a Smartwatch?
Here is an article on my website that you must read, its about Fast Food Restaurants & Other Stores That Accept Apple Pay In The USA In 2023.
Let's find out.
What Are The Different Methods For Paying With A Smartwatch?
If your smartwatch has NFC, you can use the supported payment system to make payments via NFC Terminals.
However, it's important to note that not all payment systems work with all smartwatches. In this section, I will discuss the different payment systems which you can use with your smartwatch.
Google Pay, previously known as Android Pay, is the payment system that you will find on Android Devices along with WearOS Smartwatches. The popular WearOS Smartwatches such as Fossil Gen 5, TicWatch Pro S, Skagen Connected Falster 2, Armani Exchange, and Moto 360 (3rd Gen) use Google Pay.
Apple Pay is the official Contactless Payment System for Apple Ecosystem, and it was launched in 2014. All Apple Devices, including Apple Watch Series, support Apple Pay, and if you have Apple Watch, you will be using Apple Pay for payments.
Samsung Pay is the official payment system for Samsung devices. If you have any Samsung smartwatch such as Galaxy Watch 3, Galaxy Watch, Galaxy Watch Active 2, or Active, you will be using Samsung Pay for your payments.
Fitbit Pay is the official Payment System for Fitbit devices, and if you have a Fitbit Smartwatch with NFC, you can make payments from your smartwatch using Fitbit Pay.
How Secure Are NFC Payments From Smartwatch?
Whether you are paying from your smartphone or smartwatch, it doesn't affect the process or security. When you put your Smartwatch near NFC Terminal, it establishes the connection, and the security chip on your smartwatch will validate the transaction.
In this process, the Payment System you are using will generate a unique token and code, which will only be valid for this transaction. Once you approve the transaction, the transaction will proceed, and that token will become unusable.
In this whole process, your debit card information won't be disclosed to NFC Terminal, and only the temporary token will be saved in the terminal, which is unusable even if hackers manage to get access to it. So, the overall security of NFC from smartwatches is pretty good, and you don't have to worry about anything.
For more details on this subject, please check out this post that I published recently – Security & Privacy Threats to NFC in 2023 and How to Make it Safer?
How To Secure Your NFC Payments From Smartwatch?
As we discussed in the previous section, NFC Payments are pretty secure, but still, you can take some additional measures to protect your money.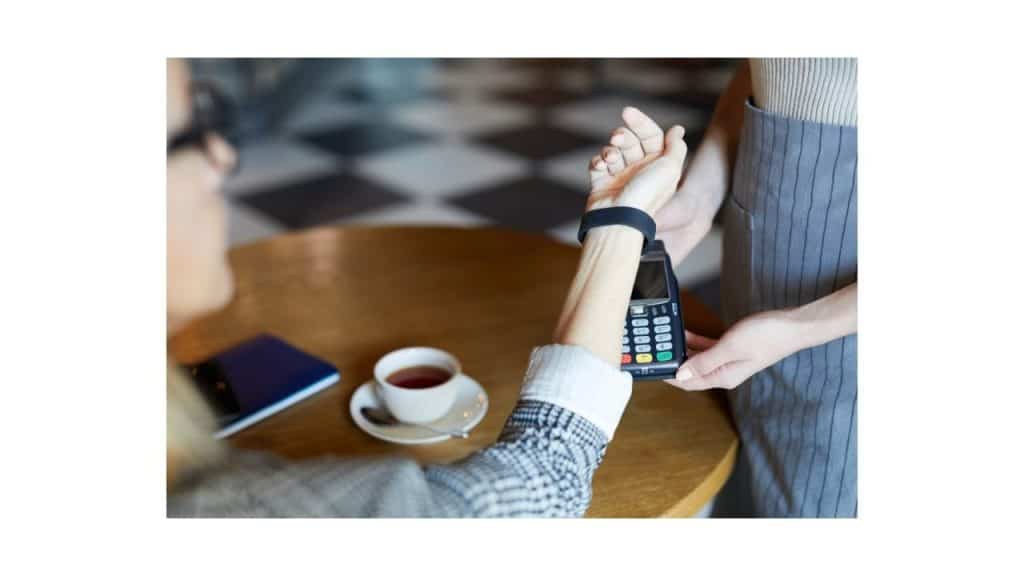 The first thing you can do is to enable PIN for your NFC Payments. For example, if you initiate any transaction, you will have to provide the PIN to validate the transaction.
Popular Payment Systems such as Apple Pay and Samsung pay allow you to set up a PIN for NFC Payments.
Similarly, when you are not using NFC, you can turn it off, which will make it impossible for anyone to interact with your NFC Payment system.
However, the problem is that some smartwatches don't allow you to turn off NFC. You can turn off NFC on Samsung Smartwatches, but you can't do it on Apple Watches. But, still, it's not a big deal, and at the end of the day, any transaction via the NFC Payment system will require your approval.
Which Payment System Is Safer?
Whether you are using Apple Pay, Google Pay, or any other payment system, security is not an issue because all of them come with a secure system.
Almost all of them use the tokenization process in which only a temporary token will be shared with the NFC Terminal, not your debit card information.
Similarly, they use advanced encryption to make sure that no one could intercept the transaction. I also recommend that you check my comparison of the famous Payment System where I have compared Samsung Pay, Google Pay, Apple Pay, and PayPal.
What Is The Difference Between Google Pay And Samsung Pay?
Google pay and Samsung pay are digital payment methods through your android that allow transactions without using physical credit cards. Now, Google pays vs. Samsung Pay, which one is the best to use, becomes an important fact to know.
Both payment systems offer quite similar facilities and are convenient to use. Androids, having NFT technology, support both payment methods.
In terms of security, google pay uses a tokenization method that keeps the card details unrevealed. Whereas, Samsung pay has a secure mobile system, Knox.
However, the core differences between these payment gateways are as follows:
| | | |
| --- | --- | --- |
| Topic | Google Pay | Samsung Pay |
| compatibility | All android devices that support NFT | Exclusively made for Samsung devices |
| MST | Not available | Able to pay with the magnetic secure transmission. |
| Availability | Over 140 countries | Only in 24 countries |
| Capacity in wearable watch | Compatible | Samsung Galaxy watches |
| Online payments | Most accepted for online checkout | Not much popular for online payment |
| Rewards | Coupons or cashback offer | Coupons or cashback offers are only for Samsung purchases. |
Frequently Asked Questions [FAQs]
For your further inquiry, you may check out this section of the article. Here, we will answer the most common questions regarding 'Is It Safe Paying With A Smartwatch?'"
Can Smartwatches Make Payments?
Yes, if your smartwatch has NFC and it supports a payment system, you can easily use it to make payments at NFC Terminals.
Is It Safe To Pay With Apple Watch?
Yes, Apple Watch uses Apple Pay which is one of the most reliable and secure payment systems in the world. It uses Tokenization and advanced encryption to secure information and transactions.
Can I Pay with Samsung Watch?
Yes, if Samsung Pay is available in your region and it's set up on your Samsung watch, you can use it to make payments.
What Is The Difference Between Google Pay And Samsung Pay?
Google Pay and Samsung Pay are two different Payment Systems that you can use for payments. Google Pay is maintained by Google, and Samsung operates the Samsung Pay.
Can I Use Samsung Pay Without WiFi?
No, Samsung Pay is an online payment system, and you will need a reliable Internet connection to make payments using Samsung Pay.
Does Samsung Pay Work With Debit Cards?
Yes, if you have the supported Debit Card, you can connect it with your Samsung Pay Wallet and then use it to make payments.
How Much Money Can I Have In Google Pay?
Google Pay comes with a maximum balance limit of $25,000 USD, and you can't have more money in the wallet.
Is Apple Pay safer than Debit Cards?
Yes, when you use a Debit Card, you provide all the information directly, which can be misused. When you use Apple Pay, the system doesn't use debit card information. Instead, it shares a temporary token that doesn't work after a transaction, and it can't be misused.
Conclusion
That's all, folks. In this guide, you learned how safe it is to make payments with a smartwatch. I also shared the different payment methods which you can use with different smartwatches.
If you have any questions, please let me know in the comments. Also, check this guide where I have compared the popular Payments systems such as Apple Pay, Samsung Pay, Google Pay, and PayPal.
As a professional trainer and a gadget lover, I've spent a lot of money and time buying wearable activity trackers, smartwatches, and gadgets, and checking them out. My site is focused on helping you with your activity tracking and smart technology journey. I try to provide the most helpful updated content on this subject. Hopefully, you will love my blogs and be a regular around here.