Wearables are no longer a device designed for smart youngsters or grown adults. There's a great number of wearables available to cheer up your kids.
And Fitbit remains at the forefront of developing suitable on-wrist devices. However, many Fitbit functions require a direct user account for activation.
Check out my article on the best fitness trackers for teenagers and kids.
You may not prefer using the same Fitbit account all over for different reasons. It eventually leads to the ultimate question – can a child have a Fitbit account.
That's why we decided to satisfy your quest with essential but brief details. A quick reading is sure to solve your issue related to your kid's Fitbit wearable.
Long answer short- yes, a child can have a regular Fitbit account if they are above the age of 13 years old. If your kid is younger than that, you may want to consider the FitBit Ace which enables you to create a child account for children between the ages of 8 and 13 years.
Are FitBits Suitable For Children?
Kids and their almost exclusive screen based activities tend to be the Achilles heel for most parents. But you need to accept that in this digital age, technology will inevitably remain a big part of your children's growing age. The key is to ensure that they are using these devices to derive the most positive outcome.
Take fitness trackers, for example- allowing your child to use a FitBit to track their body metrics encourages them to build the healthy habit of exercising daily and being mindful of their physical activity, even as they grow into their teenage and then adult years.
What is the Age Limit For a FitBit Account?
Some people are not aware of this, but it is possible for you to set up an account on the FitBit app for your child.
There is, however, an age limit which means that your child must be at least 13 years old to be able to have a FitBit account of their own. In some countries in Europe, however, the minimum age limit has been raised to 16 years old.
Here is an article that I have written about Can You Have More Than 1 Fitbit On An Account? How To Do It?
How to Set Up a Child's FitBit Account?
To set up your child's FitBit account, you need to download the FitBit application on your phone or device and log in with your own FitBit account. On top of the screen, you will be able to locate the account card.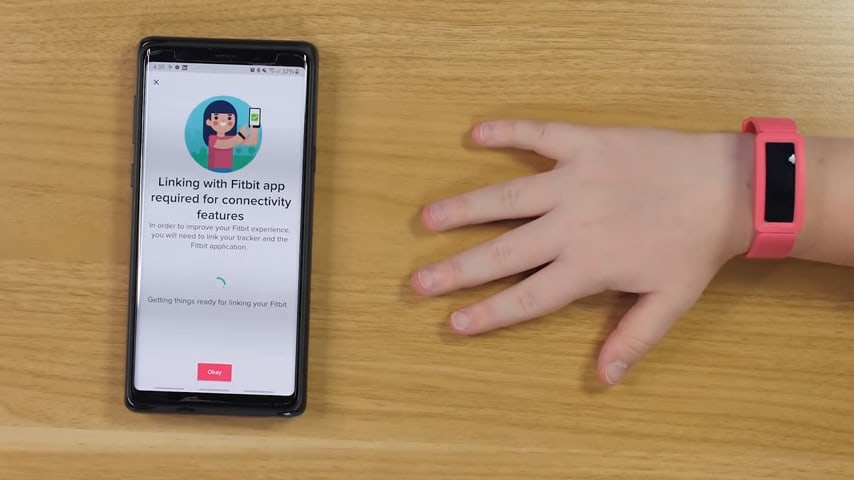 Tap on it and then go to the 'My Family' option. Here, tap on the + sign and choose the option that says 'Create Child Account'. You will be asked to enter your password once again and agree to the terms and conditions. Follow the given instructions on the screen.
Eventually, you will reach a window asking you to enter the details of your child, including their name, username, age, gender, and weight. Now all you have to do is pair your kid's FitBit device to the app and hand it over to them to finish the setup process. You can even incorporate your kid's input by allowing them to pick their own fun profile avatar.
The benefit of setting up your kid under a child account at FitBit is that you can visualize their progress and work on improving or maintaining their health together. You can save the data on their account and even send it to their physician for quick analysis.
Not to mention you can set alarms for them, send them friendly reminders, and design various goals and targets for them to achieve.
What If My Child is Younger Than 13 Years Old?
If your child is younger than 13 years old and still wants to use a fitness tracking device like FitBit, the solution you may want to look into is the FitBit Ace. This is a FitBit model that is specifically designed for kids, equipped with all the features of a typical FitBit that an adult may use but made more kid friendly.
It is able to accurately measure the heart rate, count steps, keep count of calorie intake, and analyze sleep patterns.
There is, however, a minimum age limit for the FitBit Ace as well. Your child must be at least 8 years old to be able to use this device and make their child account. You can set up your child's FitBit Ace account the same way as described above.
How Can I View My Kid's FitBit Data?
FitBit understands that data security is of the utmost importance when it comes to children. That is why the application can be accessed in two views- the protected kid view shows limited data such as stats, badges, and clock options.
On the other hand, the parent view gives you access to more details and settings, including the ability to manage the family account, create more accounts, and approve friend invitations and requests.
Conclusion
Now you know what to do to activate all the great features in your kid's Fitbit.
However, don't compromise with the age limits as the offered tech isn't suitable all along. You're ready to get your teenager an actual Fitbit account. Any younger, settling down for Fitbit Ace should occupy your thoughts.
Of course, you better not spoil the child by getting him/her a device any earlier.
Here is an article on my website that you must read, its about Best Fitbit Compatible Apps For Running And Sleep Tracking.
As a professional trainer and a gadget lover, I've spent a lot of money and time buying wearable activity trackers, smartwatches, and gadgets, and checking them out. My site is focused on helping you with your activity tracking and smart technology journey. I try to provide the most helpful updated content on this subject. Hopefully, you will love my blogs and be a regular around here.