In this article, I will help you to find the best fitness tracker for Ankle. Wearing a fitness tracker on your ankle might be more convenient to some but the main reason for wearing it on your ankle is for more accurate step counting.

The Moov Now fitness tracker is a great option for an ankle fitness tracker. If you are a Fitbit or a Garmin fan that wants to use a fitness tracker on the ankle or shoe then I will help you with that too plus more alternatives later on in the article
With wearable technology getting more and more popular, their features have almost become homogenized. With gadgets or bands offering the same functionality, what starts to make a difference is design and utility.
Some people use fitness trackers for casual fitness usage while some use them for intense workouts and their professional use as well.
In the case of the latter, quite a lot of factors are then put into consideration. These factors are whether or not the tracker is bulky, whether it chafes under rigorous exercise and whether the data it monitors is accurate or not.
List Of Best 3 Fitness Tracker for the Ankle
For certain sports and activities, the fitness trackers don't have to be all that accurate.
However, for professional athletes or runners who take their sport more seriously, accurate data means everything.
For example, most fitness trackers are meant to be worn on the wrist.
Their onboard accelerometer registers movement based on the movement of the wrist.
This then leads to a small possibility that the number of steps you took may not have been calculated all too accurately.
Wearing a fitness tracker on your ankle takes care of that risk. When you wear a fitness tracker on your ankle, each movement registered is a pure and isolated event of a step being taken.
This leads to far accurate movement data. As mentioned earlier too, most trackers are meant to be worn like a watch and there aren't many fitness trackers out there for ankles.
Fitness Tracker For Ankle With Heart Rate Sensor And Without
When referring to a fitness tracker on the ankle there are 2 types of devices.
Some people are more interested in HR reading from the ankle and others don't care about HR but for other measurements such as accurate cadence, distance, speed, and stride.

Below you will find the suitable ankle fitness tracker whether you belong to the first group or the second one.
Can You Wear Your Fitbit On The Ankle?
The official answer to that common question is no, you cannot wear a Fitbit tracker on your ankle as Fitbit devices were meant to work on your wrist except the Fitbit Zip which is an advanced clip-on pedometer.

However, there are special ankle bands which we'll discuss later, these bands are not Fitbit's official bands and the results of the accuracy are varied.
Best Fitness Tracker For The Ankle – Our Top 5 Picks In 2022
Products Information:
| | |
| --- | --- |
| Brand | Moov |
| Color | Aqua Blue |
| Item Dimensions LxWxH | 1.1 x 0.3 x 8.9 inches |
| Item Weight | 5 Ounces |
| Battery Life | 4380 Hours |
| Sensor Type | Wearable |
The MOOV Now, available on Amazon, however, is one great fitness tracker that you can wear on your ankle.
The Moov Now has been around for quite a while now but despite that, it is a device that has very proudly stood the test of time.

The Moov Now was a great choice to pick up as a fitness tracker back then as it is now.
The most attractive bit about this activity tracker was the price. It was modestly priced at $40 and offered features that you could find in devices costing quite a bit more.
With added detail to the activities that involve step tracking and distance, the Moov Now has rep-based training which means you can switch to modes like running, swimming and cycling just to fine-tune your activities and access a wider threshold of data.
Along with compatibility with your phone's GPS, the Moov Now also packs your standard activity tracker features as well as some complex ones such as an audio coach to assist you during your workouts as well as stroke counts for swimming.
With its lightweight design and state of the art fitness tracking technology, this gadget becomes a key asset to your laps and workouts.
We've broken down the MOOV Now's review into the following aspects.
Design:
The MOOV is fairly lightweight which allows it to be comfortable even when you wear it on your ankle.

Something you would notice right off the bat is that the MOOV has a rugged design with a texture on the rubber strap meant to enhance grip.
This is true because the MOOV is meant to be put to rigorous use and allows for all-day wear of the tracker.
Its also waterproof and the design keeps everything breathable so you don't chafe or get uncomfortable even with sweat.
Another distinct design trait about the MOOV is that it is without a display. This might seem quite shocking at first but the MOOV makes up for it by offering a lot of points in utility.
As this design does away with the screen, it lets you really go all out on your workouts even when you're swimming or doing an intense boxing session.
It has one physical button in total which you use to start a workout or sync your stats with your app.
The general aesthetic of the MOOV is also quite appealing. It's so light that you won't even notice that it is on your ankle.

Functionality:
The MOOV houses all the standard features of a fitness tracker. It monitors your activities and your distance covered while running.
It monitors your sleep and pushes the data to your health app. It allows for easy cross-training and gives you a fitness update.
Yet one key feature of the MOOV sets it apart from mainly every other tracker out there. It has a feature called Coaching.
This feature gives you voice-based updates during your workout and allows you to really push your limits.
If even offers advice and tips on concentration when you're doing more intensive workouts like crunches or weight lifting which make the MOOV a great fitness companion.
The real-time audio actually enriches the entire experience of exercising and the motivation lets you squeeze your workout sessions for something extra.
The form tracks prevent you from injuries by informing you of your bad form. The tracker is also quite accurate and requires you to do precise movements for it to register a rep meaning you can't cheat it.
The Moov now by itself does not read your heart rate, however, you can combine it with the Moov HR Burn Heart Rate Monitor chest strap in order to get an accurate HR measurement.
So, Are There Any Fitbit and Garmin Devices That Can Be Worn On The Ankle? Another Alternative For An Ankle Fitness Tracker
If you are a Fitbit lover and want to wear a Fitbit or a Garmin fitness tracker on your ankle than there is a good option available.
First, you have to understand that there isn't a Fitbit device that was originally intended to be worn on the ankle. There are ankle bands that you can attach your Fitbit to, however, these are not Fitbit's official bands.

We'll talk about these ankle bands later but first, let's take a look at the second option by Garmin and Polar.
Products Information:
| | |
| --- | --- |
| Brand | Garmin |
| Color | Black |
| Are Batteries Included | Yes |
| Item Dimensions LxWxH | 1 x 1 x 1 inches |
| Map Type | Africa |
| Vehicle Service Type | Forerunner 910, Forerunner 405 |
With Garmin and Polar, however, there are great devices that can be worn on your shoe or inside it.
The Garmin device is called Garmin Foot Pod, I have also mentioned it on another article on this website as the best option for people who seek to track running on a treadmill. Garmin's foot pod will only work with some compatible Garmin's watches.
The Garmin foot pod is not exactly an ankle device. Instead, it attaches to your shoelaces or can be placed inside your show. The Foot Pod will not give you data such as heart rate, however, it will give you very accurate data regarding your running and Jogging sessions such as speed, distance, and cadence.
Polar has also a great activity tracker for shoes which is called Polar Bluetooth Stride Sensor and can track strides too.
Other than comfortability, the main reason that you would want to wear a Fitbit device on your ankle is for a more accurate pedometer.
You see, The steps count feature on all of the modern fitness trackers is not so accurate.
The reason for that is because they are using wrist-based sensors (some uses accelerometer), which means that they count your steps by counting your hand movements.
In opposite to the simple pedometers that track your steps by recognizing your body's tilt movement and are most accurate while wearing on the waist.
If you want a simple pedometer or a clip-on device that is cheap and can track steps accurately than you should also check out my article on the best clip-on fitness trackers.
The problem with them being worn on your wrist is that some hand movements can confuse the tracker and make it count steps wrongly.
Some people will use a very slite hand movement or place the hand on the grab bar while walking on the treadmill, this can cost with a miss counting of steps.
For that reason, lots of Fitbit owners have tried their Fitbit on their ankle using its original band(if it fits) or a band extender which is intended for the ankle.

These people are reporting that using their Fitbit on the ankle has made the steps count much more accurate.
The downside is that while placing your Fitbit on the ankle you lose the wrist-based HR tracking(some people reported a good HR reading even on the ankle).
The best Fitbit devices that I have found working good(as pedometers) on the ankle are Charge2/3, Flex2, Inspire, Inspire HR, Alta, and Alta HR but I'm sure that there are more.
Again, I have to make clear that Fitbit's devices were made to read data from your wrist, not from your ankle and what I offer here is just an adaptation that might work(and might not) on your ankle. There aren't any official Fitbit's ankle bands. The Baaletc Extender Band is a band extender that can turn some Fitbit devices into an ankle fitness trackers.

Like I have mentioned, If you are interested in step counting than wearing a tracker on your ankle will make it more accurate for this purpose.

The Baaletc Extender Band is in working best with Fitbit Flex and Flex2 but it is also compatible with Fitbit Alta and Alta HR, so if you have one of these devices you can definitely consider buying this extender which is quite cheap.
Best Fitness Tracker For The Ankle – Buying Guide
You can find many fitness trackers designed to work from your ankle. However, only a mere number of the models appear worthy with sufficient features.
No smart person should take the risks of investing in cheap, useless, fancy trackers. And the following factors can help you find the best ankle fitness tracker.
Screen Size
The actual display size means a lot for any fitness enthusiast. You can keep the acceptable range from 1.0" up to 1.3". Anything less than 1.0" will give you trouble seeing the digits/alphabets. Meanwhile, a larger display may look notably odd right on your ankle.
Activity Tracking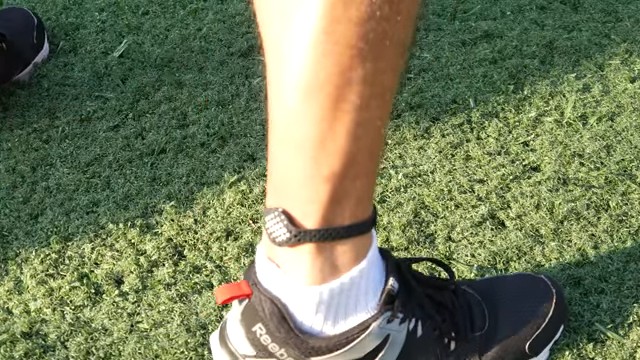 When it comes to tracking your activity – steps and distance come first. A tracker without the two is totally worthless. Check for additional fitness-centered metrics like burnt calories and sleep monitoring. Don't forget to make sure you can save the measured data.
Connectivity
It's impossible to think of an effective tracker without pairing it with smart devices. You obviously want to know your progress, charters at specific intervals, further analysis. But you can only expect Bluetooth connectivity from a simplistic device like an activity tracker.
Battery Specs
Another important factor concerns the included battery type, life, endurance. Not many options are available with a powerful battery when it comes to trackers. You should look for at least 24-hour lasting battery inclusion with or without replacement options.
Extra Modes
A limited number of activity trackers can do more than just track your steps. But having additional features onboard can help you in different ways. You can consider – replying or taking calls, texts, notifications, sports mode, goal setting, personalization.
Frequently Asked Questions [ FAQs ]
Can You Wear Smartwatches Right On Your Ankle?
Answer: You can freely wear the wristwatch to your ankle. But it increases the chance of getting damaged.
Should I Wear A Heart Rate Monitor On The Ankle?
Answer: Ankle isn't exactly a place with sufficient blood flow. So, you can't get a precise HR reading there.
Do The Readings Vary If I Wear Watches On My Ankle?
Answer: Measurements from the ankle aren't a standard. Thus, your figurative and literal mileage will vary.
What About Apple Watch? Can It Be Worn On The Ankle?
Apple watches like Fitbit's were not intended to read data or be worn on the ankle. There are many ankle bands (not Apple's or Fitbit's official) that you can buy on Amazon. However, accuracy is not guaranteed. The best way to wear an Apple watch is on your wrist like it was designed to be worn.
Conclusion:
If accurate step counting is your main reason for using a fitness tracker then you should really consider using a fitness tracker that can be used on your ankle.
For the price range it comes with, the MOOV Now has quite a lot to offer. Especially on the design front, this is one of the best fitness wearables for the ankle because of its being lightweight, water, and dirt proof as well as having an Omni motion sensor to analyze your motion in 3D giving you amazing insight into your workouts.
I hope that I helped you to find the best fitness trackers for the ankle.
Some of you might confuse between a fitness tracker that is being worn on the ankle and a running power meter – I have just added a new article that you must read on the best running power meters and why do you need them.