In this article, I will help you to find the best fitness tracker for the Ankle. Wearing a fitness tracker on your ankle might be more convenient to some but the main reason for wearing it on your ankle is for more accurate step counting.
It is not easy to find a fitness tracker or smartwatch for your ankle since the sensors on almost all the devices are designed to read data from your wrist.
The sensors in smartwatches and fitness trackers are responsible for a variety of functions, from tracking fitness data to monitoring heart rate. Here's a look at how these tiny components work to keep us healthy and connected.
Fitness trackers are equipped with a variety of sensors that collect data about our activity and health. These sensors include an accelerometer, gyroscope, and heart rate monitor.
Another post that will interest you is about the Best 5 Fitness Tracker For Watch Wearers In 2023.
The accelerometer tracks our movement and can be used to calculate steps taken, distance traveled, and calories burned. The gyroscope detects changes in orientation and can be used to track sleep quality or monitor for falls.
The heart rate monitor uses optical sensors to measure the amount of blood flow through the wrist. This data can be used to track fitness progress, monitor for heart health issues, or even provide a warning if the user is at risk for a heart attack.
#Overview
IMAGE
PRODUCTS
FEATURES
PRICE

Most advanced swim tracker
Up to 6 months battery life and waterproof
PRICE RANGE: Under $50

Swim proof for tracking
LED display lights
PRICE RANGE: Under $190

2 year limited warranty
Uses Bluetooth Smart Technology
PRICE RANGE: Under $110
Fitness Tracker For Ankle With Heart Rate Sensor And Without
When referring to a fitness tracker on the ankle there are 2 types of devices. Some people are more interested in HR reading from the ankle and others don't care about HR but about other measurements such as accurate cadence, distance, speed, and stride.
Below you will find the suitable ankle fitness tracker whether you belong to the first group or the second one.
Best Fitness Tracker For The Ankle – Our Top 5 Picks In 2023
1. The Moov Now- 3D Fitness Tracker
Products Information:
| | |
| --- | --- |
| Brand | Moov |
| Compatible Devices | Smartphones |
| Screen Size | 0.96 Inches |
| Weight | 0.02 Pounds |
| Battery Life | 4380 Hours |
| Battery Description | Lithium-Ion |
The Moov Now has been around for quite a while now but despite that, it is a device that has very proudly stood the test of time. The Moov Now was a great choice to pick up as a fitness tracker back then as it is now.
The most attractive bit about this activity tracker was the price. It was modestly priced at $40 and offered features that you could find in devices costing quite a bit more.
With added detail to the activities that involve step tracking and distance, the Moov Now has rep-based training which means you can switch to modes like running, swimming, and cycling just to fine-tune your activities and access a wider threshold of data.
Along with compatibility with your phone's GPS, the Moov Now also packs your standard activity tracker features as well as some complex ones such as an audio coach to assist you during your workouts as well as stroke counts for swimming.
The Moov now by itself does not read your heart rate, however, you can combine it with the Moov HR Burn Heart Rate Monitor chest strap in order to get an accurate HR measurement.
2. Fitbit Flex 2
Products Information:
| | |
| --- | --- |
| Brand | Fitbit |
| Color | Black |
| Item Dimensions LxWxH | 10 x 0.45 x 0.37 inches |
| Item Weight | 0.04 Pounds |
Fitbit Flex 2 is another very popular fitness tracker which is intended to use on wrists, however, I know few people who are using it on the ankle and are happy with the results. Like other trackers on the list, Fitbit Flex 2 also doesn't come with any display. 
The Flex 2 comes with some LEDs on the top which indicate the battery and other important information to the users. 
So, you will be using Flex 2 just to track your exercise and collect data. The band will display all the data from the band on the Fitbit App.
3. Stride Sensor by Polar
Products Information:
| | |
| --- | --- |
| Brand | POLAR |
| Style | Modern |
| Shape | Rectangular |
| Compatible Devices | Smartphone |
| Operating System | Apple |
The majority of the people who wants to wear the fitness tracker on the ankle, want to track their running or jogging sessions accurately. Wearing the fitness tracker on your ankle is one way of doing it but the other way of doing it is to use a Foot Pod.
The Stride Sensor by Polar is one of the best Foot Pods available on the market it easily fits on top of joggers and you can use them to track your jogging or running sessions. The Stride Sensor by Polar is designed to track your running sessions accurately and it accurately tracks your stride, distance, and speed.
When it comes to compatibility, you can use Stride Sensor with any Bluetooth-enabled device and you can see all the data from the sensor on the Polar Beat Application.
4. Garmin Foot Pod – Best Foot Pod For Tracking Your Running Sessions
Products Information:
| | |
| --- | --- |
| Brand | Garmin |
| Special Feature | Bluetooth |
| Sport | Camping & Hiking |
| Whats in the box | Headphone for Men |
| Mounting Type | Wrist Mount |
| Weight | 1.6 Ounces |
Garmin is known for its reliable and durable smartwatches but the company also makes other fitness gear. Garmin Food Pod is an awesome device by the company that you can use to track your running sessions.
The Foot Pod will not give you data such as heart rate, however, it will give you very accurate data regarding your running and Jogging sessions such as speed, distance, and cadence.
The only downside of Garmin's Foot Pod is that it only works with some compatible Garmin watches. So, if you have a Garmin watch, you should consider it because it can provide useful data about your workouts.
The Garmin foot pod is not exactly an ankle device. Instead, it attaches to your shoelaces or can be placed inside your shoe.
5. Xiaomi Mi Band 8 Adapted Running pod
Xiaomi Mi Band 8 is one of the latest fitness trackers in 2023 and it's a solid fitness tracker in the budget category.
The Mi Band 8 is designed to be worn on the wrists but it can be worn on the Ankle using this third-party accessory. When it's worn on the Ankle, it won't be able to monitor your heart rate but when it's worn on the wrists, it can monitor your heart-rate 24×7.
It's also packed with other great fitness tracking features such as over 150 workout modes, blood oxygen monitoring (SPO2), stress monitoring, sleep tracking, and workout tracking. The Mi Band 8 doesn't come with built-in GPS but if required, it can use the GPS of your smartphone via Connected GPS feature.
Another highlight of the Mi Band 8 is its display. It offers a 1.62-inch AMOLED display which offers crisp colors and deeper blacks. Also, it comes with an Always-on-display feature which you rarely find on-budget fitness trackers.
The battery life of Xiaomi Mi Band 8 is also very promising and it offers 16 days of battery life on a single charge. However, if you use the Always-on-Display feature, the battery life will go down to just 6 days which is still pretty reasonable.
Overall, If you are looking for a high-quality fitness tracker with great fitness tracking features and a reasonable price, I'd recommend that you should consider Xiaomi Mi Band 8.
Can I Use My Existing Fitness Band On My Ankles? Will It Be Accurate?
If you are a Fitbit lover and want to wear a Fitbit or a Garmin fitness tracker on your ankle then you can use any third-party Ankle Band such as the B-Great Ankle Band.
First, you have to understand that there isn't a Fitbit device that was originally intended to be worn on the ankle. There are ankle bands that you can attach your Fitbit to, however, these are not Fitbit's official bands.
Other than comfortability, the main reason that you would want to wear a Fitbit device on your ankle is for a more accurate pedometer.
You see, The steps count feature on all of the modern fitness trackers is not so accurate.
The reason for that is that they are using wrist-based sensors (some uses accelerometer), which means that they count your steps by counting your hand movements.
In opposite to the simple pedometers that track your steps by recognizing your body's tilt movement and are most accurate while wearing on the waist.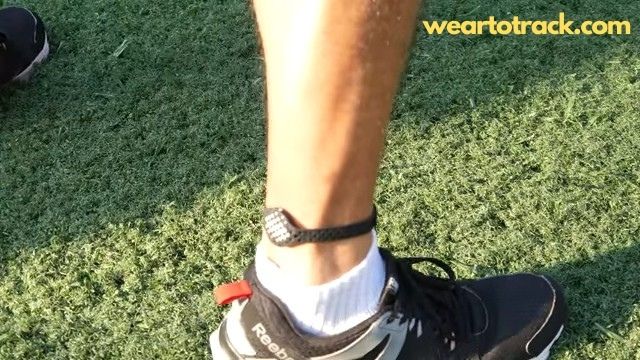 If you want a simple pedometer or a clip-on device that is cheap and can track steps accurately then you should also check out my article on the best clip-on fitness trackers.
The problem with them being worn on your wrist is that some hand movements can confuse the tracker and make it count steps wrongly.
Some people will use a very slight hand movement or place the hand on the grab bar while walking on the treadmill, this can cost in a miss counting of steps.
For that reason, lots of Fitbit owners have tried their Fitbit on their ankles using its original band(if it fits) or a band extender that is intended for the ankle.
These people are reporting that using their Fitbit on the ankle has made the steps count much more accurately.
The downside is that while placing your Fitbit on the ankle you lose the wrist-based HR tracking(some people reported a good HR reading even on the ankle).
The best Fitbit devices that I have found working well (as pedometers) on the ankle are Charge2/3, Flex2, Inspire, Inspire HR, Alta, and Alta HR but I'm sure that there are more.
Again, I have to make clear that Fitbit's devices were made to read data from your wrist, not from your ankle, and what I offer here is just an adaptation that might work(and might not) on your ankle. There aren't any official Fitbit ankle bands. The Baaletc Extender Band is a band extender that can turn some Fitbit devices into ankle fitness trackers.
As I have mentioned, If you are interested in step counting then wearing a tracker on your ankle will make it more accurate for this purpose.
The Baaletc Extender Band is in working best with Fitbit Flex and Flex2 but it is also compatible with Fitbit Alta and Alta HR, so if you have one of these devices you can definitely consider buying this extender which is quite cheap.
How To Choose The Right Ankle Tracker?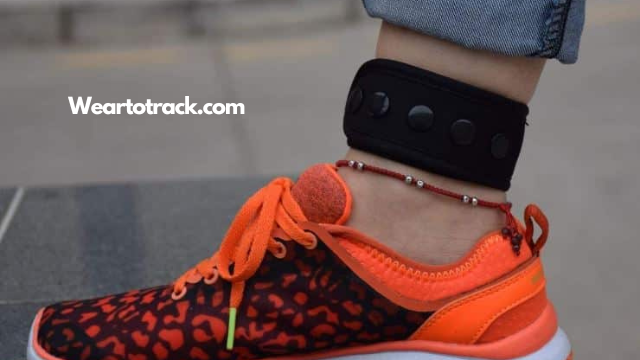 You can find many fitness trackers designed to work from your ankle. However, only a mere number of the models appear worthy with sufficient features.
No smart person should take the risks of investing in cheap, useless, fancy trackers. And the following factors can help you find the best ankle fitness tracker.
Screen Size
When it comes to fitness trackers for Ankle, there are two types of people out there. The first type prefers using a fitness tracker with a display and the second type of people prefers a fitness tracker without a display.
In my opinion, both types of users are correct and you can pick a fitness tracker which suits your needs. Normally, if you want your Ankle fitness tracker to have a display then it's important that you pick a display with a smaller display because if you pick a large display, it can get damaged.
Pro Tip: If you choose a fitness tracker for the ankle with a display then make sure that its display side is always on the inside of your legs. In this way, it will have less exposure to the rugged objects outside and the risk of damaging the display will be minimal.
On the other side, if you pick a fitness tracker without a display, it's also acceptable because you won't have the fear of damaging the display which is a sensitive part.
Activity Tracking
When it comes to tracking your activity – steps, and distance come first. A tracker without the two is totally worthless. Check for additional fitness-centered metrics like burnt calories and sleep monitoring. Don't forget to make sure you can save the measured data.
Connectivity
It's impossible to think of an effective tracker without pairing it with smart devices. You obviously want to know your progress, charters at specific intervals, and further analysis. But you can only expect Bluetooth connectivity from a simplistic device like an activity tracker.
Battery Life
Another important factor that you should consider is the battery life. The average fitness tracker for the ankle comes with a battery life of at least 24 hours but you can expect better battery performance from most trackers, especially the ones that don't come with any display. So, if you want a tracker with an extremely long battery life, then you should pick one with no display or a smaller display.
Extra Modes
A limited number of activity trackers can do more than just track your steps. But having additional features onboard can help you in different ways. You can consider – replying to texts, taking calls, notifications, sports mode, goal setting, or personalization.
Read Also: Best Fitness Tracker And Apps For Groups In 2023.
Frequently Asked Questions [ FAQs ]
For your further inquiry, you may check out this section of the article. Here, we will answer the most common questions regarding Fitness Trackers For the Ankle.
Can You Wear Smartwatches Right On Your Ankle?
Answer: You can freely wear the wristwatch to your ankle. But it increases the chance of getting damaged.
Should I Wear A Heart Rate Monitor On The Ankle?
Answer: The ankle isn't exactly a place with sufficient blood flow. So, you can't get a precise HR reading there.
Do The Readings Vary If I Wear Watches On My Ankle?
Answer: Measurements from the ankle aren't standard. Thus, your figurative and literal mileage will vary.
What About Apple Watch? Can It Be Worn On The Ankle?
Answer: Apple watches like Fitbit's were not intended to read data or be worn on the ankle. There are many ankle bands (not Apple's or Fitbit's official) that you can buy on Amazon. However, accuracy is not guaranteed. The best way to wear an Apple watch is on your wrist like it was designed to be worn.
Can I wear Apple Watch Ultra on the Ankle?
Answer: Apple Watch Ultra is a premium rugged smartwatch that is designed for rough use. The watch is originally designed to be worn on your wrists but you can also wear it on your Ankle if you want to track your running sessions. If you are interested in knowing the accuracy of Apple Watches, do check this guide where I've discussed the accuracy of Apple Watches in detail.
Can You Wear Your Fitbit On The Ankle?
Answer: The official answer to that common question is no, you cannot wear a Fitbit tracker on your ankle as Fitbit devices were meant to work on your wrist except the Fitbit Zip which is an advanced clip-on pedometer.
However, there are special ankle bands that we'll discuss later, these bands are not Fitbit's official bands and the results of the accuracy are varied.
Conclusion:
If accurate step counting is your main reason for using a fitness tracker then you should really consider using a fitness tracker that can be used on your ankle.
For the price range, it comes with, the MOOV Now has quite a lot to offer. Especially on the design front, this is one of the best fitness wearables for the ankle because of its being lightweight, water, and dirt-proof as well as having an Omni motion sensor to analyze your motion in 3D giving you amazing insight into your workouts.
Some of you might confuse between a fitness tracker that is being worn on the ankle and a running power meter – Here's a post that explains this topic the best-running power meters and why you need them.
As a professional trainer and a gadget lover, I've spent a lot of money and time buying wearable activity trackers, smartwatches, and gadgets, and checking them out. My site is focused on helping you with your activity tracking and smart technology journey. I try to provide the most helpful updated content on this subject. Hopefully, you will love my blogs and be a regular around here.